CBDistillery CBD Oil Review (2023 Update)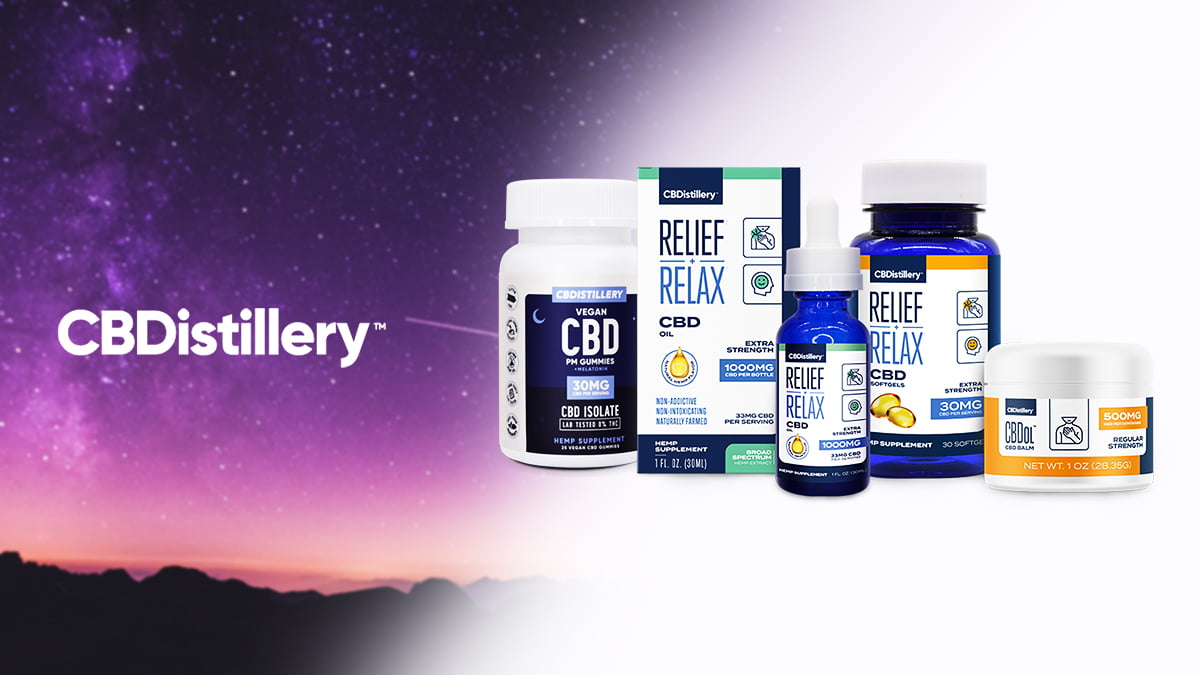 I'm pleased to see that since the first bull run of here-today, gone-tomorrow companies, the CBD industry has developed its own set of quality standards to keep such businesses at bay.
The market is now more stable then ever and the growing competition sets higher demands for newcomers than, say, two years ago.
It's thanks to companies like CBDistillery that helped mold the hemp industry into its current shape.
Although CBDistillery doesn't sell the best CBD oil around, they certainly offer the best CBD products in their price range.
The company is a textbook example of how to maintain affordable prices without cutting corners when it comes to quality.
Don't get me wrong, CBDistillery also has its negatives, but these are all a drop in the bucket compared to what the company has to offer.
In this review, we'll bring CBDistillery under the microscope to see what this brand has to offer.
About CBDistillery
Like many of the best CBD oil companies, CBDistillery was founded in Denver, Colorado — the epicenter of all good things related to cannabis.
One of the driving forces behind CBDistillery since day one has been the goal to provide "research and education" for consumers all over the country — aside from just selling a lot of CBD oil and turning a financial profit.
They've even created their own hashtag (#CBDMOVEMENT) under which they run their educational activity through their social media channels.
I appreciate CBDistillery's mission because, in their effort to educate people about cannabis and its wide range of uses, they contribute to shedding societal stigmas of the herb and its users.
CBDistillery Highlights
CBDistillery offers convenient online sales of CBD oil, shipping their products to all 50 states in the U.S. In addition to their public advocacy for CBD, here are several reasons why this brand is one of my favorites:
1. Sourced from Colorado-grown Hemp
I always encourage my readers to buy from companies that use American-grown hemp for making CBD products. That's because US farmers currently provide the highest cultivation standards for hemp plants, with nutrient-rich soil and organic cultivation practices.
On top of that, CBDistillery is a member of the National Hemp Association (NHA), a non-government organization that advocates for standards in both raw hemp material and CBD products.
2. Available as Full-Spectrum or Isolate
CBDistillery sells its CBD oil in two variants: full-spectrum or ZERO-THC. While experts argue that full-spectrum products are more effective than isolates, the latter still serves a very important purpose in self-supplementation.
First, they give the user more precise control over their dosage. Second — isolate is the last resort for people who can't take full-spectrum products due to allergies or periodical urine tests at work.
3. Wide Product Range
CBDistillery caters to all types of CBD users. On top of selling CBD oil as both full-spectrum and isolates, they also offer CBD topicals, capsules, gummies, vapes, and CBD for pets
4. Lab Tested for Potency and Safety
CBDistillery has partnered with ProVerde Labs to provide purity and potency testing on all its products.
Since virtually all CBD oil companies are testing with 3rd-party labs these days, it's nothing special — in fact, it's considered the industry standard these days. CBDistillery goes above and beyond to provide a report for every product they sell online, something that's worth taking notice of.
5. Great Price-to-Quality Ratio
As I said at the very beginning of this review, CBDistillery offers the best CBD products in the low price range. It pleases me to see the company stay true to its mission, which is to make high-quality CBD oil affordable for everyone.
Overview of CBDistillery Products
CBDistillery offers plenty of CBD formats, including regular CBD oil, isolate powder, capsules, topicals, vapes, and CBD for pets.
Below you'll find an overview of each CBD product the company sells.
1. CBD Oil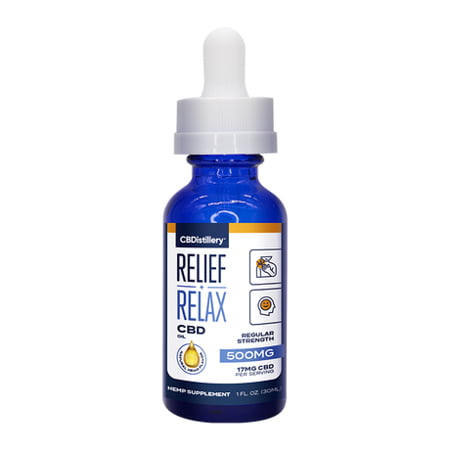 These are the standard full-spectrum drops (also available as pure oil) that you use under your tongue.
The full-spectrum version contains an array of phytonutrients from hemp — cannabinoids, terpenes, and flavonoids — and it carries 0.3% THC or less.
The isolate, as the name suggests, consists of 99% pure CBD that has no odor and flavor.
These oils are available in two different sizes — 15 mL and 30 mL.
The 15 mL option is available in four potencies:
150 mg
250 mg
500 mg
1,000 mg
The larger 30 mL bottles come in two high-strength options:
With such a wide potency range, CBDistillery offers CBD oil for both novice and experienced consumers alike.
2. Pure Isolate Powders
Aside from selling THC-free oil, CBDistillery also makes isolate powders that are 99% pure hemp extracts. They can be used for vaping, dabbing, or as an extra ingredient in foods and drinks.
3. CBD Capsules
Just like the oil, the capsules are available as either full-spectrum or isolate and come in 30- or 60-count containers.
The full-spectrum option offers only one potency (30 mg per capsule), whereas the isolate comes in two different strengths — 25 mg or 30 mg per capsule).
These caps come in a convenient and easy-to-swallow softgel form.
4. CBD Gummies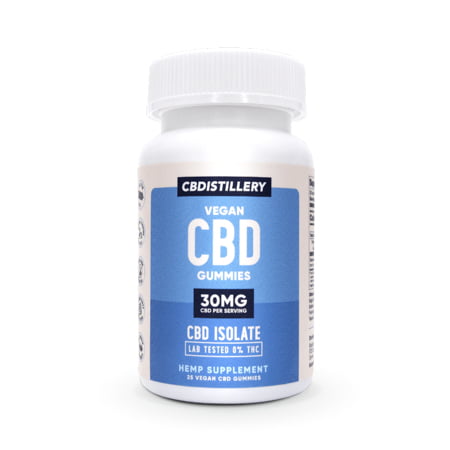 The company sells fruity gummies in two forms.
The first option comes as the standard 30 x 30 mg CBD gummies.
Then, there's a special night time variant with added melatonin to calm you down and set the right gears in motion to help you fall asleep more easily. These gummies are made from 99% pure CBD isolate.
5. Topical CBD Creams
CBDistillery has two different topical creams, CBDol and CBDefine — they both come in 1 oz tubs and contain 500 mg total CBD content.
The CBDol is a topical salve for pain relief, targeted at fighting joint and muscle pain, while the CBDefine is more of an all-round rub that's advertised to work against inflammation.
6. CBD Vapes
The company sells a myriad of different flavors and pre-filled cartridges for around $30 per piece.
They also have bottles of CBD e-liquid that you can use to refill your portable e-cig device. If you have problems with choosing any particular flavor, then you can buy one of their variety 4-packs.
These liquids are pretty potent; a ½ oz bottle contains 1,000 mg of total CBD; the disposable vape pens are 200 mg each.
The only downside to using CBDistillery vapes is they typically last less than one week if you use it every day.
7. CBD For Pets
CBDistillery has CBD oil for dogs, sold in 15 mL bottles that carry 150 mg of CBD. They also sell a "Man's Best Friend CBD Oil Variety Pack" that includes a 1,000 mg CBD Pet tincture, the 150 mg oil, and an adorable little bandana for your furry buddy.
This makes CBDistillery's pet line appropriate for pets of different sizes.
8. CBD Concentrates
CBDistillery has a rather humble collection of concentrates — in fact, you can only buy CBD wax from them.
This concentrate has 80% of CBD inside of it and is mostly recommended for use in a concentrate-compatible vaporizer or dab rig.
Final Thoughts on CBDistillery
All in all, CBDistillery is a trustworthy vendor that combines high-quality ingredients with affordable prices.
Just so we're on the same page, I wouldn't recommend their products if you're trying to find relief from serious symptoms, or if you're on the lookout for the most potent tincture out there.
But, if you've got relatively mild or sporadic or mild symptoms, this company is a keeper.
I've only tried the 500 mg CBD oil, the CBD isolate crystals and their CBD sleep gummies. I'll say the oil wasn't quite as potent as some others I've tried over the years, but the isolate slab and gummies did a great job for my sleep and I doubt I could find something more effective in this price range.
What's your experience with CBDistillery?