Will CBD Show Up On a Drug Test?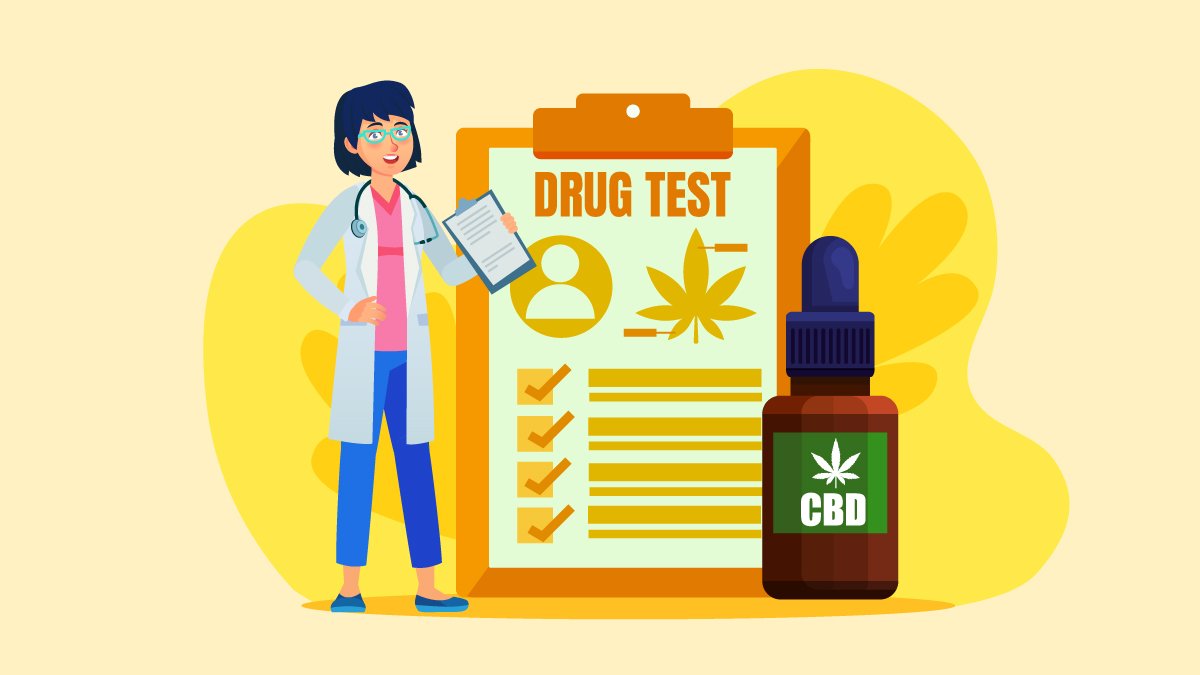 CBD (cannabidiol) oil is a popular supplement for symptoms like anxiety, pain control, and sleeping difficulties. While CBD alone doesn't show up on a drug test, with the rise of CBD products comes the concern about testing positive for another cannabinoid — tetrahydrocannabinol (THC) when using CBD oil.
THC is the main psychoactive ingredient in cannabis plants — and the primary compound drug tests are designed to detect.
Even though hemp-derived oil is said to be THC-free, new stories are emerging among corporate employees, sports players, public service officers, and others who have gotten positive drug test results for the presence of THC after using hemp oils.
So, does CBD show up on a drug test? What should CBD users be aware of before taking a drug screening at work, and what can they do to prevent a THC-positive result?
Continue reading this article to find out.
Does CBD Show Up On a Drug Test?
Drug tests are usually designed to detect the presence of THC, or its metabolite THC COOH, to be precise. There's no point in testing anyone for CBD because this compound doesn't have intoxicating properties or impact psychomotor functions — however, in theory, drug tests could be designed to test for the presence of CBD and its metabolites.
Long story short, CBD doesn't show up on a drug test. However, there's a chance you may get a false-positive result for THC if you're using hemp oils with trace amounts of THC.
Does CBD Oil Contain THC?
Depending on the source of the cannabis used to extract the CBD oil, some products do contain at least some THC.
Cannabis is the umbrella term describing hemp and marijuana.
Marijuana plants are characterized by the presence of THC — so even when the oil is extracted from a CBD-rich strain, it may still contain detectable levels of THC.
Hemp is a plant that comes with higher concentrations of CBD and only trace amounts of THC (usually below 0.3%). This isn't enough to get a person high — the reason why hemp products are federally legal — but can it result in a THC-positive test result?
As it turns out, the source of CBD isn't the only factor. Harvesting and refinement methods can also change the chemical makeup of your CBD oil.
CBD extracts are typically broken down in the following categories:
1. Full-Spectrum CBD
Full-spectrum CBD products contain all of the compounds that are naturally found in the hemp plant.
In short, a full-spectrum extract carries CBD alongside terpenes, flavonoids, and other cannabinoids — including THC.
For hemp-derived CBD oil, the legal limit for THC content is less than 0.3%.
Not every manufacturer discloses the information about the source of their full-spectrum extracts, so it may be difficult to tell just how much THC may appear in a given product.
That's why third-party lab testing is important. A lab-tested product should bear a certificate of analysis that lists the entire cannabinoid content along with other compounds present in the extract.
Full-spectrum CBD oils are the most likely to result in a positive finding on a drug test looking for THC.
2. Broad-spectrum CBD
Similar to full-spectrum CBD products, broad-spectrum products contain additional compounds from the hemp plant, including other cannabinoids and terpenes.
However, in broad-spectrum CBD, all of the THC is removed.
This makes broad-spectrum products less likely to trigger a positive test result for THC.
3. CBD Isolate
As the name suggests, CBD isolate contains nothing but pure CBD. It doesn't have any additional compounds from the source plant.
A lab-tested CBD isolate shouldn't contain any THC and thus isn't capable of resulting in a positive drug test.
Due to being odorless and flavorless, the isolate is more versatile than full-spectrum products — you can take it as is or add it to foods and drinks. CBD isolate is also available as oils, tinctures, edibles, and vapes.
Reasons Why CBD Oil Users May Test Positive for THC
Using CBD oil from a trusted source rarely results in a positive drug test. However, there are certain cases where a CBD product will make you fail a drug test. Here's how it may happen:
1. Some Hemp Oils Contain Trace Amounts of THC
This is the number one reason for a failed drug test.
If your CBD oil makes THC show up on a drug test, this may be because you bought a product that isn't actually sourced from hemp or contains more than 0.3 % THC.
Most manufacturers will claim their products don't contain THC — or it's below 0.3% — but this isn't always the case.
2. Cross Contamination
Very small amounts of THC occurring in the sourcing material can get into CBD oil in concentrations high enough to result in a positive drug test. This is more likely to occur with cheaper extraction methods.
3. Mislabelled Products
CBD oil obtained from hemp shouldn't have more than 0.3% THC. However, it's quite common for retailers to mislabel their products as THC-free when in fact, it's a product whose THC content exceeds the legal limit.
Interestingly, one study found that almost 70% of the CBD products sold online were mislabelled, causing potential serious danger to its consumers. The reason for this common phenomenon is that CBD products aren't regulated by the FDA.
4. Secondhand Exposure to THC
Unintended exposure to marijuana through secondhand smoke shouldn't be enough for a person to test positive for THC, but it's still possible. If there's a drug test in your workplace coming soon, you should avoid spending time in a room with heavy smokers.
How to Use CBD and Avoid a Positive Drug Test
If you take CBD oil, you can take certain measures to try to prevent failing a drug test.
First things first, do in-depth research to make sure that your CBD product is sourced from hemp and that the company uses proper refining methods to filter the THC out of the extract.
The best way to verify the credibility of your manufacturer is to check whether they provide third-party testing reports to prove what's stated on the label. This way, you know exactly how much CBD, THC, and other cannabinoids are in the product you choose.
If possible, ask the customer service about extraction techniques and the possibility of cross-contamination. Most trusted companies use CO2 extraction to produce their CBD oils, which is a solventless technique that yields clean and potent products.
The best way to ensure there isn't any THC in your system on the day of a drug test is to take laboratory-tested CBD isolate. This type of CBD is free of any additional compounds from hemp, including THC.
Speaking of which, I'd like you to take a look at my personal recommendations for hemp-derived CBD isolate.
My Favorite CBD Isolate Brands and Products
As a nurse, I'm subject to periodical drug tests. I love the way CBD improves my quality of life — but I also love my job and I find it difficult to imagine losing it due to not paying attention to what I'm buying.
As you may guess, I rarely have the time for measurements, so CBD oil isn't the best option for me, especially considering that the majority of CBD oils on the market are full-spectrum.
This is where CBD gummies help me out. I take one gummy before, during, and after work to keep myself calm in demanding situations, or when I'm tense and tired after the whole day.
I did my research on isolate-based CBD gummies and came across Royal CBD, a relatively new premium brand that offers CBD in every traditional format. A few months ago, the company added CBD gummies to its product lineup.
These gummy bears contain pure CBD isolate sourced from locally-grown organic hemp plants. Each gummy contains a convenient dose of 10 mg CBD. This potency perfectly fits into my daily routine because I can divide my daily dosage into 3 servings.
Not to mention that now I have a legit excuse for my sweet tooth.
The gummies have a very nice flavor. They actually taste like those candies I remember from childhood. They aren't full-spectrum, so there's no herbal aftertaste on the tongue — just a palate-pleasing fruity punch.
Of course, there's a price to pay (literally) for the quality of the ingredients. Royal CBD gummies are slightly more expensive than what you can find in many online stores, but if you want a lab-tested product that comes from an organic source, I can honestly recommend it.
Can CBD Oil Make You Fail a Drug Test? It Depends…
CBD doesn't show up on a drug test, and getting a false positive from CBD oil should be impossible so long as it contains less than 0.3% THC.
However, because the entire industry is very loosely regulated, there's no guarantee that a CBD product you purchase doesn't contain THC, or that the CBD concentration is at a safe or effective level.
When buying CBD products online, always do your research. Look for third-party lab reports to ensure the purity of your product, especially if you need to take a drug screening soon.
If you want to play on the safe side, choose CBD to isolate instead of full-spectrum extracts. A properly manufactured isolate is free of any THC and often carries higher doses per serving. Isolate products are also less expensive than their full-spectrum counterparts.
Have you ever tested false-positive on a drug test from using CBD oil?