Fresh Bros Review & Coupon Code (2023 Update)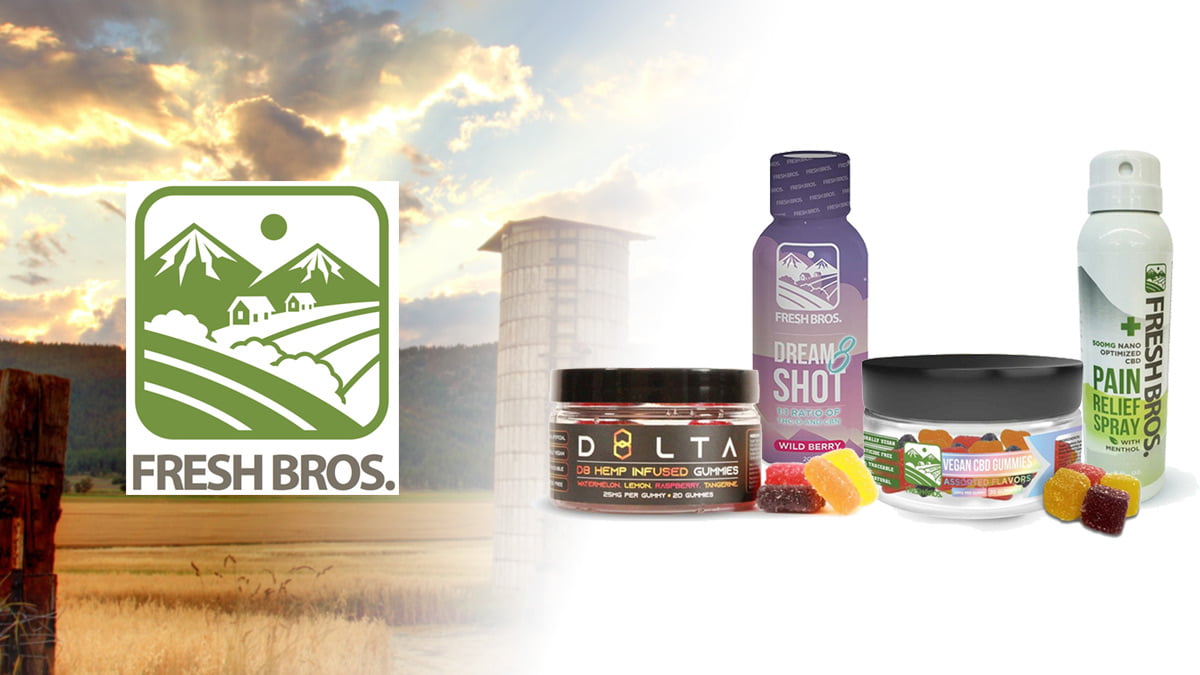 Fresh Bros is a licensed hemp and cannabinoid manufacturer based in the United States. They offer a range of CBD and delta 8 THC products.
This company was founded in June 2019, and since, they've established a respectable product range. However, as with any new company, Fresh Bros lacks a reputation and has few product reviews.
So, is Fresh Bros trustworthy, are their products any good, and what do consumers think? In this article, we'll look in-depth into this company and determine whether you should use this company or go elsewhere.
About Fresh Bros
Fresh Bros is a company offering CBD and delta 8 THC products. This company is based in Las Vegas, Nevada, and was founded by Adam Rahman.
Fresh Bros "aim to embody an active community with a holistic health vision," as stated on the company's about page. They're keen on providing innovative and reliable products for athletes and the general market completely transparently. They claim to sell the freshest, healthiest, organically grown hemp products in the USA.
With a team of athletes, innovators, consultants, manufacturers, and doctors behind the name, at first glance, Fresh Bros seems to be a trustworthy company that cares about the consumer.
But, there are a few contradictions to this mission, as evidenced by the way this company operates. The main issues include a lack of publishing and offering products that do not yet have testing parameters developed (meaning third-party labs can't accurately detect contaminants).
Most vendors are waiting to sell products like THC-O and HHC — but Fresh Bros has gone ahead anyway despite the safety issues associated with releasing untested products.
Fresh Bros Product Range:
Fresh Bros offer a wide range of CBD and delta 8 THC products. Other lesser-known cannabinoid extracts such as CBN (cannabinol) and CBG (cannabigerol) are also available on the websites. You'll come across cannabinoid supplements targeting sleep, pain relief, and energy as well.
Here are four of the most unique and innovative products the company offers and some insight into how these products compare with others on the market.
1. Featured Product: Fresh Bros Delta 8 THC Gummies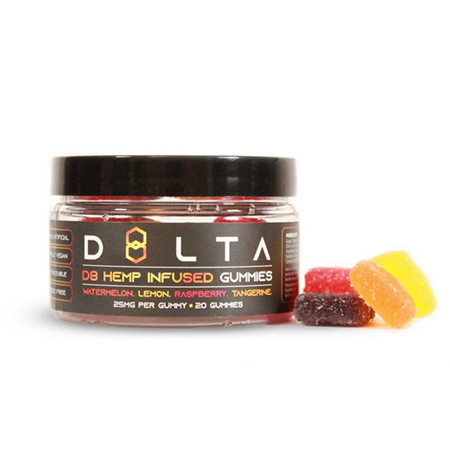 The Delta 8 THC gummies from Fresh Bros have made it to the featured product section because of the fantastic consumer reviews the product has received. Several customers have praised these gummies for their sleep-enhancing capabilities and fair price point.
These gummies are 100% vegan, and they come in an assortment of watermelon, lemon, raspberry, and tangerine flavors. Two potency options are also available — 10 mg per gummy (200 mg per container) and 25 mg per gummy (500 mg per container).
Fresh Bros recommend these quality THC-infused gummies to individuals with anxiety, insomnia, and pain conditions or to improve focus and productivity. Overall, Fresh Bros' delta 8 THC gummies seem like a top choice for those looking for a high-quality and potent delta 8 THC product for daily or casual use.
Product Specs:
| | |
| --- | --- |
| Total Delta 8 THC | 200–500 mg |
| Extract Type | Delta 8 distillate |
| Delta 8 Potency | 10–25 mg per gummy |
| Flavors | Watermelon, lemon, raspberry, & tangerine |
2. Fresh Bros The Dream8 Shot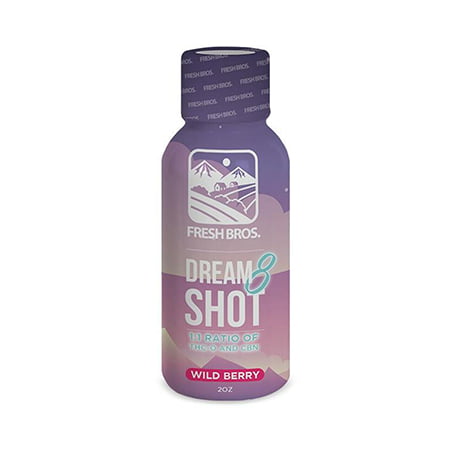 The Dream8 Shot by Fresh Bros includes a 1:1 ratio of THC-O (delta 8 tetrahydrocannabinol acetate) and CBN (cannabigerol). This shot has been developed to encourage sleep and help relax the consumer.
Fresh Bros recommend consuming this shot 30 minutes before bed to encourage sleep. It's relatively fast-acting and has been designed for people that struggle with sleep or suffer from disorders such as insomnia.
This is a unique and innovative product that we haven't seen elsewhere. However, it hasn't been released yet (due December 2021), and we are yet to hear of any consumer reviews because of this factor.
Product Specs:
| | |
| --- | --- |
| Total THC-O | Unknown |
| Extract Type | 1:1 THC-O: CBN Extract |
| THC-O Potency | Unknown |
| Flavors | Wild Berry |
3. Fresh Bros CBD Nano Pain-Relief Spray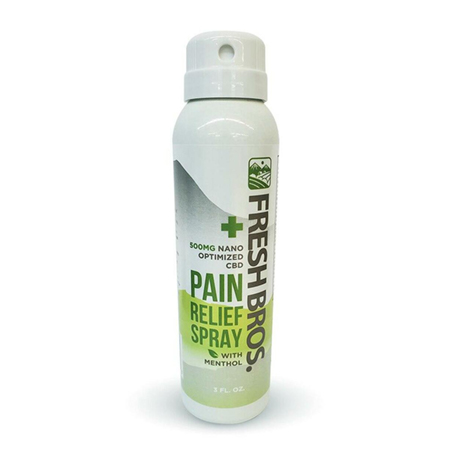 The CBD Nano Pain-Relief Spray from Fresh Bros contains 500 mg of CBD with menthol. This cooling spray is great for targeting pain at the source.
This product is recommended for those that suffer from backache, joint pain, skin inflammation, muscle soreness, and arthritis. It's also great for athletes or regular gym-goers that want a way to speed up recovery after training.
The CBD in this spray is "nano-optimized." This means it's coated with microparticles such as liposomes and/or lipid nanoparticles that aid in the absorption of the cannabinoid through the skin membrane.
The CBD helps target pain, and inflammation and the cooling menthol extract helps cool the affected area for instant relief. Although this product has few reviews, most of them are positive. Reviewers are pleased with the instant cooling effect and the long-lasting relief of this CBD spray.
Product Specs:
| | |
| --- | --- |
| Total CBD | 500 mg |
| Extract Type | Nano CBD Extract |
| CBD Potency | 6 mg/mL |
| Flavors | Menthol |
4. Fresh Bros CBD Gummies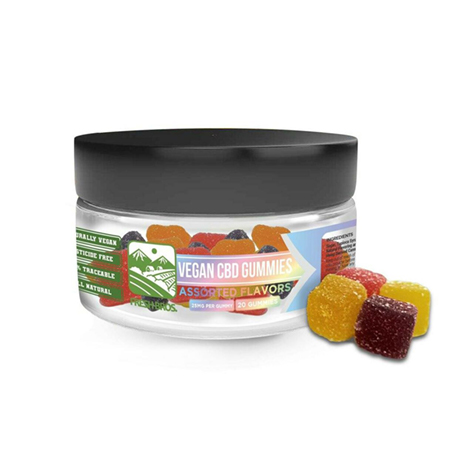 The CBD gummies offered by Fresh Bros are 100% vegan, certified organic, and GMO-free. Like the delta 8 THC gummies, they come in two potency options of 10 mg per gummy or 25 mg per gummy.
These gummies come in an assorted pack with watermelon, raspberry, orange, and lemon flavors. Made by infusing CBD within the edible rather than simply spraying an inactive piece of candy ensures that an accurate amount of the cannabinoid is dispersed evenly throughout.
Fresh Bros edibles have mostly positive reviews with consumers praising their great taste, especially for their CBD gummies anxiety-relieving qualities. However, as with most of Fresh Bros' products, consumer reviews are low.
Product Specs:
| | |
| --- | --- |
| Total CBD | 200–500 mg |
| Extract Type | CBD Isolate |
| CBD Potency | 10–25 mg per gummy |
| Flavors | Watermelon, raspberry, orange, & lemon |
What Fresh Bros Does Well
Fresh Bros is a young company that seems to be on the right path. They're a relatively new and innovative CBD and delta 8 THC vendor that has put some great ideas to fruition.
We particularly love the alternative extracts they have to offer. It's interesting to see cannabinoids such as CBN, CBG, and THC-O available and an extensive range of tailored supplements.
Negatives of Fresh Bros
Fresh Bros falls short on a few points. Our first and major drawback is their lack of third-party lab results. The company claims that all of its products are third-party lab tested; however, not all of the products on the website display a certificate of origin or detailed lab results.
Some products display up-to-date results, others have older lab results, and some have no results at all. This doesn't exactly show the transparency the company claims to care so much about on its website. That's not to say Fresh Bros won't provide you with valid results on demand, but it certainly doesn't make things easy or promising for potential customers.
On a similar note, the company doesn't display ingredient lists on all of the products offered on the website. Again, this goes against its claims of building a transparent company with the consumer at the forefront.
The descriptions on most product lists could also improve if the company wishes to be more transparent. Descriptions are lacking, and the product pages seem to be filled out to benefit SEO (search engine optimization) rather than the people buying the products.
Additionally, some of the products this company has for sale haven't been properly tested for safety. HHC, for example, still hasn't had the testing protocol developed. This means we can't accurately test each sample quite yet. There could be any number of nasty byproducts in these products, and we wouldn't know it. Most vendors are waiting for the testing parameters to finish development before selling these products — but not Fresh Bros.
These four factors alone are enough to put potential customers off. We hope to see updated ingredients, improved descriptions, and updated third-party lab results soon. This could be something that comes with time. However, for now, these factors have left a slightly bitter taste in our mouths.
Alternative Brands To Check Out Instead:
Fresh Bros is a great company offering a range of cannabinoid extracts in the form of innovative products. However, they've only been established for two years, so they haven't built much of a reputation yet.
That's not to say that you should avoid this company, but if you're looking for guaranteed quality from a highly reputable company, you may want to look elsewhere.
We've listed three of our favorites below if you're looking for reputable alternative companies that provide high-quality products with hundreds of reviews.
1. Area 52 (Best Alternative Source For Delta 8)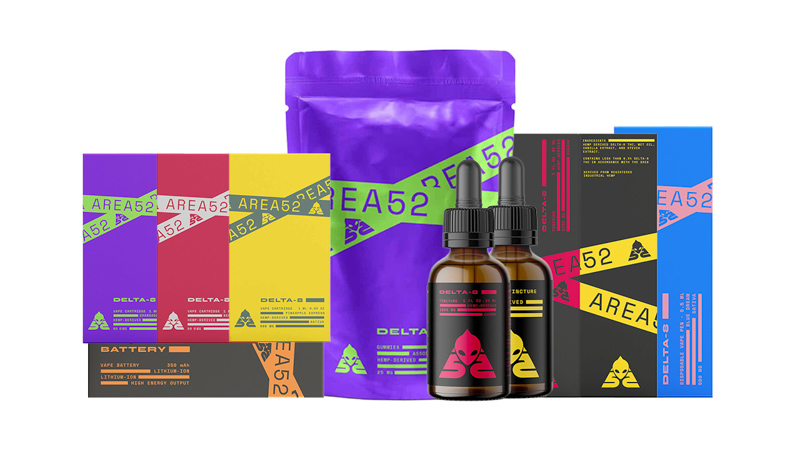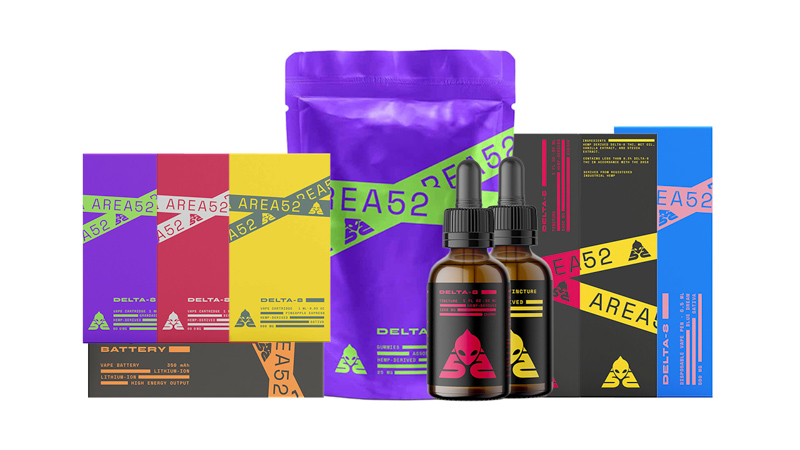 Get 15% off all Area 52 products. Use code "CFAH" at checkout.
Area 52 is a company offering a range of top-quality d8 tinctures, vape carts, gummies, and more. Their collection is small, but what the product range lacks in size, it makes up for in quality and potency.
This company primarily focuses on delta 8 THC products. However, they're branching out into CBD and other cannabinoids gradually. For now, Area 52 is a great place to look for high-quality delta 8 THC products that pack a punch.
All of Area 52's products have ingredients listed on the label and on the product pages. The company also sends each and every batch of delta 8 THC off for third-party laboratory testing. You can find regularly updated results on their COA (certificate of origin) page.
We particularly like the transparency this company provides, and they are doing the things Fresh Bros promises without compromise. All the information you need before purchasing is available and regularly updated. Any fluctuations in potency or profile are clearly stated in batch-specific lab results.
Products Available at Area 52:
Delta 8 THC Gummies
Full-Spectrum UFO Gummies
Delta 8 THC Tincture
Delta 8 THC Honey
Delta 8 THC Vape Pens & Carts
Full-Spectrum CBD Oil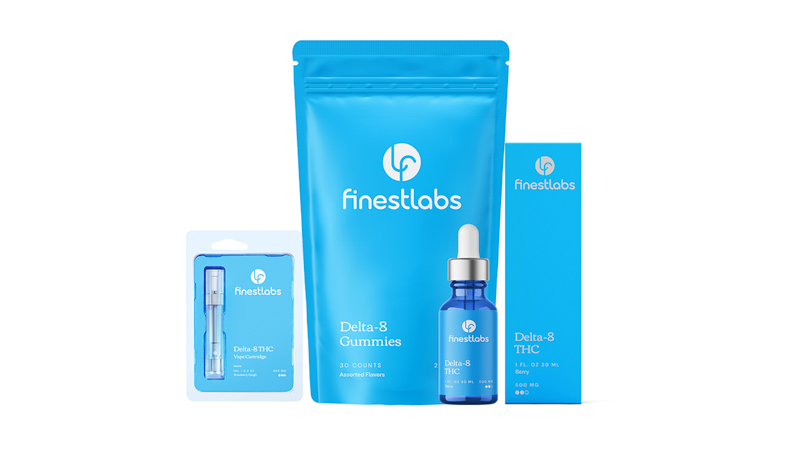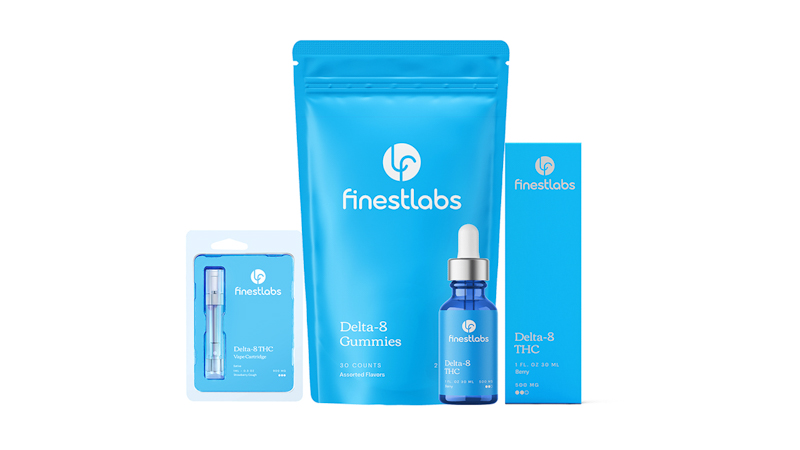 Finest Labs is a reputable company offering premium d8 products online as well as a range of terpene blends. We particularly love Finest Labs' extensive range of terpene blends.
This company offers a few delta 8 THC products, but we would guide you toward Area52 for this instead. The Delta 8 THC that Finest Labs offers is of high quality, but the range is lacking. This is the company to look at if you're looking for lesser-known cannabinoids and unique terpene blends.
With over 20 different terpene blends, it's not difficult to find one that suits you. Again, all Finest Labs products are third-party lab tested and have a clear ingredients list on each product page. This company could be a better alternative to Fresh Bros if you're looking for alternative hemp and cannabis products.
Finest Labs do a fantastic job of educating its customers on the benefits of different terpenes. Each blend comes with a clear terpene profile as well as an effective profile that shows exactly what the blend is suited for. This paints a clear picture of the benefits of the product well before a customer clicks add to cart.
Products Available at Finest Labs:
Delta 8 THC Gummies
Delta 8 THC Tincture
Delta 8 THC Vape Carts
Over 20 Tailored Terpene Blends
3. Gold Bee CBD (Best Alternative Source For CBD)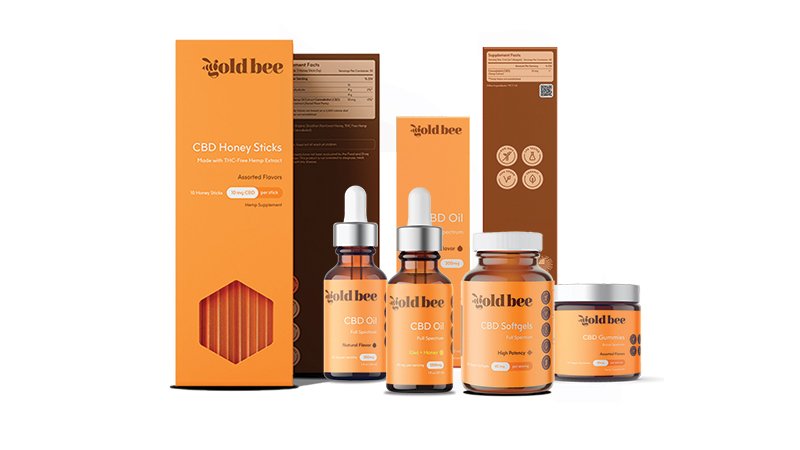 Gold Bee CBD is a company offering high-quality organic CBD products.
If you're looking for high-quality CBD, then Gold Bee CBD is a brilliant alternative to Fresh Bros. This company has an outstanding reputation for quality, and although the product range is small and occasionally seasonal, what they lack in quantity, they make up for in quality.
With unique products such as organic CBD honey sticks and vegan full-spectrum gummies, this is the perfect company for a health-conscious consumer looking for high-quality holistic health products.
This company provides a clear ingredient list on all of its products and up-to-date third-party lab results for each available product on its website. This company, with excellent transparency, puts health, wellness, and education high above sales.
Products Available at Gold Bee CBD:
Full-Spectrum CBD Oil
Vegan CBD Gummies
CBD Softgels
CBD Pain-Relief Roll-On
CBD Honey Sticks
Calming CBD Dog Treats
CBD Pet Oil
Final Verdict: Excellent Product Selection, But Questionable Safety Profile
Fresh Bros is an up-and-coming company that seems to be on the right path but has some serious room for improvement.
The company offers a range of innovative products and has more set to be released over the next couple of years.
Wherever you decide to purchase delta 8 THC, CBD, or any other cannabinoid from it's important to do your own research. It's also vital that you view third-party lab results for the product in question and check the ingredients lists to ensure that the product doesn't contain any harmful ingredients or chemical residues.