Lazarus Naturals CBD Review & Coupon Code (2023 Update)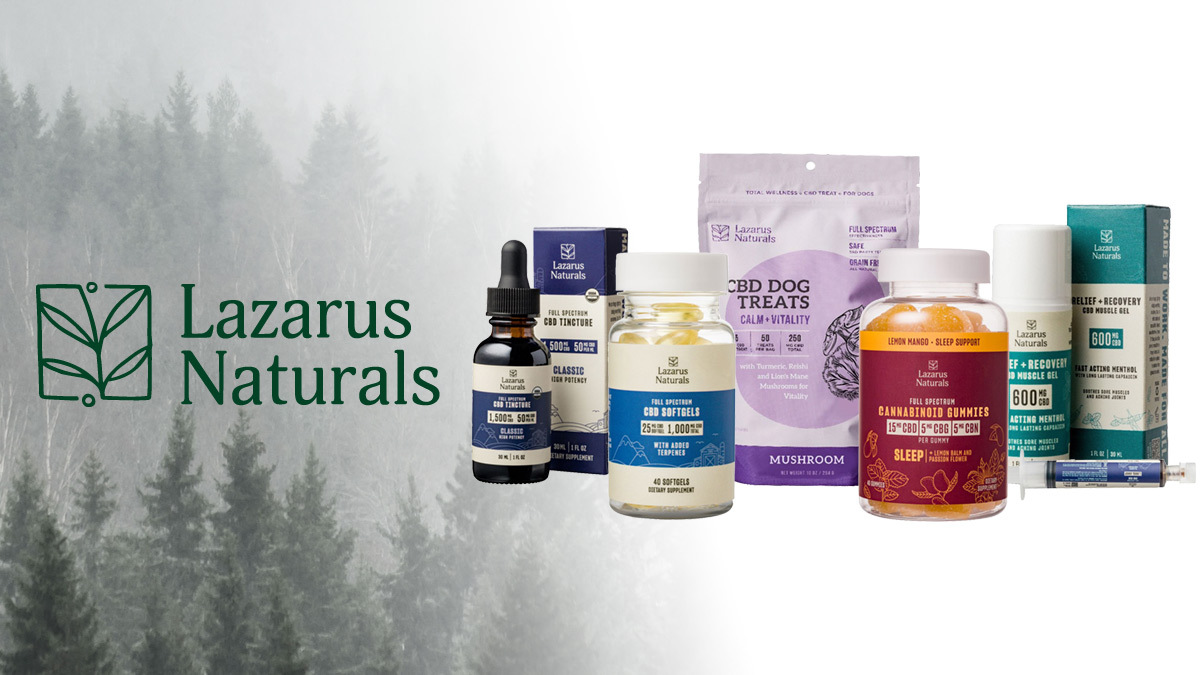 The CBD market grows by the second, and choosing who to buy from has never been more complicated.
You should always purchase supplements and extracts from a trusted source. With many hemp sources and forms, it's easy to get confused and end up buying a product that isn't suited to your health needs — or one that just doesn't cut it for you.
Is Lazarus Naturals a trustworthy CBD company?  
Find out from our review. We break down the brand's product line, strengths and weaknesses, and possible alternative options.
Lazarus Naturals: Highlights
| | |
| --- | --- |
| PROS | CONS |
| Affordable prices | No high-strength products |
| 90 days money-back guarantee | Bitter-tasting tinctures |
| Quality assurance | Incomplete lab reports |
About Lazarus Naturals 
Lazarus Naturals is a CBD brand established in 2014 by Sequoia Price-Lazarus. If there's one thing people say about him, it's that he never holds back the prices of his products. 
The company was founded in Portland, Oregon, where its hemp farms are located. 
Lazarus Naturals touts two bold promises: "Effective. Not Expensive."
To ensure that its products are effective and genuine, the brand handles every step of the way. Lazarus Naturals calls this approach  "the farm to the front door model."
They had a very hands-on approach to CBD farming right from the start. Everything was done in-house, from picking and pruning to packaging and polishing.
Quality and Transparency
The company ensures that its products are 100% authentic by following through with modern technology and expert handling.
Their quality assurance process begins at the farm. After growing and harvesting organic hemp on their organic farm in Oregon, it is tested by in-house scientists, even before the extraction process begins. 
After extraction, the product is checked once more by a third party before it gets bottled. All hemp products made by Lazarus Naturals are tested by Columbia Laboratories, formerly known as PIXIS laboratories. It is an ISO-17025 certified testing facility.
Lawsuits and Warning Letters
No lawsuits have directly been filed against Lazarus Naturals, but in 2019, a lawsuit was filed against Sequoia Lazarus by Zatuchni & Associates. The case, brought before the New Jersey High Court, sought to reprimand the young CEO after the plaintiff claimed that he was fired from his job and replaced with a younger employee. Fortunately, the age discrimination lawsuit was resolved.
Customer feedback
Lazarus Naturals has a reasonably good reputation due to its commitment to social justice and the welfare of its community. Their assistance policy is helping people with low incomes afford high-quality CBD oil. 
The quality and consistency of their products have endeared the brand to many hearts and homes.
Averagely, customers feel that Lazarus Naturals is a brand they can trust.
Pricing
Lazarus Naturals' products are reasonably priced. As earlier mentioned, the brand is more concerned with serving its community than lining its pockets. Lazarus Naturals products range from $10 for the THC Free CBD Energy Capsules ((10ct) to $2,800 for 1000g of the THC Free Bulk CBD Isolate.
The company also has a 90-day return policy that can be very reassuring to indecisive customers. If you consider these products too expensive for your budget, you can use the special discounts Lazarus Naturals offers for its customers.
Lazarus Naturals Product Range
Lazarus Naturals CBD comes in different formulations to meet each client's particular needs. Choosing a product may be difficult for a first-timer, so the company has included a product finder on its website to navigate you through the process. 
Here's what you can order from Lazarus Naturals:
Oil Tinctures
| | |
| --- | --- |
| Type of CBD  | Full Spectrum, THC-free |
| Potency Range | 750 mg – 6000 mg |
| Flavors | Blood Orange, Candy Cane, Classic, Chocolate Mint, Flavorless |
| Formulas | CBD; CBD+CBG; CBD + CBG + CBN |
The Lazarus Naturals CBD tinctures are available in various formulations and potencies. They also come in different flavors, which is great because you get to choose what aligns with your specific health needs. Whether you need CBD oil to help you fall asleep or something to calm you down during the day, there's a formulation for you.
Softgels and Capsules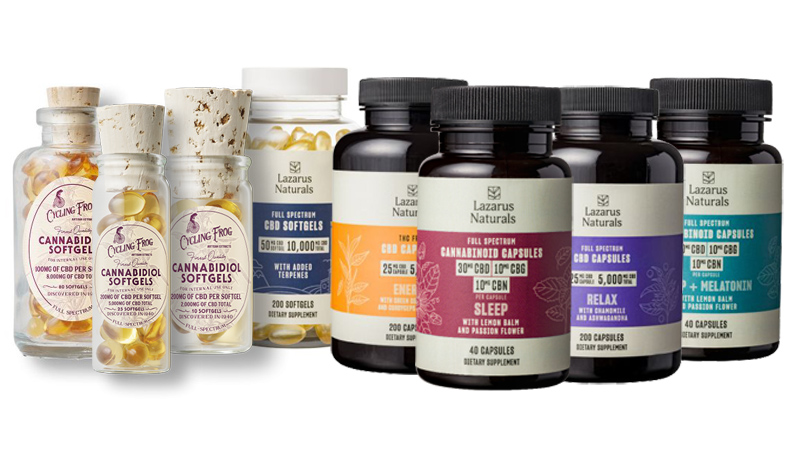 | | |
| --- | --- |
| Type of CBD  | Full-spectrum, THC-Free,  |
| Potency Range | 25 – 200 mg per capsule |
| Flavors | Unflavored |
| Formulas | Original, Sleep, Relax, Energy |
CBD softgels and capsules come in a wide variety of strengths, from 25 mg to 200 mg per capsule.
Unique CBD formulas have given rise to different kinds of CBD capsules. For example, if your desired outcome from CBD is to feel more elevated and energetic, you could opt for Lazarus Naturals Energy Capsules. It is THC-free but is capable of boosting your cognitive capacity, helping your brain perform at its best.
On the other hand, if you desire to relax from a week's load of stress, you could opt for Lazarus Naturals Relax Capsules.
If your CBD needs are much more robust, you can choose the Cycling Frog CBD Capsules, containing 200mg of CBD per capsule.
Pet Products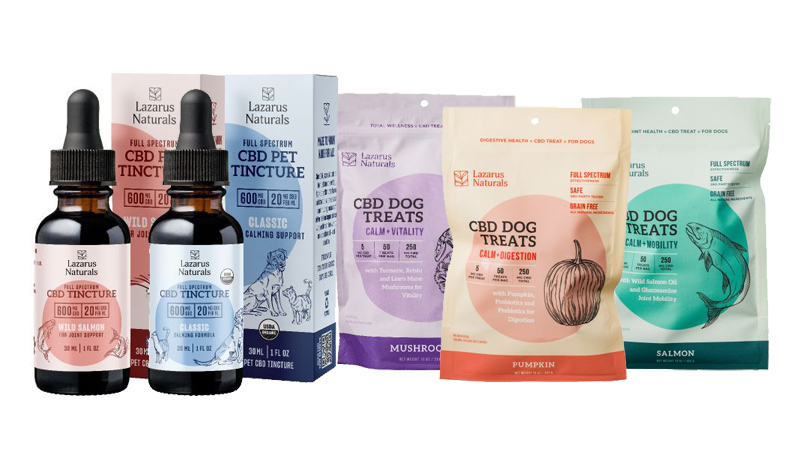 | | |
| --- | --- |
| Product types | Pet Oil Tincture, Treats |
| Type of CBD  | Full-spectrum |
| Potency Range | 250 – 2,400 mg |
| Flavors | Classic, Mushroom, Salmon, Wild Salmon |
| Formulas | Calm, Vitality, Mobility |
Your furry companions are not left out. Lazarus Naturals has CBD oils to help keep your pets calm and collected or encourage vitality, whichever outcome you need. This can come extremely handy on a road trip or when you plan to be in a large crowd. 
Lazarus Naturals also produces pet treats, which are already infused with CBD, so there's no need to use them with a tincture.
The Calm and Vitality and Calm and Mobility Dog Treats come in flavors that are fun and appealing to dogs. 
Edibles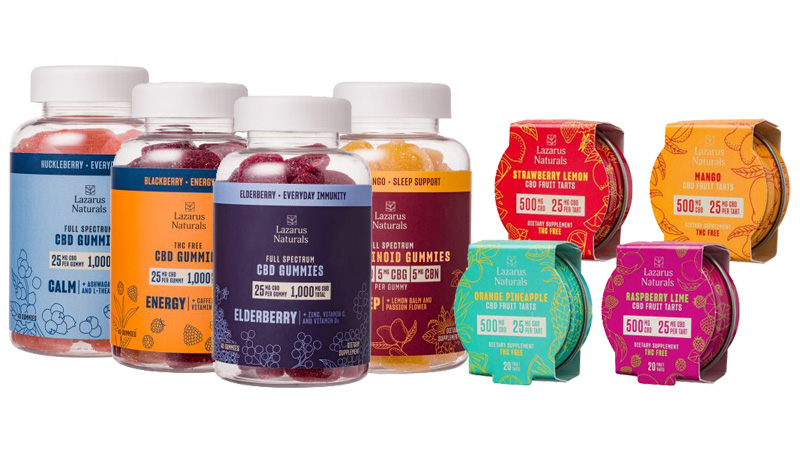 | | |
| --- | --- |
| Product Types | Gummies, Fruit Tarts, Coconut Oil, Chocolate |
| Type of CBD  | Full-spectrum, THC Free |
| Potency Range | 200 – 2,400 mg |
| Flavors | Blackberry, Huckleberry, Elderberry, Sea Salt and Vanilla, Lemon Mango, Mango, Raspberry Lime, Strawberry Lemon, Orange Pineapple |
| Formulas | Sleep, Energy, Calm |
The CBD Edibles available at Lazarus Naturals include CBD gummies, chocolate, CBD fruit tarts, and CBD-infused coconut oil. 
The Fruit Tart option has now become the brand's best-selling CBD edible. As of today, Lazarus Naturals has four flavors of fruit tarts available for purchase, including strawberry lemon, raspberry lime, mango, and orange pineapple. 
Each fruit tart contains 25mg of CBD, and a packet of 20 fruit tarts gives you 500mg of CBD.
You can also choose from several different versions of CBD gummies. These CBD gummies can help you fall asleep faster, or in another way around, boost your energy depending on the selected option; each gummy contains 25 mg of CBD and the jars come in different fruity flavors.
Topicals
| | |
| --- | --- |
| Product Types | CBD Balm, CBD Muscle Gel, CBD Coconut Oil, CBD Lotion, CBD Body + Massage Oil |
| Type of CBD  | Full-spectrum |
| Potency Range | 500 – 6000 mg |
| Scents | Pacific Pine, Soothing Mint, Lavender, Portland Rose, Fragrance-free. |
| Formulas | CBD |
These oils, balms, and creams are used to relieve pain and muscle soreness and induce relaxation. Lazarus Naturals has a broad range of topicals, including some very popular options such as the Lazarus Naturals CBD Balm and its Full Spectrum CBD Muscle Gel. 
These balms, gels, and lotions come in many options. Some of them are unscented, while some contain essential oils such as Lavender and Pacific Pine to help you get to a state of further relaxation.
A worthy mention is the CBD Massage oil, which can be added to a massage therapy session to help you unwind and relax.
These topicals are suitable for war veterans and even active military personnel.
The total cannabinoid content per bottle or tube ranges from 500mg of CBD to 6000mg of the extract.
Concentrates & RSO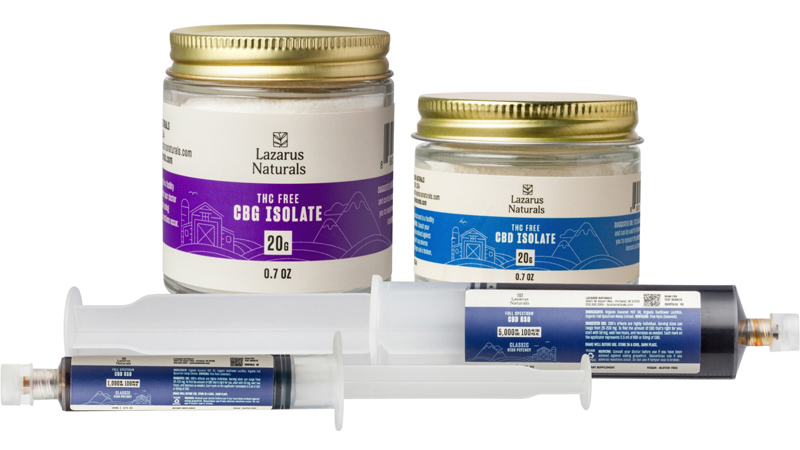 | | |
| --- | --- |
| Product Types | Bulk CBD Isolate, Bulk CBG Isolate, CBD RSO, Cycling Frog CBD Isolate |
| Type of CBD  | Full-spectrum, THC Free |
| Potency Range | 700 – 3500 mg |
| Flavors | Flavorless, Hawaiian Citrus, Lemon Lime, Valencia Orange, Raw |
If you're looking to make your CBD products at home, but you don't have a garden to plant hemp in, and you have no idea how to source the organic extract, you can get a CBD isolate delivered to you at home.
To suit your taste and the purpose you wish to use it for, Lazarus Naturals offers both flavored and flavorless options of CBD isolates. The flavors used with CBD isolates include Hawaiin Citrus, Lemon Lime, and Valencia Orange.
Each jar of CBD isolate contains 1000 to 5000mg of CBD.
Lazarus Naturals also has a pure CBG isolate for those hoping to benefit from the synergistic and entourage effect of CBD and CBG. You can get pure CBD and CBG from Lazarus Naturals, and indifferent bottles, so you can combine them as you wish.
All isolates sold by Lazarus Naturals are THC-free.
The RSO contains 100 mg of CBD per ml and is extremely versatile. It offers greater control over serving size. 
Pros and Cons of Lazarus Naturals
The Pros
Affordable Prices
Lazarus Naturals products are among the most affordable CBD products on the market. Whether you're buying its tinctures, capsules, or gummies, you're going to pay around $0.04 per mg of CBD. The company can afford to sell its products at lower prices due to ethanol extraction, which is less expensive than CO2 (but it also has some drawbacks).
Donates to Charities
Lazarus Naturals prioritizes purpose over profits — donating to non-profit organizations that help communities in need. In 2020, the company donated $100,000 to social justice causes, such as the ACLU Foundation of Oregon, the NAACP, and Dig Deep's Navajo Water Project.
On top of that, Lazarus Naturals offers an assistance program, extending up to 60% off products for veterans, individuals with long-term disabilities, and those living below the poverty line.
Generous Money-Back Guarantee
If you're not satisfied with your products, Lazarus Naturals has a 90-day money-back guarantee, giving full refunds to customers who send the products back within that time. It's a sign that the company is confident about the quality of its extracts.
The Cons
No High-strength Products
Although Lazarus Naturals claims to have high-potency CBD oils in its line-up, the truth is that the concentration of CBD increases with the bottle's size. For example, a 30-mL bottle with 1500 mg of CBD has the same amount of cannabidiol that a 60-mL bottle with 3000 mg. The best you can get is 50 mg/mL, while other companies offer potencies like 80 mg or 100 mg with every milliliter.
Tinctures Have an Unpleasant Taste
This is the most commonly reported issue with Lazarus Naturals products. Since the company uses alcohol extraction for its tinctures, the taste is harsh and bitter — even the suspension in MCT oil doesn't help. This problem is much less noticeable with CO2-extracted products.
Incomplete Lab Reports
Lazarus Naturals seems to be picky when it comes to publishing the results of lab analyses. For example, the company provides information about the product potency and contaminants, but the reports lack a solvent analysis — which should be prioritized considering the use of ethanol.
Alternative Choices to Lazarus Naturals
If you're looking for better CBD formulations and more options to choose from, here are a few of our personal favorite CBD brands.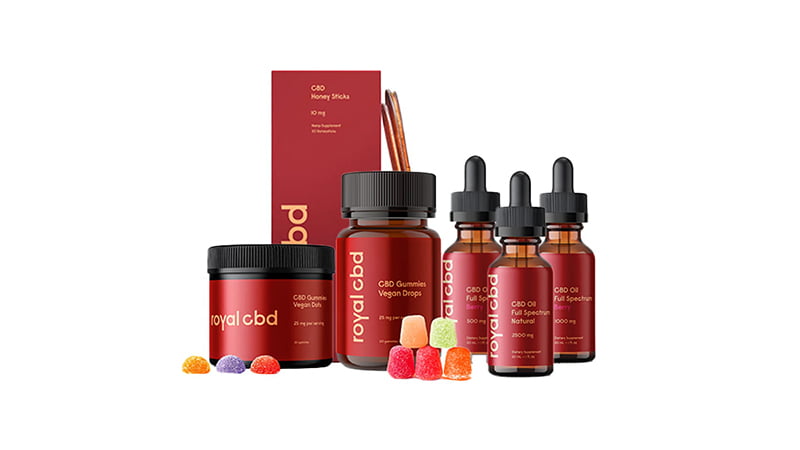 Get 15% off all Royal CBD products. Use code "CFAH" at checkout.
Pros
Cons

US-grown hemp

Supercritical CO2 extraction

Products are made without GMOs.

Well-designed formulas

Flavored with natural ingredients

Complete third-party testing profile

30-days Money Back Guarantee

Higher pricing than competitors, but worth every penny 

Not available locally
Royal CBD is one of the leading brands on the market. Based in California, the company offers a broad range of CBD extracts in various formats, including:
CBD oils

CBD capsules

CBD edibles

CBD gummies

CBD honey sticks

CBD topicals

CBD for pets

CBD pet oil

CBD dog treats
All these products are available in different sizes, concentrations, formulas, and flavors to cater to different types of users. Royal CBD uses Colorado-grown, pesticide-free hemp and employs CO2 extraction to ensure purity and consistent potency throughout the batches. The products are triple-tested in an ISO-certified laboratory, with a complete phytochemical analysis.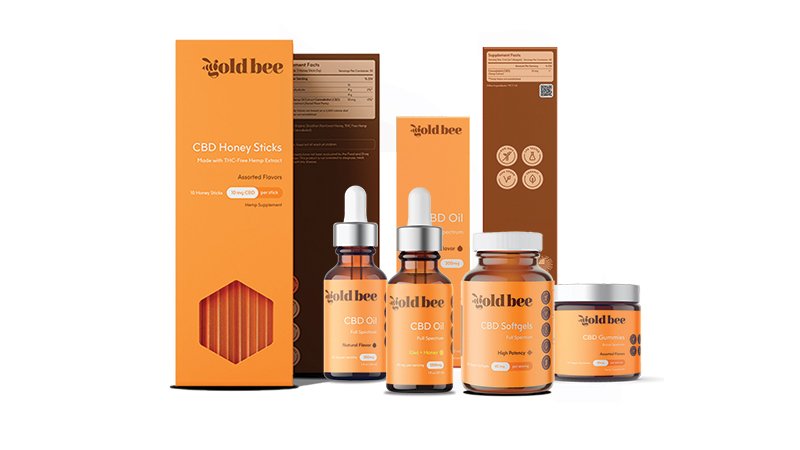 This brand is one of the most unique manufacturers in the CBD space. The company is popular for its superior formulations that are sweetened with organic raw honey and suspended with MCT oil for better absorption. In terms of terpene profiles, these products are heads above the rest.
You can choose from the following forms of CBD:
CBD oil

CBD capsules

CBD edibles

CBD gummies

CBD honey sticks

CBD roll-on

CBD for pets

CBD pet oil

CBD dog treats
Gold Bee has partnered with local farmers from California to create its proprietary blend of CBD-rich strains. The company makes all-organic products that are tested for potency and purity in a third-party laboratory. You can view the lab reports on the Gold Bee website.
CBDPure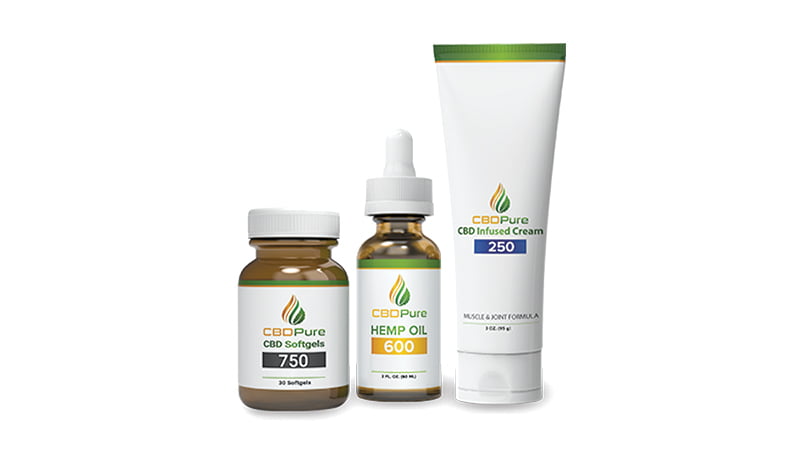 Pros
Cons

Organic hemp from Colorado

Full-spectrum products

Well-thought-out formulations

90-day Money Back Guarantee

One of the pioneer brands in the USA

Narrow product range

Lack of flavored products

Premium pricing
CBDPure started out in 2016 as a small company. Today, it's one of the most recognizable brands in the industry. However, despite its impressive growth, CBDPure has decided to maintain a simple product selection, including:
CBD oils

CBD capsules

CBD cream

CBD for pets
While there's not much to explore in terms of fancy formats and formulations, CBDPure is one of the best companies to purchase from if you're looking for unadulterated products crafted into premium quality. 
That being said, CBDPure also has premium pricing, but if you're not satisfied with your order, you can send it back within 90 days for a full refund.
Conclusion
Lazarus Naturals is trying its best to provide high-quality CBD products at affordable prices. 
These extracts are, indeed, inexpensive and available in a variety of cannabinoid spectra, from full-spectrum CBD to isolates. There are also plenty of various formulations to choose from.
However, the tinctures aren't the best-tasting products to say the least. The company also fails to provide lab results for solvents and lacks high-strength options.
Still not sure if Lazarus Naturals is worth your trust? Compare its line-up with our alternative picks to get the best value for your money.