Mainstream CBD Review & Coupon Code (2023 Update)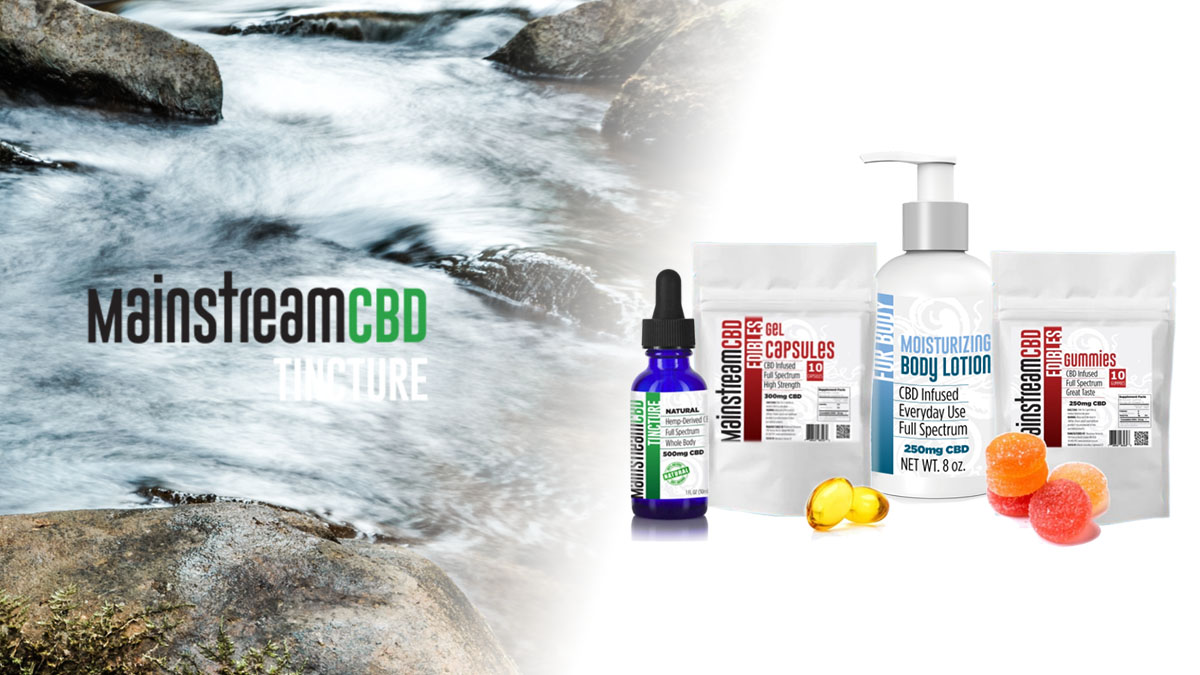 Mainstream CBD entered the hemp market in 2019, offering a broad selection of CBD and delta 8 THC products.
Little is known about the company. When I was doing my research, I only found a few Reddit threads and nothing beyond that.
The brand also doesn't disclose any details about the source of its hemp, extraction methods, or lab-testing practices, which doesn't speak well about its transparency.
So, on the one hand, we have a relatively big brand that sells everything but a kitchen skink and has a few stationery stores across the US, but on the other hand, it fails to meet certain quality and safety standards.
In this review, I'll cover the Mainstream CBD product line-up, talk about the pros and cons of the company, and recommend alternative popular CBD brand options so that you can make an educated decision and choose the best product for your wellness needs.
Mainstream CBD Review: Highlights
Pros
Cons

Broad product range
Full-spectrum and broad-spectrum options

Little information about the company
No details of the hemp source
Lab reports are incomplete
No refunds for flawed products
A Brief Overview of the Mainstream CBD Company
As I said, Mainstream CBD doesn't share many details about the quality or safety of its products. Instead, there are vague mission statements and bold visions laid out in front of the customer. Sadly, they won't replace quality proof like certificates of analysis.
Here's how the brand approaches hemp-derived CBD.
Quality & Transparency
There's no mention of the hemp source anywhere on the Mainstream CBD website. The company may be sourcing its hemp from US farms, but it might just as well use mass-produced hemp imported from overseas; there's no way to verify it.
As for the lab-testing, Mainstream CBD provides lab reports for all its products. However, the problem with these reports is that they only contain the results for CBD potency and the cannabinoid profile of the product. You won't find a complete analysis of its phytochemical profile, not to mention results for contaminants, such as pesticides, herbicides, heavy metals, solvents, and mycotoxins.
When you pair it with the lack of information about the hemp source, it becomes clear that this brand may have something to hide about the quality of its products.
Warning Letters & Lawsuits
To date, Mainstream CBD hasn't received a warning letter from the FDA for making unsupported health claims or taking other steps that violate the agency's regulations regarding hemp-derived CBD.
The company also isn't facing any lawsuits at the moment, which is another good indicator. Still, that doesn't make up for the serious lack of transparency.
Certifications
Mainstream CBD doesn't hold any certifications that would confirm the superior quality of its products that the company likes to brag about. Neither the USDA nor the U.S. Hemp Authority has certified its hemp as organic. Similar to the source of hemp, we know nothing about Mainstream CBD extraction methods.
Customer Service
If you're having problems with your delivery or have questions regarding the Mainstream CBD products, you can call its customer service at 952-683-1888 or use the email ([email protected]). The company also provides a contact form where you can briefly describe your problem.
To be honest, I'm very disappointed with Mainstream CBD's policy toward customers, especially when it comes to returns. The brand simply doesn't accept them, claiming you can apply for a product exchange, but only if you can prove that the damage was caused by the courier or results from poor handling by the manufacturer. Moreover, you can only exchange the same product coming from the same strain, with the same potency and flavor.
This way, you build walls between you and your customers, not long-term relationships.
Pricing
Mainstream has very affordable CBD products. Prices start from $5.99 for a VaporTech Slim Battery to $89.99 for a 2000 mg full-spectrum tincture. That being said, it's no wonder you pay less than for high-end products considering the scarce information about the brand's manufacturing practices and incomplete lab reports.
Mainstream CBD Product Range
One thing you can't take away from Mainstream CBD is the abundance of different products, both when it comes to CBD and delta 8 THC. I'll start with the brand's CBD range and then briefly cover the delta 8 line, highlighting the most important features and going through the pros and cons of each product.
Mainstream CBD Tinctures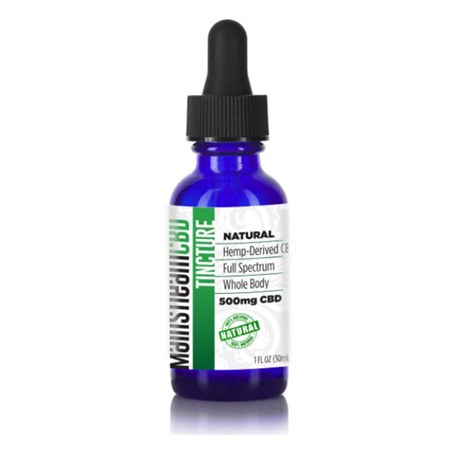 | | |
| --- | --- |
| Type of CBD | Full Spectrum, Broad Spectrum |
| CBD Potency | 200 mg – 2000 mg |
| Flavors | Unflavored, Peppermint |
| Formulas | Regular, CBG + CBD, CBN |
| Size | 30 mL |
If you're looking to start your supplementation with CBD oils, Mainstream CBD offers a decent selection of such products — starting from 200 mg to 2000 mg of CBD.
The oils are available in an unflavored or peppermint variant. If you don't like the taste of natural full-spectrum oils, the peppermint version should suit you better. The tinctures also come in different formulas, including a regular full-spectrum CBD oil and two types of blended tinctures: one with CBG and another one with CBN.
Both options are made for different health purposes; the CBG + CBD variant is supposed to give you more energy, while the CBN tincture caters to those who use cannabinoids to boost their sleep quality.
There's also a broad-spectrum CBD tincture in the same potency range for those who don't want to take any amount of THC in their product.
Mainstream CBD Capsules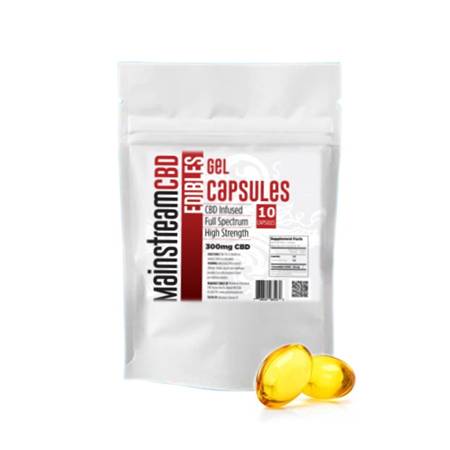 | | |
| --- | --- |
| Product Type | Full Spectrum |
| CBD Potency | 30 mg per capsule |
| Size | 10 ct – 75 ct |
As an alternative to CBD oils, Mainstream has come up with softgel capsules infused with CBD and the same full-spectrum extract. Each capsule contains 30 mg of CBD, making them fairly potent, even for a less bioavailable form than tinctures. You can buy them in different quantities, including 10 capsules, 25 capsules, and 75 capsules.
Unfortunately, the product description is nearly non-existent. Mainstream CBD doesn't provide information about the type of softgel, so if you're vegan or allergic to gluten, there's no chance to check those details.
Mainstream CBD Edibles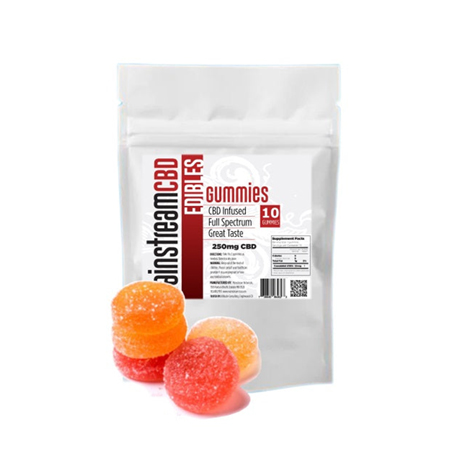 | | |
| --- | --- |
| Type of CBD | Full Spectrum |
| CBD Potency | 25 mg per gummy |
| Flavors | N/A |
| Size | 10 ct – 50 ct |
Mainstream CBD has one type of CBD gummies in its collection. Each gummy contains a healthy dose of 25 mg full-spectrum CBD. That being said, the company uses weird labeling for its products, because the full-spectrum label is only visible on the smallest version that has 10 gummies. The larger containers — 25 ct and 50 ct — are labeled as broad-spectrum, which is quite confusing.
Another problem with these gummies is that they don't carry any information about their flavor. Judging by the color, they may offer a mix of berry and citrus flavors, but that's only me guessing.
It's super-lazy of the manufacturer to neglect product descriptions and leave them with nothing but two blah-blah-like sentences.
Mainstream CBD also has a water-soluble CBD powder and CBD isolate listed under the edibles category, which is quite strange considering these forms aren't edibles per se.
Mainstream CBD Topicals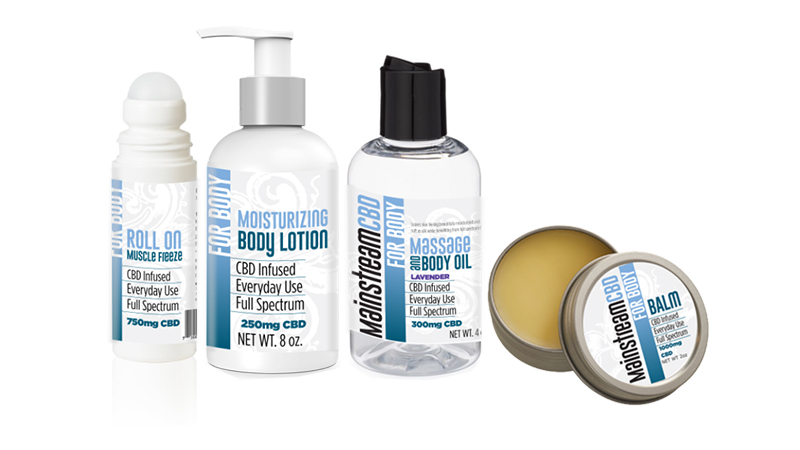 | | |
| --- | --- |
| Type of CBD | Full Spectrum |
| Product Types | Balm, Massage Oil, Hand & Body Lotion, Roll-on Stick |
| Potency | 250 mg – 1000 mg |
Topicals are one of the broadest categories in the Mainstream CBD product line-up. You can choose from four product types:
CBD Pain Balm (500 mg or 1000 mg CBD)
CBD Muscle Freeze Roll-on (750 mg CBD)
CBD-infused Hand & Body Lotion (250 mg CBD)
CBD-infused Massage Oil (300 mg)
The CBD balm is the best product for addressing localized discomfort, such as pain, swelling, inflammation, and itching. If you're looking for an additional analgesic effect, you can try the Muscle Freeze Roll-on.
The other two products are better suited for everyday use because they come with less CBD. They can do a good job of moisturizing your skin and replenishing its natural barrier by interacting with the endocannabinoid system.
Again, it's difficult to verify the ingredients in these topicals because of low-quality images and the lack of detailed product descriptions on the website.
Mainstream CBD Pet Products
Mainstream CBD Pet Tincture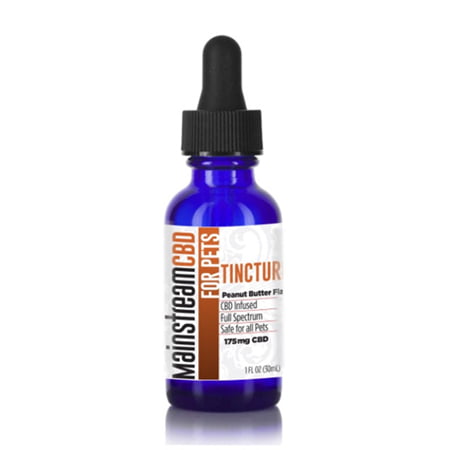 | | |
| --- | --- |
| Type of CBD | Full Spectrum |
| Potency | 175 mg – 500 mg |
| Flavors | Unflavored, Peanut Butter |
Mainstream CBD has a product line dedicated exclusively to pets. The company's pet tincture is available in two strengths, delivering 175 mg or 500 mg of full-spectrum CBD. It comes as an unflavored extract or peanut-butter flavored.
Much as I'd like to tell you something more about the carrier oil or other ingredients besides the hemp extract, Mainstream CBD doesn't share such information, nor does it show the back of the label where you could see the instructions for use and the list of ingredients.
Mainstream CBD Pet Treats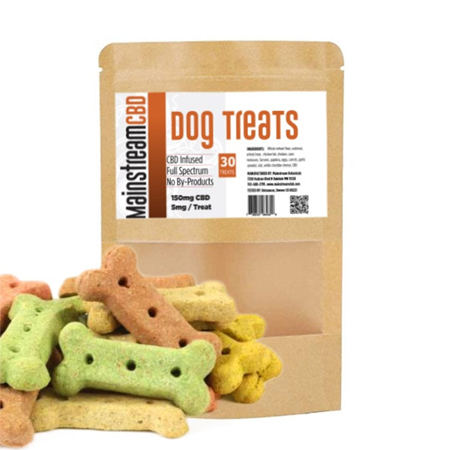 | | |
| --- | --- |
| Type of CBD | Full Spectrum |
| CBD Potency | 5 mg – 10 mg |
| Flavors | N/A |
You can choose from two types of Mainstream CBD pet treats: for dogs and cats. The ones for cats contain 5 mg of CBD, while the treats for dogs are twice as potent compared to other brands of CBD dog treats, carrying 10 mg. Both versions contain full-spectrum CBD, so your dog or cat can reap the benefits from the entourage effect.
However, I couldn't find any information about other ingredients in the formula. Judging by the looks of both products, they might be colored with artificial colorings. But, what bothers me, even more, is that you can't tell whether they contain grains, sugar, preservatives, or any other biologically inappropriate products for pets.
Mainstream CBD Pet Shampoo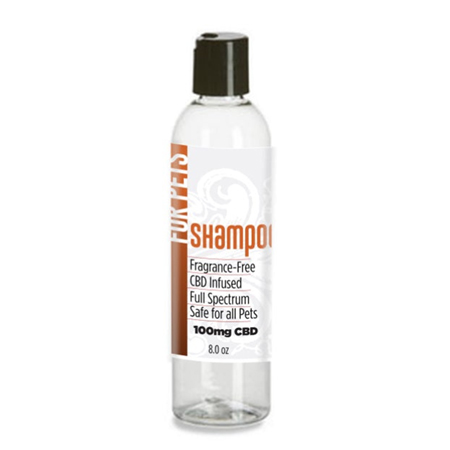 | | |
| --- | --- |
| Type of CBD | Full Spectrum |
| CBD Potency | 100 mg |
| Scent | Fragrance-free |
| Size | 8 oz |
The Mainstream CBD Pet Shampoo is a well-thought-out product, although it doesn't contain much CBD. At 100 mg of CBD per bottle, it's a good skincare solution for dogs struggling with coat and skin problems. You can also use it with cats; Mainstream CBD claims the shampoo is safe for all pets. The product is also relatively inexpensive. You can order it for $8.99.
Other Products by Mainstream CBD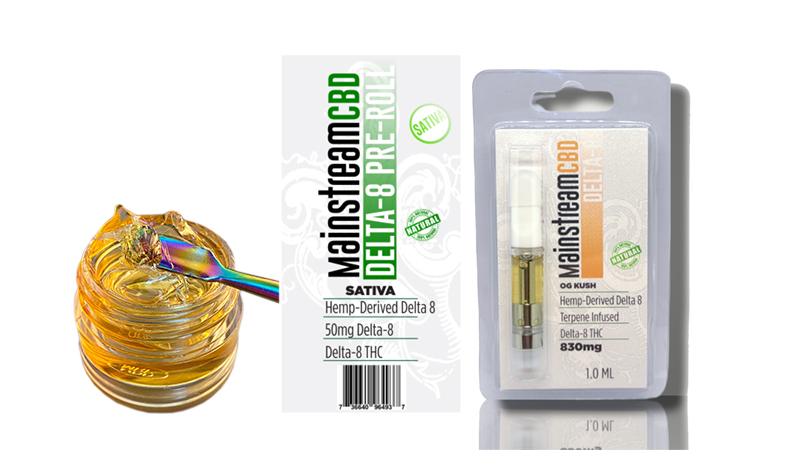 Mainstream CBD also has a second "wing" of hemp-derived extracts. The company is focused on making delta 8 THC products in different forms.
Browsing through the Mainstream CBD delta 8 range, you can find the following formats:
Delta 8 Distillate
Delta 8 Smokeables
Delta 8 Tinctures
Delta 8 Vape Cartridges
Delta 8 Gummies
A nice nod toward cannabis users, especially those who are into vaping, is that Mainstream CBD offers plenty of hardware, from vape pens to dry herb vaporizers to grinders, pipes, and rolling trays.
Mainstream CBD Review: Pros & Cons
There are no pristine companies out there. Every CBD brand has its pros and cons, but when it comes to Mainstream CBD, the cons outnumber the pros; worse yet, they outnumber it significantly.
The Pros
Broad Product Range
That's something you can't deny about Mainstream CBD. This review took me longer than with other hemp companies due to the abundance of different products. From CBD to delta 8 THC, the list of different formats is impressive, to say the least.
Full-Spectrum & Broad-Spectrum Products
Mainstream CBD mostly makes full-spectrum products, but there are also several broad-spectrum options if you don't want to take any amount of THC in your CBD oil. The company also sells isolate powder; for an unknown reason, it's kept under the "Edibles" category.
The Cons
Little Information About the Company
Transparency is one of the top things to look at when you're launching a CBD brand. That's because the market is unregulated and customers want to know as much about their potential suppliers as they can. Reputable companies broadly describe their activity, from hemp sourcing to extraction methods and lab-testing practices. Their founders are also put at the forefront, representing the brand so it can create a special bond with consumers.
When you enter the Mainstream CBD website and go to its "About us" section, you may have a feeling that you're buying from a faceless company that happens to offer many CBD and delta 8 THC products. It also claims that it cares about quality, integrity, and whatnot. The problem is that you can't verify the aforementioned quality factors, so in this case, buying from such a vendor is a Russian Roulette.
Poor Product Descriptions
I've visited hundreds of CBD stores in my life, and believe me, I've seen a lot of poor website copies, clunky sentences filled with weird-sounding words, and other strange stuff. But, I've never witnessed such minimalism, and yes, that's sarcasm. The product descriptions on the Mainstream CBD website contain literally between one and three sentences max. I would praise them for this minimalism if, at least, I could learn some specific information about the products, but most of them go like this: "This product is great and safe for X and you can use it for your wellness because it's good."
Nothing more to add here.
Low-Quality Images
Now that's frustrating. Sometimes, when you can't figure out the desired information from the product description, you look at the gallery and pick up the photo with the back of the container, where all necessary details are listed.
Guess what? Mainstream CBD has made sure that you won't be able to guess anything from their pictures because they're pixelated too hard. It's like I've been suddenly taken back to my early 00s and tried to download a movie only to regret I've spent hours downloading an unwatchable image.
No Details of the Hemp Source
This bugs me the most. You can't tell if the hemp used by Mainstream CBD is non-GMO and pesticide-free because that information is undisclosed. The plants could be sprayed with pesticides and grown in contaminated soil — and you wouldn't even know it before it takes a toll on your health in the long run.
Lab Reports Are Incomplete
Okay, this one fuels my worries even more. Although Mainstream CBD provides a certificate of analysis for each product, the results only include the cannabinoid profile of the tested sample. There are no mentions of pesticides, heavy metals, mycotoxins, or solvent testing.
No Refunds for Flawed Products
Aaaaand we have the final nail to the coffin. If a company is confident about the quality of its products, it usually offers customer-friendly return policies and generous money-back guarantees. Mainstream CBD seems to have lost that confidence, and you can tell it by looking at its return policy.
You can't return a product and get a refund. Instead, you can send it for exchange, provided that the product is:
Unopened
Unused
Sourced from the same strain, of the same potency levels
It's like reading a contract with the devil, not with a company that cares about its customer satisfaction.
Alternative Options to Mainstream CBD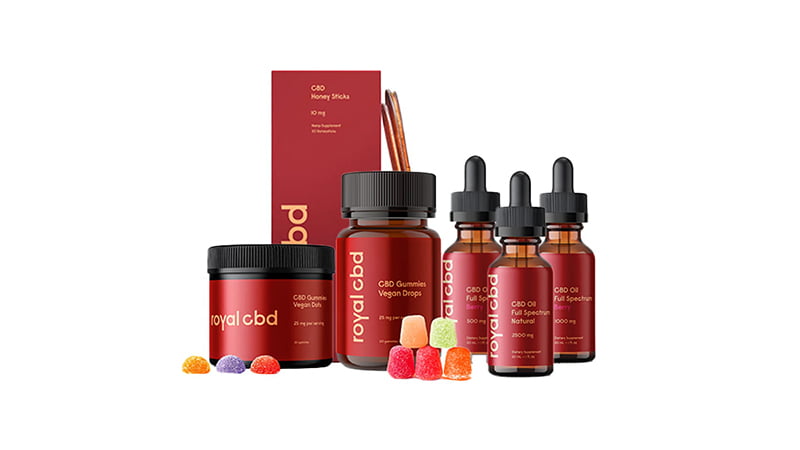 Get 15% off all Royal CBD products.  Use code "CFAH" at checkout.
Pros
Cons

Organic, US-grown hemp
Supercritical CO2 extraction
Broad product range
High-strength options are available
Well-designed formulas
Flavored with natural ingredients
Complete third-party testing profile
30-days Money Back Guarantee

A little bit more expensive than the market's average (but still worth the price)
Not available locally
Royal CBD is a Nevada-based brand that has been making premium-quality CBD extracts since early 2018. The company was founded by a team of biohackers, scientists, and hemp enthusiasts with a mission to elevate the industry standards after witnessing too much mediocrity.
The Royal CBD collection is made with organic, non-GMO hemp and extracted with supercritical CO2 to ensure maximum purity and consistent potency throughout batches safely and sustainably. The company offers both full-spectrum and broad-spectrum options, including:
CBD oils
CBD capsules
CBD edibles

CBD gummies
CBD honey sticks

CBD topicals

CBD cream
CBD roll-on stick

CBD for pets
Every product batch is triple-tested in an independent, ISO-certified laboratory for potency, phytochemical profile (cannabinoids and terpenes), and purity, including results for pesticides, mycotoxins, heavy metals, and solvent residue.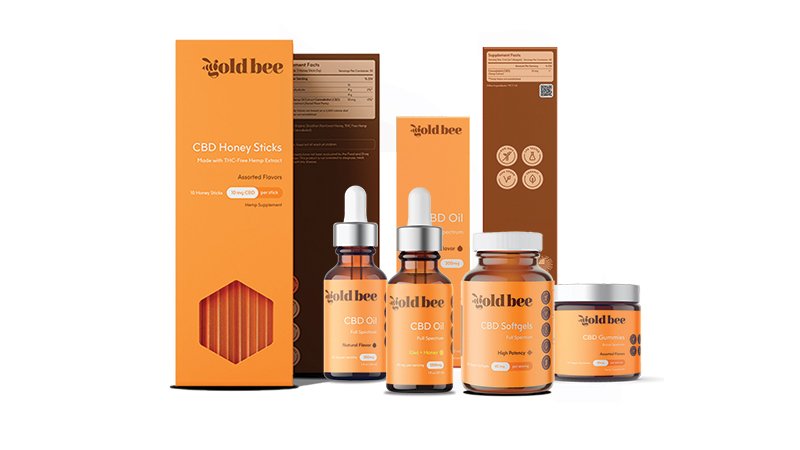 Pros
Cons

Organic hemp
CO2 extraction
Infused with superfoods
Full-spectrum and broad-spectrum CBD
Up to 2500 mg of total CBD
Flavored with natural ingredients
Pet products
30-day Money Back Guarantee

Limited potency options
No isolate-based products
Gold Bee specializes in unique formulations that combine full-spectrum hemp extracts and selected superfoods, such as raw honey and organic coconut oil. They even offer safe CBD products for your dog. Starting with a simple selection of CBD products, the company now offers CBN sleep supplements and a line of Kava Kava extracts in various forms.
As for the CBD range, you can choose from the following products:
CBD oils
CBD softgel capsules
CBD edibles

CBD gummies
CBD honey sticks

CBD roll-on stick
CBD for pets
Like Royal CBD, Gold Bee uses terpene-rich, non-GMO hemp sourced from local farms. All products come with up-to-date, complete certificates of analysis that you can access directly on the Gold Bee website.
Final Verdict: Mainstream CBD Needs to Work On Transparency & Customer Policy Instead of Pushing More Products
When I look at Mainstream CBD as a whole, I can't resist having an impression that somebody's creed is "the more, the merrier." However, it doesn't work that way in the CBD space.
Mainstream CBD has an abundance of different products for every type of CBD user. Even delta 8 THC aficionados can feel as if they entered Disneyland when browsing through Mainstream CBD's website.
But, the product choice isn't followed by quality and transparency, which are the two most important features of a reputable CBD brand. Brands that don't tick off these criteria fail to build long-term relationships with their customers because cheap prices aren't enough to win with high-end brands.
If you're looking for affordable, high-quality CBD products, I recommend checking out Royal CBD and Gold Bee. Both companies provide top-shelf ingredients and are open about every aspect of their professional activity. And, if you're in a rush, I encourage you to do your research.
Pay attention to things like hemp source, extraction methods, third-party testing, and overall brand reputation. Doing so will help you make a well-informed decision and avoid being pulled by the leg.