Medterra CBD Review & Coupon Code (2022 Update)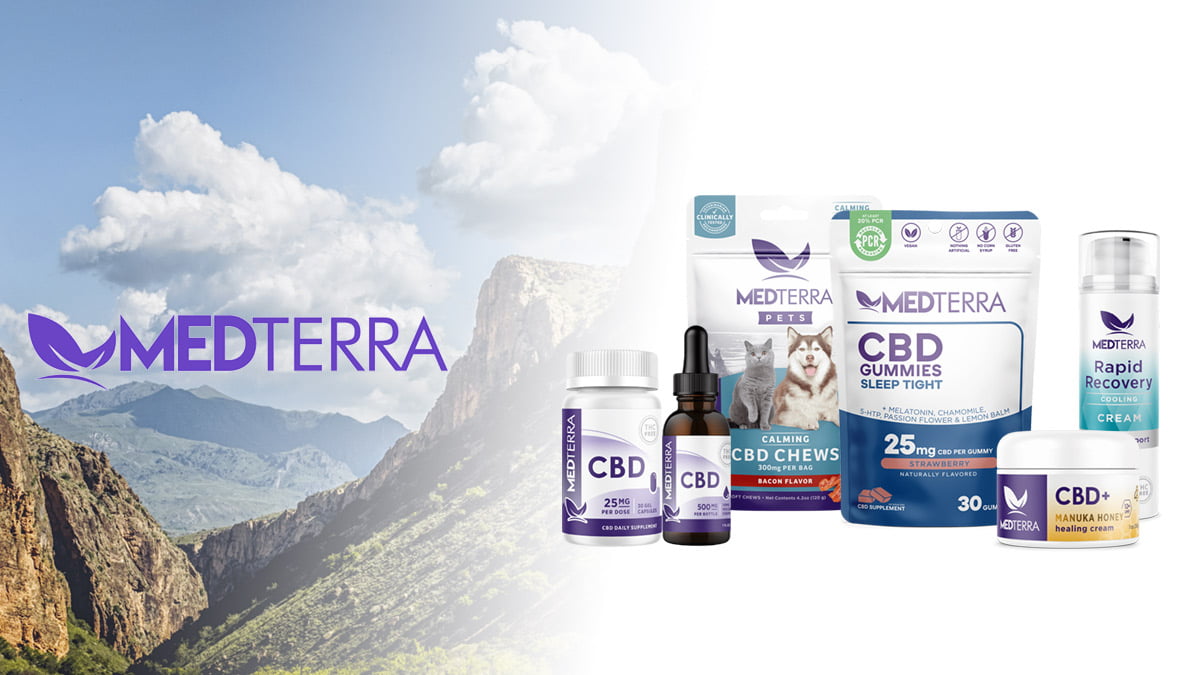 Medterra started in Irvin, California as a small craft company. In the beginning, the brand focused mostly on isolate-based CBD products. Later on, the team at Medterra added broad-spectrum formats to its line-up, but the company still keeps the game simple.
Medterra isn't the first company to offer a limited product range. For example, CBD pure — one of the pioneer brands in the USA — offers almost the same product range as it did on its launch day.
This is good because a simple product selection means that the manufacturer can devote more time to mastering the formulas.
Is this true for Medterra?
How does the brand compare to other companies from the premium CBD sector?
Let's find out.
About Medterra
Pros
Cons

Bundle packs
International shipping
Reward program

No CBD vapes
Some lab reports are outdated
Narrow product range
Refunds don't include shipping costs
Medterra was launched in 2017 in California. CEO Jay Hartenbach and co-founders combined their industrial hemp background with a team specializing in quality control, genetics, and compound extraction technologies.
The company believes that the medical advantages of CBD should be available to people at a reasonable price. Part of that philosophy includes abandoning full-spectrum extracts in favor of isolate-based and broad-spectrum products.
Quality & Transparency
Medterra uses hemp that comes from Kentucky, one of the top-quality places to cultivate hemp. According to the company, its hemp strains have very high levels of CBD. US-grown hemp is superior to plants imported from Europe and other regions because it's subject to stricter regulations. Not to mention that Kentucky offers a long growing season and good quality of soil.
Medterra sends all its products to ProVerde Labs. This third-party laboratory provides complete lab reports for the potency of CBD as well as for contaminants such as bacteria, heavy metals, solvents, and pesticides. Some (but not all) products also have QR codes on their containers.
Warning Letters & Lawsuits
So far, Medterra hasn't received any warning letters from the FDA, which is a good sign. The FDA issued warning letters to companies that aren't compliant with the agency's guidelines regarding health claims about CBD and selling CBD products as health supplements.
The company was sued in 2020 by Healthcare Resources Management Group (HRMCG). Medterra was accused of misappropriating a formula for a cannabidiol-infused lotion. However, due to the lack of evidence and further action from HRMCG, the lawsuit was dismissed.
Customer Service
Medterra has an easy-to-read website where you can browse all its products. The company ships to all 50 US states; it also ships internationally to Canada and Australia. Shipping takes 4-7 working days and the customer needs to take care of the delivery costs.
When you purchase from Medterra, you also receive a 30-day money-back guarantee. If you're not satisfied with your products, you can return them for a full refund within 30 days of purchase.
Pricing
Medterra prides itself on making high-quality CBD products that are much more affordable than the competition. While the company does sell a few value bundles, these products are only a bit less expensive than competitors in similar quality standards. There are also no discounts, although Medterra has a loyalty program where you can earn points for every dollar spent and use them to get a unique discount.
Medterra CBD Product Range
As mentioned earlier in our review of Medterra, the company has a narrow selection of products, including formats such as CBD oil, capsules, gummies, topicals, and CBD for pets. Here's a detailed overview of each product.
Medterra CBD Oil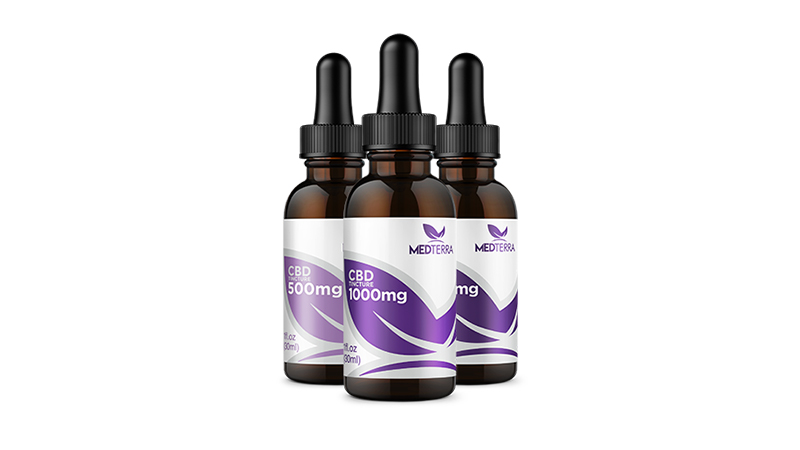 | | |
| --- | --- |
| Type of CBD | Full Spectrum, Broad Spectrum, Isolate |
| Potency of CBD | 750 mg – 6000 mg |
| Flavors | Unflavored, Citrus, Strawberry Mint |
| Formulas | Relax, CBG + CBD, Immune Boost, Antioxidant Boost |
Medterra's CBD oils are among the company's best-selling products. Not only are they available as full-spectrum, broad-spectrum, and pure CBD, but they also feature a broad range of concentrations, up to 6000 mg of CBD per bottle.
On top of that, Medterra also offers four different formulas of its CBD oil, including:
Relax – CBD isolate, organic MCT oil
Immune Boost – CBD, vitamin C, Echinacea, Ginger Root, Reishi Mushroom, Lemon Balm, Ashwagandha
Antioxidant Boost – CBD, Vitamin C, Camu Camu, Sea Buckthorn Oil
CBG + CBD – CBD, CBG (cannabigerol)
You can choose from three flavor options: Original (Unflavored), Citrus, and Strawberry Mint
Medterra CBD Capsules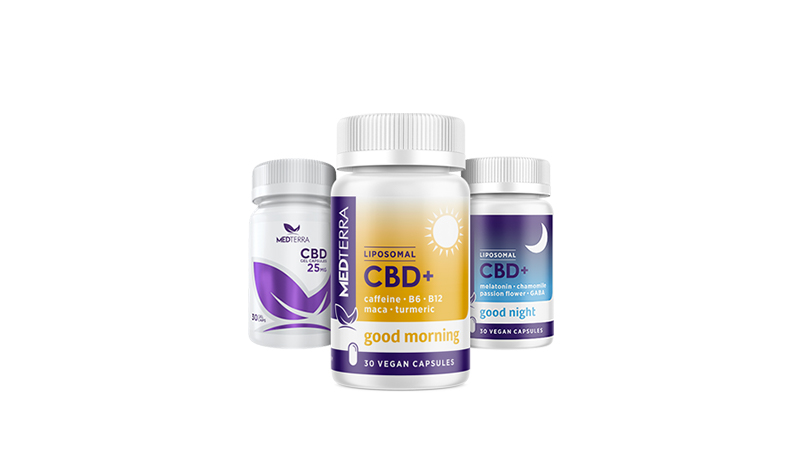 | | |
| --- | --- |
| Type of CBD | Full Spectrum, Broad Spectrum, Isolate |
| CBD Potency | 25 mg per capsule |
| Formulas | Relax, Focus, Immune Support, Good Night |
Medterra offers three types of CBD capsules: full-spectrum, broad-spectrum, and isolate. The full-spectrum formula is called "True Full Spectrum" because it contains 2 mg of THC aside from 50 mg of CBD per dose. Although the THC content remains within legal limits, it can induce mood alteration or other effects associated with traditional cannabis consumption.
You can choose from the following formulas:
Relax – CBD Isolate, MCT Oil
Good Morning – CBD Isolate, Caffeine, B6, B12, Maca, Turmeric
Good Night – CBD, Melatonin, Chamomile, Passion Flower, GABA
Wellness – CBD, Reishi, Ashwagandha, Holy Basil
Medterra CBD Gummies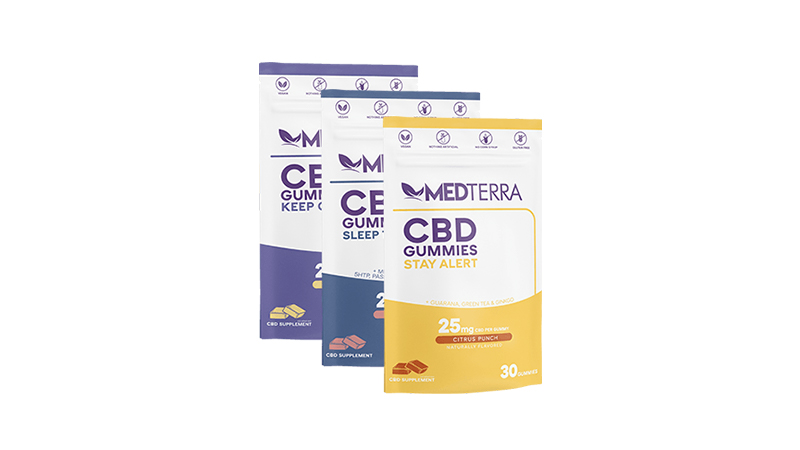 | | |
| --- | --- |
| Type of CBD | Full Spectrum, Broad Spectrum, Isolate |
| CBD Potency | 25 mg per gummy |
| Formulas | Sleep Tight, Keep Calm, Stay Alert, Immune Boost, Stress Support, Relax, Deep Sleep |
Medterra has several options for its CBD gummies. Similar to other formats, they're also available in all cannabinoid spectra. Depending on the selected spectrum you can browse between different formulas and flavors.
For example, the isolate-based CBD gummies are available as:
Sleep Tight (Strawberry) – CBD, Melatonin, Chamomile, 5-HTP, Passion Flower, Lemon Balm
Keep Calm (Tropical Punch) – CBD, L-Theanine, Turmeric
Stay Alert (Citrus Punch) – CBD, Guarana, Green Tea, Ginkgo Biloba
Immune Boost (Elderberry) – CBD, Elderberry, Vitamin C, Zinc
Medterra's broad-spectrum CBD gummies include two categories:
Immune Boost (Elderberry) – CBD, Elderberry, Vitamin C, Zinc
Stress Support (Strawberry) – CBD, Manuka Honey, Lavender, L-Theanine
The full-spectrum CBD gummies also have two types:
Relax (Citrus) – CBD, THC
Deep Sleep (Mixed Berry) – CBD, THC, Melatonin
Each option contains 25 mg of CBD. The gummies are vegan and gluten-free.
Medterra CBD Topicals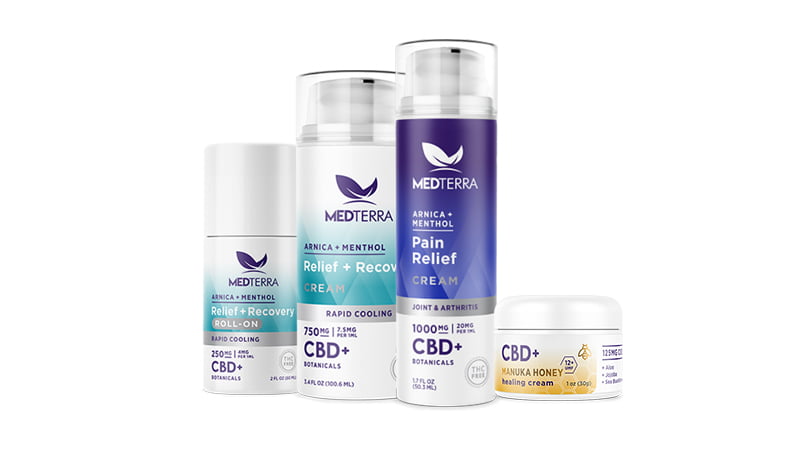 | | |
| --- | --- |
| Type of CBD | Broad Spectrum, Isolate |
| CBD Potency | 250 – 1000 mg |
| Product Types | Cream, Roll-On |
| Formulas | Rapid Recovery, Pain Relief, Healing, Soothing, Nature's Relief |
Medterra has two types of topicals: CBD cream and CBD roll-on.
The CBD cream features a broader range of formulas, including:
Rapid Recovery – 250 mg of CBD, Menthol, Arnica
Pain Relief – 500 or 1000 mg of CBD, Menthol, Arnica, Jojoba Oil, Aloe
Healing – 125 or 250 mg of CBD, Manuka Honey
Soothing – 250 mg of CBD, Manuka Honey, Arnica, Aloe
Nature's Relief – 500 mg of CBD, Aloe Vera, Peppermint Oil, Arnica
If you're looking for a mess-free application, you can choose the roll-on form. However, this product is only available in the Rapid Recovery formula, featuring 250 mg of CBD, arnica, and menthol.
Medterra CBD for Pets
Medterra also caters to our four-legged friends. The company stocks two types of pet products: CBD pet drops and chews.
Medterra CBD Pet Drops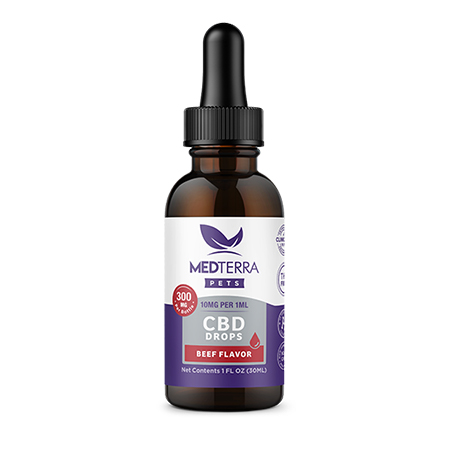 | | |
| --- | --- |
| Type of CBD | Isolate |
| CBD Potency | 150 mg – 1200 mg |
| Flavors | Unflavored, Beef, Chicken |
This CBD pet oil is available in a wide range of concentrations, from 150 mg all the way up to 1200 mg. Such a potency range makes this CBD oil appropriate for cats and dogs of all sizes. It also comes in three flavor variants: Unflavored, Beef, and Chicken. Unfortunately, your pet won't benefit from the entourage effect, as this is an isolate-based CBD oil.
Medterra CBD Pet Chews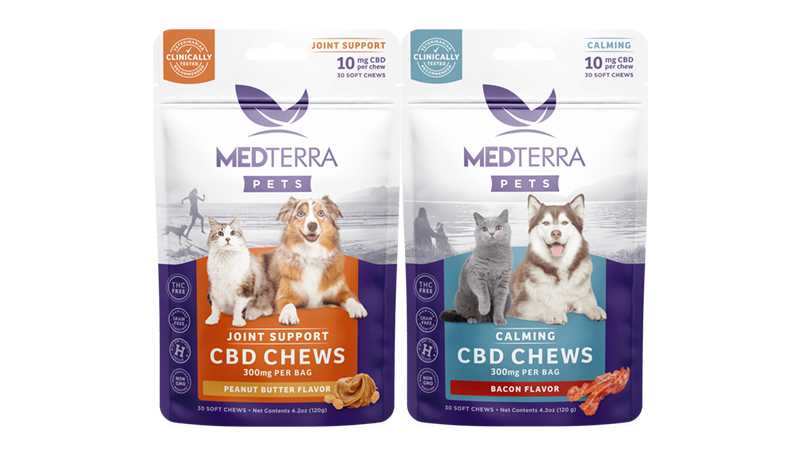 You can choose from two formulas of CBD Pet Chews: Joint Support and Calming.
The Joint Support Formula contains ingredients like Glucosamine, MSM, and Chondroitin, all working together to support your pet's joint health. It's also flavored with peanut butter.
The Calming version includes L-tryptophan, helping keep your pet happy and focused. These treats come in a bacon flavor.
Both versions contain 10 mg of CBD per treat, with 30 chews in a bag.
Pros & Cons of Medterra
Medterra is a decent company that provides high transparency standards and doesn't cut corners on the quality of ingredients. The formulas are well-thought-out and targeted at different health needs — all of this tagged with affordable prices.
Let's take a look at what Medterra does well and where it could improve.
The Pros
Product Bundles
Medterra offers product bundles for first-time users. This is great if you haven't tried CBD before and don't know which product type or cannabinoid spectrum will suit you best.
International Shipping
The majority of CBD companies limit their shipping range to the United States. Although Medterra doesn't offer global shipping, they do ship their products to Canada and Australia.
Reward Program
Medterra doesn't have any discounts on its products. Instead, the company offers a reward program for returning customers. The program allows them to earn special points and redeem them for a discount with the next purchase.
The Cons
Narrow Product Range
While we appreciate Medterra's commitment to traditional CBD formats, evolution is impossible without experimenting. Many competitor brands are exploring new opportunities to grow as manufacturers, so Medterra stays a bit behind with its conservative approach. We hope that the brand will expand its line-up soon.
No CBD Vapes
This is a similar problem to the one we've mentioned above. With vapes, it's more about the bioavailability of CBD than about innovation. Many people prefer to use CBD vape pens because it brings them fast-acting effects and delivers more CBD to their system. It's surprising that a company with such a background in extraction and commitment to quality has decided to ditch the idea of making CBD vapes.
Outdated Lab Reports
Some of the lab reports published by Medterra refer to older batches. Whether the company forgot to update them or they deliberately posted outdated certificates, this undermines its transparency and may leave customers with doubts.
Refunds Don't Include Shipping Costs
Although Medterra offers a 30-day money-back guarantee, it's the customer that must cover the costs. It looks as if the company was looking for low-profile ways of cutting costs at the expense of the customer experience.
Alternative Options to Medterra CBD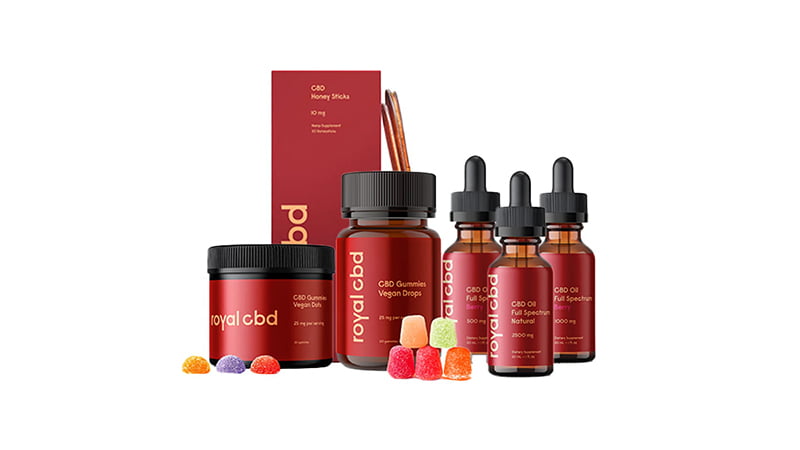 Pros
Cons

Organic, US-grown hemp
Supercritical CO2 extraction
Broad product range
High-strength options are available
Well-designed formulas
Flavored with natural ingredients
Complete third-party testing profile
30-days Money Back Guarantee

A little bit more expensive than the market's average (but still worth the price)
Not available locally
Royal CBD was founded in California by a group of botanists, biohackers, and plant extraction facilities. The team at Royal CBD was fed up with mediocrity and leveraged prices on the hemp market. After just two years of its presence, the brand has become one of the most well-known online retailers in the US. Royal CBD was mentioned in several prestigious magazines, such as LA Weekly, Observer, High Times, We Be High, and SF Weekly.
The company uses organic hemp from Colorado and employs supercritical CO2 extraction to achieve pure extracts that reflect the original chemical profile of hemp plants. The Royal CBD collection includes:
CBD oil
CBD capsules
CBD gummies
CBD honey sticks
CBD Topicals
CBD for Pets
All of Royal CBD's products are lab-tested at different manufacturing stages, from farming to packaging.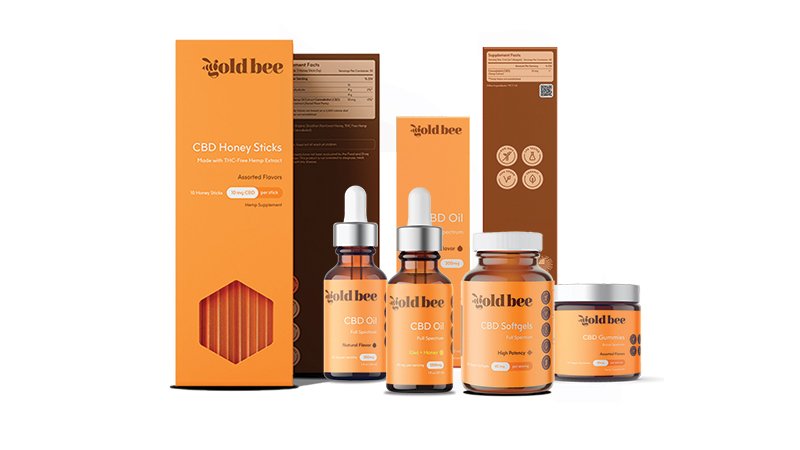 Pros
Cons

Organic hemp from California
CO2 extraction
Infused with superfoods
Full-spectrum and broad-spectrum CBD
Up to 2500 mg of total CBD
Flavored with natural ingredients
Pet products
30-day Money Back Guarantee

Limited potency options
No isolate-based products
Gold Bee is an unconventional CBD brand. Its founders have been making superfoods, such as organic raw honey and coconut oil for several years before enrolling in the CBD space. Today, the brand translates its superfood philosophy into its line of CBD extracts, using both ingredients in every format it offers in the store.
You can choose from the following forms of CBD:
CBD oil
CBD capsules
CBD gummies
CBD honey sticks
CBD roll-on
CBD for pets
Similar to Royal CBD, Gold Bee provides certificates of analysis (COA) with the complete profile, including the results for potency and purity.
3. CBDPure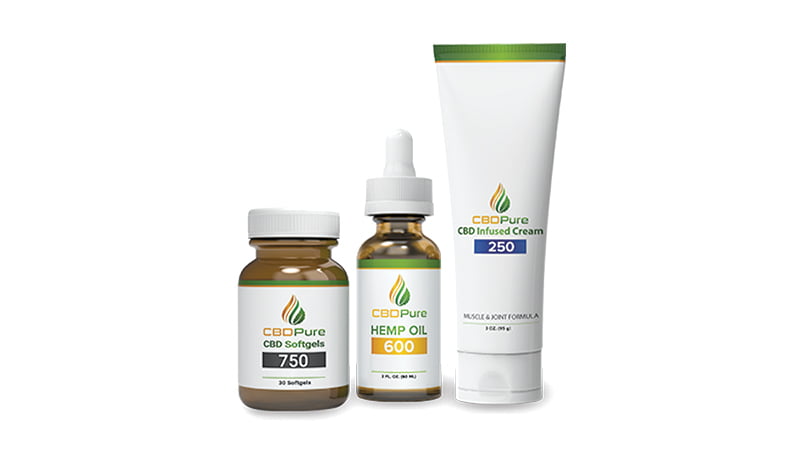 Pros
Cons

Organic hemp from Colorado
Full-spectrum products
Well-thought-out formulations
90-day Money Back Guarantee
One of the pioneer brands in the USA

Narrow product range
Lack of flavored products
Premium pricing
CBDPure started out in 2012 and has upheld a reputation as a premium CBD manufacturer since then. Similar to Medterra, CBDPure has abandoned the idea of expanding its product range with novel formats, but instead, it focused on mastering its traditional classic formulas, including:
CBD oil
CBD softgels
CBD cream
CBD for pets
CBDPure is one of the most transparent companies on the hemp market. Not only does it broadly describe every step of its production process, but it also shares updated lab reports for all products, including the potency of CBD, terpene profile, and contaminants such as pesticides, heavy metals, mycotoxins, and solvents.
Final Verdict: Medterra CBD Is A Good Company, But It Could Offer More Diversity
After reviewing the Medterra company, we find it impressive that this small hemp empire started with growing hemp in Kentucky. Medterra offers all-natural, meticulously researched formulas that cater to different health needs.
Unlike many companies that sell everything but the kitchen sink, Medterra keeps its philosophy simple — offering only traditional product formats such as oils, gummies, capsules, and topicals. However, within those product categories, there's an abundance of different flavors and formulas that can make you spend more time than expected on the company's website.
That being said, we understand that some CBD users — especially those who already have some experience with classic forms — are looking to diversify their experience and thus may not be satisfied with Medterra's line-up. If you can relate to this, we recommend Royal CBD and Gold Bee as alternative options. Both companies offer a high level of transparency and innovative products that are sourced with locally-grown, non-GMO hemp.