Procana CBD Review & Coupon Code (2023 Update)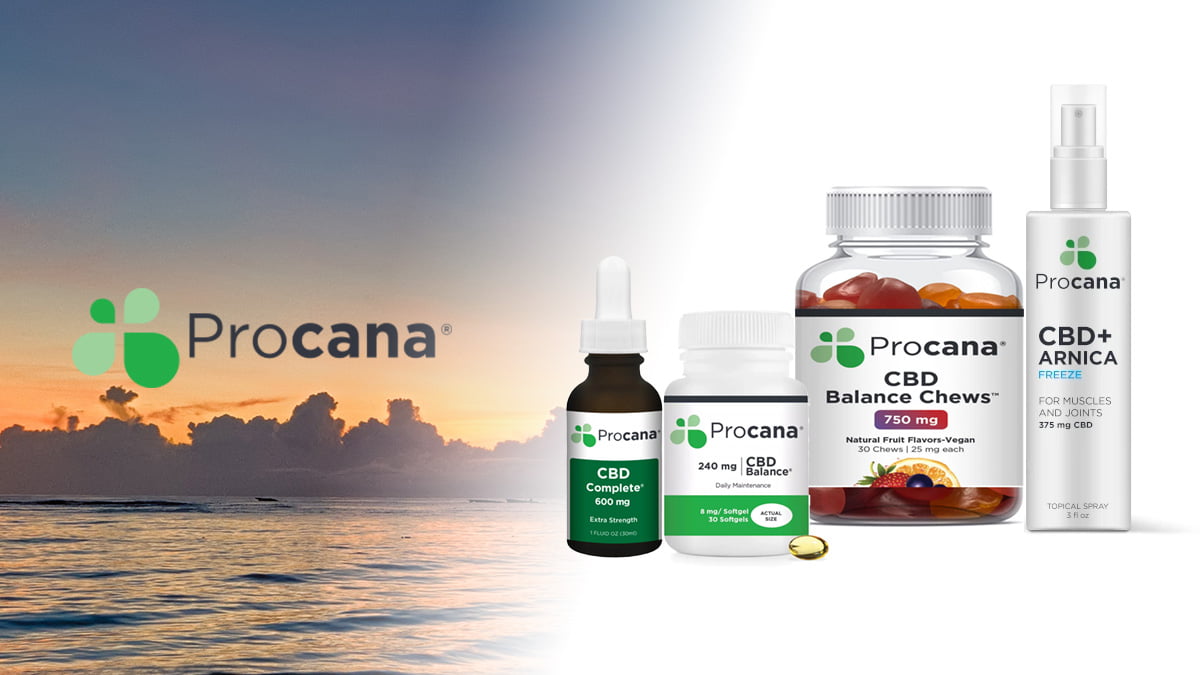 Finding a decent CBD company when all are seemingly the same and offer a strikingly similar product range. Procana CBD goes above and beyond to prove it's an edge over other popular CBD brands.
But, are the company's efforts reflected in reality?
The team behind Procana CBD is made of doctors and medical researchers in different fields. Previously, they've been conducting and reviewing studies on the potential health benefits of CBD.
With such a strong background and impressive product selection, the bar is set very high for Procana CBD.
I'll help you figure out if the brand is a good fit for your needs. This review provides a detailed picture of Procana CBD, its products, as well as pros and cons.
Procana CBD Review: Highlights
Pros
Cons

Broad product range
No synthetic additives
Isolates & Full Spectrum Options

Some products don't have lab reports
Shipping takes a lot of time
Product pages lack detailed descriptions
Only ships within the US
Procana CBD: A Brief Overview of the Brand
What makes a decent brand? Here I've outlined the most important features (the order is random, each of these points is equally important), from quality and transparency to certifications, customer service, pricing, and history with the Food and Drug Administration (FDA).
Let's find out if Procana CBD meets these criteria.
Quality & Transparency
Hemp source is a paramount factor when it comes to determining the quality of CBD oils. Every CBD oil out there starts from hemp flowers, which are extracted and then suspended in a carrier oil. Procana uses hemp grown in Colorado and Oregon; the plants are cultivated by local farmers without pesticides, herbicides, and chemical fertilizers.
Once harvested, the hemp is extracted using CO2 extraction methods. This is the best way to ensure consistent potency and purity while using low temperatures and avoiding toxic solvents.
Procana provides certificates of analysis for its flagship products. They come with QR codes attached to the packaging. Unfortunately, not all Procana CBD products have such certificates, which undermines the company's transparency.
Warning Letters & Lawsuits
The Food and Drug Administration (FDA) remains vigilant against CBD-related health claims, cracking down on brands that refer to CBD as a medication for specific conditions. To date, Procana CBD hasn't received any warning letters from the FDA, so its marketing practices are compliant with the agency's regulations in that matter.
The brand also has no records of lawsuits filed against it due to mislabeling or selling contaminated products.
Certifications
Procana CBD doesn't hold any certifications such as the USDA organic badge or the Hemp U.S. Authority Certificate. Its products, however, are made in a CGMP-certified facility, meaning the company maintains lab-grade standards.
Customer Service
Procana CBD has multiple contact options for its customers. If you're looking for quick help, there's a chatbot available on the Procana website. Alternatively, you may send your questions to their email at ([email protected]) or contact the company directly by calling 1-844-776-2262.
For defective or damaged products caused by courier mishandling, you should send a photo within seven days of receiving your order. Customer service will give you a return authorization number to track the product.
Pricing
Procana has a quite affordable CBD product cost. Prices start from $15.99 for Hemp Omega Softgel Capsules to $59.99 for 1500 mg CBD Ultra softgels. However, when you look at product potency, it becomes clearer why Procana is relatively inexpensive because these are low- to moderate-strength products.
Procana CBD Product Range
Procana offers a broad selection of different CBD products, including oils, capsules, topicals, vapes, and edibles.
Below you'll find the mini-reviews of each format where you can read about the product details and my personal experience with Procana CBD.
Procana CBD Oil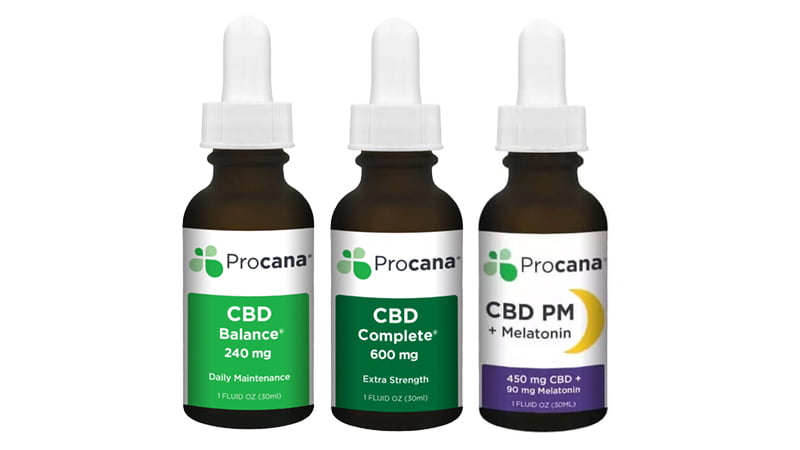 | | |
| --- | --- |
| Type of CBD | Full Spectrum, Isolate |
| CBD Potency | 240 mg – 3000 mg |
| Flavors | Unflavored |
| Formulas | Regular, Sleep, Balance |
| Size | 30 mL |
CBD oils are the most developed category from the Procana range.
You can choose from both full-spectrum CBD and isolates depending on your goals with CBD. If you're looking for the benefits of the entourage effect, the full-spectrum oils will suit you better. These oils come in two strengths: 1500 mg and 3000 mg; the stronger option provides 100 mg in each milliliter, which is a very strong dose, but it also tastes earthy.
If you don't like the strong flavor of full-spectrum CBD oils, Procana offers isolate-based tinctures that are available in a broader potency range. You can choose between 240 mg, 600 mg, and 1500 mg of pure CBD.
There are no flavored options for any of these oils.
Procana CBD also offers Energy and Sleep formulas for people looking to regulate their circadian rhythm. The Energy variant is infused with CBG to leverage its adrenergic effects, while the Sleep version contains melatonin, our natural sleep hormone that tells our body when it's time to sleep.
Procana CBD for Dogs & Cats
Procana CBD Pet Oil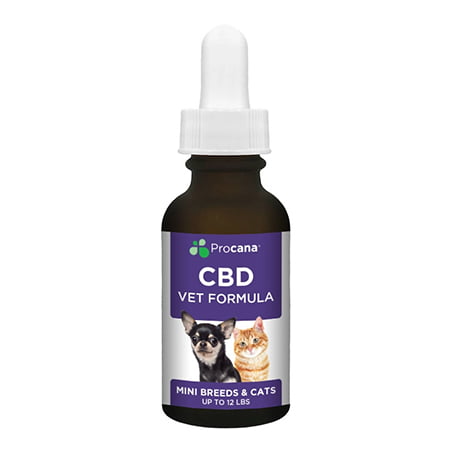 | | |
| --- | --- |
| Type of CBD | Isolate |
| CBD Potency | 90 – 240 mg |
| Flavors | Unflavored |
| Size | 30 mL |
The Procana CBD Pet Oil features the same lab-grade CBD isolate as its line for humans. Procana caters to breeds of different sizes, including a potency range between 90 mg and 240 mg of CBD.
These products are unflavored, but since they contain CBD isolate that is diluted in MCT oil, the taste is very neutral.
Procana CBD Vet Formula Capsules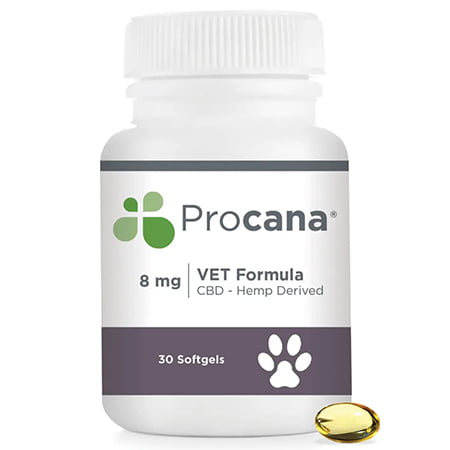 | | |
| --- | --- |
| Type of CBD | Isolate |
| CBD Potency | 240 mg (8 mg per capsule) |
| Size | 30 softgels |
Procana also cares about dogs that fuss over the flavor of CBD oil, even if they come as pure CBD. These softgel capsules contain a fairly potent dose of 8 mg CBD in a convenient form.
That being said, I only know a few dogs and cats that take CBD capsules. Most pets prefer CBD treats because they're tasty and more common. Unfortunately, Procana doesn't have any CBD pet treats in its store.
Procana CBD Capsules & Softgels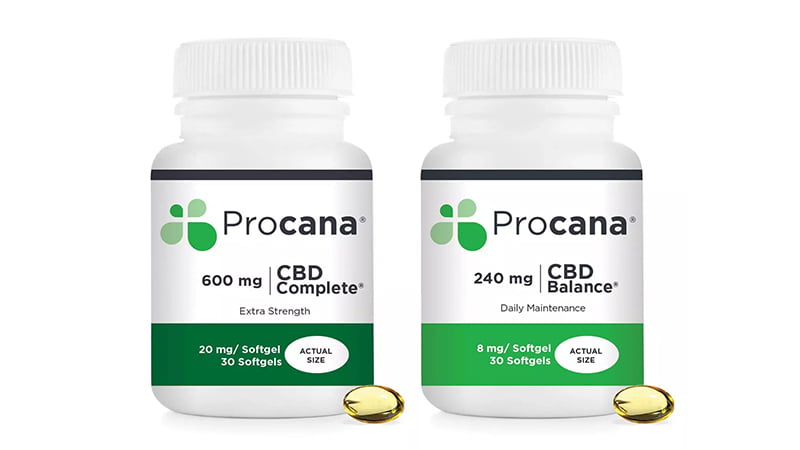 | | |
| --- | --- |
| Type of CBD | Isolate |
| CBD Potency | 240 mg – 1500 mg |
| Formulas | Regular, Balance, Sleep |
Procana CBD has translated the same formulations of its CBD oils (Regular, Balance, and Sleep) into a range of softgel CBD capsules. They also come in similar potencies, ranging from 240 mg to 1500 mg of CBD.
Much as I appreciate having an alternative to CBD oil, I wouldn't recommend these capsules because pure CBD applied orally has one of the lowest levels of bioavailability among all other forms.
Not to mention that you can't reap the benefits from the entourage effect.
Procana CBD Topicals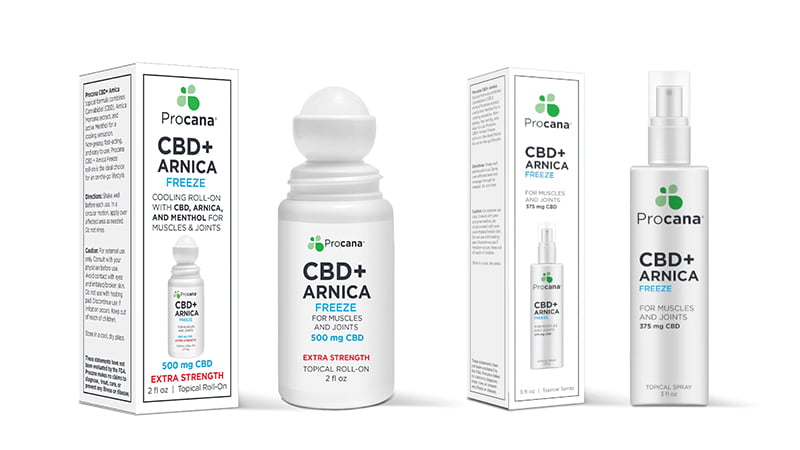 | | |
| --- | --- |
| Type of CBD | Isolate |
| CBD Potency | 250 mg – 750 mg |
| Size | 2 fl. oz. (60 mL) |
When it comes to CBD topicals, Procana offers only two products: a roll-on stick and spray, both infused with CBD, arnica, and menthol.
This formula provides well-rounded effects for different types of physical discomfort. CBD is known for its anti-inflammatory, analgesic, and antioxidative benefits, while menthol provides an extra cooling layer to the affected area. Finally, arnica speeds up regeneration and may ease arthritis-related pain as well as post-surgical swelling and bruising.
I tried both the regular and extra-strength variants, and in my opinion, the regular option works well for general post-workout soreness, while the high-potency topicals are better for addressing more serious discomfort, such as redness, inflammation, and itching.
CBD Gummies & Fruit Chews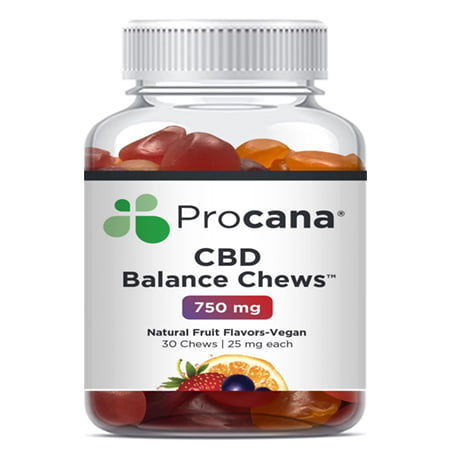 | | |
| --- | --- |
| Type of CBD | Isolate |
| CBD Potency | 10 mg – 25 mg |
| Flavors | Berry, Assortment of Citrus & Berry Flavors |
The Procana CBD gummies are one of the most interesting products in the company's collection. They're made with a vegan gummy base and don't contain any grains.
Since these gummies use natural fruit juice and concentrate as flavorings and colorings, they're all-natural and not loaded with sugar, compared to other CBD gummies available out there.
You can choose from two strengths: 10 mg and 25 mg CBD per gummy. On top of that, the stronger version also comes in a Sleep formula that contains melatonin. Higher doses of CBD are known to lower blood pressure and ease stress, helping us calm down before sleep. Melatonin, on the other hand, has more direct effects, and shouldn't be taken in larger amounts due to a possible risk of disturbing sleep cycles.
CBD Vape Oil Cartridges
| | |
| --- | --- |
| Type of CBD | Isolate |
| CBD Potency | 200 mg |
| Flavors | Classic OG, Menthol, Vanilla, Tangie |
Vapes are among the most popular forms of CBD thanks to their high bioavailability, low profile, and dosage precision. Procana offers three types of CBD vape cartridges that you can attach to a vape pen as long as it has a 510 thread battery.
The Procana CBD vape oil cartridges are infused with 200 mg of CBD (0.5 mL) and come in three flavors, two of which — Classic OG and Tangie — use strain-specific terpenes. The other two contain menthol and vanilla, providing cool, tasty puffs from your vape.
Procana claims its cartridges are free from carcinogens and contain all-natural ingredients. However, the names are a bit cloudy; instead of listing terpenes, the company hides them under names like "natural oils and aromas."
Aside from the cartridges, you can also buy whole vape pens with a battery and cart in your selected flavor.
Procana Review: Pros & Cons
Procana is undoubtedly one of the industry leaders when it comes to product diversity. Whether you're a new user or a seasoned consumer, you'll find plenty of options to suit your needs.
However, there are also a few caveats that I'd like to mention to provide you with an unbiased profile of this company.
Here's an overview of Procana's pros and cons.
The Pros
Broad Product Range
Procana CBD covers almost an entire product range for CBD extracts. You can choose from products like tinctures, capsules, gummies, topicals, vapes, and pet products.
No Synthetic Additives
What I like about Procana CBD is their dedication to quality and attention to detail. There are no cutting corners, no synthetic additives or fillers; every ingredient is derived from nature, creating biologically appropriate products with a high safety profile.
Isolates & Full Spectrum Options
Many companies focus on making either full-spectrum CBD oils or isolate-based ones. With Procana CBD, you can kill two birds with one stone because the brand offers tinctures in both versions. Whether you're interested in reaping the benefits from the entourage effect or using pure CBD to maximize the dosage per serving, the brand provides several different potencies for both formats.
The Cons
Some Products Don't Have Lab Reports
At the beginning of this Procana CBD review, I mentioned that some of its products don't have certificates of analysis attached to the packaging. They're also not available on the Procana website, which undermines the brand's transparency. Some users may view Procana as inconsistent and have doubts about the quality of these products.
Product Pages Lack Detailed Descriptions
The product descriptions on the Procana CBD website are scarce. The copy provides a short product description with a list of active ingredients, but the exact formula remains undisclosed. Users need to obtain a certificate of analysis to see what exactly is in their products, but then again, some of them don't have any proof of lab analysis.
Shipping Takes a Long Time to Arrive
After running through comment sections on several third-party websites, I've noticed that many customers complain about long shipping times. Usually, deliveries between states take 3 labor days, and with Procana, some customers experienced a 7-day delay.
Only Ships Within the US
I don't have good news for my readers from outside of the United States. Procana doesn't offer worldwide shipping. The company doesn't even send its products to Canada.
Alternative Options to Procana CBD
Transparency and customer service win you, customers. If a company doesn't put them on priority, they might not develop a long-term relationship with their clients and be remembered for not delivering top-notch services.
If you want to make an educated decision, make sure to compare Procana products with other similar brands. If you're in a rush, I have two options for you: Royal CBD and Gold Bee. Both companies provide a similar product range — but are hands down more trustworthy when it comes to lab reports and customer staff.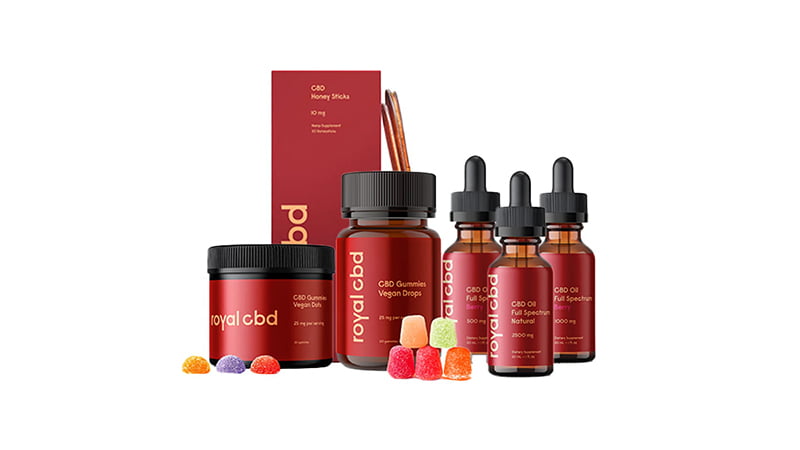 Get 15% off all Royal CBD products.  Use code "CFAH" at checkout.
Pros
Cons

Organic, US-grown hemp
Supercritical CO2 extraction
Broad product range
High-strength options are available
Well-designed formulas
Flavored with natural ingredients
Complete third-party testing profile
30-days Money Back Guarantee

A little bit more expensive than the market's average (but still worth the price)
Not available locally
Royal CBD was established in early 2018 by a team of biohackers, medical researchers, and hemp aficionados after witnessing too much mediocrity on the CBD market. Today, the brand has become a true hemp powerhouse, offering a broad range of broad-spectrum and full-spectrum CBD products.
You can choose from the following forms of CBD:
CBD oils
CBD capsules
CBD edibles
CBD topicals

CBD cream
CBD roll-on stick

CBD for pets
Royal CBD sources its hemp from organic farms from Colorado; the plants are grown in clean soil and without pesticides or chemical fertilizers. After the harvest, the hemp is taken to a state-of-the-art extraction facility, where a team of qualified lab workers uses supercritical CO2 to obtain the beneficial compounds from the plant matter.
The whole Royal CBD product line-up is rigorously tested in an ISO-compliant laboratory for potency, phytochemical profile, and purity.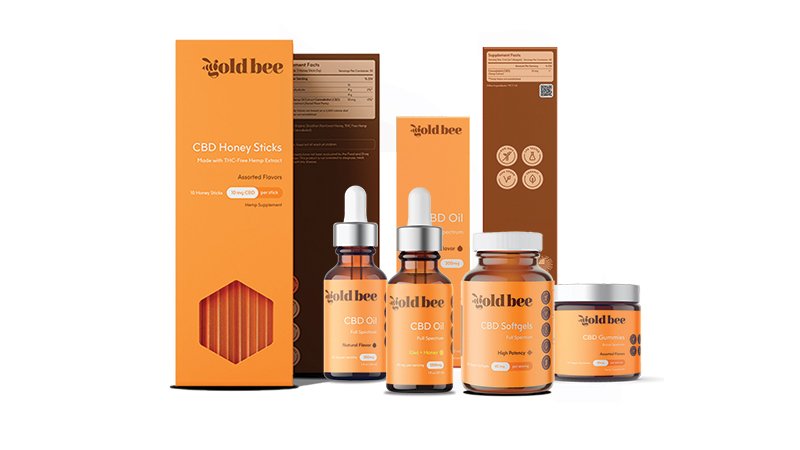 Pros
Cons

Organic hemp
CO2 extraction
Infused with superfoods
Full-spectrum and broad-spectrum CBD
Up to 2500 mg of total CBD
Flavored with natural ingredients
Pet products
30-day Money Back Guarantee

Limited potency options
No isolate-based products
Gold Bee is one of the most interesting CBD brands out there because it combines organic hemp extracts with well-known superfoods such as raw honey and organic coconut oil. Aside from a broad selection of CBD products, Gold Bee also offers Kava Kava extracts and CBN oils for sleep.
You can order both classic and novel products, including:
CBD oils
CBD softgel capsules
CBD edibles

CBD gummies
CBD honey sticks

CBD roll-on stick
CBD for pets
Like Royal CBD, Gold Bee tests every product batch in an independent laboratory for quality and safety. You can view the certificates of analysis on the Gold Bee website.
Final Verdict: Procana CBD Has a Good Choice of Products But Needs to Step Up Its Transparency
Procana Laboratories has been making hemp-derived CBD products since 2013. For a company with such experience, it seems quite lazy that it doesn't provide lab reports for all its products and only offers a scant description of its activity.
It's been almost 9 years since the company's launch, so I would expect more attention to detail and higher transparency levels from people who stem from the field of medical research.
If you're not sure whether or not to choose Procana CBD as your next supplier, compare its products with brands that offer a similar product range but are more painstaking when it comes to product descriptions and lab results.