What Can I Give My Dog for Fireworks Anxiety?
Every New Year's Eve and the 4th of July, pet parents are looking for natural remedies to give their dogs for fireworks anxiety.
This type of situational anxiety is common in dogs because our canine friends don't understand we're celebrating; they fear loud noises because they herald an incoming danger.
Worse yet, during holidays like the 4th of July, dogs tend to run away in panic.
This article will help you learn the best techniques to calm anxious dogs during fireworks.
We'll also cover the most effective natural remedies you can give them for fireworks anxiety.
What Causes Anxiety in Dogs?
Dogs can get anxious for several reasons, the most common being behavioral anxiety and situational anxiety.
Behavioral anxiety occurs when your dog becomes afraid when you're leaving the house. It can also result from trauma, abuse, having many homes, or genetic disorders.
Situational anxiety is caused by specific triggers, such as loud noises from fireworks.
Finally, your dog may suffer from generalized anxiety, which has no identified cause and requires the help of a pet behaviorist.
What Can I Give My Dog for Fireworks Anxiety?
Here are the 7 best natural remedies you can give your dog for fireworks anxiety.
1. Your Companionship
Sometimes, the easiest remedies are the most effective ones. Scared dogs need to have their guardians close. By staying with your buddy, you can easily distract them by brushing, cuddling, or playing games. Doing so will make your dog feel upbeat and reinforce good habits when they're introduced to their triggers the other time.
2. Melatonin
Melatonin is a natural sleep hormone and one of the best remedies you can give your dog for fireworks anxiety. You can buy it in a pharmacy or at any health food store. Give your dog from 1 to 5 mg, depending on their weight, and try to slightly increase the dosage until you reach the desired results.
4. Thundershirt
A Thundershirt is another decent solution for all anxious dogs. This comfy garment uses the same principle as swaddling a baby. It has a very high success score in calming anxious dogs. You can easily find it in many pet supply stores and veterinary clinics.
5. White Noise
You can try turning on the TV, radio, or a fan to help mask the noise from fireworks. There's a classical music tune called "Through a Dog's Ear" that has shown calming effects on dogs. You can download it online and play it whenever the dog gets stressed.
6. Essential Oils
Essential oils, such as lavender, eucalyptus, and pinene, contain terpenes, which are fragrant molecules carrying a wide range of therapeutic properties.
One of the most common health benefits of essential oils is their ability to reduce both mental and physiological stress.
You can create different blends from individual essential oils to improve effectiveness.
Here are a few terpene blends recommended by aromatherapists for dogs with anxiety:
Separation Anxiety: Vetiver, Lavender, Neroli, Violet Leaf, Rose Hydrosol
Fear of Loud Noises: Hops, Frankincense, Rose Otto, Cornflower Hydrosol
General Anxiety: Frankincense, Roman Chamomile, Linden Blossom, Violet Leaf, Hemp Hydrosol
Use 5 drops of each oil and combine them with hydrosol for each recipe. Then, you can spray it on your dog's bed, blanket, or in the air. Just make sure to leave a safe exit in case the dog doesn't react well to the terpenes.
7. Hydrosols
Hydrosols are gentle remedies you can give your dog for fireworks anxiety. They're a good alternative to essential oils because they're not as concentrated.
Use the following recipe to create an anxiolytic hydrosol:
5 drops of lavender (Lavendula angustofolia) essential oil
½ oz blue chamomile (Matricaria recutita) hydrosol
½ oz neroli (Citrus aurantium) hydrosol
Fill a spray bottle with the above ingredients. Shake well to combine and spray a gentle mist on your dog.
Store the hydrosol in the fridge for up to 6 months to preserve freshness.
Giving Your Dog CBD Oil for Fireworks Anxiety
CBD has become one of the most popular health supplements for anxiety both in humans and dogs. Its therapeutic versatility is remarkable, and the best part about using CBD oil with dogs is that it has an excellent safety profile and is readily available in your nearest CBD pet stores.
CBD can ease dog anxiety by acting on serotonin and GABA receptors. Both neurotransmitters are critical for maintaining a stable mood and proper stress responses. Their imbalances may cause the nervous system to become overexcited, increasing the likelihood of anxiety.
However, no two CBD products are made equal. There are many great brands on the market, but there's an equal number of scammers mooching on unaware consumers.
The best CBD oils for dogs with anxiety are made with organic hemp and extracted with supercritical CO2. The products should also come with batch-specific certificates of analysis (CoAs) from a third-party laboratory. The lab reports will include the results for potency and purity.
Short on time? Here's a quick cheat sheet.
We've selected the top two brands that make top-shelf CBD oils for dogs and offer a good price/quality ratio.
Best CBD Oils for Dogs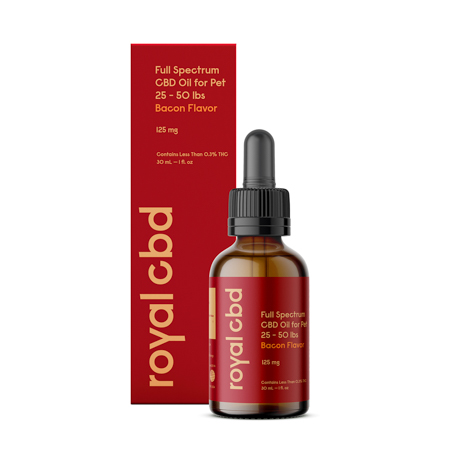 Get 15% off all Royal CBD products. Use code "CFAH" at checkout.
Pros
Cons

Non-GMO, pesticide-free hemp
CO2 extraction
Full-spectrum CBD
Up to 500 mg of CBD per bottle
Bacon flavor
Available as CBD treats (three different formulas)

Slightly more expensive than competitor brands
Limited flavor options
Royal CBD is a Nevada-based brand that specializes in full-spectrum and broad-spectrum CBD products for humans and dogs. 
The Royal CBD pet oil comes in two strengths: 250 mg and 500 mg, catering to dogs of different breeds and sizes for optimal dosage.
These are full-spectrum extracts, leveraging the whole-plant synergy between cannabinoids and terpenes. Full-spectrum CBD is considered superior to other formats because the said compounds amplify the efficacy of CBD.
And if your dog doesn't like the flavor of natural full-spectrum CBD oil, this bacon-flavored tincture will seal the deal.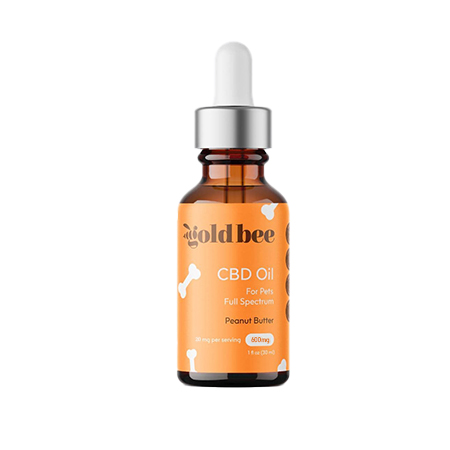 Pros
Cons

Organic hemp
CO2 extraction
Infused with superfoods
600 mg of CBD per bottle
Peanut butter flavor
Full-spectrum CBD
Third-party tested for quality and safety

No low-potency oils for smaller dogs
Only one flavor is available
Gold Bee is a superfood manufacturer turned CBD brand that focuses on products for humans and pets. The company has incorporated their no-compromise philosophy into its line of CBD products, creating CBD-rich formulas for health-conscious users.
Gold Bee makes CBD oils and treats for dogs. All of its products are sourced from organic hemp and extracted with CO2. You can look into the certificates of analysis to confirm their potency and purity.
At 600 mg of CBD per bottle, each serving delivers 20 mg of CBD, making the oil one of the best products for medium-sized and large dogs.
The earthy flavor of full-spectrum CBD blends exceptionally well with the natural peanut butter flavoring.
However, small dogs may have difficulties dosing this extract, so if you have a smaller breed, check out the low-strength CBD oil from Royal CBD.
Other Effective Ways to Calm a Dog During Fireworks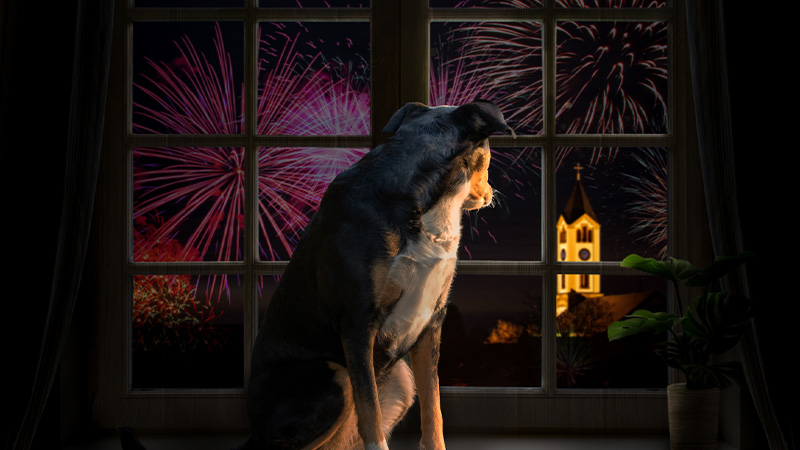 In this section, we share effective techniques for calming anxious dogs during fireworks. Try different methods and see which one works best for your buddy.
Keep Your Dog Indoors
Although it sounds obvious, the best thing you can do to prevent fireworks anxiety in your dog is to keep them indoors and avoid the show – especially on the 4th of July or New Year's Eve.
Distract Your Dog
Turn on the TV, play some music, and keep your dog occupied with toys and activities that can distract your dog and make them less concerned about the disturbing noise from the fireworks.
Create A Safe Spot for Your Dog
When dogs are scared, their instinct will lead them to the nearest safe spot. Find a room where the dog feels safe and, fill it with its favorite toy food, and give them plenty of water.
You can also put their favorite blanket or bed there; basically, anything that makes the dog feral comfy will come in handy.
Comfort Them
Dogs form strong bonds with their human parents. If you can, stay with them at home during fireworks to ease anxiety. You'll be able to provide them with the necessary resources to calm down and get through that time without panicking.
If you can't stay with your body, make sure to leave them with a person you trust. If your dog likes them, it's all the better because it will make them feel safer.
Walk Them Before Fireworks
If there's an upcoming fireworks show near you, take your dog for a long walk and play with it. Do it before sunset to increase the chances that you'll avoid the noise.
Keep the dog on a leash at all times. Even in a fenced-in area, a leash adds another layer of safety because it keeps the dog close to you in case they start to show first signs of discomfort.
Hire a Behaviorist
The fear of fireworks and other loud noises may stem from past traumas or innate weaknesses that your dog should work on with a specialist.
Hiring a trainer or pet behaviorist is a good idea to teach your dog proper responses to situational triggers.
The process takes time and requires engagement from the pet parent, but the fruits it bears are well worth the effort.
Use Desensitization Techniques
When your dog overreacts at the very sound of fireworks, try desensitization techniques.
Desensitization involves gradual exposure to the stimulus. You can play low-sound fireworks at home so that your dog gets used to them.
Alternatively, you can turn on a video with a fireworks show and combine it with rewards, such as giving the dog its favorite treats – this technique is known as counter-conditioning.
You should play the sound loud enough that your dog can hear it but doesn't show symptoms like pacing, panting, or seeking a place to hide.
When the sound is played below that threshold, it will create the right conditions for the dog to adapt.
Why is My Dog Scared of Fireworks?
The main reason why dogs fear fireworks is that they make loud, unexplainable noises that dogs can't escape.
It's an unexpected event for them, hence the stress and confusion.
When something makes the dog feel uncomfortable, their bodies release adrenaline, the heartbeat and pulse rate go up, and they start to feel defensive.
Unlike humans, dogs don't understand that fireworks are used for celebrating important occasions, so as the noise increases, so does their anxiety.
Here's why dogs may struggle with fireworks anxiety.
Past Traumas
There might be a psychological link between your dog's fear of fireworks and previous experiences the dog has had.
It may associate loud noises with a previous owner that was abusive and yelled at the dog. That's why it's never a good idea to shout at your dog for any reason.
Genetic Factors
Studies show that some breeds of dogs are more likely to experience fireworks anxiety than others. So, the fear of loud noises may be instilled by their genetics.
Other breeds, such as Golden Retrievers, Pointers, American Foxhounds, Beagles, and Labrador Retrievers, were bred and raised around like noises because they're natural hunters.
However, it is common for most dogs to go through a lot of stress from fireworks or loud noises.
What Are the Symptoms of Dog Anxiety During Fireworks?
If your dog suffers from fireworks anxiety, the symptoms will be easy to pick up.
Their intensity will vary depending on how loud the noise is and whether or not your dog has any long-term mental health issues.
The main symptoms of fireworks anxiety include:
Salivation
Hiding
Trembling
Barking
Shaking
Urination
Seeking comfort
Most dogs will tremble as a result of fireworks anxiety, trying to hide under a table or in your bedroom. If they're very scared, they may poop, urinate, or run away. Some dogs also become aggressive when they feel nervous. They may show destructive behavior, such as clawing at carpets or chewing on furniture.
What is CBD, and How Does It Work?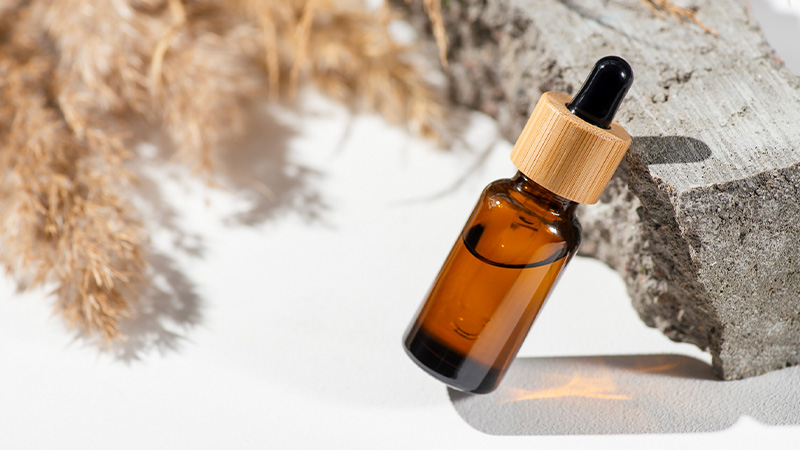 Current research shows CBD can manage stress and anxiety in humans and dogs.
CBD, or cannabidiol, is a cannabinoid from hemp that modulates the endocannabinoid system (ECS). Unlike THC, which is another major cannabinoid, CBD doesn't get humans and dogs high.
The ECS is a complex neurochemical network that promotes and helps maintain homeostasis throughout the body. In essence, it keeps all the other systems and organs in balance.
When the ECS falls out of whack, it can't produce its natural endocannabinoids anymore – leading to a range of dysfunctions. If left neglected, these dysfunctions may turn into disorders and diseases.
CBD enhances cannabinoid signaling in the brain, allowing higher concentrations of endocannabinoids to stay in the body for longer.
While research is still ongoing, studies show that CBD acts on two receptors that mediate the stress response and control mood – serotonin and GABA.
While serotonin is responsible for feelings of happiness, GABA acts as the handbrake for the nervous system, preventing overexcitation and anxiety.
High-quality CBD pet treats and supplements can improve your dog's mental health and optimize their overall well-being by fixing endocannabinoid deficiencies.
Key Takeaways on the Best Remedies to Give Your Dog for Fireworks Anxiety
While some dogs don't give a damn when it comes to fireworks, others will easily freak out at their very sound.
The level of fear expressed by dogs varies between breeds and their history with loud noises. Some dogs can panic during the fireworks because it might evoke past traumas they associate with abuse or other dysfunctional behavior.
There are several methods to calm a dog during fireworks, from natural remedies like herbs, hydrosols, melatonin, and CBD to behavioral techniques such as desensitization.
Should you fail to train the dog yourself, consider hiring a behaviorist or talking to the vet. Doing so will give you professional advice on how to act when the dog shows signs of fear.
Prevention, distraction, biologically appropriate supplements, and lots of love are the best things you can give your dog for fireworks anxiety.
Sources:
Scherma, M., Masia, P., Satta, V., Fratta, W., Fadda, P., & Tanda, G. (2019). Brain activity of anandamide: a rewarding bliss?. Acta pharmacologica Sinica, 40(3), 309–323 (1).
Resstel, L. B., Tavares, R. F., Lisboa, S. F., Joca, S. R., Corrêa, F. M., & Guimarães, F. S. (2009). 5-HT1A receptors are involved in the cannabidiol-induced attenuation of behavioural and cardiovascular responses to acute restraint stress in rats. British journal of pharmacology, 156(1), 181–188 (2).
Bakas, T., van Nieuwenhuijzen, P. S., Devenish, S. O., McGregor, I. S., Arnold, J. C., & Chebib, M. (2017). The direct actions of cannabidiol and 2-arachidonoyl glycerol at GABAAreceptors. Pharmacological research, 119, 358–370. https://doi.org/10.1016/j.phrs.2017.02.022