When and How to Take CBD Oil for Sleep?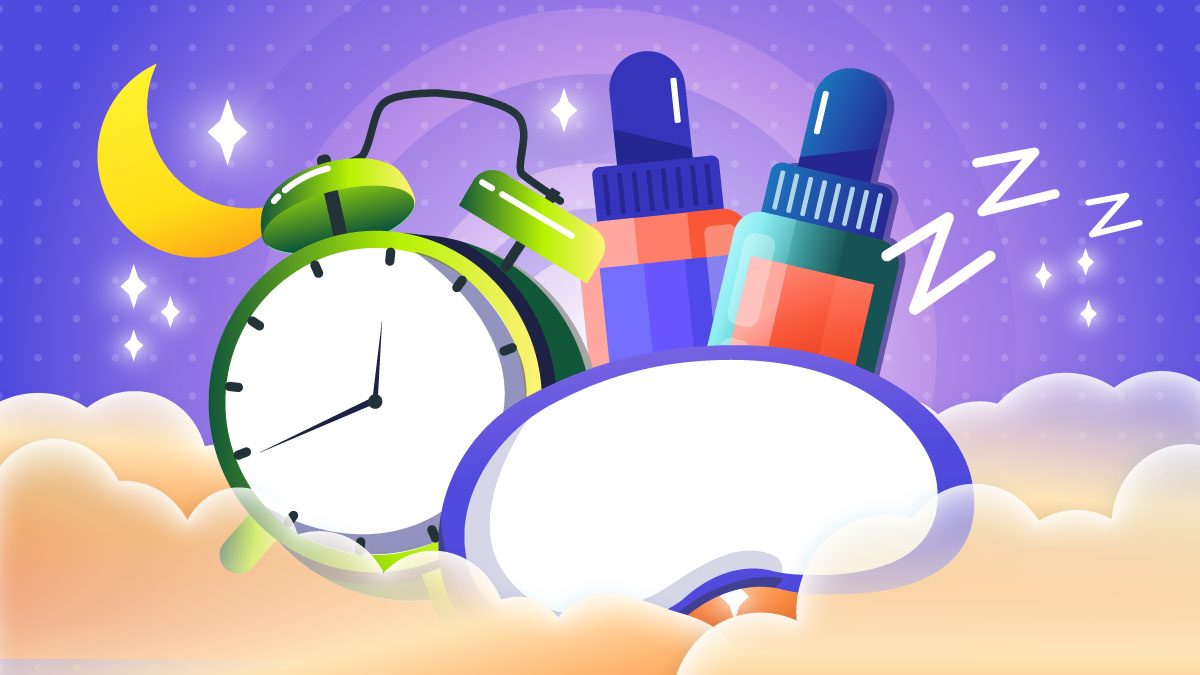 CBD may help you achieve deep, restful sleep — but the question is, when and how to take CBD oil for sleep to achieve the best results?
Should you take it right before bed or wait a few hours before shutting your eyes?
How much CBD oil is beneficial for sleep?
Are there any side effects?
Sleep is a critical factor for overall health and well-being, yet people often neglect it. Sleeping pills aren't a safe long-term solution, so it's no wonder people are turning to natural remedies such as CBD oil.
In this article, we explain how and when to use the best CBD oil for sleep to optimize your inner clock.
How CBD Can Help with Sleep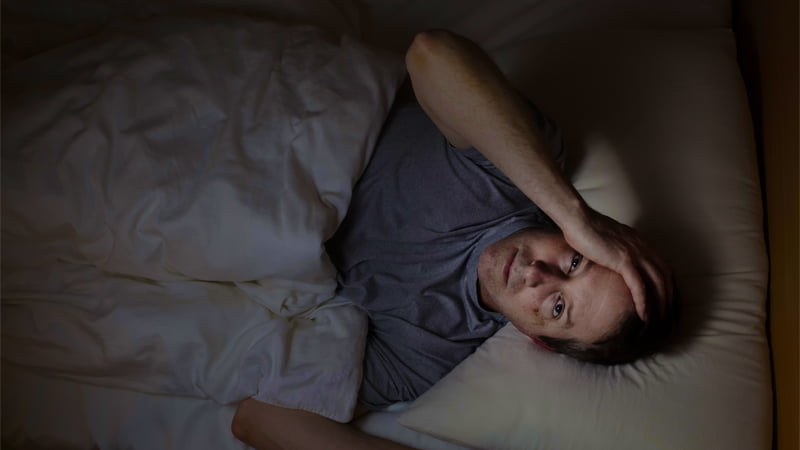 The therapeutic versatility of CBD stems from its interaction with the human endocannabinoid system (ECS), which plays an integral role in the regulation of processes such as sleep, pain, mood, immune function, appetite, memory, body temperature, and fertility.
CBD may improve sleep by targeting a few distinct mechanisms.
It can help you fall asleep faster by reducing anxiety.
If you suffer from chronic pain, CBD may prevent you from waking up in the middle of the night due to discomfort.
Finally, when you feel sluggish in the morning, you can take CBD oil to reduce tiredness and improve focus, which positively affects your circadian rhythm and melatonin production.
Melatonin is our natural sleep hormone whose balance is essential to maintaining healthy sleep and stable energy levels the next day.
CBD isn't a potent sedative, but in higher doses, it reduces blood pressure, causing you to breathe slowly. Slow, deep breaths activate the parasympathetic nervous system, calming you down and making you feel relaxed.
This, in turn, may positively impact your sleep latency (the time you need to fall asleep).
Last but not least, researchers found that cortisol levels decrease significantly when you take a large dose of CBD oil. Cortisol is a steroid hormone responsible for regulating a wide range of important functions, including sleep-wake cycles. Too high levels of cortisol will prevent you from falling asleep.
How and When to Take CBD Oil for Sleep
CBD produces different effects depending on the dose — hence its biphasic nature.
While lower doses of CBD may promote alertness, focus, and reduce tiredness, larger amounts may deliver sedative effects.
If you want to optimize your inner clock, take a low dose of CBD in the morning up until the afternoon – and follow up with a larger dose in the evening, preferably 30–60 minutes before going to bed.
When you remain productive throughout the day, your brain receives signals that it has done a good job and it's time to get some rest.
On the other hand, if you work night shifts and your sleep-wake cycle is disrupted, CBD can help you stay asleep through the night and clear your head before falling into the bed.
How Much CBD Do I Take for Sleep?
Overall, improved sleep is typically the result of higher doses. However, a high dose can mean completely different amounts for two individuals. Everybody has their own optimal dosage range for sleep.
That being said, many people achieve decent results with doses ranging between 40 mg to 160 mg per serving. You may start at the lower end and gradually increase the amount of CBD oil each day — until you find out what works best for you.
How Long Does It Take for CBD Oil to Make You Sleepy
Usually around 15–30 minutes, but that depends on a few individual factors, such as your age, weight, metabolism, and whether you take CBD oil on a full or empty stomach.
When you take CBD oil under the tongue, it travels to the bloodstream through a tiny set of capillaries — avoiding the first-pass metabolism in the liver.
In contrast, oral products like CBD capsules, gummies, or honey sticks, need to pass through the digestive system before taking effect — so you may experience a delay of anywhere between 40 minutes and 2 hours.
The calming effects of CBD oil usually last up to 6 hours, with peak potency within 1.5 hours from consumption.
How to Use CBD Oil for Sleep (CBD Before Bed)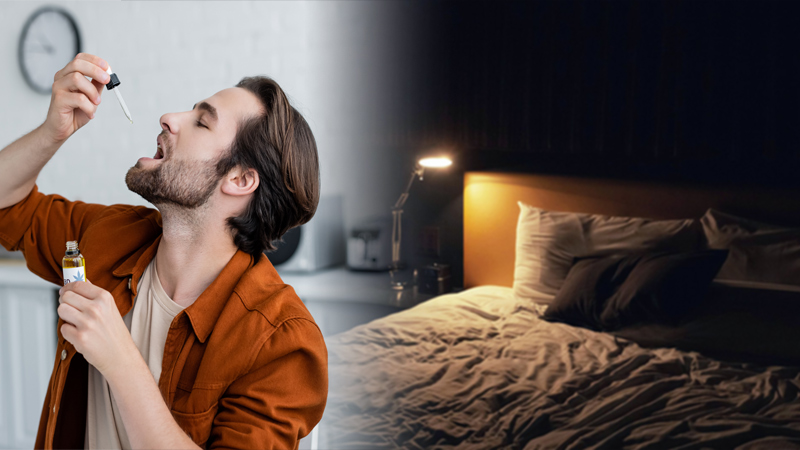 Feeling like you could benefit from using CBD oil for sleep? Take it around 30–60 minutes before bed.
Measure out your dose of CBD with the oil's dropper and place it under the tongue for 60 seconds — then swallow. You can swish the tongue around your gums and palate to increase the surface area for absorption.
When it kicks in, you should notice a calming wave of relaxation and a sense of peace in the mind. The effects will develop with time, becoming more pronounced after an hour from ingestion.
Observe how your body responds to your first dose. If you notice
Side Effects of Using CBD Oil for Sleep: Is CBD Safe?
Yes, CBD is considered a safe compound with no dangerous side effects, even at doses reaching 1,500 mg daily.
In normal doses, side effects are almost nonexistent, but as with any natural or synthetic substance, CBD may cause a few unwanted reactions when consumed at large doses, especially by first-time users.
You can experience the following side effects:
Dryness in the mouth
Appetite fluctuation
Dizziness
Diarrhea
If you're taking any medication for a health condition, talk to your doctor before adding CBD oil to your daily plan. Consulting a qualified professional will help you minimize the risk of potential negative CBD-drug interactions.
If you want to ensure you're buying a safe and effective product, pay attention to:
Third-party lab tests – every batch should be tested for potency and purity, with an up-to-date certificate of analysis attached to each product.
Hemp source – hemp effectively absorbs and accumulates every substance from its environment. Choose brands that use non-GMO, organic hemp to make their CBD oils. Avoid mass-produced, pesticide-lace hemp.
Full list of ingredients – make sure that the other ingredients are of the same high quality as the hemp extract. They should come from natural sources, and if you can get organic ingredients, it's all the better.
Extraction method – the best CBD oils on the market are extracted with CO2. This method is friendly for the environment and allows for achieving clean and consistently potent extracts.
CBD Oil and Sleeping Pills: Can You Take Them Together?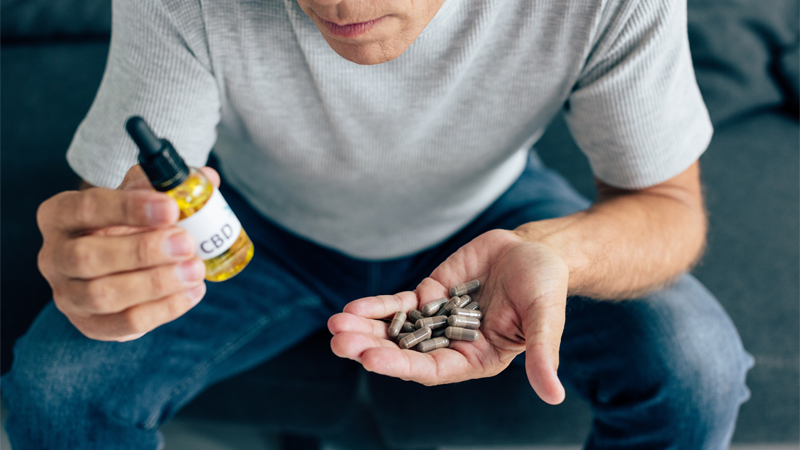 If you're desperate to get those 8 hours of high-quality rest, you may be considering the idea of taking CBD and sleeping pills together.
It's important to determine whether or not CBD and the pills will interact with each other — and what kind of interaction they will create. Again, this is the job of your doctor.
More research is needed, but current evidence suggests that CBD could alter the concentrations of many medications in the body.
Key Takeaways on How and When to Take CBD Oil for Sleep
You have two ways to use CBD for sleep. The effects will vary depending on your dosage and the time of the day.
Taking low doses of CBD in the morning and throughout the day may enhance your focus and alertness, leading to increased productivity.
On the other hand, large doses taken in the evening may cause a drop in blood pressure and make you feel sleepy.
Taking CBD oil for sleep has more than one face — but it's all about optimizing your inner clock.
Try taking different amounts of CBD at different times of the day to see what works best for your sleep quality.
Sources:
Kaur, R., Ambwani, S. R., & Singh, S. (2016). Endocannabinoid System: A Multi-Facet Therapeutic Target. Current clinical pharmacology, 11(2), 110–117. [1]
Shannon, S., Lewis, N., Lee, H., & Hughes, S. (2019). Cannabidiol in Anxiety and Sleep: A Large Case Series. The Permanente journal, 23, 18–041. [2]
Schilling, J. M., Hughes, C. G., Wallace, M. S., Sexton, M., Backonja, M., & Moeller-Bertram, T. (2021). Cannabidiol as a Treatment for Chronic Pain: A Survey of Patients' Perspectives and Attitudes. Journal of pain research, 14, 1241–1250. [3]
Murillo-Rodríguez, E., Sarro-Ramírez, A., Sánchez, D., Mijangos-Moreno, S., Tejeda-Padrón, A., Poot-Aké, A., Guzmán, K., Pacheco-Pantoja, E., & Arias-Carrión, O. (2014). Potential effects of cannabidiol as a wake-promoting agent. Current neuropharmacology, 12(3), 269–272. [4]
Jadoon, K. A., Tan, G. D., & O'Sullivan, S. E. (2017). A single dose of cannabidiol reduces blood pressure in healthy volunteers in a randomized crossover study. JCI insight, 2(12), e93760. [5]
Iffland, K., & Grotenhermen, F. (2017). An Update on Safety and Side Effects of Cannabidiol: A Review of Clinical Data and Relevant Animal Studies. Cannabis and cannabinoid research, 2(1), 139–154.