CBD and Antidepressants: Can You Take Them Together?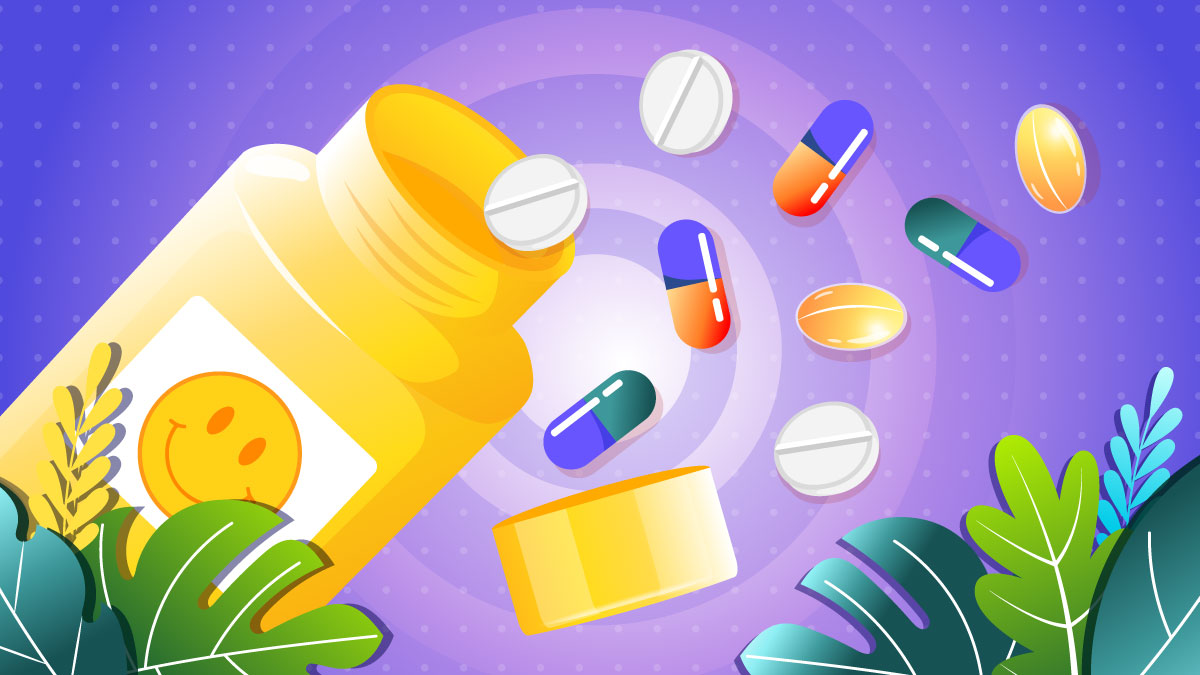 Depression has many faces, but it's usually characterized by mood disorders, persistent feelings of sadness, and loss of satisfaction from previously enjoyed activities.
It rarely stems from a single event but rather as the combination of many factors, both individual and environmental ones. The symptoms of depression can range from mild to severe.
Depression can be treated with psychotherapy or with the use of medicines, although the most benefits are experienced by combining these two methods.
Since conventional antidepressants can have undesired side effects, people are starting to explore alternative remedies that are derived from nature — such as CBD.
CBD is a major cannabinoid found in hemp plants. It supports the endocannabinoid system (ECS) and helps maintain homeostasis throughout the body. Recent studies also show that CBD has anxiolytic and antidepressant-like properties.
In this article, we cover the topic of CBD and antidepressants; we'll break down the pros and cons of each substance, compare their safety profiles, and explain what happens when you take them together.
Is CBD Good for Depression?
There is no single cure for depression because it's a disease caused by multiple factors — and these factors often affect different areas of your life. There are many contributors to depression, including poor stress management, sleep deprivation, the loss of someone close or other traumatic events, and more.
There is some scientific evidence that CBD can alleviate the symptoms of depression, although these results haven't been yet replicated in large-scale clinical trials.
Nevertheless, at least several high-quality studies have outlined CBD's ability to help us cope with the whole set of symptoms and mental health problems commonly experienced together with depression.
Addressing these secondary conditions can indirectly improve your management of depression — lifting up your daily life.
Benefits of CBD for Depression
Depression is often accompanied by low mood, anxiety, apathy, and the loss of interest in activities that a person had considered joyful prior to their diagnosis.
Hopefully, CBD may help regulate certain processes in your body that can reduce the severity and frequency of these symptoms.
Here's how you can use CBD for depression.
CBD May Reduce Anxiety
There's a growing body of evidence to support the hypothesis that CBD has anxiolytic (anti-anxiety) properties in many individuals.
CBD has been studied in many types of anxiety disorders, including PTSD, obsessive-compulsive disorder, panic disorder, social phobias, and fear of public speaking.
One mechanism that helps CBD achieve such positive effects is the activation of the GABA receptor. GABA is the primary inhibitory neurotransmitter in our bodies; in simple words, it works like a hand brake for the brain — preventing neuroexcitation. Higher levels of GABA and lower levels of glutamate are associated with a better response to stress and lower levels of anxiety.
Another way CBD can help alleviate anxiety is by interacting with serotonin receptors in the brain. Serotonin is another important neurotransmitter that controls emotions, mood, and feelings of happiness. Low levels of serotonin are linked to depression, and while CBD isn't a direct serotonin booster, it can block its reuptake so that the body can use it more efficiently — resulting in an elevated mood.
CBD May Improve Mood and Reduce Stress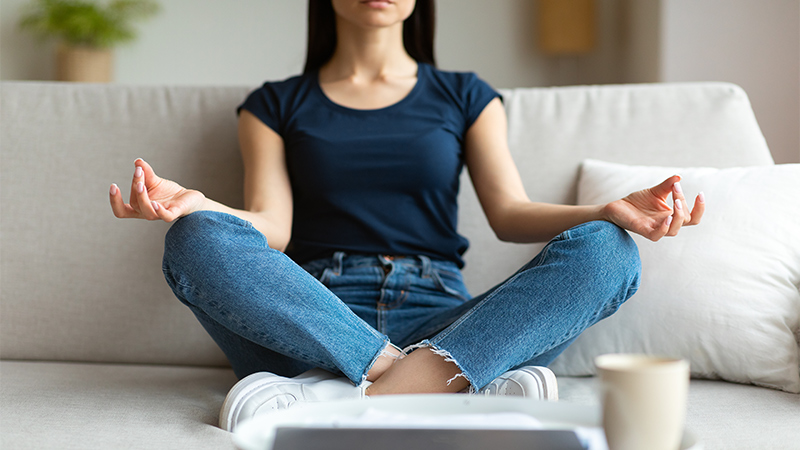 As mentioned earlier in the article, CBD interacts with the endocannabinoid system (ECS). The ECS is the major regulatory system in all mammals, helping the body achieve and maintain homeostasis.
Homeostasis is a scientific term for the balance between all vital functions performed by other systems and organs. The ECS regulates memory, mood, pain perception, emotional processing, fertility, body temperature, appetite, sleep cycles, and more.
Anandamide, one of the two major endocannabinoids (endo = produced in the body) has a major role in the regulation of mood and pain threshold. Poor anandamide signaling can lead to a worse response to stress and cause a low mood. Permanent anandamide deficiencies may even result in anxiety disorders and depression.
That's why anandamide has been dubbed as the "bliss molecule" in sanskrit.
CBD can improve anandamide signaling and slow down its breakdown by inhibiting the Fatty Acid Amino Hydrolase (FAAH) enzyme. As a result, your body can achieve higher and more stable concentrations of anandamide — improving your mood and reactions to stressors.
CBD Contributes to Neurogenesis
Studies have shown that CBD can stimulate the formation of new neurons in the brain, improving the plasticity of the hippocampus. The hippocampus is an important region in the brain that controls our cognitive performance, emotions, and mood.
Improved neuroplasticity of the hippocampus has been associated with better cognitive performance and a lower frequency of suicidal thoughts in patients with depression.
Can You Take CBD and Antidepressants Together?
"Antidepressants" is an umbrella term that covers a wide range of different products that use different mechanisms to treat depression. However, one common feature shared by all classes of antidepressants is that they are metabolized by the liver before they can start working in your body.
The liver contains a number of different enzyme systems that facilitate chemical reactions. One of these systems is the cytochrome P450 (CYP450) enzymes that metabolize the majority of medications, including antidepressants.
CBD has demonstrated potent inhibitory actions on these enzymes, suggesting that there could be interactions between CBD and antidepressants.
What kind of interactions are they? Does taking CBD and antidepressants together mean they produce a stronger effect? Or, as a result of that inhibitory mechanism, maybe they shouldn't be taken at the same time?
Let's find out.
What May Happen When You Take CBD with Antidepressants
CBD is generally considered safe, but it's one thing when you take it alone, and the other thing when you combine it with other substances, such as antidepressants.
The most common side effects of CBD include lightheadedness, dry mouth, sedation, and (rarely) diarrhea. Taking CBD with other medications that have similar side effects may increase the likelihood of unwanted symptoms or toxicity.
Doubling Up On Side Effects
To put it simply, taking CBD at the same time with substances that cause sleepiness, such as benzodiazepines, antipsychotics, antidepressants, or alcohol may lead to increased fatigue, sleepiness, and possibly accidental accidents when driving.
Increased sedation may also occur when you combine CBD with other herbal supplements, such as melatonin, St. John's wort, and kava.
Taking CBD together with stimulants — like Adderall — may lead to decreased appetite, while interactions between CBD and the diabetes drug metformin or certain heartburn medications may increase the risk of diarrhea.
CBD Can Alter the Effects of Antidepressants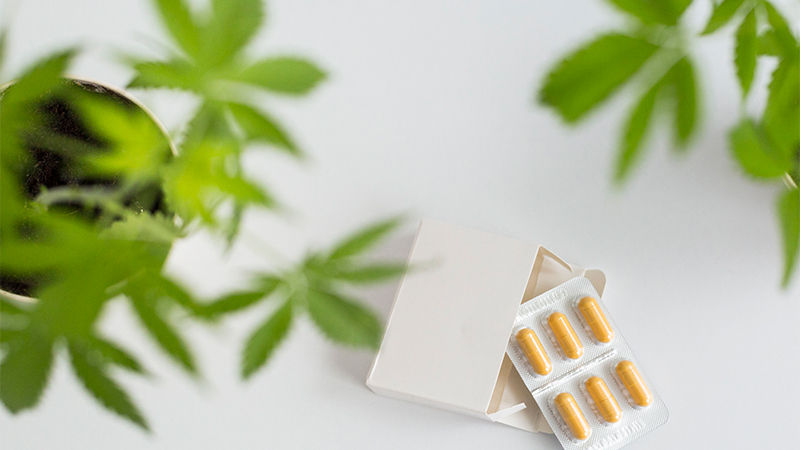 Since CBD interferes with the enzymes in the liver that break down many drugs, including antidepressants, their interactions may lead to insufficient concentrations of the drug in the body — resulting in a subtherapeutic effect.
Depending on the type of interaction, CBD may also increase the drug concentration in your bloodstream, inducing toxicity and increased risk of side effects.
Researchers from Penn State College of Medicine analyzed existing data on five cannabis-based medications. Overall, the team found 139 medications that may be affected by cannabinoids. They further narrowed down that list to 57 medications, for which altered concentrations can be hazardous.
Among these medications, the researchers identified blood thinners, heart rhythm medications, thyroid drugs, and several medications for seizures.
However, antidepressants weren't included in that list.
Does the Form of CBD Matter In CBD-Drug Interactions?
Of course.
Inhaled CBD enters the blood the fastest, reaching peak levels within 30 minutes and increasing the chances of acute side effects.
CBD edibles for anxiety need more time to be processed in the digestive system and are less likely to produce high concentration levels. However, they may eventually reach high enough levels to interact with other medications.
Topical formulations are the safest from that trio because they do not absorb and reach the bloodstream; therefore, they can't interact with other medications.
The problem with estimating the likelihood of CBD-drug interactions is the lack of regulations regarding CBD products, which may cause issues with purity, concentration, or safety.
That's why reading third-party lab reports is critical if you want to make a well-informed decision when choosing your CBD product. These reports analyze the entire chemical profile of the tested sample, including its purity levels.
Common Antidepressants and Their Risks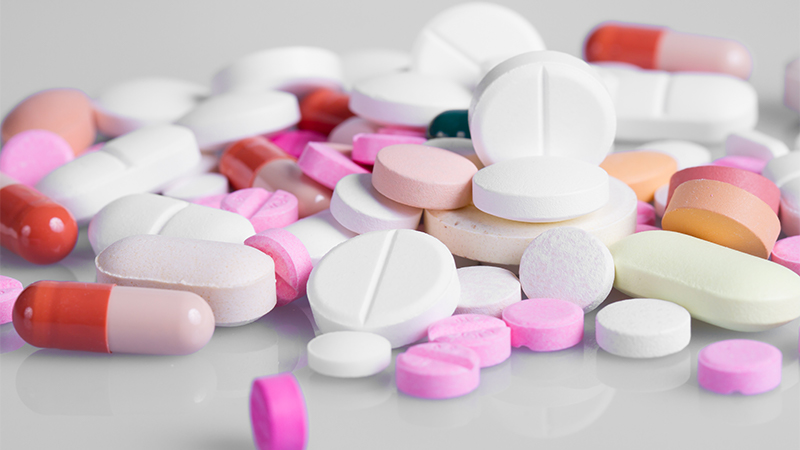 Since there are different classes of antidepressants, some demonstrate a higher risk when taken with CBD oil than others.
Selective Serotonin Reuptake Inhibitors (SSRIs)
This is the most common type of antidepressant that doctors prescribe. They work similarly to CBD in the way they block the reabsorption of serotonin into the brain, leading to higher concentrations in the bloodstream and improved mood.
Common SSRI's include:
Citalopram
Escitalopram
Fluoxetine
Paroxetine
Sertraline
Vilazodone
The reason why SSRIs are the go-to treatment for depression is that they generally have fewer side effects than other antidepressants. Taking CBD with SSRIs would cause similar effects, as is the case for all antidepressants belonging to a specific drug category.
Serotonin-Norepinephrine Reuptake Inhibitors (SNRIs)
They use a similar mechanism to SSRIs and entail the same level of risk, but some individuals may tolerate them better than others.
Common SNRIs include:
Desvenlafaxine
Duloxetine
Levomilnacipran
Venlafaxine
Tricyclic Antidepressants
These drugs work by increasing levels of serotonin and norepinephrine in the brain. They can be very effective but also entail a higher risk than other antidepressants. For that reason, they're only prescribed when SSRIs or SNRIs haven't been working.
Common tricyclic antidepressants include:
Amitriptyline
Desipramine
Imipramine
Nortriptyline
Trimipramine
Wrapping It Up: Talk to Your Doctor Before Taking CBD with Antidepressants
CBD may have more benefits in the long term than conventional antidepressants. One of the main reasons why people choose CBD instead of these treatments is that it doesn't cause the user to build up dependencies on it.
CBD can exhibit the same degree of antidepressant effects but without getting you addicted to it.
Even though there's no clinical evidence that would recommend the use of CBD as the go-to treatment for depression, it's only a matter of time before such studies will start emerging on the surface.
Taking CBD and antidepressants together can lead to certain interactions that can change the way both substances are metabolized in the liver. Despite the lack of hard evidence that CBD directly interacts with antidepressants, there's a well-grounded belief that taking them at the same time presents some concerns.
If you want to make sure you get the right CBD dosage and avoid potential interactions with antidepressants, consult your doctor before buying CBD oil.
References: