CBD Oil for Cats with Seizures & Epilepsy: Can It Help?
Seizures affect 1–3% of the general feline population, being among the most common nervous system disorders in cats.
Data on cats seizures is lacking in the veterinary literature. Therefore, recommendations for the diagnosis and management of cat seizure disorders have been based on the information from studies on dogs and humans.
In 2018, the FDA approved the first antiepileptic CBD-based drug called Epidiolex. The agency didn't raise objections about using the drug as a treatment for animals, but it still refuses to acknowledge the health benefits of CBD oil — which has been shown by several studies to outperform pure CBD in neurological and inflammatory conditions.
Anecdotal reports from pet parents also indicate the high efficacy of CBD oil in their cats with epilepsy, so in the light of the current evidence, we've prepared an article that explains the anticonvulsant properties of CBD and provides tips for cat parents who've never used CBD in their furry balls.
Can CBD Help Reduce Seizures in Epileptic Cats?
Numerous studies have outlined CBD's potential health benefits in treating a range of medical conditions — including anxiety, chronic pain, inflammatory bowel disease (IBD), sleeplessness, and cancer.
The FDA made a groundbreaking decision for CBD in 2018 when it approved Epidiolex, a CBD-based medication for treatment-resistant seizures associated with Dravet and Lennox-Gastaut syndromes. It was the first time a CBD drug was approved by the FDA for medical use.
Since the Animal Medicinal Drug Use Clarification Act of 1994 (AMDUCA) allows the off-label use of human drugs in animals, veterinarians can prescribe Epidiolex to cats with seizures too.
In 2019, researchers from the University of North Carolina School of Medicine published a study that suggested CBD might reduce seizures and normalize brain waves in Angelman syndrome. Angelman syndrome is a rare disease affecting neurological development.
CBD has demonstrated anticonvulsant and antiepileptic properties in human and canine studies.
One study found that CBD can provide health benefits in generalized seizures, which impact both sides of the brain and often result in a loss of consciousness.
Similar results were observed in another study, where CBD reduced the percentage of animals that were suffering from severe tonic-clonic seizures. This condition is characterized by two stages. At first, a loss of consciousness occurs, lasting between 10–20 seconds. Then, muscle convulsions are triggered, lasting up to 2 minutes.
The above results suggest that CBD may be effective in treating generalized and focal seizures.
Although no direct studies have examined the effects of CBD use in cats with seizures, the therapeutic benefits may also be comparable to those achieved in humans and dogs due to similar mechanisms of the ECS in all mammals.
How CBD Works to Relieve Seizures in Cats?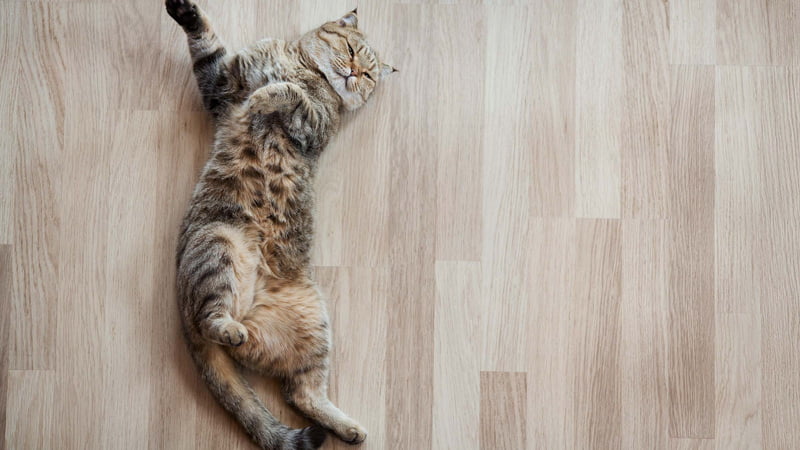 CBD engages with the body's endocannabinoid system (ECS) through its cannabinoid receptors (CB1 and CB2).
CB1 receptors are dominating the brain and nervous system, whereas CB2 receptors are mostly found in peripheral organs, including immune cells and the endocrine system.
The ECS is involved in pain signaling, sleep cycles, memory processing, mood stabilization, and motor regulation.
When you give your cat CBD oil, CBD's interaction with CB2 receptors prompts an anti-inflammatory response, which decreases pain and reduces damage to nerve tissues.
The anticonvulsant properties of CBD are influenced by the cannabinoid's effect on TRPV1 (transient receptor potential vanilloid 1), a pain receptor.
TRPV1 shows abnormal activity in epileptic brain areas. Studies report that the inhibition of this receptor may be a new target for the prevention of seizures and epilepsy in humans and animals, including cats.
The Benefits of Using CBD Oil for Feline Seizures
The FDA approved a CBD-based medication (Epidiolex) for the treatment of intractable seizures linked to Dravet syndrome and Lennox-Gastaut syndrome.
CBD is non-intoxicating and doesn't lead to addiction. Therefore, cat parents can safely give CBD to cats with seizures, using veterinarian-approved doses.
Hemp-derived CBD is legal in all 50 states thanks to the 2018 Farm Bill. You can buy it in different forms, including tinctures, CBD cat treats, capsules, and topicals.
The FDA hasn't received reports of adverse reactions or toxicity of CBD in animals. The only reports received were of accidental ingestion of high-THC cannabis by dogs.
What Are the Limitations?
No direct studies on cats have been conducted to test CBD's health benefits for feline seizures. Neither are there analyses of CBD's effects of long-term use in cats.
The FDA doesn't approve any cannabis-derived products for animals. The agency has only acknowledged the benefits of pure CBD for epilepsy; it has yet to investigate the properties of whole-plant extracts and their effects on dogs and cats.
California is the only state where veterinarians have the right to discuss cannabis use with clients. In other states, cat owners need to take the initiative and ask the vet about the benefits of CBD for seizures.
CBD may interact with other prescription medications currently taken by a cat. These interactions may result in second-hand side effects resulting from a too low or too high concentration of the drug in the cat's system.
How to Choose the Best CBD Oil for Cats with Seizures?
CBD oil is usually derived from the hemp plant — a non-intoxicating species of cannabis.
There are three different types of CBD extracts: full-spectrum CBD, broad-spectrum CBD, and CBD isolate.
Full-spectrum CBD oil contains a range of cannabinoids, terpenes, flavonoids, essential fatty acids, vitamins, and trace minerals naturally found in cannabis. Cannabinoids and terpenes modulate their activity, amplifying their benefits while mitigating the potential side effects of one another. This phenomenon is called the entourage effect.
Broad-spectrum CBD oils are much like full-spectrum but this CBD has no traces of THC.
Isolates are exactly what they sound like — they are pure CBD that has no other compounds from hemp. While CBD isolate delivers the highest dose of CBD per serving and has been touted for its antiepileptic properties, cannabis experts, as well as cat parents, argue that whole-plant CBD works better for their furry friends.
The entourage effect has been described by several studies, and although there are no clinical trials to prove it on large populations, it's difficult to argue that the phenomenon exists — considering various experiments that were performed on cannabis to highlight it.
Aside from choosing the right type of CBD, make sure that your product matches the following criteria:
Choose CBD oil derived from organic, non-GMO hemp
Look for CBD oils produced by brands that use CO2 extraction technology
Make sure that the CBD oil uses natural carrier oils, such as hemp seed oil or MCT oil from coconut. Extra-virgin olive oil is also a good carrier oil that improves the bioavailability of CBD.
Ask for certificates of analysis (COA); they should be batch-specific and list the entire phytochemical profile of your product, along with the results for contaminants.
Use the manufacturer's dosing instructions as a point of reference; they are printed on each product label. More importantly, talk to your vet about using CBD oil in cats for professional guidance.
CBD Dosage for Cats with Seizures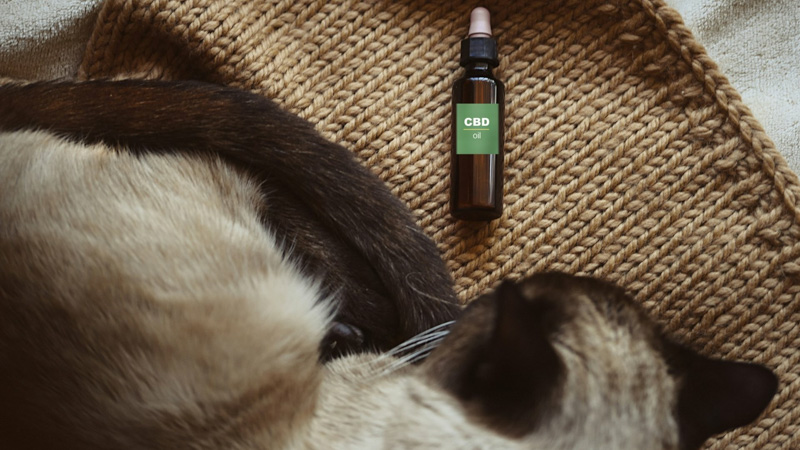 Since there have been no direct studies examining the efficacy of CBD for cats with seizures, we don't have any official dosage charts for this condition.
CBD dosing will be driven by the cat's body weight, diet, overall health, and age. Different CBD oil brands recommend different dosing guidelines, but most manufacturers of CBD pet oils will provide specific dosage ranges based on the above factors.
A good rule of thumb is to start with 0.25 to 0.5 mg for every pound of the cat's body weight, or 1 to 5 mg of CBD for every 10 pounds.
Just be sure to stay conservative about adding CBD oil to your cat's diet. Underdosing is better than overdosing; you can always adjust and up your cat's dosage, but you won't take any away.
CBD is generally safe and well-tolerated by humans and animals, but it can have some mild side effects when overdosed. For example, your cat can experience a dry mouth, dizziness, lethargy, changes in appetite, and (very rarely) diarrhea.
Once you've found the dose that works for your cat's seizures, you can lock in it because CBD doesn't cause tolerance buildups.
How to Give CBD Oil to Cats?
CBD oil comes in a glass bottle with a dropper attached for accurate dosing. Cat owners can slowly give CBD to their cats, drop by drop, so that their furry friend can get accustomed to its effects.
You can administer CBD oil sublingually (under the cat's tongue), or by applying it onto its gums using your fingertip.
If your cat doesn't like the hempy flavor of full-spectrum CBD, you can try mixing it with their food. There are also CBD capsules and treats for fussy cats; these products contain a predetermined dose of CBD in each serving, so they're not only easier to give to your cat but also more enjoyable than tinctures.
You can also find topical formulations such as balms, salves, and transdermal patches. These products are good for localized problems, so while they probably won't reduce the activity of seizures in your cat, they can relax their muscles after a seizure attack on top of providing calming effects and improving joint mobility.
How Does CBD Compare to Other Seizure Treatments for Cats?
In a study posted in the British Journal of Nutrition, a ketogenic diet rich in medium-chain triacylglycerols led to levels of ketosis that were helpful in preventing seizures in dogs with epilepsy.
The ketogenic diet is a high-fat, low-carbohydrate nutrition system, and the aforementioned fatty acids help with entering the state of ketosis, where the body uses ketone bodies instead of blood sugar to burn stored fat for energy.
The dogs were fed with the keto diet or a placebo for three months. After that period, the feeding model was switched respectively and continued for another three months.
The authors reported that seizure frequency and monthly seizure activity were significantly reduced in the 21 dogs that finished the 12 weeks of the keto diet compared to the group that received the placebo.
Cat owners also use some herbal remedies, such as skullcap, ginger, and passionflower to reduce the occurrence of seizures.
Passionflower can ease insomnia, anxiety, and seizures due to its calming effects on an overactive nervous system.
The flavonoids naturally occurring in the skullcap may also exert anticonvulsant effects.
Similar to skullcap, ginger has also demonstrated anticonvulsant properties in studies conducted on mice.
Again, while the studies mentioned in this article weren't done on cats, the ECS in all mammals functions in similar ways, so CBD and the said herbal remedies might also work for cats with seizures.
In fact, one review of studies on herbal medicines lists cannabis as one of the most common herbal remedies used in epilepsy.
Key Takeaways on Giving CBD Oil to Cats with Seizures
If your cat has been suffering from regular seizures, you can use CBD to reduce the frequency and severity of these dreadful episodes. Not only that, but CBD might also help you improve your cat's quality of life aside from helping it cope with this neurological condition.
The research on the effects of CBD on feline seizures is scant, but the existing studies on humans and dogs indicate a bright future for the use of CBD for seizures and epilepsy in cats.
Thanks to the similar nature of ECS among all mammals, you have very strong ground to expect the same effects when it comes to your furry companion.
Once you decide to give your cat CBD oil for seizures after talking to your vet, it's important that you pick a high-quality product. Always choose brands that post relevant and up-to-date third-party lab results online or with the product's package.
Do you give your cat CBD for seizures? Share your experience in the comments; we'd love to hear how CBD works for your purr.
References:
Pakozdy, A., Halasz, P., & Klang, A. (2014). Epilepsy in cats: theory and practice. Journal of veterinary internal medicine, 28(2), 255–263. (1)
The U.S. Food and Drug Administration. (2018). FDA Approves First Drug Comprised of an Active Ingredient Derived from Marijuana, to Treat Rare, Severe Forms of Epilepsy. FDA News Release. Available from: (2)
Gu, B., Zhu, M., Glass, M. R., Rougié, M., Nikolova, V. D., Moy, S. S., Carney, P. R., & Philpot, B. D. (2019). Cannabidiol attenuates seizures and EEG abnormalities in Angelman syndrome model mice. The Journal of clinical investigation, 129(12), 5462–5467. (3)
Silvestro, S., Mammana, S., Cavalli, E., Bramanti, P., & Mazzon, E. (2019). Use of Cannabidiol in the Treatment of Epilepsy: Efficacy and Security in Clinical Trials. Molecules (Basel, Switzerland), 24(8), 1459.(4)
Marchese, F., Vari, M. S., Balagura, G., Riva, A., Salpietro, V., Verrotti, A., Citraro, R., Lattanzi, S., Minetti, C., Russo, E., & Striano, P. (2020). An Open Retrospective Study of a Standardized Cannabidiol Based-Oil in Treatment-Resistant Epilepsy. Cannabis and cannabinoid research, 10.1089/can.2019.0082. Advance online publication. (5)
Nazıroğlu M. (2015). TRPV1 Channel: A Potential Drug Target for Treating Epilepsy. Current neuropharmacology, 13(2), 239–247. (6)
Russo E. B. (2011). Taming THC: potential cannabis synergy and phytocannabinoid-terpenoid entourage effects. British journal of pharmacology, 163(7), 1344–1364. (7)
Russo E. B. (2019). The Case for the Entourage Effect and Conventional Breeding of Clinical Cannabis: No "Strain," No Gain. Frontiers in plant science, 9, 1969. (8)
Law, T. H., Davies, E. S., Pan, Y., Zanghi, B., Want, E., & Volk, H. A. (2015). A randomized trial of a medium-chain TAG diet as a treatment for dogs with idiopathic epilepsy. The British journal of nutrition, 114(9), 1438–1447. (9)