CBD Oil for Endometriosis Pain: Does It Help?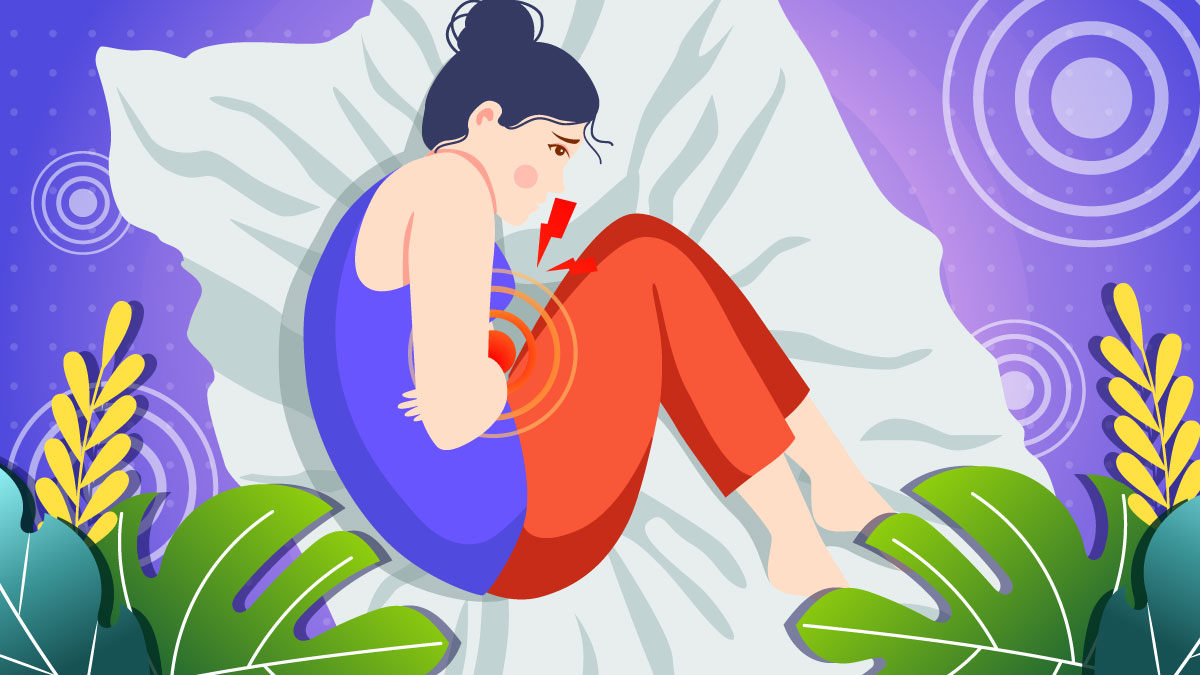 Endometriosis is an autoimmune disease involving the abnormal growth of cells similar to those found in the womb's lining. According to statistics, the condition affects 1 in 10 of women of reproductive age — contributing to 176 million instances worldwide.
Researchers still don't understand why endometrial tissue begins to grow in the uterus, spreading to the nearby pelvic organs, such as ovaries, bladder, and bowel.
The problem with endometriosis is that the errand cells start to bleed during the bleeding phase of a woman's menstrual cycle. But unlike the normal cells, the ones triggered by endometriosis can't pass their blood outside, causing inflammation, pain, and formation of scar tissues.
Today, we explore the benefits of using CBD oil and other types of cannabis extracts for endometriosis pain and related symptoms.
Can CBD Help with Endometriosis?
Women with endometriosis are typically prescribed pain medication, hormone therapy, or need to undergo laparoscopic surgery.
Hormonal treatments are known to cause undesirable side effects; for example, Gn-RH, a popular hormone, may trigger artificial menopause on top of causing headaches and bloating.
The efficacy of NSAIDs, such as ibuprofen, for EM-associated pain, is also questionable.
According to a review published in Deutsche Arzteblatt International, 70% of young women with endometriosis don't respond to NSAID treatments.
That's why alternative options, such as CBD oil, are becoming more popular for this disease.
The BMC Complementary and Alternative Medicine published a cross-sectional online survey that evaluated the efficacy of self-management strategies.
Among the most popular choices, such as hot compress, diet changes, yoga, and exercising, CBD oil scored a high place.
The study found that women who took CBD oil reported the highest pain relief scores among women who participated in the study.
Another study posted in Therapeutics and Clinical Risk Management mentioned that CBD produces anti-inflammatory effects. The author added that CBD was able to stop the release of proinflammatory cytokines in animals.
A follow-up cross-study published by Proc Natl Acad Sci USA confirmed these results, showing CBD's immunosuppressive action through decreasing cytokine production.
Clinical Research On CBD & Endometriosis
So far, there have been no clinical trials examining the efficacy of cannabis medicine in women with endometriosis.
Two clinical trials are about to investigate the effects of phytocannabinoids on endometriosis pain and related symptoms.
In a Spanish open-label phase II trial, women with endometriosis-induced hyperalgesia will receive an oral spray with a 1:1 ratio of THC and CBD. 
In another phase III double-blind placebo study, patients will be administered norethindrone acetate, a hormonal treatment, supplemented with either 10 mg or 20 mg of CBD for the management of endometriosis pain.
Gathering sufficient robust evidence to convince the medical world that cannabinoids are effective for endometriosis may take years. In the meantime, cannabis will undoubtedly play a significant role in the self-care routine of women around the world when it comes to easing their endometriosis pain.
How Does CBD Oil Work to Help with Endometriosis Pain?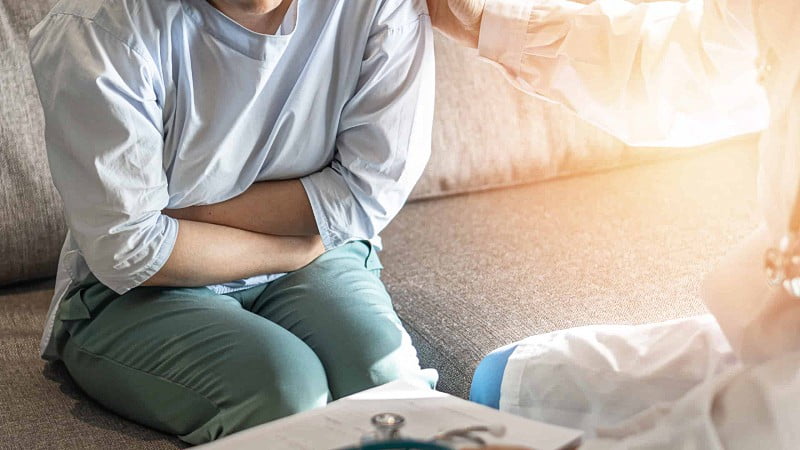 The endocannabinoid system (ECS) is a vast network of endogenous cannabinoids, enzymes, and G-coupled receptors that are spread throughout the body.
These receptors (type 1 and 2) are present in the central nervous system, immune system, and peripheral organs. The main role of the ECS is to promote and maintain homeostasis in the body.
ECS modulation has been associated with therapeutic effects in several health conditions, including anxiety, insomnia, neurodegeneration, epilepsy, and chronic pain.
The CB1 receptor can be found in pain circuits; it also participates in producing pain-killing and anti-inflammatory effects. Meanwhile, the effects of CB2 receptor activity are mostly expressed in the immune system.
A 2017 study explained how THC and CBD act on these receptors. Their activity might be beneficial for women with endometriosis pain or even when their menstruation stops and other chronic pain conditions.
Several studies have implicated that CBD and other cannabis compounds can inhibit proinflammatory cytokines.
One study published in Pain journal found CB1 receptors in the rodent uterus. The research team suggested that CB1 receptors are a potential target treatment to curb hyperalgesia (sensitivity to pain) in that area.
The study also provided evidence that endocannabinoids and phytocannabinoids could be useful in alleviating endometriosis symptoms.
How to Use CBD for Endometriosis
There are several types of CBD to choose from; the three main types include full-spectrum CBD, broad-spectrum CBD, and CBD isolate.
Full-spectrum CBD contains the original phytochemical profile of the source plant, including minor cannabinoids, terpenes, flavonoids, and traces of THC. Read our Full-Spectrum CBD guide to learn more. 
These compounds work synergistically to enhance the beneficial effects of the major cannabinoids and mitigate their potential side effects. This concept is known as the entourage effect.
Broad-spectrum CBD is much like its full-spectrum counterpart, save for the lack of THC. The intoxicating compound is removed from the extract after the initial extraction. 
CBD isolate is exactly what it sounds like — pure cannabidiol. It occurs as whitish crystals that are then turned into a powder and mixed into different products. Isolates have no odor or flavor, and they also don't evoke the entourage effect.
Let's take a look at which type of CBD is more helpful in managing endometriosis pain.
Full-spectrum vs. Isolate: Which is Better for Endometriosis?
Focusing on individual cannabinoids and their mechanisms makes it easy to think that the cannabis plant has little to do with endometriosis.
Dr. Ethan Russo, a neuroscientist and passionate proponent of the entourage effect, underlines the importance of whole-plant cannabis medicine as a treatment for endometriosis and other conditions.
Russo says that there are "multiple components of cannabis that can be put together in the right preparation to treat endometriosis, both in terms of symptoms, the pain, and affecting the disease process itself. It's rare these days that an issue like endometriosis or cancer or diabetes is going to be successfully treated with one agent."
Conventional pharmacology tends to isolate a compound, give it a target, and observe how it deals with it — which can be very specific.
However, this pharmacology ignores the bigger picture, so it's unlikely that one molecular mechanism will take care of the whole symptoms associated with endometriosis.
It's worth noting that throughout human history, plants have been used medicinally. Synthetic drugs were developed later, but many of them are based directly or indirectly on plant-based chemicals.
CBD Oil for Endometriosis
CBD oil is the most popular form of CBD for endometriosis. It's a thick hemp extract that is further diluted with a carrier oil for improved bioavailability — and bottled up with a dropper to make dosing easier.
CBD oil can be ingested in different ways. It can be taken under the tongue, where it should sit for around 60 seconds. The sublingual mechanism ensures a faster onset of effects, higher bioavailability, and better absorption. That's because CBD enters the bloodstream directly through the tiny blood vessels in your mouth.
Other popular formats include capsules and gummies, which are better for people who dislike the taste of natural CBD oil and are looking for a precise dose in each serving.
Vaping is the fastest and most effective way to deliver CBD to your system. When you inhale CBD through a vape pen, it enters the bloodstream through the lung tissue, providing almost instantaneous effects.
CBD Cream for Endometriosis
A lot of women with endometriosis combine two forms of CBD oil — oral and topical.
When you take CBD oil, gummies, or capsules, they target EM symptoms from within, which is great for symptom control and reaching the underlying cause.
But, when you experience endometriosis flare-ups, they may require a more localized approach, such as a topical formulation.
Topical products like CBD creams, lotions, gels, and salves, are applied directly to the skin. From there, they interact with the skin's CB2 receptors, producing a relaxing and anti-inflammatory response.
This, in turn, may contribute to effective pain control. Topicals can take between 10 and 60 minutes to start working, depending on the formulation.
CBD Dosage for Endometriosis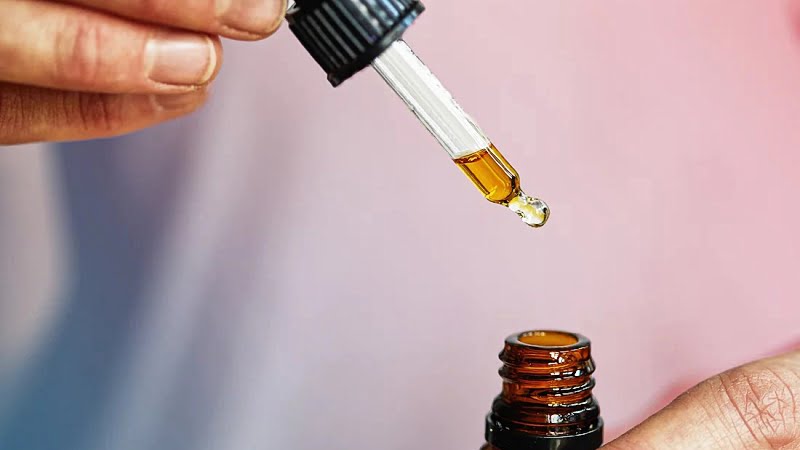 Most of our modern pharmaceutical medications come with standardized dosages and guidelines regarding their use.
On the other hand, CBD is a very personalized substance and can have different dosages even for people of the same height, weight, and lifestyle. 
Cannabis dosages always start from low amounts and take time to gauge the effective dosage for each individual. Doctors will start you on a medication they believe will work best for you and then titrate the dose to adjust it to the severity of your symptoms and your individual body chemistry.
The goal of successful CBD dosage for endometriosis is to find the amount that gets you maximum effects with few side effects.
Can You Use Medical Marijuana for Endometriosis?
Yes, medical marijuana can be helpful in endometriosis. While CBD can effectively reduce EM pain, THC uses another important mechanism to benefit women with endometriosis.
With fewer CB1 and CB2 receptors in endometrial tissue available for endocannabinoids to bind with, the natural process of cell death (apoptosis) may be compromised, allowing for the malignant cells to multiply and spread.
Preclinical research indicates that endogenous, Phyto, or synthetic cannabinoids that target these two receptors can control the development of endometriosis.
In a 2017 study, the authors showed that drugs stimulating CB1 and CB2 receptors contributed to decreased proliferation and growth of endometrial tissue and its breakdown or what we call apoptosis.
While this may sound bad, apoptosis is a normal programmed cell death that's part of their life cycle, and it's disrupted in abnormal growth such as cancer or endometriosis.
This would explain why THC and potentially other molecules in cannabis would be symptomatically helpful and also target the actual pathology of endometriosis.
A recent study evaluating the effect of THC on a mouse model of endometriosis concluded that THC not only reduced pain markers but also inhibited the growth of an endometrial cyst.
Final Thoughts on CBD and Endometriosis
Animal and preclinical human studies have shown that CBD has anti-inflammatory and analgesic properties. These effects may be useful in targeting pain that is difficult to treat, such as the one triggered by endometriosis.
Since all cannabinoids and terpenes can interact with the endocannabinoid system, many of them have similar anti-inflammatory and antioxidative properties, whole-plant extracts appear to be the most effective form of cannabis treatment.
If you live in a place with a legal medical marijuana program, you can combine CBD oil with a high-THC product to optimize your treatment and use a holistic approach.
Currently, the only federally legal way to use CBD for endometriosis is by taking CBD oil and/or cream. This way, you can both support your endocannabinoid system and target localized pain.
A consultation with a doctor experienced in cannabis use should help you determine the right dosage and avoid negative interactions with any medication you might be taking.
References: