CBD Oil for Menstrual Cramps: Does Cannabis Help with PMS?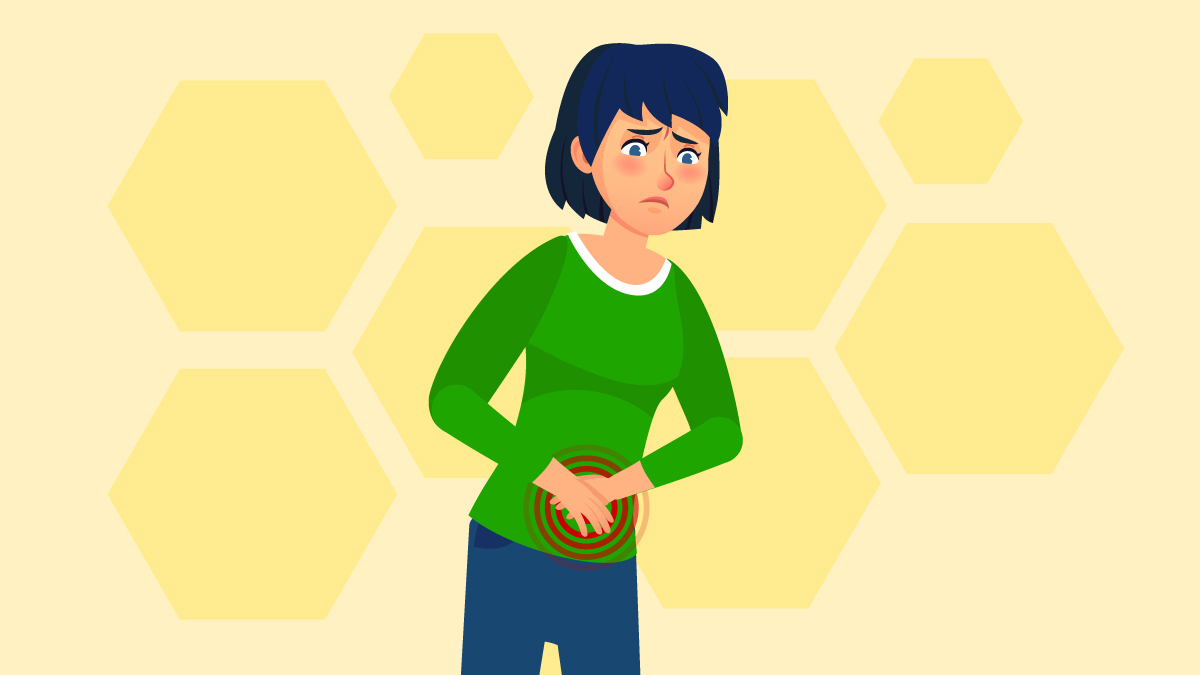 Women of child-bearing age often have a hard time going through their so-called periods. Menstrual cramps are one of the most annoying symptoms during that time. While some women experience mild to moderate pain, others find it debilitating. In extreme cases, menstrual cramps may prevent you from doing simple things, especially during the first days of the period.
The good news is that there are several ways to relieve menstrual cramps. Many women find help in natural remedies, such as CBD oil.
Humans have used cannabis for thousands of years to relieve a wide range of ailments. The history is filled with examples of doctors prescribing the herb to both regular folks and royal entities.
For example, Queen Victoria was prescribed cannabis by her physician to relieve menstrual cramps (1). While we don't know if the said cannabis was a high-THC or high-CBD strain, both compounds are considered "major cannabinoids." In other words, they exist in cannabis in significant ratios and are responsible for a wide range of health benefits.
Modern science has since revealed the therapeutic properties of cannabinoids such as CBD and THC. In this article, we'll look specifically into the effects of CBD on menstrual cramps.
Let's find out if women can use CBD oil to relieve period pain and other symptoms.
CBD Oil and Menstrual Cycle
Women typically experience periods every 28-30 days. The menstrual cycle is a natural mechanism that prepares a woman's body to carry a child. Every month, a new, thick layer of tissue grows in the uterus to get women ready for a potential pregnancy.
The moment when the egg is released from one of the ovaries is known as ovulation. It occurs halfway through the cycle. When the egg meets the sperm, the pregnancy process begins. When no sperm is around, it will break down.
When the egg dissolves, it signals the uterus using specific molecules. They send messages to the uterus, "Hey, it's a non-pregnancy month," so the organ, therefore, sheds that extra tissue, resulting in bleeding.
Menstrual Cramps and Pain
The shedding in the inner lining of the uterus tissue — known as the endometrium — causes menstrual cramps. As this lining falls off each month and a woman goes through her period, endometrial cells break apart as a result of coming loose. Their remnants are released into nearby body parts. In some cases, those tissues grow outside uterus involving the ovary, fallopian tubes and the tissue lining. This is known as endometriosis that causes pain and formation of scar tissues.
Some of these molecules are enzymes that trigger inflammation and pain. They are known as prostaglandins and prostacyclins. One particular prostaglandin — PGF2 — causes contraction of the uterus and surrounding muscles (2). This, in turn, leads to cramping and the accompanying pain.
CBD's efficacy at reducing inflammation and mitigating pain signals is the major reason why many women are turning to CBD oil for menstrual cramps.
Premenstrual Syndrome (PMS)
Premenstrual syndrome (PMS) refers to an odd group of symptoms that become noticeable as a woman gets close to her ovulation period. They usually start to manifest six days before a woman's period begins, peaking about two days before "that time." (3)
PMS includes the following symptoms:
Mood swings
Irritability
Anxiety
Muscle tension
Outbursts of anger
The symptoms can range from mild to severe. Common medications for menstrual cramps include selective serotonin reuptake inhibitors (SSRI).
Common Therapies for Menstrual Cramps
The most often picked therapy for menstrual cramps is nonsteroidal anti-inflammatory drugs (NSAIDs), such as aspirin, ibuprofen, and naproxen. These painkillers inhibit the release of enzymes that trigger inflammation in the body. Consequently, the release of pain-inducing chemicals during menstruation is blocked too.
Some women use non-conventional methods of relieving pain, including heating pads and oral contraceptives. CBD oil and CBD-infused products, such as topicals, edibles, and suppositories, have recently sparked the attention of medical researchers as a safe, natural therapy for menstrual cramps.
Does CBD Help with Menstrual Cramps?
There's a good reason why CBD may help with menstrual cramps.
NSAIDs curb pain and inflammation by blocking the enzyme COX-2. However, they also block the COX-1 enzyme, which isn't related to inflammation and pain. COX-1 is responsible for maintaining a healthy lining in the stomach and intestines. That's why regular use of NSAIDs is associated with a higher risk of stomach ulcers.
According to studies, CBD is the inhibitor of the COX-2, but it has no affinity to the COX-1 enzyme (4). By focusing solely on the COX-2, CBD can reduce inflammation without causing stomach irritation and other side effects linked to typical over-the-counter pain relievers.
Another way to administer CBD for menstrual cramps is through the vaginal and rectal walls. These parts of the body absorb everything very rapidly by avoiding the digestive tract and liver. CBD suppositories provide almost immediate action of the active ingredient. Using a CBD suppository to relieve menstrual cramps could result in fast relief from period pain and inflammation.
The above phenomenon has given rise to a novel topic of discussion: CBD tampons. There are anecdotal reports from women who use them for their period pain, claiming they're more effective than the previously undertaken means.
How to Use CBD for Menstrual Cramps?
As mentioned in the previous section, CBD comes in a variety of forms; you can choose from products like oils, capsules, edibles, topicals, suppositories, vapes, and more.
Below we elaborate on the most common CBD products for menstrual cramps and how to use them.
CBD Oil
CBD oils and tinctures can be taken sublingually or mixed with beverages like coffee or tea and can be infused into foods.
The first method requires the user to place the desired dose under the tongue and hold it there for up to 60 seconds so the oil can absorb through the tiny blood vessels in the mouth. It also ensures a fast onset of effects; they usually take hold within 15–30 minutes after administration.
Adding CBD oil to food and beverages makes it more palatable but sacrifices the onset; since the oil needs to be processed in the digestive system, the results may show up after 40–90 minutes.
The same pattern applies to CBD capsules and gummies. Oral products are less bioavailable because they lose some potency in the liver, but on the other hand, the effects last longer than with traditional oil — up to 8-10 hours.
You may also try CBD through vaping. Using a vape pen, CBD is delivered into the lungs and quickly absorbed into the bloodstream. This method delivers the most CBD into your body, provides the fastest onset of effects (5-10 minutes after inhalation), but offers the shortest duration time. CBD vape pens last for about 3-4 hours.
The above forms of CBD may help you alleviate not only the period pain but also your PMS symptoms, such as irritability or poor stress management.
CBD Topicals
Topical products, such as creams or gels, are formulated to help with localized discomfort. When you're experiencing muscle cramps, you can rub a topical into your skin on the affected area. CBD will interact with the skin's endocannabinoid system, producing its anti-inflammatory and relaxing effects from there.
CBD Suppositories for Cramps
Some suppositories are infused with CBD. This form of cannabidiol can be inserted in a similar way to how a tampon is used — vaginally and rectally.
Some CBD suppositories are made with coconut oil, coconut butter, or hemp oil. Their consistency is soft, and they melt instantly in the body. The dosages per brand may vary, although most CBD suppositories come in 100 mg broad- or full-spectrum CBD.
Although suppositories work like tampons, applying CBD oil on tampons might be risky, according to some sources. Doing so may lead to bacterial vaginosis, a vaginal infection that results from acidity imbalance.
Back to suppositories, these products may cause vaginal irritation since the female reproductive area is delicate and sensitive.
Note that the results of your CBD product may differ from one person to another. CBD can also interact with medications, such as antibiotics and anti-anxiety drugs, so it's a good idea to consult a doctor before trying CBD.
How much CBD to Take for Menstrual Cramps?
The optimal CBD dose may vary between individuals. There are still no official dosage recommendations when it comes to using CBD for menstrual cramps.
If you want to determine the right dosage for your individual situation, start low, and gradually increase your dose until the right amount and effectiveness are achieved. You can keep a journal or log, where you'll monitor the signs of relief from your pain and PMS symptoms. Keeping track of your results will help you establish the right dose without going through too much trial and error.
Again, we encourage you to talk to a doctor experienced in cannabis use about your plans to incorporate CBD oil into your daily routine.
CBD or THC: Which One is Better for Menstrual Cramps?
Cannabis plants produce two major molecules: CBD and THC. CBD is the main non-intoxicating compound, whereas THC is the ingredient that causes the signature marijuana high.
Although CBD and THC share a few health benefits, they work differently and they bind to different receptors in the body. The specific receptors interact with our cannabinoid type 1 receptor (CB1) and cannabinoid receptor type 2 (CB2).
THC has a strong affinity to CB1 receptors, which are mostly found in the brain and central nervous system (5).
CBD, in turn, mostly binds to CB2 receptors, which occur in the immune system. These two receptors control inflammation and stress, and when CBD interacts with them, it doesn't modify the activity of the neurons as THC does with the CB1 receptor.
It's difficult to tell which cannabinoid will work better for menstrual cramps because both compounds are potent analgesic and anti-inflammatory agents. However, if you're looking for a product that won't get you high and is legal throughout the United States, CBD oil from hemp is a more accessible option.
THC comes from marijuana, so its legality depends on the cannabis laws in individual states. Higher doses of THC can also backfire at the user and elevate anxiety instead of reducing it, which is another point in favor of CBD for menstrual cramps.
Final Thoughts on CBD and Menstrual Cramps
While studies on CBD and its use for menstrual cramps are limited, CBD has been shown to help with symptoms like inflammation and pain multiple times in scientific literature. Although there's no guarantee that CBD oil will work for you, there's a lot of women who have ditched pharmaceutical painkillers in favor of CBD oil — and their answer is a loud 'yes.'
CBD has a balancing effect on your body's internal homeostasis. It can also act on the same receptors as NSAIDs, but without interfering with the receptor responsible for maintaining a healthy lining of the gut and intestines. Therefore, it doesn't have the side effects associated with the said medications.
Thanks to the 2018 Farm Bill, CBD oil and other hemp-derived products are legal in all 50 states as long as they contain 0.3% THC or less. However, the FDA has yet to regulate products that come from industrial hemp plants, so it's important to do your research before buying CBD oil for menstrual cramps. Always look for reputable brands that use organic hemp and test their products for potency and purity in a third-party laboratory.
References:
Frazzetto, Giovanni. "Does marijuana have a future in pharmacopoeia?." EMBO reports vol. 4,7 (2003): 651-3. doi:10.1038/sj.embor.embor893
Jobling, Phillip et al. "Female reproductive tract pain: targets, challenges, and outcomes." Frontiers in pharmacology vol. 5 17. 13 Feb. 2014, doi:10.3389/fphar.2014.00017
Yonkers, Kimberly Ann et al. "Premenstrual syndrome." Lancet (London, England)vol. 371,9619 (2008): 1200-10. doi:10.1016/S0140-6736(08)60527-9
Zhang, Jian, and Chu Chen. "Endocannabinoid 2-arachidonoylglycerol protects neurons by limiting COX-2 elevation." The Journal of biological chemistry vol. 283,33 (2008): 22601-11. doi:10.1074/jbc.M800524200
Boggs, Douglas L et al. "Clinical and Preclinical Evidence for Functional Interactions of Cannabidiol and Δ9-Tetrahydrocannabinol." Neuropsychopharmacology : official publication of the American College of Neuropsychopharmacology vol. 43,1 (2018): 142-154. doi:10.1038/npp.2017.209