CBD for Rosacea: Does Hemp Oil Help? Benefits & Usage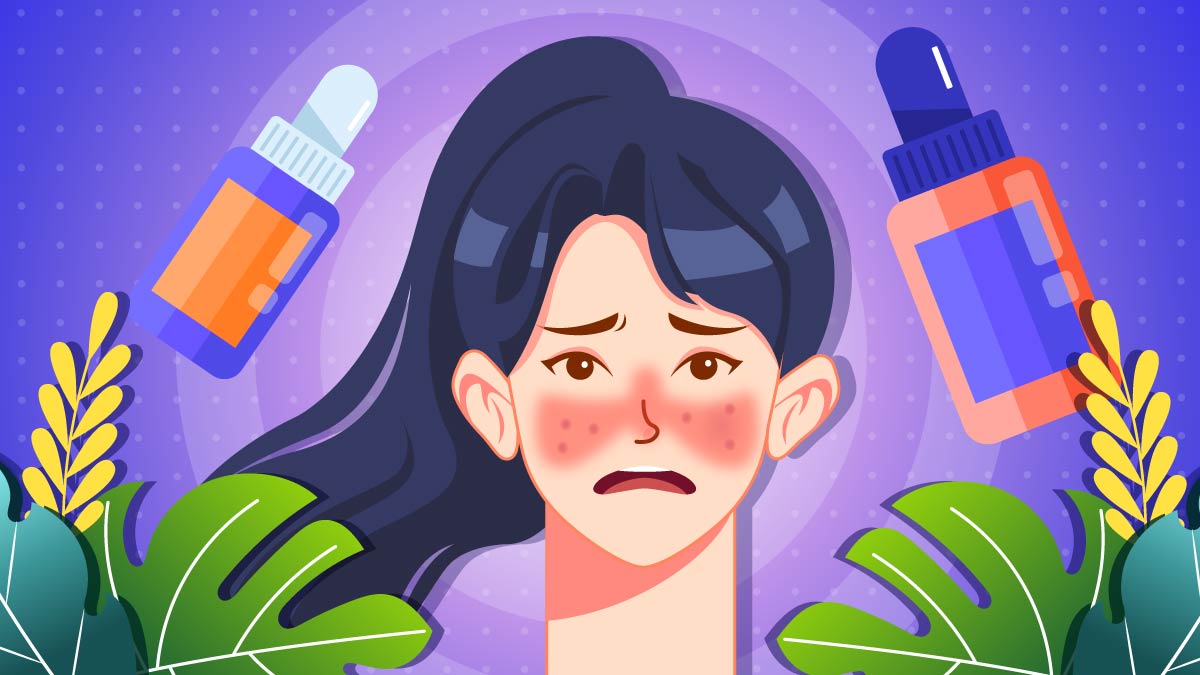 Rosacea is a skin condition that is characterized by redness and visible blood vessels on the face. It can also cause small, red, puss-filled lumps in more severe cases, which are commonly mistaken for acne breakouts.
It's not only painful, but it's life-disruptive — negatively impacting self-esteem and confidence.
Although rosacea can affect anyone, it's most common in light-skinned middle-aged women.
Rosacea is poorly understood and has no cure, but it can be treated and controlled with topical medications such as steroids, leaving the skin overly dry, thin, and dull.
Because of this, an increasing number of people are now turning to CBD for its powerful anti-inflammatory, pain-relieving, and antimicrobial properties, among many other benefits.
In this article, we explore the science behind how CBD can be used for rosacea.
Quick Answer: Can CBD Help With Rosacea?
CBD is a natural compound derived from Cannabis Sativa plants with impressive anti-inflammatory properties. Although experts still aren't clear about rosacea's exact cause, they have linked it to an imbalanced inflammatory response.
Some research into rosacea suggests that microscopic mites found on the skin's surface, and a type of bacteria in the gut known as Helicobacter pylori, trigger the immune system to expand blood vessels and cause swelling and redness beneath the skin, thereby causing rosacea.
Moreover, CBD has antimicrobial and antioxidant properties, making it an effective treatment for many inflammatory and bacteria-derived skin conditions when consumed orally and applied topically [1].
CBD also has analgesic properties, meaning that it can effectively relieve the discomfort caused by painful rosacea symptoms [2].
Lastly, anxiety and stress are suspected triggers of rosacea and common symptoms—it's a vicious cycle that can have negative psychological and physical impacts. Many people reach for CBD for its calming and relaxing benefits. These CBD effects on managing stress can not only support symptoms from flare-ups but can be a viable preventative treatment [3].
What Is Rosacea?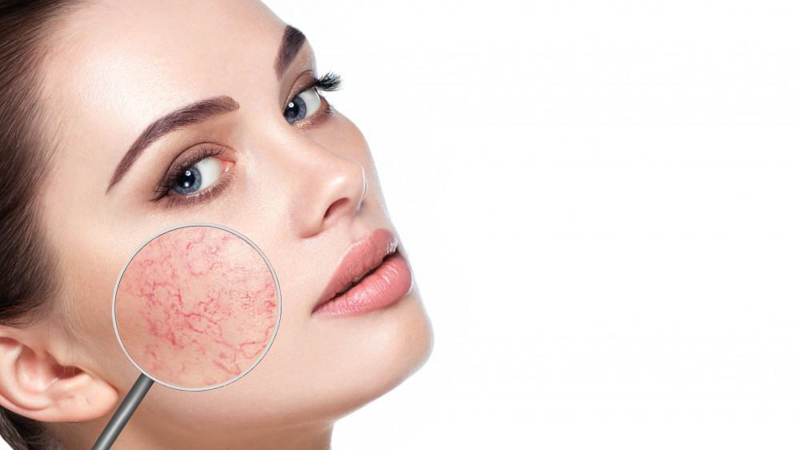 Rosacea is a skin condition marked by redness, swelling, and small pus-filled bumps on the face. This condition affects more than 16 million people in the US, according to the National Rosacea Society. Despite this, the cause of the condition remains a mystery.
What Causes Rosacea?
What scientists do know is that the symptoms (usually presenting as redness in the face) are often caused by inflammation from a dysfunction in the immune system or neurovascular dysregulation (blood vessel disorders).
Anxiety and stress have also been suggested to be rosacea triggers. One study showed that patients with rosacea were likely to have experienced at least one critical life event (defined as an event causing challenge, loss, or danger) before they experienced their first rosacea flare-up [6].
Lastly, studies have shown rosacea patients to have increased levels of mast cells, as well as larger numbers of Demodex folliculorum, a tiny mite naturally found on the skin, than most people (up to 18 times more) [4, 5].
What Are the Symptoms of Rosacea?
The obvious rosacea symptoms are redness, visible blood vessels, fatigue, and, in more severe cases, puss-filled lumps on the skin. However, the effects are, in fact, much more broad-ranging.
Most rosacea patients report significant social, occupational, and psychological problems as a result of the condition. In a survey by the National Rosacea Foundation, more than 90% of people reported that rosacea flare-ups significantly lowered their self-confidence and self-esteem, and 41% reported avoiding or canceling social engagements and public contact.
For patients with severe symptoms, 51% reported having missed work due to the condition, and a staggering 88% said that it had a significant negative impact on their professional lives. This resulting stress and anxiety can also serve as a trigger, thereby increasing the severity of flare-ups.
CBD vs. Other Treatments for Rosacea
Currently, there is no cure for rosacea. Experts recommend the following as treatment:
Steroid topicals or other prescription creams
Oral antibiotics and inflammatory drugs
Ensure a healthy diet that is high in Omega-3
Laser and other light-based therapies
Manage stress levels and anxiety
Unfortunately, extended use of steroid creams or other prescription medicines is not recommended. The former can thin and damage your skin, and the latter can damage your liver or renal systems.
CBD is a natural compound that interacts with and enhances the performance of the body's endocannabinoid system to produce health benefits, making it a much more attractive treatment option.
Although research into CBD's effectiveness as a rosacea treatment is still in its infancy, some studies have shown that it has great potential:
1. CBD is An Anti-Inflammatory
A study published in 2018 examined the therapeutic effects of CBD, finding that it can significantly reduce inflammation and over-stimulation of the immune system — both of which are thought to be causes of rosacea [11]. One of the ways CBD acts as an anti-inflammatory is by inhibiting enzymes that cause inflammation, specifically an eicosanoid enzyme called COX2.
2. CBD Has Antimicrobial Properties
Overactive oil glands and bacteria can build up to produce acne and exacerbate rosacea pustules. The Journal of Clinical Investigation showed CBD, with its anti-inflammatory and antimicrobial properties, was able to effectively treat acne, reducing redness and discomfort. In this sense, acne and rosacea share some similarities [7].
3. CBD Can Improve Skin Health
Studies have shown that CBD has antimicrobial and antioxidant properties, which are great benefits to aid scar healing and treat other skin conditions [1]. This is especially useful when treating rosacea, which is sometimes caused by increased levels of mast cells and larger numbers of the parasitic mite, Demodex folliculorum, than normal.
4. CBD Has Profound Analgesic Properties
One of the characteristics of rosacea is a burning, stinging sensation on the skin, making it incredibly painful. CBD can be a powerful pain reliever. CBD binds to the TRPV1 receptors (vanilloid receptors) to moderate the sensation of pain [2].
5. CBD Supports A Healthy Stress Response
A study published in 2015 found that CBD can be used as a potential treatment for anxiety-related disorders by increasing levels of a neurotransmitter in the brain called GABA [3]. GABA counteracts the physiological stress response and promotes relaxation. As stress and anxiety are often linked to both the cause and effect of rosacea, this makes CBD particularly helpful in managing stress-triggered rosacea.
How to Use CBD for Rosacea?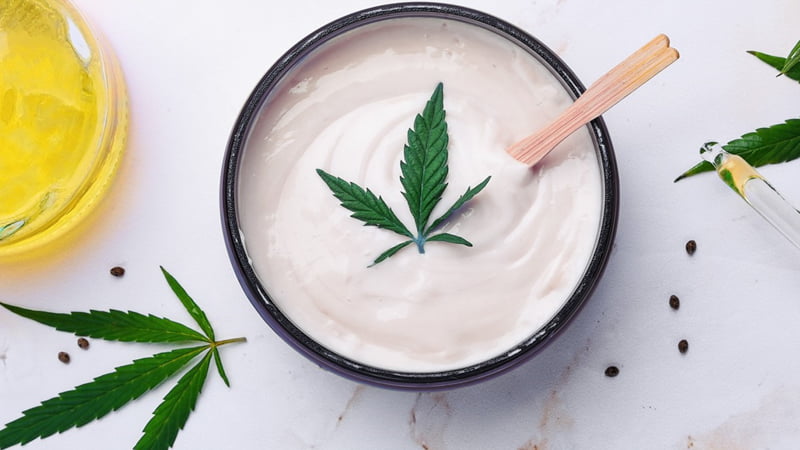 As more research is required into using CBD for rosacea, we can't say for certain which method of consumption or application is the most effective for everyone.
However, CBD can be taken in a variety of ways, and it's more than likely that a mixture of oral consumption and topical application will produce the greatest benefits.
CBD Cream For Rosacea
Topical CBD, such as a cream, is usually the preferred method for addressing skin irritation, as the product is immediately absorbed and reacts with the cannabinoid receptors in the epidermis.
Topical application helps to target inflammation and discomfort at the source, thereby providing the quickest and most effective relief. CBD skincare products also include other nourishing ingredients that can help to protect and strengthen the skin barrier for increased comfort.
CBD Oil For Rosacea
Consuming CBD products like sublingual oil, gummies, capsules, or CBD-infused food, could also be beneficial, but it has to go through the digestive system before entering the bloodstream. This method takes much longer to exert its effect and has a less direct effect on the skin.
That being said, internally ingesting CBD can help improve the homeostasis (balance) of several vital systems, including the auto-immune, stress, and hormones, which can combat the frequency and severity of rosacea flare-ups.
Consuming CBD oil sublingually (under the tongue) allows it to bypass the digestive system and enter the bloodstream faster through the network of microcapillaries. Sublingual CBD is more effective than oral consumption, as the active compounds succumb to hostile stomach acids and liver processing before it enters the bloodstream.
Where to Buy CBD for Rosacea?
Online is the best place to purchase CBD. That way, you can easily compare different brands, strengths, and flavors, all while researching the company and products at your leisure.
We can't stress enough the importance of shopping with reputable CBD brands. Suppose the CBD extract contains high levels of heavy metals, pesticides, and toxins. In that case, it could make symptoms worse — and it's highly unlikely to address your rosacea symptoms. It could make your symptoms much worse.
To make sure you're buying a high-quality CBD product, look for independent lab testing. Companies should have a Certificate of Analysis (CoA) for every product. A CoA proves that the product has undergone independent third-party lab testing for its safety.
The CoA indicates the potency, purity, and overall quality and contents of the CBD product.
As the third-party laboratories are in no way associated or affiliated with the brands or companies that they're testing, they have no reason to be anything other than completely truthful regarding their findings. Plus, these labs are held in high regard, with exceptional and consistent reputations to uphold.
Summary: CBD Oil For Rosacea
CBD can offer a range of benefits for treating rosacea, from reducing inflammation and calming an overactive immune system to providing antimicrobial and analgesic benefits when applied directly to the skin.
It can also help to reduce stress and anxiety — which are both triggers and effects of rosacea.
Although it's certainly not a cure — and more research is needed in this area — CBD certainly seems to be a good (if not better) alternative to traditional prescription medications and steroid creams.
Combining oral or sublingual consumption with topical application produces the best results — but it's always advisable to consult a medical professional before taking any new supplement to treat a condition.
References Cited In This Article
Atalay, S., Jarocka-Karpowicz, I., & Skrzydlewska, E. (2020). Antioxidative and anti-inflammatory properties of cannabidiol. Antioxidants, 9(1), 21.
Russo, E. B. (2008). Cannabinoids in the management of difficult-to-treat pain. Therapeutics and clinical risk management, 4(1), 245.
Blessing, E. M., Steenkamp, M. M., Manzanares, J., & Marmar, C. R. (2015). Cannabidiol as a potential treatment for anxiety disorders. Neurotherapeutics, 12(4), 825-836.
Jarmuda, S., O'Reilly, N., Żaba, R., Jakubowicz, O., Szkaradkiewicz, A., & Kavanagh, K. (2012). Potential role of Demodex mites and bacteria in the induction of rosacea. Journal of medical microbiology, 61(11), 1504-1510.
Forton FMN. Papulopustular rosacea, skin immunity, and Demodex: pityriasis folliculorum as a missing link. J Eur Acad Dermatol Venereol 2012;26:19–28.
Sowińska-Gługiewicz, I., Ratajczak-Stefańska, V., & Maleszka, R. (2005). Role of psychological factors in course of the rosacea. Roczniki Akademii Medycznej w Bialymstoku (1995), 50, 49-53.
Oláh, A., Tóth, B., Borbíró, I., Sugawara, K., Szöllõsi, A., Czifra, G., Pál, B., Ambrus, L., Kloepper, J., Camera, E., Ludovici, M., Picardo, M., Voets, T., Zouboulis, C., Paus, R. and Bíró, T. (2014). Cannabidiol exerts sebostatic and antiinflammatory effects on human sebocytes. Journal of Clinical Investigation, 124(9), pp.3713–3724.
Marks, D. H., & Friedman, A. (2018). The therapeutic potential of cannabinoids in dermatology. Skin Ther. Lett, 23, 1-5.
Tabassum, N., & Hamdani, M. (2014). Plants used to treat skin diseases. Pharmacogn Rev 8 (15): 52–60.
Costa, B., Colleoni, M., Conti, S., Parolaro, D., Franke, C., Trovato, A. E., & Giagnoni, G. (2004). Oral anti-inflammatory activity of cannabidiol, a non-psychoactive constituent of cannabis, in acute carrageenan-induced inflammation in the rat paw. Naunyn-Schmiedeberg's archives of pharmacology, 369(3), 294-299.
Crippa, J. A., Guimarães, F. S., Campos, A. C., & Zuardi, A. W. (2018). Translational investigation of the therapeutic potential of cannabidiol (CBD): toward a new age. Frontiers in immunology, 9, 2009.