Best CBD Gummies on Amazon: Fake & Mislabeled Products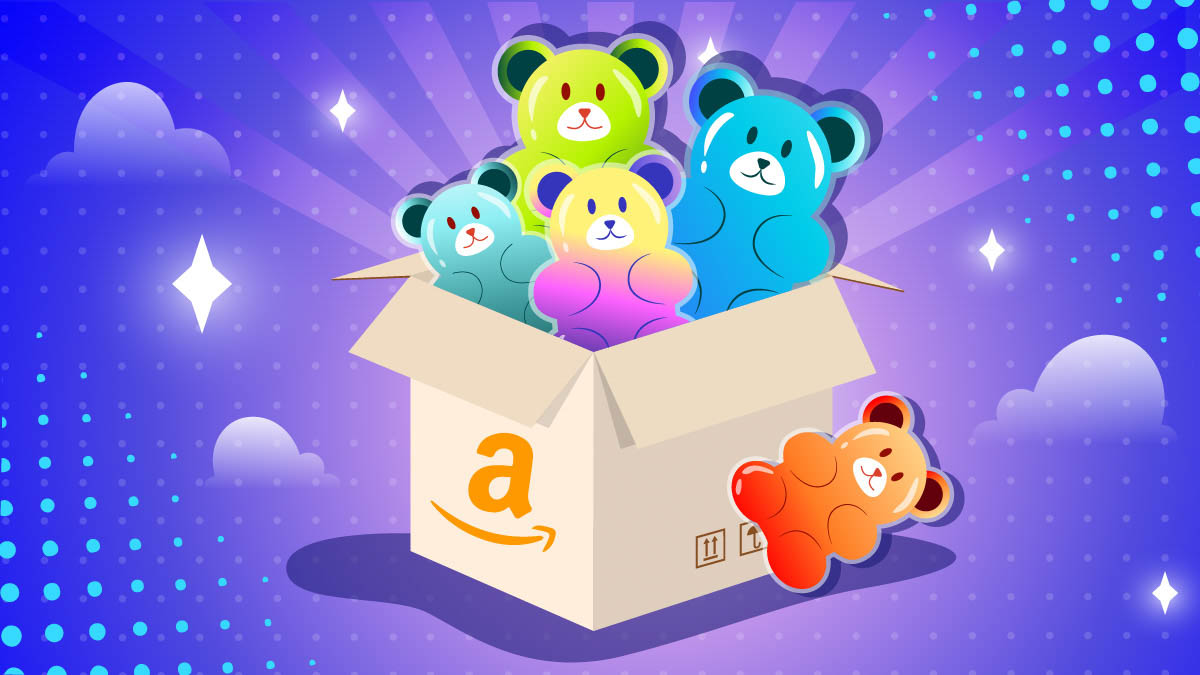 Searching for CBD gummies on Amazon will spit out thousands of different products.
Yeah, about 3,000 results, to be precise.
However, none of them are real CBD gummies.
I wouldn't mind having that many options because that allows me to compare different companies and their products without even moving from my desk.
But, there's no point in having so many products at hand when none of them addresses your needs. It doesn't matter how many results will pop up when you browse Amazon for CBD gummies. As I said, none of them are legit.
In this article, I'll break down Amazon's policy regarding CBD products and point you to the best ways of finding high-quality CBD gummies in the comfort of your home.
Let's do some digging.
What Are the Best CBD Gummies on Amazon?
As I mentioned at the beginning, you will end up disappointed in searching for the best CBD gummies on Amazon.
Of course, "creative" entrepreneurs will try to pretend they have them by trying to push large bottles of "inexpensive hemp gummies" down your throat.
Don't let a cheap price tag cloud your judgment — these hemp gummies on Amazon are all fake.
So, Does It Mean Amazon Doesn't Allow CBD Gummies for Sale?
Yes, that's precisely what it means. Amazon has specific seller policies, a few of which describe products that are prohibited on this site.
For instance, Amazon's Gambling & Lottery policy says that, while the store allows "non-functional slot machines created solely for display as toys," real coin machines are banned. Therefore, you need to find another marketplace if you want to buy or sell such items.
A similar policy applies to CBD products, which are specifically listed on Amazon's "Drugs & Drug Paraphernalia" page. As the website states, "Listings for products containing cannabidiol (CBD) are prohibited." Then the website elaborates on why products containing full-spectrum hemp oil, phytocannabinoid-rich hemp oil, or any CBD products mentioned by LegitScript as "high in CBD" are prohibited as well.
How to Spot Fake CBD Gummies on Amazon
Now you may be wondering, why on Earth you have so many results hinting at CBD gummies if Amazon treats CBD products that way.
Is it a system glitch?
Not at all. It's just a sneaky way of selling products infused with hemp seed oil under the disguise of CBD gummies.
There are actually a few features to look at if you want to figure out whether you're buying real CBD gummies or a fake product.
I have three words for you: examine the label.
It's where the trap lies.
Labels Don't Say CBD
That's the first thing that should trigger an alarm. When you search for CBD gummies or other products on Amazon, you'll say plenty of products labeled as "Hemp Gummies".
Terms like "hemp gummies" or "hemp oil" are used to confuse people into thinking they're buying CBD products because — mind you — CBD is extracted from hemp.
So, when you have hemp gummies, these must be CBD gummies, right?
Unfortunately, not. Here's a good example:
CBD oil isn't the only product you can obtain from hemp. Hemp gummies may just as well contain hemp seed oil, which doesn't have any CBD at all.
I'm not saying hemp seed is useless because it actually has a good nutritional profile. That said, if you're looking for the health benefits of CBD, you're interested in extracts sourced from the flowers, not the seeds.
Long story short? When you buy hemp gummies on Amazon, they will contain everything from hemp… except for CBD.
Ridiculous Amounts of Milligrams
This is the most striking red flag. Whenever you see a jar of "CBD" gummies that contain 30,000 mg or 60,000 mg of hemp extract, you can be sure you're being pulled by the leg.
If a jar of CBD gummies had such high concentrations of CBD, it would be as expensive as a luxurious watch considering the technology and knowledge involved in the production of full-spectrum CBD extracts.
The aforementioned amounts of milligrams actually refer to how much hemp oil is in the product.
The same happens with hemp oils and hemp creams on Amazon. I've seen hemp oils claiming to contain 140,000 mg or creams being allegedly infused with 40,000 mg of "hemp extract" — both of which are unrealistic.
Cheap Prices
When you see high-potency CBD gummies on Amazon being sold at a ridiculously cheap price, make no mistake — it's a scam.
As I said, high-potency CBD gummies contain lab-grade CBD and are very expensive to produce, so when you take a look at those "super potent" cheap hemp products on Amazon, it should make your eyebrows lift.
Nobody will sell premium-grade products at a loss; although very noble, it's a utopian vision.
Will Amazon Ever Allow the Sale of CBD Gummies?
As CBD gummies continue to lead the way as the most popular format for cannabidiol, big companies are changing their policies in favor of hemp-derived extracts.
It's possible that, sooner than later, Amazon will loosen its restrictions and allow the sale of products infused with cannabidiol.
Furthermore, the Food and Drug Administration (FDA) has recently expressed their interest in evaluating the safety and efficacy of industrial hemp extracts.
If Amazon changed their attitude towards selling CBD gummies, other e-commerce stores and retail stores would soon follow its lead.
How to Find the Best CBD Gummies Online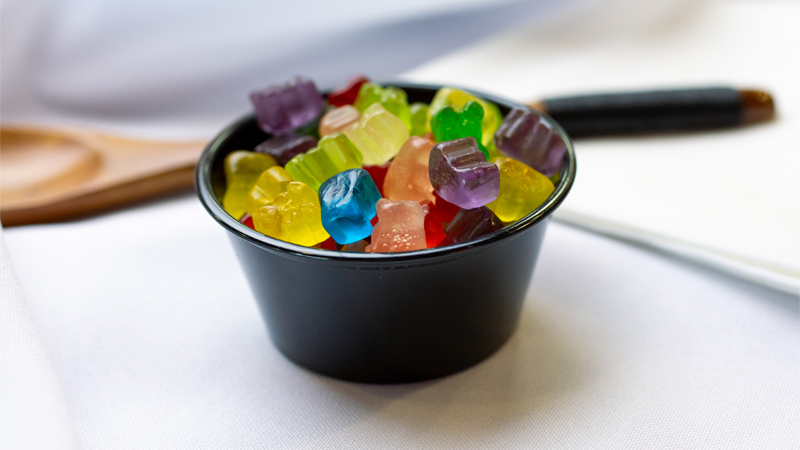 Even though you won't find CBD gummies on Amazon due to its current policy, buying high-quality CBD products that actually work is easier than you think.
The best thing you can do is to order directly from a CBD manufacturer. Today, many brands focus on running online stores, offering a broad range of CBD products to people in all 50 US states.
Online stores offer better deals than traditional vendors because they can cut out the middleman. Without any third parties involved, you can take advantage of lower prices, coupon codes, and reward programs where you can save more money on buying CBD gummies from one supplier.
Another perk of buying CBD gummies online over shopping in local stores is the product choice. When you shop for CBD online, you can compare hundreds of brands and products without leaving your house. This is a huge time saver.
Last but not least, online stores are usually run by experts in the industry who know a lot about hemp, its benefits, and how to make high-quality products.
Whether you prefer to buy CBD gummies online or do it the classic way, here are some tips to help you make an educated decision.
1. Look for "CBD" on the Label
If you want to find the best CBD gummies for your needs, focus on products that actually contain CBD. You can easily check it by looking at the label. If the brand doesn't mention "CBD" or "full-spectrum hemp oil," you won't be able to reap the benefits associated with cannabidiol.
2. Pay Attention to the Product's Potency
Another paramount factor is the milligram dosage listed on your jar of CBD gummies. Does your product state how much CBD is in the bottle, and how much CBD each milliliter gives you? Or does it just say "10,000 mg of hemp oil?" Again, if the product doesn't mention CBD, it's not worth your attention because your desired molecule isn't there.
3. Make Sure Your CBD Gummies Have Been Third-party Lab Tested
Third-party testing is the gold standard in the CBD space because the market isn't regulated when it comes to manufacturing and labeling practices. When a company sends a sample of its product to an independent laboratory, this facility tests it for potency and purity, including results for common contaminants such as pesticides, herbicides, heavy metals, solvents, and mycotoxins. If the product passes the testing, it receives a certificate of analysis (COA) containing all of the said results.
If the company you're about to buy from doesn't provide these lab reports, it might have something to hide about their quality and safety.
4. Pay Attention to Other Ingredients
The philosophy behind CBD gummies is to make a relatively healthy treat that will provide the benefits of cannabidiol in a fun and easy way. The best CBD gummies on the market are made with all-natural ingredients. It's all the better if they're organic, but it's not a must. Just make sure to avoid any ingredients that you wouldn't use at home, including artificial colorings, sweeteners, flavorings, preservatives, and other synthetic additives.
5. Look for Verified Customer Reviews
Reputable CBD brands usually have a lot of positive reviews from customers. That said, many companies like to filter out the negative ones, creating an impression of a premium company with top-notch services. But, sometimes, when you compare these reviews with opinions on third-party websites like TrustPilot or Better Business Bureau (BBB), it may turn out they stay in stark contrast to what you've been reading on the manufacturer's website. Always look at customer reviews from a few different sources before trusting any company with your money.
Best CBD Gummies: Top Brands for 2023
1. Royal CBD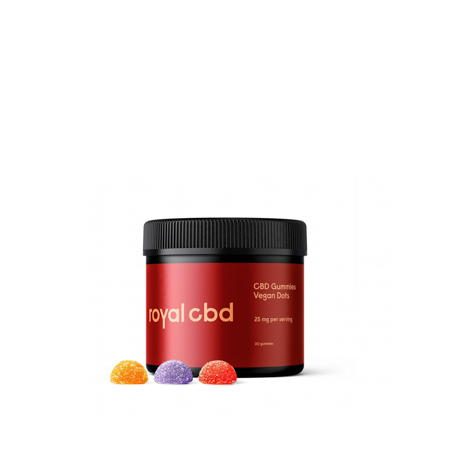 Get 15% off all Royal CBD products. Use code "CFAH" at checkout.
Pros
Cons

Organic, US-grown hemp
Supercritical CO2 extraction
Broad product range
High-strength options are available
Well-designed formulas
Flavored with natural ingredients
Complete third-party testing profile
30-days Money Back Guarantee

A little bit more expensive than the market's average (but still worth the price)
Not available locally
Royal CBD is a surefire pick if you're looking for high-quality CBD gummies from non-GMO, pesticide-free hemp. The company offers two types of CBD gummies formulated with different cannabinoid spectra.
The first option contains broad-spectrum CBD, so you're getting all hemp compounds except for THC, which has been removed during later stages of extraction.
The second one comes with full-spectrum CBD, meaning it also contains trace amounts of THC (less than 0.3%). This small addition enhances the entourage effect, which is a set of synergistic reactions achieved by cannabinoids, terpenes, and flavonoids found in the plant.
Both types offer a decent dose of 25 mg of CBD and are flavored with natural fruit juice and concentrate. They're available in an assortment of fruity and citrusy flavors.
2. Gold Bee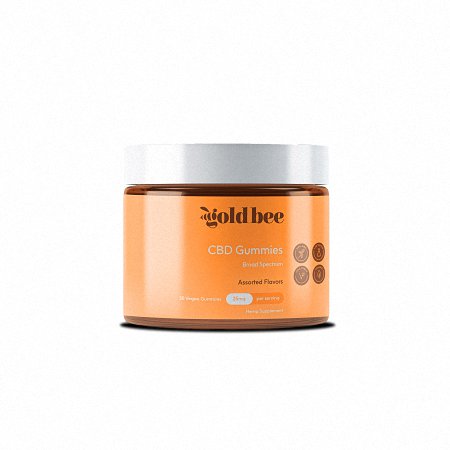 Pros
Cons

Organic hemp
CO2 extraction
Infused with superfoods
Full-spectrum and broad-spectrum CBD
Up to 2500 mg of total CBD
Flavored with natural ingredients
Pet products
30-day Money Back Guarantee

Limited potency options
No isolate-based products
Gold Bee specializes in premium-grade CBD products from organic hemp. As a testament to its previous activity, the company infuses its hemp extracts with ancient superfoods, such as organic raw honey from Brazilian rainforests and virgin coconut oil.
Gold Bee has only one type of CBD gummies in its collection; the brand focuses on high-potency products, offering 25 mg of CBD per gummy. This is a broad-spectrum extract, so you can benefit from some part of the entourage effect. Like Royal CBD gummies, the gummies from Gold Bee are flavored and colored with fruit juice and dried fruit concentrate to achieve their bag appeal without adding potentially dangerous ingredients to the formula.
Gold Bee also tests its CBD gummies in an independent laboratory for quality and purity; you can access the lab reports directly on the Gold Bee website.
Final Verdict: Best CBD Gummies on Amazon? Forget It (for Now)
There are a lot of great sources when it comes to finding high-quality CBD gummies. However, Amazon isn't one of them — just like Walmart, which is also apprehensive about selling CBD gummies and other CBD products.
Any vendor trying to sell you CBD gummies on Amazon is a scam trying to capitalize on selling products infused with hemp seed oil. While chock-full of nutrients, hemp seed oil contains zero CBD, so it's a useless product if you want to reap the health benefits from the latter.
If you're looking for real CBD gummies, the best way is to purchase directly from a reputable manufacturer. Follow my tips from this guide and you'll be able to tell the difference between a legit product and fake hemp oil gummies.
Do you think Amazon will allow the sale of CBD gummies anytime soon? 
Related: Can You Buy CBD Capsules on Amazon?