CBD Oil and Bodybuilding: Does It Help Muscle Growth?
CBD has a long list of benefits when it comes to helping the pursuit of bodybuilding, and only a few possible shortcomings. There is a lot of popular support for the use of CBD as a way to enhance the bodybuilding regime. This popularity is based on extensive research that has been conducted on various athletes, and the results are promising.
CBD is often suggested for managing common sports problems like muscle soreness, recovery periods, injury healing, and getting enough rest. Full-Spectrum extracts, with their terpenes, are considered the most effective option for bodybuilding.
In this article, we explain how CBD can help you improve your metabolic health and other aspects of bodybuilding.
Can CBD Help Muscle Growth
There is no direct evidence of CBD helping with muscle growth. It is even suspected that it might slow down muscle growth by lowering protein production. However, it has indirect benefits that improve the likelihood of increasing muscle mass.
CBD does this by helping with essential pieces of the puzzle, such as aiding the digestion process, helping with injury healing, and lowering stress levels. All of this can help with muscle development and increase muscle mass over time.
Some new research has shown mixed signs of CBD affecting muscles positively, but it has concluded that further investigation would be required to confirm its initial observations. The study also mentions that CBD used post-exercise seems to benefit the protein synthesis process, but it affects other tissues differently and thus has a mixed effect.
Weight Management with CBD
There seems to be a connection between having a lower chance of being overweight and CBD-THC exposure. In one study, researchers found out that individuals who have been exposed to CBD and THC regularly had much lower chances of being overweight.
The scientists later conclude that there is a good possibility of using this CBD-THC combination or some variation thereof to treat weight management and complications related to being overweight.
Thus, it can be very beneficial for those looking to control their weight while being on a strict food and exercise regime. Having a way that helps with maintaining an optimum weight can aid people in achieving certain bodybuilding goals.
CBD Modulates Hunger
CBD has been shown to modulate hunger in certain animals. This gives some scientists reason to believe that it can perhaps reduce the craving for food. CBD and other cannabinoids seem not to create the same hunger pangs that THC causes. Thus it can be seen as that part of the entourage effect that balances the so-called "munchies."
CBD's potential effect on reducing hunger can also contribute to healthy weight management and thus help athletes maintain the desired weight by not deviating from their prescribed diet.
CBD has also been shown to have positive effects on digestion. It helps to reduce problems with digestion by working on the nervous and the immune system simultaneously. Researchers have hope for using CBD as a therapeutic agent in metabolic issues.
CBD And Muscle Recovery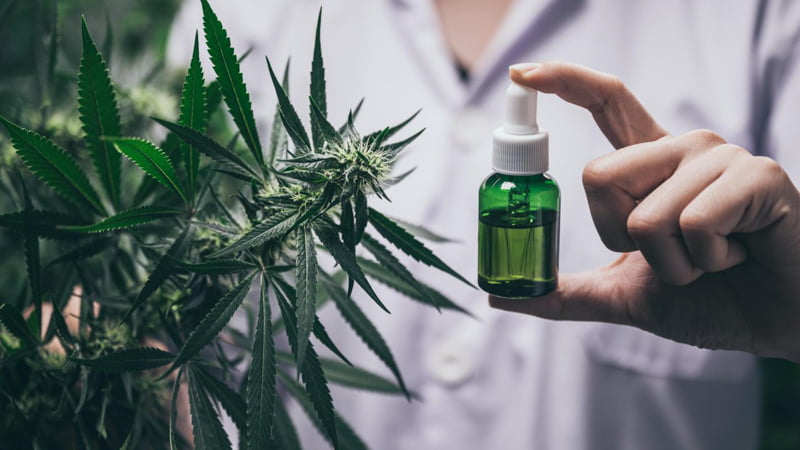 Research done with rugby players has shown various promising results for athletes using CBD for muscle recovery after a bout of intensive physical activity. This directly relates to bodybuilding because of the intense use of different muscle groups, often to the point of exhaustion.
The study found that about 80% to 90% of the players showed improvements in muscle recovery when treated with CBD. Most of the players reported using CBD oil or capsules. CBD is legal and is not searched for during drug testing for performance enhancers.
Does CBD Help Heal Injuries?
There is a lot of research in the field of CBD and healing. Various studies have been conducted to look at how CBD works for healing tendon injuries, oral wounds, skin wounds, bone fracture healing, and common sports injuries.
In most cases, researchers have found encouraging results and suggested possibilities of CBD as a healing agent. These studies have found that CBD has positive effects on healing various parts of the body. In some cases, CBD was applied directly to the spot of the injury to observe how it works.
Self-reported evidence from athletes suggests that there is the possibility of CBD helping with the healing of sports injuries.
Can CBD Reduce Swelling?
Various CBD studies have been conducted that directly or indirectly studied the effects of CBD on swelling and soreness in the body. Some of these studies have presented self-reported evidence from athletes who said that CBD seems to have helped with swelling and soreness.
Other research has shown CBD as a promising possibility in treating various kinds of injuries and swelling. Thus, we can say that there is good evidence to suggest CBD works to reduce swelling.
CBD For Enhancing General Recovery
Recovery is not just about healing from injuries, which hopefully only happen every once in a while. It is also about getting enough rest so that the body can recover from being worked so very hard at the gym. Getting good rest is very important for bodybuilding.
It also helps to stay calm and focused, to keep stress levels down. CBD has been used in many studies that look at how the Cannabinoid can produce these effects.
Sleep Enhancement Through CBD
CBD can reduce anxiety and physical discomfort, helping individuals achieve better sleep. On top of that, it may also work as a wake-inducing agent when you take it in the morning — increasing your daytime alertness. This, in turn, causes your brain to be more productive throughout the day. As a result, your body receives proper signals from the brain, indicating that it's time to get some rest. Many athletes are using CBD oil to regulate circadian rhythm.
CBD For Calming And Relaxation
A study has found that the use of CBD helps to soothe those who often feel anxious and helps to bring about a sense of calmness. The study observed the participants for a month, and the data suggested that the overall reduction in such feelings was significant at the end of the period.
The researchers have recommended CBD for promoting a feeling of relieving anxiety and relaxation, which has also been shown to promote sleep. In such restful states, the production of stress hormones goes down, making it easier to recover from exhausting gym sessions.
Possible Counter Effects Of CBD On Bodybuilding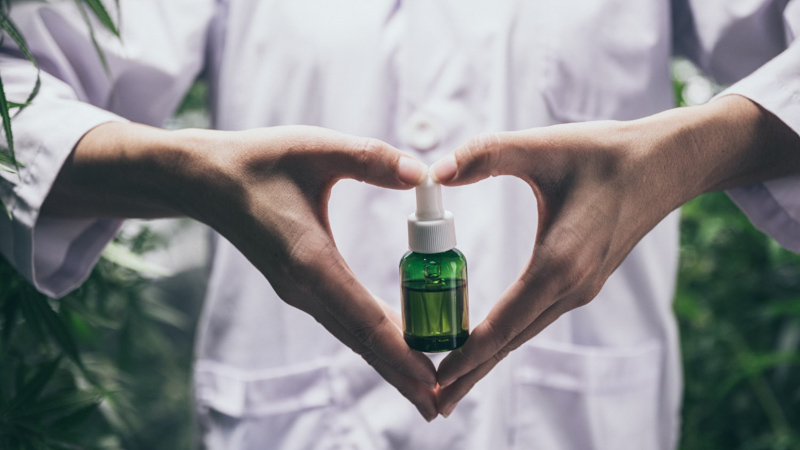 There is some evidence suggesting that CBD's effect on the hormone testosterone can both increase or decrease its production in the body. Since this hormone is considered an important part of muscle development, CBD can either help or hinder the process. Other researchers have found cannabinoids to lower the protein production rate, which would also be a drawback for anyone pursuing bodybuilding. However, it must be mentioned that the actual effect still depends on the CBD dosage.
Some studies also suggest no correlation between CBD's effect on sleep, which remains a common self-reported improvement amongst many users, including athletes who were part of another study.
Best Ways To Use CBD For Bodybuilding
CBD is legal on a federal level, and many brands are selling various products that include natural CBD Hemp flowers to CBD-based salves and pain rubs. Each product has its own unique set of pros and cons.
Edibles
These tend to be easy to carry things like gummies but can also be elaborate like chocolate bars, tea, coffee, and honey. They come with a delayed onset but the effects are extended in time.
Tinctures/Extracts
CBD oils and tinctures are the most compact and easiest to carry and administer. They come in various concentrations/potencies and are often available in multiple flavors. Every CBD tincture has a dropper attached to its bottle; the dropper makes it easier to measure your dose of CBD and transfer it under the tongue.
Capsules/Soft Gels
This capsule and soft gel form of CBD makes it easier to combine with other supplements and/or medication.
Vaporization
Some users enjoy the additional experience produced by the aromatic vaporization of quality hemp flowers. Even though smoking is also a popular method, it is not ideal for athletes because smoking anything is not optimum for health. Sportspeople looking for concentrated forms of vaporized CBD can opt for CBD e-liquids or dabs.
Topicals
Topicals such as CBD creams are especially useful for athletes because they can be used directly on a specific area of the body. That's because CBD targets cannabinoid receptors that are located in the skin.
Conclusion: Does CBD Oil and Bodybuilding Go Hand in Hand?
Of course. While there are no direct studies relating to the use of CBD for muscle growth and other aspects associated with bodybuilding, there's more to CBD than just pumping the muscles.
CBD has a wide variety of applications in the field of sports and athletics, and bodybuilding is no different.
Many studies have already concluded that have shown promising results when using CBD to promote various desirable effects related to recovery, weight management, relaxation of muscles, digestion, sleep, and healing. All of these directly help with bodybuilding by allowing the body to cope with grueling exercise regimes and recover better.
Cannabidiol is legal and is not part of any drug screening test, making it suitable for professionally competing athletes.
CBD has already seen a lot of acceptance in the sports community. Studies have often used their self-reported evidence to formulate further studies investigating CBD's wide-ranging effects on helping athletes heal better and faster — and aid in reducing their stress levels by promoting a sense of happiness and wellbeing.
All of these factors make CBD an interesting option for bodybuilders to add to their daily routine. Depending on the desired results, athletes have reported using CBD (in various forms) both before and after workouts, at night to promote sleep, in the daytime to prompt calmness and concentration, as well in stressful situations to stay calm and focused.
Sources:
Dalterio, S. L., Bartke, A., & Mayfield, D. (1983). Cannabinoids stimulate and inhibit testosterone production in vitro and in vivo. Life sciences, 32(6), 605-612.
Jakubovic, A., McGeer, E. G., & McGeer, P. L. (1979). Effects of cannabinoids on testosterone and protein synthesis in rat testis Leydig cells in vitro. Molecular and cellular endocrinology, 15(1), 41-50.
Langer, H. T., Mossakowski, A. A., Pathak, S., Mascal, M., & Baar, K. (2021). Cannabidiol Does Not Impair Anabolic Signaling Following Eccentric Contractions in Rats. International journal of sports nutrition and exercise metabolism, 31(2), 93-100.
Le Foll, B., Trigo, J. M., Sharkey, K. A., & Le Strat, Y. (2013). Cannabis and Δ9-tetrahydrocannabinol (THC) for weight loss?. Medical hypotheses, 80(5), 564-567.

[

4

]

Timmer, C. M. (2020). From the Dinner Pot to Smoking Pot; How a Better Understanding of Cannabidiol in Crayfish could Alleviate Anxiety and Modulate Hunger.
De Filippis, D., Esposito, G., Cirillo, C., Cipriano, M., De Winter, B. Y., Scuderi, C., Sarnelli, G., Cuomo, R., Steardo, L., De Man, J. G., & Iuvone, T. (2011). Cannabidiol reduces intestinal inflammation through the control of neuroimmune axis. PloS one, 6(12), e28159.
Kasper, A. M., Sparks, S. A., Hooks, M., Skeer, M., Webb, B., Nia, H., Morton, J. P., & Close, G. L. (2020). High Prevalence of Cannabidiol Use Within Male Professional Rugby Union and League Players: A Quest for Pain Relief and Enhanced Recovery, International Journal of Sports Nutrition and Exercise Metabolism, 30(5), 315-322. Retrieved Oct 1, 2021
McCartney, D., Kevin, R. C., Suraev, A. S., Irwin, C., Grunstein, R. R., Hoyos, C. M., & McGregor, I. S. (2021). Orally administered cannabidiol (CBD) does not produce false‐positive tests for THC on the Securetec DrugWipe® 5S or Dräger Drug Test® 5000. Drug Testing and Analysis.
Sangiovanni, E., Fumagalli, M., Pacchetti, B., Piazza, S., Magnavacca, A., Khalilpour, S., … & Dell'Agli, M. (2019). Cannabis sativa L. extract and cannabidiol inhibit in vitro mediators of skin inflammation and wound injury. Phytotherapy Research, 33(8), 2083-2093.
Stauch, C., Ammerman, B., Aynardi, M., Garner, M., Lewis, G., Morgan, D., & Dhawan, A. (2020). Biomechanical Effects of Δ9-Tetrahydrocannabinol (THC) and Cannabidiol (CBD), the Major Constituents of Cannabis, on Tendon to Tendon Healing in a Sprague Dawley Rat Achilles Tendon Surgical Repair Model. Orthopaedic Journal of Sports Medicine.
Kogan, N. M., Melamed, E., Wasserman, E., Raphael, B., Breuer, A., Stok, K. S., … & Bab, I. (2015). Cannabidiol, a major non‐psychotropic cannabis constituent enhances fracture healing and stimulates lysyl hydroxylase activity in osteoblasts. Journal of Bone and Mineral Research, 30(10), 1905-1913. 11
Linares, I. M., Guimaraes, F. S., Eckeli, A., Crippa, A., Zuardi, A. W., Souza, J. D., … & Crippa, J. A. (2018). No acute effects of cannabidiol on the sleep-wake cycle of healthy subjects: a randomized, double-blind, placebo-controlled, crossover study. Frontiers in pharmacology, 9, 315.
Shannon, S., Lewis, N., Lee, H., & Hughes, S. (2019). Cannabidiol in anxiety and sleep: a large case series. The Permanente Journal, 23.