Is It Safe to Take CBD with Tramadol?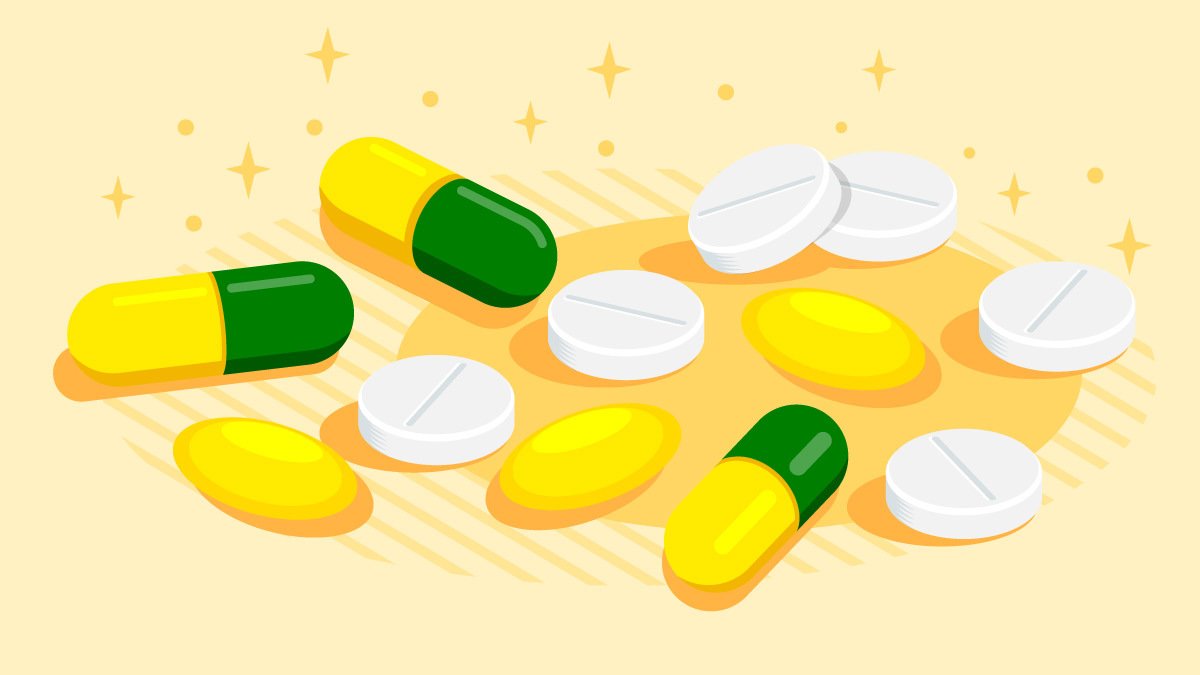 Combining CBD oil with painkillers is becoming a common thing, but it's important that everyone understands the risks associated with drug interactions by doing this.
CBD is known to interact with a wide range of pharmaceuticals, including common OTC and prescription analgesics. However, this doesn't mean that you can't have both substances in your regimen.
Sometimes, it's all about the right timing.
So, is it safe to combine or replace pain medication like Tramadol with CBD? Continue reading to find out. 
Does CBD Interact with Medications?
Many drugs are being broken down by enzymes in the liver; CBD may compete with these enzymes. This interference can lead to buildups of the other substance or not enough effects of the drug in the body. This drug interaction is called the altered concentration.
The altered concentration may cause an increased risk of side effects — or may cause a drug to not work. Oftentimes, this kind of drug interaction is hard to predict but it can cause discomfort or even serious health problems.
While CBD is considered to be generally safe, taking it with other medications is still not advisable, especially when both have similar side effects. These include, but are not limited to nausea, drowsiness, diarrhea, dry mouth, lightheadedness, and changes in appetite.
For example, taking CBD at the same time as prescription medications such as opioids and benzodiazepines (which cause sleepiness) may lead to fatigue and accidental falls. Similar effects can also occur when you try to take CBD with alcohol.
Taking CBD with stimulants like Adderall may also cause a loss of appetite. Meanwhile, using CBD with medications for diabetes such as metformin or certain heartburn drugs like Prilosec may increase the risk of diarrhea.
Researchers from Penn State College of Medicine reported that some drugs that can cause potentially serious drug interactions with CBD include but are not limited to:
Warfarin – a common blood thinner; 

Amiodarone – a heart rhythm medication;

Levothyroxine – a thyroid medication; and

Several medications for seizures, including clobazam, lamotrigine, and valproate.
Important facts about Tramadol
Per its history, Tramadol is an analgesic medication that was discovered and synthesized by the German company Grunenthal GmbH in 1962 and later became available in the U.S. after 1995.
It is a prescription drug that comes in tablets, reconstituted suspension, and extended-release capsules. Aside from humans, veterinarians swear by Tramadol as an effective painkiller for dogs. Most of them use this pain medication regularly since there is minimal risk of side effects and addiction.
Over time, it was found that this pain reliever has severe drug interactions with several medications such as alvimopan, procarbazine, rasagiline, and selegiline. All in all, it has severe interactions with around 48 drugs, while moderate interactions occur with around 269 drugs.
Substances  that have mild interaction with Tramadol include:
Marijuana;

Sage;

Asenapine;

Brimonidine;

Darifenacin;

Eucalyptus;

Naloxone; 

Nilotinib; 

Dextroamphetamine; 

Maraviroc; 

Ziconotide;  

Paroxetine; and 

Lidocaine. 
Can You Take CBD with Tramadol?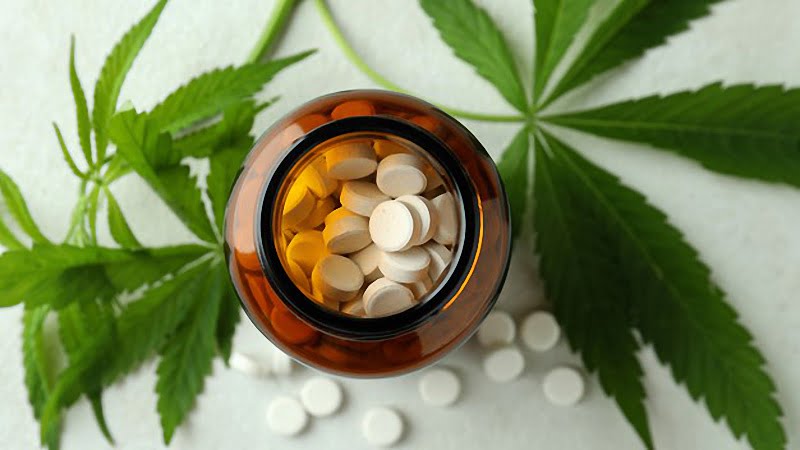 CBD oil can lessen Tramadol's effects when taken in large doses. 
Tramadol is a popular analgesic drug that helps in regulating moderate to severe pain by binding to specific opioid receptors in the central nervous system. Even veterinarians use these drugs to treat dogs in pain. However, due to its abusive tendencies, it is not an ideal pain reliever for everyone.
According to the research of the National Institutes of Health, a high dose of CBD taken with Tramadol can significantly lessen Tramadol's analgesic effects. However, it didn't state the effects when CBD is taken in a low dose.
There's also a study conducted by The American Society for Pharmacology and Experimental Therapeutics, which showed that CBD might slow down the liver enzyme called CYP2DC responsible for metabolizing Tramadol in the body.
Results showed that by impeding the metabolic process of the enzyme, there would be higher levels of Tramadol and codeine in the system. Hence, the analgesic effect of CBD may not be from its direct effect but through that specific mechanism.
However, while CBD and Tramadol may be useful as pain relievers, users should still be cautious in combining the two as they may bring adverse effects. That's because there is still a limited amount of research that has explored the combination of the two substances.
Can You Substitute Tramadol with Another Painkiller when You Take CBD?
Unfortunately, there are no natural alternatives yet for Tramadol, so CBD oil can be taken as a 'booster.' However, other analgesics can be used as replacements for Tramadol; not only do they demonstrate similar efficacy in treating pain, but they also come with fewer side effects.
One example has been shown in a 2005 experimental study, where metoclopramide was seen to be an effective and low-cost alternative to Tramadol in treating post-surgical pain. 
It gives fewer side effects like nausea, tremor, and vomiting, which are commonly associated with Tramadol. However, its effect when taken with CBD oil is yet to be known.
Researchers also advise against taking Naproxen along with CBD oil.  An NIH study has shown that Naproxen's CYP2C8/9 enzyme-substrate interacts with CBD oil by increasing the risk of side effects related to the substrate. 
The study further discourages co-administration and reduction of naproxen dose and suggests monitoring for possible adverse effects and toxicity.
The list of painkillers that shouldn't be co-administered with CBD is even longer, including etoricoxib, corticosteroids, ibuprofen, and other non-steroidal anti-inflammatory drugs (NSAIDs). That being said, there are still no published reports about these interactions.
In contrast, there is a prospective cohort study suggesting that CBD can significantly lessen opioid use. It can also ease chronic pain and improve the sleep quality of patients who use opioids to manage pain. 
In an initial sample of 131 patients, 53% reported having reduced or eliminated their opioids within the 8-week study. This is so after they added CBD-rich hemp extract to their regimen. Moreso, almost all CBD users (94%) claimed improvements in the quality of their life.
In addition, a 2019 study published in the American Journal of Psychiatry showed that CBD oil could significantly reduce drug cravings and anxiety felt by patients who are detoxing from opioid drugs. Aside from having no adverse effects, it also helped decrease the chance of relapse.
Tramadol vs. CBD
Just like Tramadol, CBD is also often used as a pain reliever. Studies have shown that this cannabinoid is, in fact, effective in subduing discomfort felt by patients. But beyond this, they still have some differences to take note of.
For starters, Tramadol was not classified as an opiate until 2014, when the FDA identified it as a controlled substance due to widespread abuse and high addiction rates. It is classified as Schedule IV, which means that it has a lower risk of abuse than OxyContin, a Schedule II drug.
While Tramadol is an effective analgesic used by many, suddenly stopping this medication may cause withdrawal, especially when used for a long time. 
On the other hand, CBD exhibits no indication of possible abuse or dependence as of now. The World Health Organization further supports this thought, as present evidence shows that CBD is not addictive and doesn't have the potential to be.
As a matter of fact, CBD is safe and well-tolerated by humans, even in doses as high as 1,5000 mg taken daily for several weeks. 
Moreover, some researchers have reported that CBD has the potential to be an effective substitute for opioid-based pain medications. In some cases, it can even be combined with these pain medications.
This was concluded in a 2017 study, where patients who were using opioid-based pain medication in the past six months reported that CBD has been effective along with or as a substitute for opioid-based pain medications. 80% of the patients reported that CBD by itself was more effective than opioids.
What to Look for in CBD Oil If You Want to Replace Tramadol
Now that you know the similarities and differences between Tramadol and CBD, it is important to seek medical advice before replacing your pain medication with CBD. Once you decide that you want to try CBD oil for pain, follow these steps before purchasing:
Check the hemp source.

The best CBD products are made from organic hemp that is grown in clean, nutrient-rich soil. That's because hemp plants are dynamic bio accumulators, meaning they will absorb everything from their environment. By the same token, mass-produced hemp grown with pesticides and in contaminated soil will yield poor-quality products.

Look for certificates of analysis (COA).

These documents are issued by third-party laboratories when a product passes screening for potency and purity. Companies that don't publish lab reports might have something to hide about the safety of their products. It should always be a red flag.

Read customer feedback.

Reputable companies have been around for a while and have gathered a lot of positive reviews on independent websites, such as blogs, online rankings, and niche forums. They're often more transparent than most newcomers who have little to no online presence. If a company has plenty of negative reviews, it doesn't speak well about the quality of its products.

Choose full-spectrum products.

Full-spectrum CBD contains all beneficial compounds from hemp, including minor cannabinoids, terpenes, and trace amounts of THC (0.3% or less). These compounds help your body process CBD more efficiently, contributing to the entourage effect.

Start with a low dose.

Taking small doses at the beginning allows you to slowly gauge the amount of CBD so that you take just as much as you need. If you take a large dose before testing how CBD affects your body in the first place may lead to some side effects, such as dry mouth, dizziness, changes in appetite, or diarrhea. 
CBD can interact with other compounds metabolized in the body through enzymes like cytochrome P450 or CYP3A4. These enzymes break down substances like medications and toxins accumulating in the cells.
CBD tends to compete with these enzymes, potentially limiting the metabolism of drugs. This can elevate the concentration levels of drugs in the bloodstream. Grapefruit juice uses the same mechanism, so if your medication has a grapefruit warning on it, you should be cautious when taking it together with CBD oil.
Summarizing Interactions Between CBD and Tramadol
CBD can interact with many other products, including over-the-counter medications, prescription drugs, and even herbal remedies.
When it comes to interactions with other painkillers such as Tramadol, a synthetic opioid, the combined effects depend on how much Tramadol you take. Oftentimes, CBD lessens the analgesic effects of Tramadol when you take it in a higher dose. The effect is still unknown for lower doses.
Some users receive the opposite effect. The interaction has the tendency to slow down the drug's metabolism in the body and increase the effects of Tramadol in the bloodstream. Nevertheless, we still need more longitudinal studies to draw definitive conclusions.
Aside from the dose of CBD and the dose of the other medication, you need to take into account factors such as your metabolism, age, gender, and underlying medical conditions (if you have any). For example, older adults and the elderly are more susceptible to drug interactions because they often take multiple medications. Age-related physiological changes may also be a reason since these affect the way our bodies process medications.
In the end, for those who are considering buying CBD products, it is advisable to consult a doctor beforehand, especially if you have an underlying medical condition that you treat with conventional methods.
What are your thoughts on CBD as a pain reliever alternative? Comment your thoughts below.
Sources:
Clark, S. (2020, November 20).

CBD and Tramadol

. CBD Clinicals.  https://cbdclinicals.com/cbd-oil-and-tramadol/ (1)

Bykov, K. P. (2021, January 11).

CBD and other medications: Proceed with caution.

Harvard Health.  https://www.health.harvard.edu/blog/cbd-and-other-medications-proceed-with-caution-2021011121743

Monte, A. A., Heard, K. J., Campbell, J., Hamamura, D., Weinshilboum, R. M., & Vasiliou, V. (2014).

The Effect of CYP2D6 Drug-Drug Interactions on Hydrocodone Effectiveness.

Academic Emergency Medicine, 21(8), 879–885.  https://doi.org/10.1111/acem.12431

Brown, J. D., & Winterstein, A. G. (2019, July 1).

Potential Adverse Drug Events and Drug–Drug Interactions with Medical and Consumer Cannabidiol (CBD) Use.

PubMed Central (PMC).  https://www.ncbi.nlm.nih.gov/pmc/articles/PMC6678684/ (2)

Capano, A., Weaver, R., & Burkman, E. (2019, November 12).

Evaluation of the effects of CBD hemp extract on opioid use and quality of life indicators in chronic pain patients: a prospective cohort study.

Taylor & Francis.  https://www.tandfonline.com/doi/full/10.1080/00325481.2019.1685298 (3)

Hurd, Y. L., Spriggs, S., Alishayev, J., Winkel, G., Gurgov, K., Kudrich, C., Oprescu, A. M., & Salsitz, E. (2019).

Cannabidiol for the Reduction of Cue-Induced Craving and Anxiety in Drug-Abstinent Individuals With Heroin Use Disorder: A Double-Blind Randomized Placebo-Controlled Trial.

American Journal of Psychiatry, 176(11), 911–922.  https://doi.org/10.1176/appi.ajp.2019.18101191 (4)
Reiman, A., Welty, M., & Solomon, P. (2017). Cannabis as a Substitute for Opioid-Based Pain Medication: Patient Self-Report. Cannabis and Cannabinoid Research, 2(1), 160–166.  https://doi.org/10.1089/can.2017.0012 (5)