CBD For Allergies: Can Hemp Oil Help Relieve Allergy Symptoms?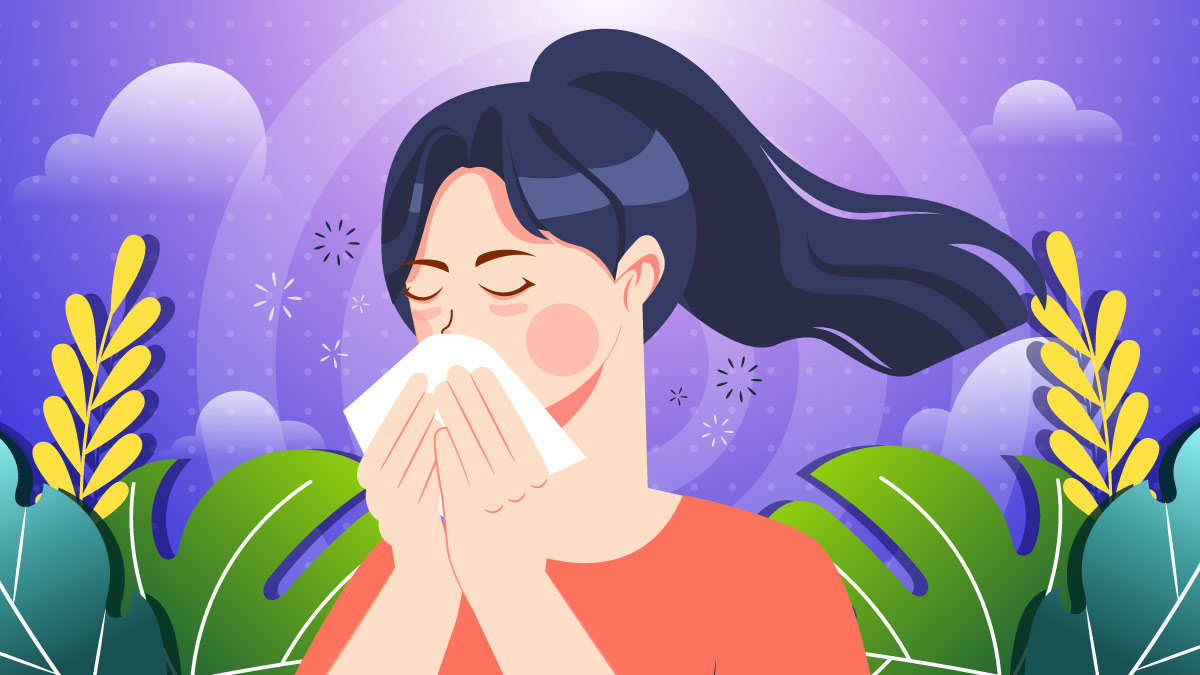 Allergies manifest as adverse reactions of an overactive immune system that do not occur in healthy people. Symptoms of allergies range from sniffling, sneezing to watery eyes, itchy throat, wheezing, and asthma attacks.
According to statistics, allergies are the sixth main cause of chronic illnesses in the United States, affecting roughly 19.9 million adults, as stated by the Centers for Disease Control and Prevention (CDC).
CBD is a plant-based compound unique to the Cannabis sativa L. family. Cannabis plants contain over 400 phytochemicals on top of CBD, so it goes without saying that at least one of these compounds can trigger allergies.
While the research into allergic reactions to products like CBD oil is scarce, the cannabis plant itself has been associated with allergies.
In today's article, we'll cover the topic of potential allergies to CBD oil; what may trigger them; what researchers are saying, and whether full-spectrum CBD oil can cause a person to experience typical allergy symptoms.
What You Need to Know About Allergies (Causes, Symptoms & Statistics)
Over 50% of the U.S. population suffers from allergies to at least one thing. Allergic rhinitis, also known as hay fever, is the most common type of allergy, affecting up to 30% of American adults and 40% of children.
There's no cure for allergies, they can be effectively managed with the right diet, supplementation, and certain lifestyle changes. Of course, people with allergies should also avoid triggers.
Some allergies are milder than others, but there are people for whom this condition is a severe problem that requires an individual approach.
As mentioned, the symptoms of allergies include sneezing, itching, droopy eyes, a runny nose, and sometimes problems with breathing.
Allergies are triggered by a compromised immune system. The immune system controls allergic reactions; when it functions normally, it can distinguish from harmful and safe compounds to eliminate potential dangers. However, when the communication between its cells is disturbed, the immune system starts to identify normal substances as potential threats — releasing antibodies to attack them.
People with allergies produce antibodies every time they get exposed to the allergen.
The main antibody responsible for allergic reactions is histamine. The antihistamine medications are formulated to prevent antibodies from damaging the immune system. Popular antihistamine drugs include Claritin, which is available without a prescription.
Food allergies are more challenging to treat. The immune system attacks proteins in the food, causing serious symptoms such as anaphylaxis.
Anaphylaxis can be fatal if left without immediate aid. People with allergies usually carry special pens infused with epinephrine to stop an anaphylactic attack.
A 2009 study published in the journal Immunobiology found that cannabinoids such as CBD and THC could trigger immunosuppressive processes in an overactive immune system (1). According to the authors, these compounds may block the reactions of the immune system against the "hostile" molecules.
Does CBD Oil Help with Allergies?
Although the research into the health benefits of CBD oil for allergies is limited, multiple studies have highlighted its anti-inflammatory and immunosuppressant properties. Inflammation is the underlying cause of allergic reactions.
A 2011 research report published in the journal Free Radical Biology and Medicine analyzed the potential benefits of CBD for different inflammatory disorders (2). George W. Booz, the leading researcher and a professor in the department of pharmacology and toxicology at the University of Mississippi Medical Center, summarized them in the following way:
"Inflammation and oxidative stress are intimately involved in the genesis of many human diseases. Unraveling that relationship therapeutically has proven challenging, in part because inflammation and oxidative stress feed off each other. However, CBD would seem to be a promising starting point for further development given its antioxidant (although relatively modest) and anti-inflammatory actions on immune cells."
The authors concluded there's no clinical evidence to support the theory that CBD oil relieves allergic reactions, so while some studies suggest anti-inflammatory effects exist (and they're potent), we need more long-term clinical trials to officially support the use of CBD for allergies.
Should You Vape CBD Oil for Allergies?
CBD vapes, such as vape pens, offer the highest bioavailability of all available products. Up to 56% of the vaporized CBD ends up in your system according to various studies. However, CBD vapes often contain other compounds aside from cannabidiol, including thinners such as propylene glycol or vegetable glycerin.
The problem with propylene glycol is that it breaks down into dangerous aldehydes when heated, which can further irritate the lungs. If your allergic reactions include coughing, wheezing, or asthma attacks, CBD vape oil can do more harm than good. Some studies have found that smoking cannabis improves the lung function and capacity of asthma sufferers, but they analyzed the efficacy of medical marijuana, which contains both THC and CBD in different ratios — not to mention that the researchers used cannabis flowers, not vape oil.
How to Use CBD Oil for Allergies
CBD oil is the product of choice for many first-time users. It contains a hemp extract suspended in a carrier oil to provide higher bioavailability. CBD oils are packed in 30-ml glass bottles with droppers attached to them for precise dosing.
People take CBD oil to prevent allergies as well as to fight their symptoms. That's because this form of consumption offers a relatively fast onset of effects — around 15-30 minutes after ingestion — with a long duration time, up to 6 hours.
CBD oil is taken under the tongue. The user needs to squeeze out the desired amount of oil using the dropper, place a few drops under the tongue, and hold it there for up to 60 seconds. This route of administration allows the CBD to absorb into the bloodstream through hundreds of tiny blood vessels in the mouth. Since most of the ingested oil avoids the digestive system, it doesn't lose potency as much as CBD capsules or edibles.
Speaking of which, oral CBD products are a great alternative for those who would like to have a premeasured dose of CBD with each serving, as well as for people living busy lifestyles. CBD capsules and edibles mask the earthy flavor of hemp extracts, which makes them more enjoyable. The effects of CBD also last longer — up to 10 hours — despite a delayed onset. When you take a CBD capsule or gummy, they need to be processed by the digestive system, so it may take up to 2 hours until you can experience the effects.
CBD oil is a better pick if you need to quickly ease your symptoms and gauge your dose more accurately. On the other hand, capsules and edibles are better to kickstart the day and bolster your immune system against the triggers.
Can You Be Allergic to CBD Oil?
An allergy to cannabis isn't just a poor excuse for having red eyes during your adolescent times — it's a real thing.
So, the answer is: yes, you can be allergic to CBD. Eating, touching, or inhaling cannabis plants can trigger allergic reactions as a result of contact with pollen. Inhaling that pollen may lead to hay fever.
A 2018 study found that people with allergies to plants, dust mites, cat dander, and mold, have a higher risk of developing an allergy to cannabis (3). However, no other study has yet investigated this subject as of this writing. More quality research is needed to establish a firm connection between cannabis and allergic reactions.
Considering the risk of allergies from pollen or mold, you should be particularly careful when choosing CBD products; purchase only from companies who use organically grown hemp and test their CBD oils in third-party laboratories for potency and potential contaminants. The latter may trigger an allergy to CBD oil that may not result from CBD per se.
Possible Allergic Reactions to CBD Oil
As mentioned earlier, an allergy to CBD can manifest in many different ways. Two people may experience completely different symptoms, so it can be difficult to tell the difference between a CBD allergy and the mild side effects of CBD.
Potential adverse reactions to CBD oil include dry mouth, changes in appetite, dizziness, fatigue, and diarrhea. These aren't the symptoms of an allergic reaction to CBD. Fortunately, the majority of these effects are nearly nonexistent in regular doses.
Here are a few possible signs of a CBD allergy:
Skin irritations: when you use a CBD topical, you may notice hives or a rash as the symptoms of your allergy to CBD. However, these itching reactions may be caused by one of the many ingredients in creams and other skincare products, so make sure to scan the list of ingredients thoroughly.
Dry, itchy, or red eyes: this symptom is commonly associated with cannabis users — it results from inhaling THC — but some people might experience droopy, red eyes after taking CBD oil. If you have this kind of reaction, it might be a sign that you're allergic to CBD.
Migraines: While a slight headache might occur after taking a higher dose of CBD, migraines are a severe reaction that can indicate an allergy to some of the ingredients in CBD oil.
Breathing difficulty: If you experience difficulty breathing, seek immediate help. This is most likely the side effect of poor-quality products that contain mold or hazardous additives.
People with plant allergies are advised to try CBD isolate instead of full-spectrum or broad-spectrum CBD. The latter is made using the entire plant, meaning they contain cannabinoids, terpenes, flavonoids, essential oils, and plant waxes. Such products carry a higher risk of triggering an allergic reaction.
You can try a few different CBD products — full-spectrum, broad-spectrum, and isolate — to find out which form of CBD works without any adverse reactions. We also encourage you to check with a doctor for medical advice on what to do when you start experiencing the symptoms.
Studies on Allergic Reactions to CBD Oil
A study conducted by the Duke University School of Medicine found that about 20% of the 100 people they tested had allergic reactions to linalool, while 8% were allergic to limonene. These are the two most commonly found terpenes in full-spectrum CBD oils (4).
Doctors from the University of California, San Diego, published a letter entitled "Marijuana and stoned fruit" in the Annals of Allergies and Asthma, where they reported a 24-year-old male marijuana daily user experienced an anaphylactic reaction after eating yogurt with hemp seeds (5).
In a 2013 study published in the Internal Archives of Allergy and Immunology, 21 patients with food allergies were tested in terms of reactivity to cannabis lipid transfer proteins (LTP), which are potential allergens (6). Twelve participants showed signs of allergies to cannabis, and all 12 had severe symptoms of food allergy than those without an allergy to the plant.
CBD & Allergies: Bottom Line
Although researchers have yet to fully understand the link between CBD and allergies, some studies have reported that the cannabinoid has remarkable anti-inflammatory effects. Inflammation lies at the roots of all allergies, so while CBD won't cure them, preliminary research and anecdotal reports indicate that CBD oil may be able to help ease the symptoms.
That is, of course, if you aren't allergic to cannabis. CBD itself may not be an allergen, but in combination with the remaining 400 phytochemicals from cannabis, it can trigger an allergic reaction, such as sneezing, sniffling, or red, droopy eyes. Allergies may also be caused by other ingredients in CBD oil, such as synthetic additives.
If you want to reduce the risk of experiencing an allergy to CBD, it's best to purchase from a trustworthy company that sells high-quality lab-tested products. Always make sure to check for third-party lab reports — or Certificates of Analysis (COA) — to check if the product is free of contaminants, solvents, or plant residue. Spending some extra time on research will save you money on CBD oil.
As the number of CBD users grows, researchers will be able to collect more information about potential allergic reactions and how CBD oil can mitigate their impact on our health.
Do you take CBD for allergies? Or do you know someone who is allergic to CBD oil?
References:
Rieder, Sadiye Amcaoglu et al. "Cannabinoid-induced apoptosis in immune cells as a pathway to immunosuppression." Immunobiology vol. 215,8 (2010): 598-605. doi:10.1016/j.imbio.2009.04.001
Booz, George W. "Cannabidiol as an emergent therapeutic strategy for lessening the impact of inflammation on oxidative stress." Free radical biology & medicine vol. 51,5 (2011): 1054-61. doi:10.1016/j.freeradbiomed.2011.01.007
Min, Jin-Young, and Kyoung-Bok Min. "Marijuana use is associated with hypersensitivity to multiple allergens in US adults." Drug and alcohol dependence vol. 182 (2018): 74-77. doi:10.1016/j.drugalcdep.2017.09.039
Nath, Neel Som et al. "Contact Allergy to Hydroperoxides of Linalool and D-Limonene in a US Population." Dermatitis : contact, atopic, occupational, drug vol. 28,5 (2017): 313-316. doi:10.1097/DER.0000000000000318
Bhatia, Prerana et al. "Marijuana and stoned fruit." Annals of allergy, asthma & immunology : official publication of the American College of Allergy, Asthma, & Immunology vol. 120,5 (2018): 536-537. doi:10.1016/j.anai.2018.01.01
Ebo, D G et al. "New food allergies in a European non-Mediterranean region: is Cannabis sativa to blame?." International archives of allergy and immunology vol. 161,3 (2013): 220-8. doi:10.1159/000346721