CBD Oil for Gout: Does Cannabis Oil Help with Gout Relief?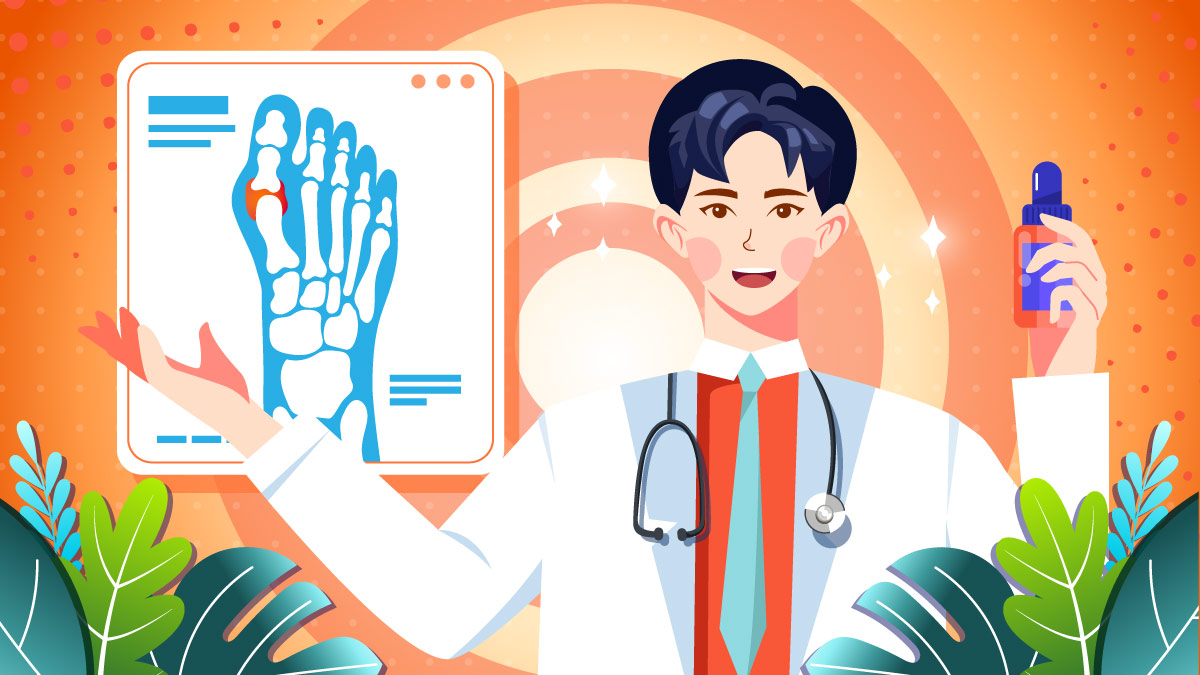 Gout is a common yet unusually uncomfortable form of arthritis. It results from the inflammation caused by the crystallization of excess uric acids that accumulate in the joints. As a result, the joints become inflamed, red, and tender, causing disturbing pain in the feet.
The condition may be caused by a few different factors, but researchers believe the Western diet is the major one to blame. Foods high in uric acid and low in essential nutrients, such as hydrogenated fat, sugar, and alcohol may speed up the development of gout.
The aforementioned inflammation and pain seem to respond well to cannabis compounds. In particular, CBD (cannabidiol) has demonstrated effectiveness in curbing inflammatory pain.
Is CBD a viable tool for treating gout?
Is it safe?
How much CBD is enough to relieve the gout pain?
Continue reading to find out.
Gout 101: What You Need to Know About the "Disease of Kings"
As mentioned at the beginning of the article, gout is a type of inflammatory arthritis. It commonly affects the big toe and can be a source of chronic pain. Gout develops due to deposits of uric acid crystals in the joints, which are sharp and can cause excruciating pain when jostled.
The uric acid forms naturally from the breakdown of purines. When you consume too many purine-rich products, your body will produce more uric acid than it can excrete, and its concentrations will become too high.
90% of gout cases occur when the kidney cannot get rid of uric acid properly.
Gout is often referred to as the 'disease of kings,' as kings were known for consuming rich food and drinks. Today, the disease has become more common because standard American diets include high-purine products.
Other risk factors of gout include:
Being male
Kidney disease
History of gout in the family
Medications such as diuretics for hypertension
Recent trauma to a joint
Recent surgery
People with gout experience the following symptoms:
Fatigue
Fever
Pain at the base of the big toe (it gets worse with movement)
Red, swollen, warm joint
In most cases, doctors use medications for pain management as the first-choice treatment. These medications include analgesics such as Ibuprofen or Naproxen. In more severe cases of the gut, corticosteroids are also prescribed to lower inflammation. However, conventional painkillers entail side effects like addiction, liver damage, and heartburn on top of other unwanted reactions.
For this reason, people have started exploring natural remedies for gout relief, including CBD oil.
In the next section, we cover everything there is to know about using CBD for gout. We'll explain the science behind CBD's health benefits, how to use CBD to get the most out of your gut treatment, and whether or not experts recommend this form of therapy.
Does CBD Help with Gout?
The Chinese and other civilizations have used cannabis for centuries to treat joint pain and gout. Ancient pharmacopeias mention the anti-inflammatory and painkilling properties of the herb, touting it for the lack of unpleasant side effects.
Although modern research on CBD and gout is in an early stage, some studies have suggested that cannabis may be an effective remedy for joint pain and inflammation associated with the condition. Similar to our ancestors, modern researchers also underlines the lack of unwanted reactions from such treatment.
CBD is a phytocannabinoid (Phyto = from plants) that interacts with the human endocannabinoid system (ECS) — the master regulatory network that helps the body maintain a balance between all organ systems and their functions.
The ECS regulates mood, memory, emotional processing, cognition, sleep, body temperature, fertility, immune response, pain, and more.
Whenever any of these functions gets compromised, the ECS starts to release its endocannabinoids (endo = from within) that bind to cannabinoid receptors and help the body regain its natural balance.
When you take CBD, it signals the ECS to produce more endocannabinoids than usual and slows down their breakdown; with more cannabinoids circulating in the body, the ECS can efficiently restore homeostasis, keeping you healthy.
The interaction between CBD and the ECS results in anti-inflammatory effects and alteration of pain signals.
On top of that, CBD has 65 molecular targets, which explains its therapeutic versatility.
Let's take a look at what scientists are saying about the idea of using CBD for gout.
Studies on CBD and Gout
In a 2015 study published in the European Journal of Pain, the research team investigated the effects of transdermal CBD in a rat model of arthritis. They found out that "transdermal administration of CBD has long-lasting therapeutic effects without psychoactive side effects (1). Thus, the use of topical CBD has potential as an effective treatment of arthritic symptomatology," as cited in the study. Although these results were noticed in rats, they are encouraging for gout patients seeking relief from pain and inflammation, as all animals have the same endocannabinoid system.
According to a 2018 review of the literature published in Current Opinion in Pharmacology, cannabinoids such as CBD and THC could potentially treat pain linked to osteoarthritis, the most common form of arthritis that causes the cartilage and bones to degrade. The authors of the report also noted that the body's ECS has an important role in pain signaling from joints to the brain. This could benefit patients who experience high levels of pain from gout (2).
Another 2018 study conducted by Baron et al. reported positive results from a cohort of medical cannabis patients. Researchers found that cannabis strains high in caryophyllene and myrcene — one of the many terpenes in the plant — were successful in treating headaches, migraines, and other sources of pain, including arthritis (3).
While it's true that no study has yet investigated the effects of CBD specifically on gout, the condition stems from arthritis, so the above studies may serve as a decent point of reference.
What Experts Are Saying About Using CBD for Gout
According to Dr. Jason McDougall, a professor in the department of pharmacology and anesthesia at Dalhousie University in Halifax, Nova Scotia, cannabinoids could be able to manage general arthritis pain.
In his interview with Canadian Broadcasting Corp. (CBC) Radio, McDougal talks about the nerve endings of arthritis sufferers and how cannabis may help improve their functioning:
 "They're all bare, they're all raw and responsible for feeling a lot of pain. What we hypothesize is that by locally administering these cannabis-like molecules to those nerves, we'd actually be able to repair them and reduce the pain of arthritis."
Another chronic pain expert, De. Daniel Clauw, who is a professor at the University of Michigan in Ann Arbor, shares his tips for using CBD oil alone to treat different types of arthritis. In an interview with Arthritis.org, Clauw says, "It appears as though it is very safe. The treatment includes low doses of CBD in 5 to 10 milligrams twice daily and progressing to higher doses of 50 to 100 milligrams per day if necessary. If symptoms persist, patients may try a CBD product that contains a small amount of THC."
Holistic healthcare practitioner Debra Rose Wilson, Ph.D., has also supported the benefits of treating gout with CBD. Wilson presented her opinion in Medical News Today:
"At a time when we are trying to reduce the use of pain relievers, CBD oil can be an effective approach to managing the pain of arthritis. Researchers have also recognized the role that CBD could play in reducing the pain-causing inflammation of arthritis."
How to Use CBD for Gout
At this point, you're probably wondering how to use CBD for gout and reap the greatest benefits. You can target the condition from two angles by using CBD topically or by taking an oral form.
Here's how both methods work.
Use CBD Topically for Gout
Topical products are formulated to help the user deal with localized problems. For gout victims, this means relief from their flare-ups as well as overall improvements in inflammation and pain. Clinical trials and scientific publications in recent years have proven what people have already known for centuries: that cannabis is a remarkably potent anti-inflammatory.
When you apply CBD to the skin — by rubbing a cream or salve into it — the cannabinoid interacts with the CB2 receptors located in the skin's epidermis layer. This interaction triggers anti-inflammatory responses that reduce the redness and swelling of gout, as well as the pain that comes with it. The absorption rate will depend on the product's formula, but the first effects should show up within 30–60 minutes after use.
When searching for the best CBD topicals for inflammatory arthritis, make sure to look for products that contain only natural ingredients and have been tested for potency and purity by a third-party laboratory.
Use CBD Orally for Gout
It's worth noting that studies have shown CBD oil to be most potent and effective when taken as a "full-spectrum" extract under the tongue. The full-spectrum means that the product is made using the entire plant, and as such, it contains all naturally occurring phytonutrients from hemp. This includes cannabinoids, terpenes, flavonoids, vitamins, minerals, and essential fatty acids. These compounds help the body to process CBD more efficiently, allowing lower doses to remain effective. Full-spectrum products are still non-psychoactive, as they only contain 0.3% THC or less, which isn't enough to get the user high.
To take CBD orally for gout, you'll need to squeeze up the desired amount of CBD using the dropper attached to your bottle of CBD oil, place it under your tongue, and hold it there for up to 60 seconds before swallowing. From there, the oil will absorb through the tiny blood vessels in your mouth, avoiding the liver and the first-pass metabolism. As a result, the first effects usually show up within 15–30 minutes after ingestion, compared to capsules and edibles, which may need anywhere between 40–90 minutes to kick in.
CBD Oil and Allopurinol: Which Is Better for Gout?
CBD is known to interact with many prescription medications. CBD inhibits the activity of the cytochrome p450 system, which is a group of enzymes that metabolizes active ingredients in drugs. When you take CBD alongside some medications, it may cause a subtherapeutic effect or lead to the toxicity of those active ingredients depending on what type of interaction occurs.
Allopurinol, which is the most commonly prescribed pharmaceutical to increase the excretion of uric acid, happens to use the cytochrome p450 system, so there's a risk of CBD-drug interactions. In this case, CBD decreases allopurinol's activity, resulting in the aforementioned subtherapeutic effect.
If you want to avoid potential CBD-drug interactions, we encourage you to visit a doctor experienced in cannabis therapies. A qualified physician should also be able to point you in the right direction when it comes to determining the right CBD dosage for gout.
Speaking of which…
CBD Oil Dosage for Gout
Finding the right amount of CBD for your individual situation may be challenging, as there's no one-size-fits-all dosage for specific conditions. Everybody is different, and so will be their response to different doses of CBD. What works for one person may not necessarily work for you; some people benefit from doses as small as 10–15 mg daily, whereas for others, the optimal dosage ranges between 50–100 mg.
The optimal amount of CBD for each individual depends on factors such as age, gender, weight, diet, metabolism, physical activity, the severity of pain, and previous history with CBD products.
The best approach to dosing CBD for gout is to start low (say 5–10 mg daily) and gradually increase the dosage until you reach the amount that provides the desired relief. If you don't notice any changes in your symptoms after a week, you may add another 5-10 mg to your dosage and test it out for another week. Once you've found an effective dose, you can stick to it, as people don't build a tolerance to CBD.
Similar rules apply to using CBD topically for gout. When you apply a CBD cream for the first time, wait for up to 1 hour and evaluate the effects. If you don't get relief from your gout pain, you can rub another dose of the cream into the affected area.
Is CBD Safe for Gout?
CBD has a well-established safety profile. Numerous health agencies, such as the World Health Organization (WHO) have acknowledged CBD as a safe and well-tolerated compound. According to the studies that have tested the safety and efficacy of CBD, humans can tolerate doses of 1,500 mg daily for several weeks without dangerous side effects.
That being said, CBD has a few adverse reactions; they are nearly non-existent when you take CBD in normal doses, but it's important to, at least, briefly mention them.
The side effects of CBD include:
Dry mouth
A temporary drop in blood pressure
Dizziness (resulting from the above)
Sedation
Changes in appetite
Diarrhea
As mentioned, there's also a risk of CBD-drug interactions, so if you take any medication for gout, make sure to consult a doctor before buying CBD oil.
What Other Oils Are Good for Gout?
Some people find that essential oils help complement gout treatment. If you want to enhance the efficacy of CBD for the condition, you can use the following essential oils by diluting them in a carrier oil and apply to the skin:
Lemongrass Oil – lemongrass oil is commonly used for its moisturizing properties. Research also suggests that it provides antimicrobial and antibacterial effects (4).
Celery Seed Oil – according to some studies, Indian celery seed oil can enhance the effects of gout medications. It boosts the anti-inflammatory effects, reducing painful swelling (5).
Yarrow Oil Extract – this oil is extracted from a flowering plant known as achillea millefolium, or simply the common yarrow. It has been used for centuries to treat arthritis, indigestion, and wounds. Modern research points to yarrow oil extract as a potent anti-inflammatory (6).
Olive Leaf Extract – Mediterranean folks used olive leaf extracts as a remedy for gout for hundreds of years. According to clinical studies, olive leaf is effective in reducing gout symptoms such as inflammation and pain. It may also prevent gout attacks due to its powerful antioxidant properties (7).
Biota Orientalis Extract – this oil comes from a Chinese cypress tree and has been used in traditional Chinese folk medicine for the prevention and treatment of gout. Some studies suggest that it may help reduce uric acid levels (8).
Ginger Extract – ginger is used around the world as both a spice and a medicine. Researchers believe that ginger has antioxidant, anti-inflammatory, and anti-gout properties. Ginger extracts may be able to reduce uric acid levels to stop future gout flare-ups (9).
How to Prevent Gout
Most people can avoid gout by introducing simple changes to their lifestyle. Dietary changes that can decrease your risk of developing gout include cutting out high-purine foods, such as high-sugar processed food, alcohol, and trans fats. Also, increasing the intake of antioxidant-rich foods such as vegetables or grass-fed meat may help prevent the condition. Doctors recommend limiting alcohols and drinks sweetened with fructose on top of increasing water intake to help the kidneys flush out the excess uric acid.
Some people are at a higher risk of developing gout, especially those with a family history of gout attacks or an underlying health issue such as kidney underperformance. In these cases, doctors may prescribe medications that decrease the concentrations of uric acid in the blood, such as Allopurinol.
Final Verdict: Is CBD Oil a Viable Option for Gout?
Gout is a type of arthritis that triggers unusually painful inflammation in the joints, which can deteriorate upon engaging in simple activities, such as walking. There are certain dietary mistakes, such as the consumption of large amounts of processed food or fructose, which may spur the onset of gout. Genetics, kidney health, and comorbid conditions are also common risk factors.
Because many conventional medications for gout come with side effects and risks, people are seeking out natural alternatives, such as CBD oil, to manage their symptoms.
Current research suggests that cannabinoids in CBD oil are remarkable anti-inflammatory agents and pain relievers that can treat different types of arthritis, such as osteoarthritis or rheumatoid arthritis. Although the studies into the benefits of CBD for gout are in their infancy, current findings are promising and warrant future investigation.
There is no such thing as "the best form of CBD for gout" or the best dosage. Everybody is different, so determining the right product type and potency depends on a range of individual factors, such as your weight, metabolism, the severity of pain, and more.
Regardless of the product type, you decide to include in your routine, always consult your physician before beginning any new treatment for gout. Doing so will help you avoid potential CBD-drug interactions.
References: 
Hammell, D C et al. "Transdermal cannabidiol reduces inflammation and pain-related behaviours in a rat model of arthritis." European journal of pain (London, England) vol. 20,6 (2016): 936-48. doi:10.1002/ejp.818
O'Brien, Melissa, and Jason J McDougall. "Cannabis and joints: scientific evidence for the alleviation of osteoarthritis pain by cannabinoids." Current opinion in pharmacology vol. 40 (2018): 104-109. doi:10.1016/j.coph.2018.03.012
Baron, Eric P et al. "Patterns of medicinal cannabis use, strain analysis, and substitution effect among patients with migraine, headache, arthritis, and chronic pain in a medicinal cannabis cohort." The journal of headache and painvol. 19,1 37. 24 May. 2018, doi:10.1186/s10194-018-0862-2
Shah, Gagan et al. "Scientific basis for the therapeutic use of Cymbopogon citratus, stapf (Lemon grass)." Journal of advanced pharmaceutical technology & research vol. 2,1 (2011): 3-8. doi:10.4103/2231-4040.79796
Whitehouse, M W, and D E Butters. "Combination anti-inflammatory therapy: synergism in rats of NSAIDs/corticosteroids with some herbal/animal products." Inflammopharmacology vol. 11,4 (2003): 453-64. doi:10.1163/156856003322699636
Tadić, Vanja et al. "The estimation of the traditionally used yarrow (Achillea millefolium L. Asteraceae) oil extracts with anti-inflammatory potential in topical application." Journal of ethnopharmacology vol. 199 (2017): 138-148. doi:10.1016/j.jep.2017.02.002
Flemmig, J et al. "Olea europaea leaf (Ph.Eur.) extract as well as several of its isolated phenolics inhibit the gout-related enzyme xanthine oxidase." Phytomedicine : international journal of phytotherapy and phytopharmacology vol. 18,7 (2011): 561-6. doi:10.1016/j.phymed.2010.10.021
Zhu, Ji Xiao et al. "Effects of Biota orientalis extract and its flavonoid constituents, quercetin and rutin on serum uric acid levels in oxonate-induced mice and xanthine dehydrogenase and xanthine oxidase activities in mouse liver." Journal of ethnopharmacology vol. 93,1 (2004): 133-40. doi:10.1016/j.jep.2004.03.037
Mashhadi, Nafiseh Shokri et al. "Anti-oxidative and anti-inflammatory effects of ginger in health and physical activity: review of current evidence." International journal of preventive medicine vol. 4,Suppl 1 (2013): S36-42.