CBD Oil for Herpes: Can It Help Prevent Breakouts and Cold Sores?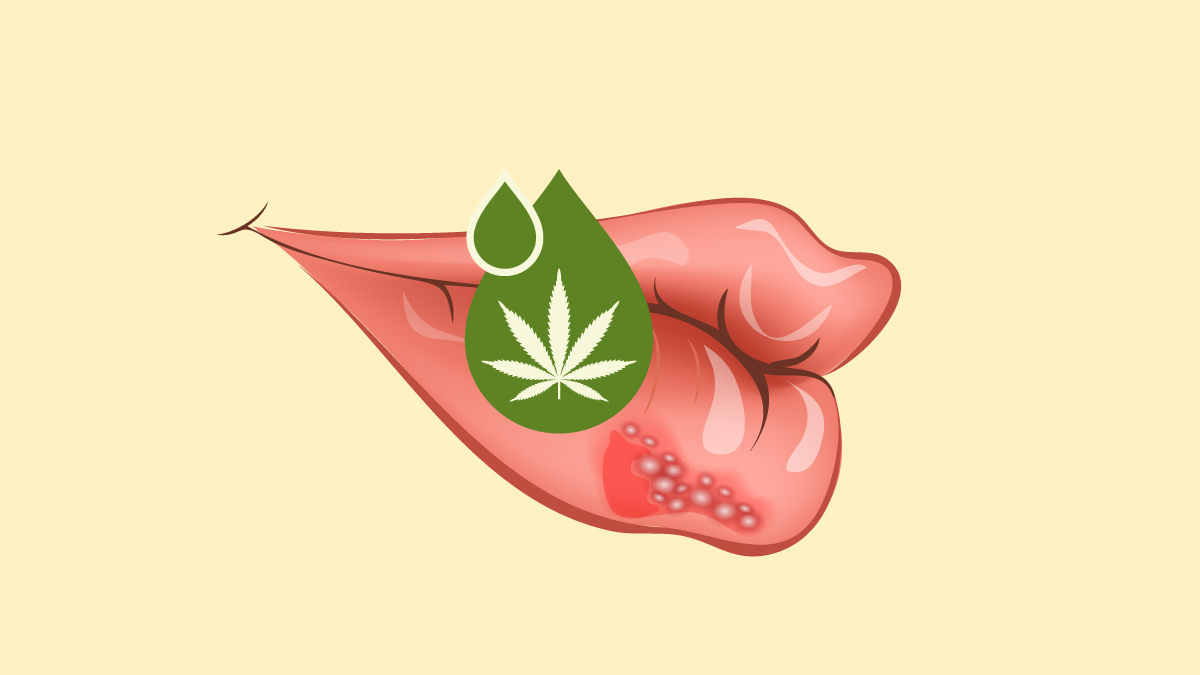 The majority of people have herpes. As a matter of fact, around 66% of the general population has the Herpes Simplex 1 virus, and approximately 12% have the Herpes Simplex 2 virus, both of which can result in painful and embarrassing breakouts in the oral and genital areas.
If you have active sores, you know how uncomfortable and painful they are. It's perfectly understandable that you want to clear them up as quickly as possible.
Research shows that CBD has antiviral properties that could effectively prevent herpes breakouts and help reduce cold sores. A lot of people use CBD to fight skin conditions, even those deriving from viral infections. In this article, we'll cover the herpes virus in detail — and explain the potential benefits of CBD treatments.
Ready to clear up active sores and suppress future breakouts? Continue reading!
Does CBD Oil Prevent Herpes Attacks?
There is some evidence, although not direct, that CBD can prevent herpes attacks. Most herpes medications act as either antiviral or anti-inflammatory. Both qualities have been repeatedly mentioned by the studies exploring the health benefits of CBD in humans (2).
A herpes outbreak is more likely to occur during an illness such as the cold or flu, or during prolonged periods of intense stress, or as a result of taking immune-suppressants. Once the virus turns from its dormant to the active stage, it is attacking cell tissues in mucous membranes, which is why outbreaks most commonly appear in moist mucosal areas in the mouth and genitals.
The cells affected by the virus become severely damaged, triggering immunoregulatory white blood cells to fight the aftermath of the attack. The said activity causes inflammation and pain, swelling, and manifests in the form of herpes sores and blisters.
CBD works in the body by interacting with the endocannabinoid system (ECS). According to Dr. Dustin Sulak of the American Academy of Cannabinoid Medicine, "the ECS is the most important physiological system involved in establishing and maintaining human health." The ECS has its receptors throughout the body; they occur in virtually every system and organ, including the cells of the immune system (3)
Studies show that CBD binds to the CB2 receptors in the immune cells, modulating the immune response. In other words, when the immune system is weakened due to an illness or the use of immunosuppressants, CBD oil may enhance the activity of immune cells and bolster their functioning. On the other hand, a hyperactive immune system can be tuned down to its normal states upon CBD's interaction with the ECS. According to researchers, CBD can also reduce the production of proinflammatory cytokines (4). The above actions may contribute to the effective prevention of herpes attacks.
How to Use CBD for Herpes?
Depending on how you want to use CBD oil for herpes, certain products may be more effective than others.
For example, if you want to prevent herpes breakouts, you'll probably go with an oral or sublingual form of CBD, such as oils or capsules. People looking for the fastest relief from their symptoms often choose CBD vaporizer pens due to their high bioavailability and almost immediate onset. When you ingest CBD, either way, it interacts with the ECS and reaches the CB2 receptors in the immune system, producing its anti-inflammatory and immunomodulatory effects.
For herpes breakouts and other localized problems, we recommend using a CBD topical such as CBD cream, gel, balm, or lotion. CBD topicals are formulated to provide targeted relief through a different mechanism. The skin has its own endocannabinoid system, with CB2 receptors highly concentrated in the epidermis layer. Once CBD binds to these receptors, it can provide relief from soreness in the affected area. That's why there are so many CBD products for skincare out there
Full-spectrum vs Isolate: Which Form of CBD Oil Is Better for Herpes?
CBD is one of over 100 compounds categorized as cannabinoids. Other important chemical compounds that can boost the health benefits of CBD are:
THC (delta-9-tetrahydrocannabinol)
CBG (cannabigerol)
CBN (cannabinol)
These cannabinoids, in combination with terpenes, contribute to the entourage effect, or the whole-plant synergy. This concept describes synergistic effects between all naturally occurring compounds in hemp. Researchers investigating the entourage effect have concluded that cannabinoids and terpenes are more effective together than in isolation — providing higher overall potency of hemp extracts and more predictable dosing.
Do's and Don'ts of Using CBD for Herpes
The Do's
Purchase high-quality full-spectrum CBD from organic hemp.
Combine CBD oil with a topical treatment.
Gradually work your way up to an effective dose.
Give yourself some time; sometimes CBD may need around 2 weeks to fix your cannabinoid deficiencies.
The Don'ts:
Don't expect wonders overnight. Although CBD is a versatile compound, it's not a magical pill and sometimes needs time to develop its full potential.
Don't buy cheap, untested CBD oils. The market is flooded with mislabeled products that contain little to no CBD at all. Some of them are downright dangerous and may even make your herpes symptoms worse.
Don't use synthetic additives in CBD topicals. Parabens, sulfates, synthetic perfumes, and other irritants can reduce the benefits of CBD oil for herpes, let alone their own side effects.
Can I Put CBD Oil on Cold Sores?
Yes, you can put CBD oil or CBD cream on a cold sore to reduce inflammation and pain associated with herpes breakouts. Researchers evaluated the anti-inflammatory properties of cannabinoids and concluded that CBD topicals were effective at lowering inflammation of the skin. CBD reduces itchiness, puffiness, soreness, and redness that are common among skin conditions such as cold sores, psoriasis, acne, eczema, and rosacea.
What You Need to Know About Herpes?
There's a lot of confusion surrounding herpes and the viruses that cause it. For most people, the question remains: are oral herpes (cold sores) and genital herpes the same?
In a way, yes and no…
Here are some of the most common questions people ask about herpes.
What is Herpes?
Herpes is a virus. Most of the time it remains in its dormant state in the cell bodies of the oral and genital areas. However, triggers like stress and diseases (which can weaken the immune system, can cause unpleasant flare-ups. This manifests in the stereotypical blisters and sores.
Is There Only One Type of the Herpes Virus?
There are two types of herpes: HSV Type 1 and HSV Type 2. HSV-1 is the more common form of the virus and produces the common cold sore. HSV-2 is a less common form and causes breakouts in the genital region.
How do You Get Herpes?
Herpes transmission is possible through saliva (sharing drinks, kissing, and oral sex), or direct skin-to-skin contact.
Can HSV-1 Cause Genital Herpes? Can HSV-2 Cause Oral Herpes?
Yes, genital herpes can be easily transmitted from someone with oral herpes. In a similar fashion, a person can get oral herpes from someone with genital herpes. According to statistics, up to 50% of genital herpes cases derive from the HSV-1 virus. The only way to determine which form of the virus you have is to do a mouth swab test and take it to a laboratory for content analysis.
What Are the Symptoms of Herpes?
People who often contact the herpes simplex virus are unaware that they have it. That's because the virus stays in its inactive form most of the time. Below you'll find the symptoms that individuals with herpes may experience (1):
Sores – fluid-filled sores may show up around the lips, mucous membranes inside the mouth, and genital areas.
Burning, itching, or tingling  – shortly before a breakout, a person may experience tingling, itching, or burning sensation on the area of their skin where the cold sore is about to appear.
Hemp sores show up when the infected cell tissues are not thoroughly destroyed by immunoregulatory white blood cells of the immune system. Aside from the above symptoms, a person with herpes may have the following reactions:
Pain when urinating – individuals with genital herpes, more often women than men, may feel discomfort while urinating.
Flu-like symptoms – when the herpes virus turns active, you may experience fever, muscle aches, and swollen lymph nodes.
Eye infection (herpes keratitis) – in rare cases, the virus can affect the eyes, resulting in sensitivity, pain, and discharge.
The severity of herpes outbreaks varies between one attack and another, but the very first outbreak is usually the worst. Some people may experience very mild symptoms and may barely notice the condition. Healthy people with herpes simplex are less likely to experience serious complications. The group of high risk includes newborns, babies, and individuals with weak immune systems.
How Long Does Herpes Last?
The herpes breakout can last between 3–7 days, but the virus itself will stay with you for life once you have it. However, most of the time the virus is in the dormant stage, meaning it lies inactive in cell bodies. Most people who have herpes aren't even aware of it until the flare-ups occur.
Is the Virus Always Contagious?
Unfortunately, the herpes virus is highly contagious, but only in the event of viral shedding. Viral shedding refers to the progeny that the herpes virus releases upon reproduction. There's a higher risk of catching the virus during a breakout than while dormant, but it's possible to contract HSV from a person with no visible symptoms.
Conventional Herpes Treatments
Although herpes simplex stays with you forever once you've caught it, some medications can be taken to address symptoms and combat herpes outbreaks. Most people are recommended antiviral medicine combined with over-the-counter antiviral topicals applied to oral and genital areas for pain relief.
The most commonly prescribed antiviral for herpes is acyclovir (Zovirax), famciclovir, and valacyclovir. Daily use of these anti-herpes medications can considerably reduce the frequency and severity of outbreaks.
However, antiviral medications can cause side effects, such as irritability, loss of appetite, trouble sleeping, and tiredness.
Some people choose to take an alternative route and use natural complementary treatments besides CBD. These treatments include lysine, vitamin C, and lemon balm.
According to a 2006 study, lysine supplementations at doses higher than 3 grams per day may improve the symptoms of herpes in patients. The study also used a combination treatment involving ascorbic acid, after which patients reported a reduction in symptom severity and herpes recurrences (6).
Meanwhile, researchers from another study found that lemon balm oil exerted a direct antiviral effect on the herpes virus. The authors concluded that the essential oil might be also beneficial as a topical treatment for viral infections (7).
CBD has similar properties and also provides antiviral activity when applied. CBD oil also has several terpenes with antiviral effects, such as limonene, which is found in citrus fruits.
CBD Dosage for Herpes
There are no official dosage recommendations when it comes to using CBD oil for herpes and its symptoms. The FDA doesn't regulate the manufacturing standards and labeling of CBD products. Currently, the only FDA-approved medication is Epidiolex, an anti-epileptic drug based on CBD isolate. The agency has promised to fuel more resources into researching the efficacy and safety of hemp-derived CBD products.
That being said, CBD companies often provide their own dosage instructions based on the recommended serving. You can use them as a point of reference. It takes a bit of a trial and error until you find an effective dose for yourself.
CBD is a natural and safe substance. There have been no reports of severe side effects after taking pure CBD oil, even in doses as high as 1,500 mg daily (5).
Final Verdict: Should You Use CBD Oil for Herpes?
Studies on PubMed indicate that CBD has antiviral and anti-inflammatory properties that may help people affected by the herpes simplex virus. CBD can both suppress the immune system's capabilities and modulate inflammatory response by interacting with the human endocannabinoid system (ECS).
Using that mechanism, CBD may be helpful in preventing herpes breakouts as well as in reducing the severity and recurrence of its symptoms. The best results at using CBD oil for herpes are reported to come from a combination of sublingual and topical formulations. Whichever product you choose for your anti-herpes supplementation, make sure that it contains the full spectrum of cannabinoids and terpenes; doing so will help you maximize the efficacy of your treatment.
Although there have been no studies conducted specifically on CBD and herpes, current evidence is promising and shows the need for clinical trials that would evaluate its efficacy and safety on relevant samples. If you want to take CBD oil for herpes, we encourage you to consult a doctor experienced in natural treatments to find the best dosage for yourself and avoid potential interactions with antiviral medications.
References:
Crimi, Salvatore et al. "Herpes Virus, Oral Clinical Signs and QoL: Systematic Review of Recent Data." Viruses vol. 11,5 463. 21 May. 2019, doi:10.3390/v11050463
Corroon, Jamie, and Joy A Phillips. "A Cross-Sectional Study of Cannabidiol Users." Cannabis and cannabinoid research vol. 3,1 152-161. 1 Jul. 2018, doi:10.1089/can.2018.0006
Russo, Ethan B. "Clinical Endocannabinoid Deficiency Reconsidered: Current Research Supports the Theory in Migraine, Fibromyalgia, Irritable Bowel, and Other Treatment-Resistant Syndromes." Cannabis and cannabinoid research vol. 1,1 154-165. 1 Jul. 2016, doi:10.1089/can.2016.0009
Atalay, Sinemyiz et al. "Antioxidative and Anti-Inflammatory Properties of Cannabidiol." Antioxidants (Basel, Switzerland) vol. 9,1 21. 25 Dec. 2019, doi:10.3390/antiox9010021
Iffland, Kerstin, and Franjo Grotenhermen. "An Update on Safety and Side Effects of Cannabidiol: A Review of Clinical Data and Relevant Animal Studies." Cannabis and cannabinoid research vol. 2,1 139-154. 1 Jun. 2017, doi:10.1089/can.2016.0034
Gaby, Alan R. "Natural remedies for Herpes simplex." Alternative medicine review: a journal of clinical therapeutics vol. 11,2 (2006): 93-101.
Schnitzler, P et al. "Melissa officinalis oil affects infectivity of enveloped herpesviruses." Phytomedicine: international journal of phytotherapy and phytopharmacology vol. 15,9 (2008): 734-40. doi:10.1016/j.phymed.2008.04.018