CBD Oil for Morning Sickness: Is It Safe & Effective?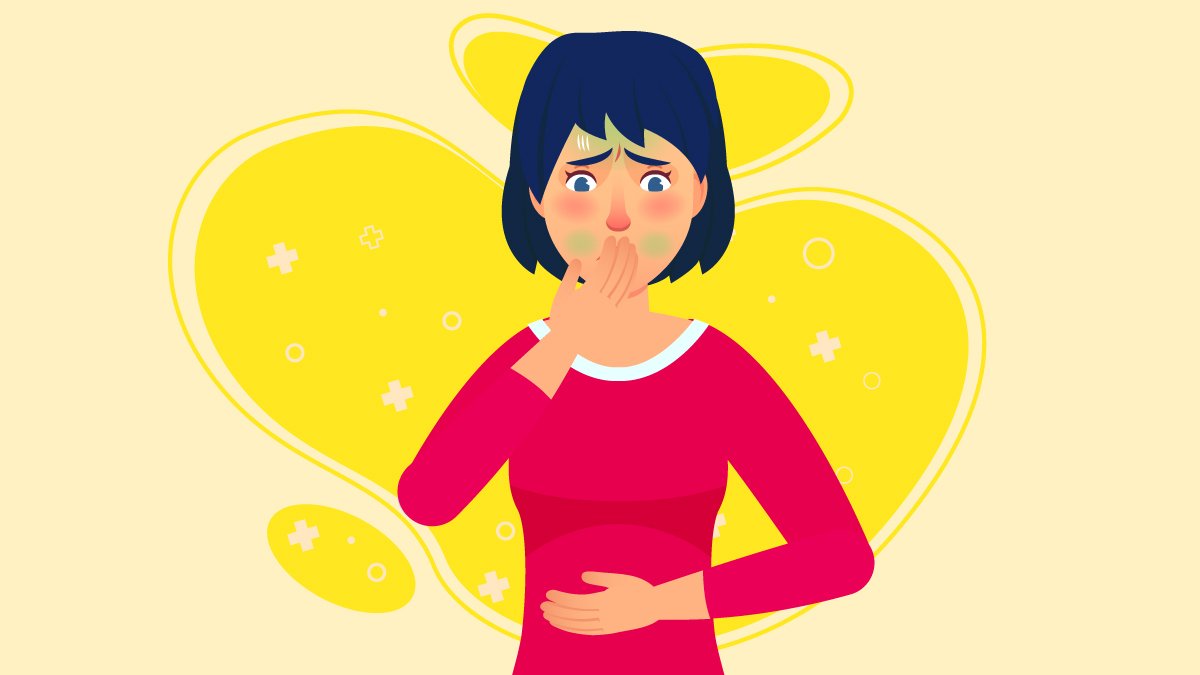 Are you pregnant and find yourself throwing up every morning?
You might be going through some classic morning sickness.
This condition makes a pregnant woman feel sick and uncomfortable. Different remedies are recommended for treating morning sickness during pregnancy, and CBD oil is one of them.
So, how can you use CBD oil to relieve morning sickness?
Follow me in this article to find out.
What Exactly is Morning Sickness?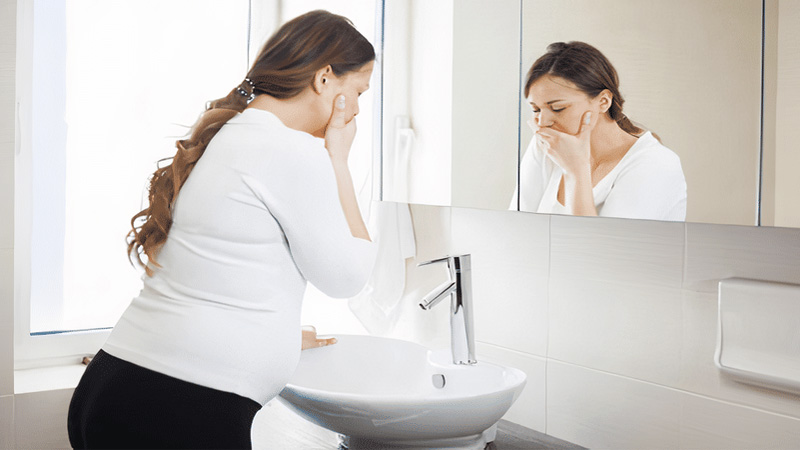 Morning sickness is a condition affecting pregnant women, where nausea and vomiting occur.
It usually happens during the first trimester of pregnancy but can also continue throughout the term.
Women who go through this condition may experience different symptoms that can affect their daily productivity.
You know you are having morning sickness when you vomit within an hour of waking up, have nausea and vomiting for more than three days a week, cannot keep any food or liquids down, and experience weight loss.
Fortunately, you can use natural remedies like CBD oil to make this period less pesky.
But before I elaborate on this, let's shed more light on the potential triggers of morning sickness.
Common Causes of Morning Sickness
Morning sickness is associated with a wide range of changes that occur throughout a woman's body during pregnancy. Common causes of this condition include:
Hormonal Changes
Some hormones, such as estrogen, human chorionic gonadotropin (HCG), and progesterone, trigger nausea and vomiting during pregnancy. These hormones increase during the first trimester and may contribute to morning sickness.
Food Cravings and Aversions
Another common trigger for morning sickness is food cravings or aversions. When you are pregnant, your sense of smell and taste becomes more sensitive. You might start to dislike certain smells or foods you used to like before pregnancy.
The Smell and Taste of Certain Foods
Foods that have strong smells or tastes can trigger morning sickness. This includes foods like seafood, meat, vegetables, and aromatic spices.
Stress
Stress can also trigger morning sickness. When you're stressed, it can increase the production of certain hormones that can signal nausea and vomiting.
Symptoms of Morning Sickness
As mentioned, nausea and vomiting are the two most common symptoms. Other signs of morning sickness include:
Having a metallic taste in the mouth. Especially when the stomach is empty.
Feeling bloated. This can be due to the accumulation of gas in the intestines.
Hunger and cravings for specific foods. Some women crave salty or sweet food, while others develop an aversion to certain types of food.
Dizziness and lightheadedness. This may be caused by the lack of nutrients and minerals in the body, which can lead to dehydration.
Fatigue. It's quite common during pregnancy due to the hormonal changes that occur. Fatigue can also be a symptom of morning sickness because it makes you feel weak and exhausted after vomiting or nausea.
Acidic feeling in the stomach. Caused by the stomach acids that come up to the throat.
Hyperemesis Gravidarum (HG) Symptoms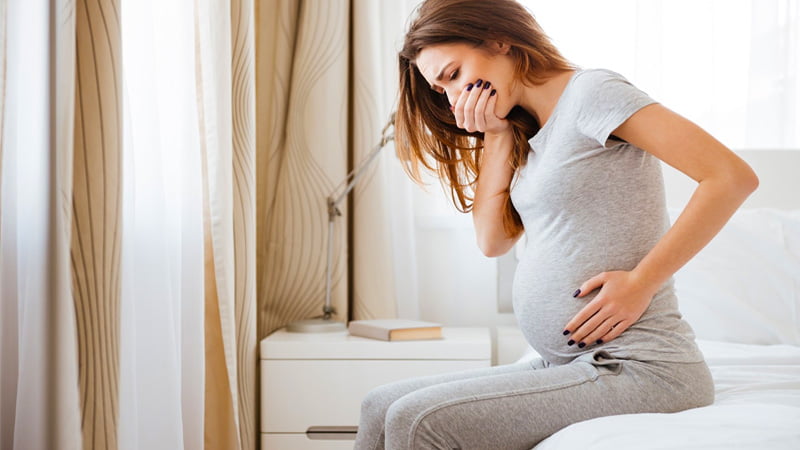 A small percentage of pregnant women will experience more severe symptoms of morning sickness called hyperemesis gravidarum (HG). This condition involves extreme nausea and vomiting, which can lead to weight loss, dehydration, and nutrient deficiencies. Some signs that you might be experiencing HG are:
Vomiting more than three times a day. This can lead to dehydration, which can be dangerous for both the mother and the baby.
Weight loss. It could be due to HG if you're losing weight while pregnant. This is serious and should be treated immediately.
Not being able to keep down liquids or food. If you're vomiting so much that you can't keep anything down, this is a sign of HG and should be treated immediately.
Low urine output. Frequent urination causes dehydration. It also means that your body isn't getting enough fluid from what you are drinking.
Feeling faint or dizzy. This is due to the lack of nutrients in your body because they are being expelled through vomiting. It can also cause you to feel weak and tired.
Needing medication to stop vomiting. If you're not able to keep any food or liquids down, your doctor might prescribe medication to stop the vomiting.
Traditional Remedies and Treatments for Morning Sickness
Mild to moderate morning sickness may not require medical attention. Many pregnant women who struggle with this problem use natural remedies with a decent success rate.
Here's how you can leverage the natural ingredients to relieve morning sickness:
Use Ginger
Ginger has been used in Asia for many centuries as a treatment for various types of sickness due to its antiemetic properties (1). You can drink ginger tea, chew on fresh ginger slices, or take ginger supplements.
Acupressure
This ancient Chinese practice uses pressure on specific points in the body to relieve pain and other symptoms. It can be effective for morning sickness due to its ability to regulate neural communication through the said pressure (2).
Avoid Smells that Trigger Nausea
If certain smells make you feel nauseous, try to avoid them. This may not always be possible, but try to minimize the exposure whenever possible.
Hydrate Yourself
Vomiting deprives you of fluids, so this point is paramount if you don't want to suffer from nutrient deficiencies. Even if you don't feel sick at a particular time, make sure to drink plenty of water. It's just good for your body — and the baby.
Can CBD Oil Be a Remedy For Morning Sickness?
Some anecdotal evidence suggests CBD oil can help with morning sickness. However, we don't have enough research and significant scientific proof yet to support this claim. CBD oil is known to have anti-nausea and anti-inflammatory properties, so it might benefit pregnant women experiencing morning sickness.
CBD's anti-nausea and anti-vomiting properties result from its interaction with the endocannabinoid system and serotonin receptors. Scientists have found that cannabinoids and these receptors can modulate brain activity in the areas responsible for sensations of nausea (3).
Why People Are Turning to CBD for Morning Sickness
There are many traditional remedies for morning sickness. Some of them can be effective, while others may not work at all. Since CBD oil has anti-nausea and anti-inflammatory properties, people believe it could help with morning sickness symptoms.
Aside from this, CBD oil is safe and non-addictive, so it's a better option than traditional medications known for their dangerous side effects. That said, always consult your OB-Gyne before taking CBD oil if you're pregnant or breastfeeding.
Is CBD Safe for Morning Sickness?
CBD has a very good safety profile. Humans tolerate doses as high as 1,500 mg administered daily for several weeks without any dangerous side effects (4).
However, CBD can cause a few mild reactions if you take too much at a time, including:
Dry mouth
Dizziness
Lowered blood pressure
Changes in appetite
Diarrhea
CBD also interacts with a lot of prescription and over-the-counter (OTC) medications (5). If you're taking any medication for your morning sickness, tell your doctor about it so that you can gauge the timing and avoid interactions.
CBD vs THC: Which One Is Better and Safer for Morning Sickness?
CBD (cannabidiol) is one of the many active ingredients in cannabis plants. It has no psychoactive effects and doesn't make you feel "high" like marijuana does.
On the other hand, THC (tetrahydrocannabinol) is a naturally occurring compound found in marijuana that gives you a feeling of being high. Both CBD and THC are approved to treat certain medical conditions, but there is still no evidence that they can be used for morning sickness during pregnancy.
Regarding safety, CBD is a better option for pregnant women as it is non-addictive, non-psychoactive, and doesn't have severe side effects. The effects of THC might not be a safe option for pregnant women as there's not enough research to recommend it as an alternative treatment. Besides, pregnant women should avoid all intoxicating substances while they're carrying a child.
CBD Dosage: How Much Should You Take for Morning Sickness
CBD dosage doesn't follow a one-size-fits-all idea. Doses can vary from one person to another. Some people can feel the effects on the lowest dose, while others need higher amounts of CBD before they can feel the results. Women who experience morning sickness can take a low dose of 1 to 5mg for every 10 pounds. Monitor the effects and determine if there is a need for an increase or decrease in dosage.
How to Take CBD for Morning Sickness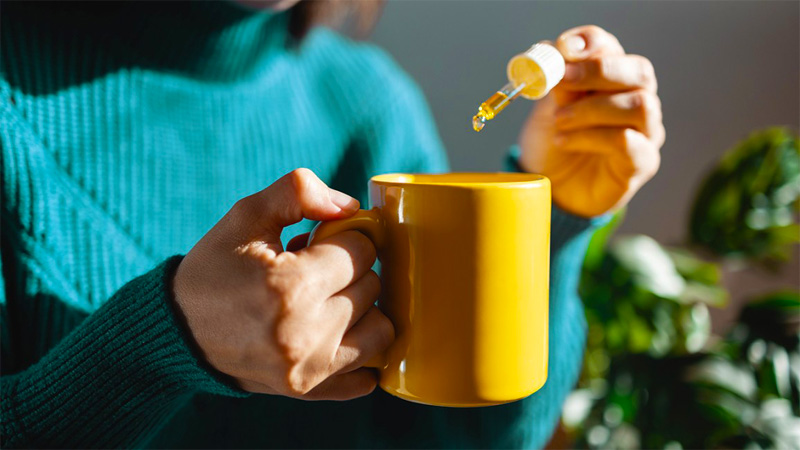 There are a few ways to take CBD for morning sickness:
Capsule – You can buy CBD capsules from online or storefront retailers. They're easy to take, and most capsules come in small sizes, making it easier to swallow without having any chalky taste. A lot of women prefer taking CBD oil capsules because they don't have a strong taste.
Tinctures – CBD oil tinctures are liquid forms of CBD that you can take sublingually (under the tongue) using a dropper. It's usually the optimal way to take CBD for morning sickness, but it tastes bitter. You can also add it into food or drinks, but remember that doing so will delay its onset and compromise absorption.
Vape oil – CBD vape oils are the fastest way to experience the therapeutic effects of CBD for morning sickness. You can also take CBD via vaping if you don't like the earthy taste of CBD oil. Vapes have pleasant flavors and aromas because they feature a CBD distillate and terpenes without the waxes that occur in raw CBD extracts.
Gummies – Gummies are the best option if you're looking for something that tastes like candy. CBD-rich candy and gummies come in different flavors and colors, so expect a kid-friendly treat.
Another way of using Hemp is applying CBD cream to deal with pregnancy dilemmas but either way, you can choose the method that appeals the most to you. You're already going through a lot of discomforts from your morning sickness, so your choice of CBD intake should be something that you find tasty and hassle-free.
Things to Consider when Buying CBD Oil for Morning Sickness
When buying CBD oil, you should make sure that you are getting the best possible choice to avoid below-par quality products that can cause negative effects on you or your baby. Keep these things in mind when shopping for CBD oil products to relieve morning sickness:
Quality – Make sure the CBD oil you choose is of good quality. A reputable brand will be transparent about its products, including how they are grown and extracted. They'll also provide laboratory results that show levels of CBD and THC in addition to other cannabinoids. You can also verify the product's purity by checking its label, where it should clearly show that CBD content is free from synthetics and chemicals.
Reliability – Only purchase from established companies that offer high-quality products. If you want to avoid scams, choose a brand that focuses strictly on CBD oils. You can also check online reviews and testimonials for a manufacturer's reputation and dependability.
Dosage – Choose a product that you think will be effective based on your specific needs without going beyond the recommended dosage of CBD oil. This will make your supplementation cost-effective.
Ingredients – Some CBD oils include other supportive ingredients that may be useful in treating morning sickness. That being said, ensure your product doesn't contain any potentially dangerous ingredients. If you have allergies, double-check the list of ingredients to confirm your product doesn't contain any allergens.
Cost – CBD oils are usually more expensive than conventional health supplements due to high production costs influenced by expensive extraction technology and laboratory testing. If you see a product that looks suspiciously cheap for the promised quality, think twice before giving such vendors your money; no company will sell CBD oil at a loss, so if your manufacturer offers such cheap CBD oils, some corners must've been cut on the way.
Third-party Testing – the CBD market lacks regulation regarding product potency and purity, so third-party testing ensures you get exactly what you've paid for. With a legitimate certificate of analysis (CoA), there's no room for fluff. You can see how much CBD is in the bottle, what other cannabinoids and terpenes have been included, and whether the product is free from pesticides, heavy metals, and solvents.
Key Takeaways on Using CBD to Deal with Morning Sickness
CBD oil is a novel option for morning sickness. Although anti-nausea and anti-vomiting benefits are well-documented, we still don't know how it affects pregnant women and their children.
Therefore, if you want to use CBD oil to relieve the symptoms of your morning sickness naturally, consult your gynecologist to receive professional advice. Just make sure your doctor knows what the endocannabinoid system is because it's essential to weigh the benefits and risks of using CBD to target this condition.
Lastly, since pregnancy is a very sensitive period, pay attention to the quality of your CBD oil. There are a lot of mislabeled and contaminated products out there, so research is paramount if you want to reap the benefits without risking your health.
Sources: