CBD Oil vs. CBD Gummies: Which Is Better?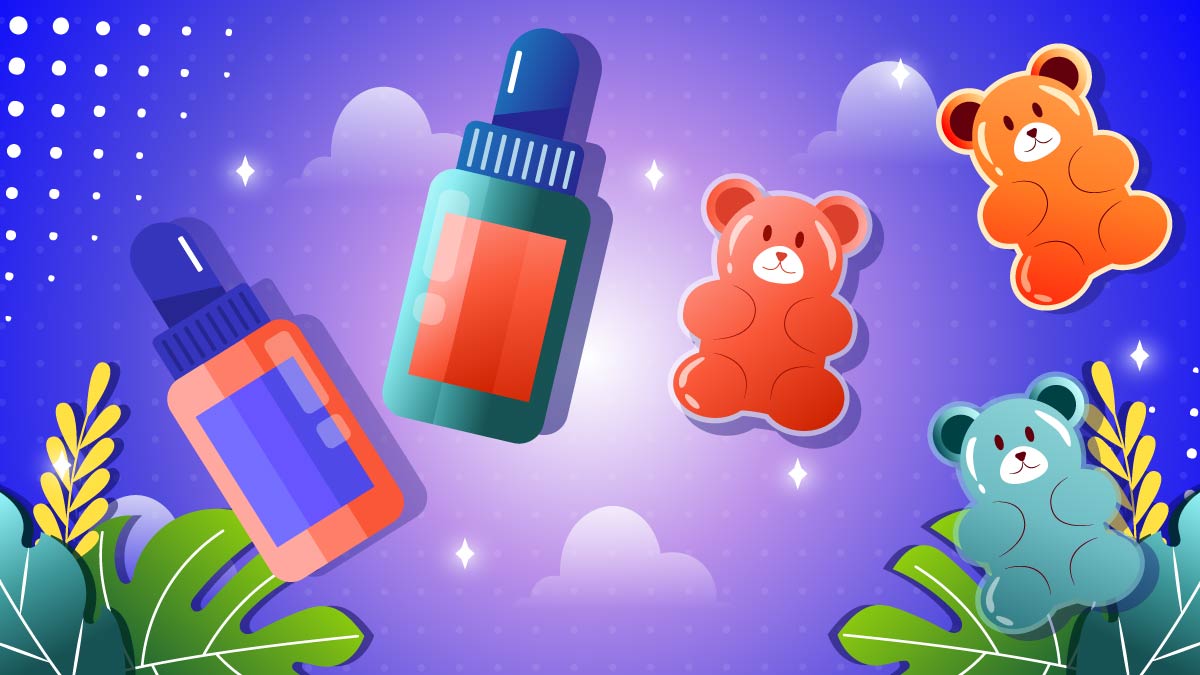 Whether you're new to the cannabidiol world or you have been taking CBD oil for some time but you'd like to try a different format, we are going to break down the basics of CBD oil and CBD-infused gummies. Hopefully, this will help you decide whether you want to opt for tinctures or edibles.
We're going to cover the differences between the two, pricing factors, why one is better than the other, and more.
What is CBD?
CBD is a non-intoxicating constituent of cannabis plants. In hemp, it's also the major cannabinoid that manufacturers use for extraction.
CBD regulates our endocannabinoid system (ECS), which is the master regulatory network promoting and maintaining homeostasis throughout the body.
People use CBD to relieve anxiety and depression, pain and inflammation, and to manage metabolic issues.
CBD-infused products are made by extracting CBD along with other compounds from the plant matter and suspending the thick liquid in a carrier oil for improved absorption. From there, the product can be incorporated into a wide range of formats, including oils, capsules, edibles, vapes, and topicals.
Let's take a look at CBD oil vs gummies, as these are the most common CBD products on the market.
CBD Oil vs Gummies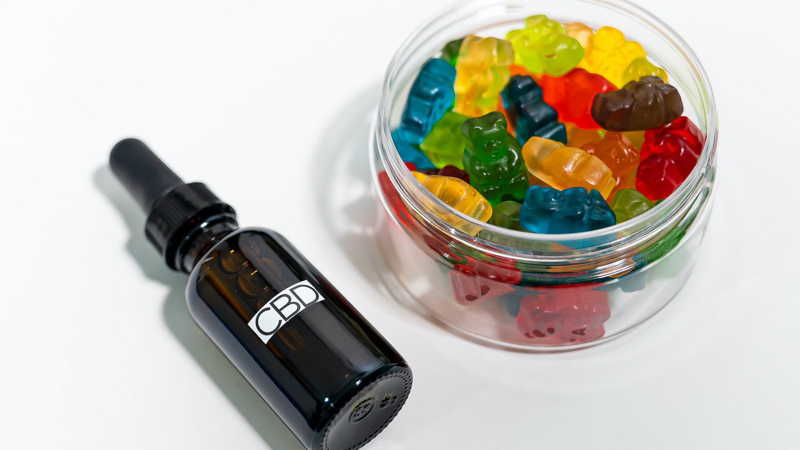 CBD Oil
You can purchase CBD oil or make your own; either way, one of the best carrier oils to combine with your CBD would likely be MCT oil. Sometimes, you'll also see carrier oils like hemp seed oil, sunflower oil, avocado oil, and grapeseed oil.
The choice of carrier oil is important because not every oil will work well with you. If there are no allergens in your CBD oil, yet you still experience discomfort after taking it, this may be caused by the carrier oil.
When it comes to using your CBD oil, you should always follow the instructions listed on the packaging or bottle. Start with the dosage suggestion on the product label. Once you know how your body reacts, you can gradually increase the dose if needed.
People typically use CBD oils the same way they use tinctures — under the tongue. You simply place the oil beneath your tongue for 30-60 seconds and swallow the rest. CBD oils are available in different flavors, so if you don't like the natural taste of CBD oil, a flavored option can effectively mask it.
Another popular way to ingest liposomal tinctures is to mix them into food and beverages. However, by doing so, you deprive yourself of the benefits of faster and more efficient absorption that comes with sublingual use.
CBD oil can also be applied topically to the skin. You can find CBD in a wide range of beauty products, from creams to balms to lotions, gels, face masks, bath bombs, and more. CBD topical products administration works best for localized problems, such as pain and inflammation. Just make sure to use a dedicated topical formulation; applying raw CBD oil on the skin won't be as effective.
If you are currently taking any medications, speak to your doctor before buying CBD oil. CBD compromises the liver's ability to metabolize pharmaceutical drugs, and as such, it may cause negative interactions in your system.
High-quality CBD oil is more expensive than cheap products because the manufacturers use clean ingredients, advanced extraction methods, and meticulous lab testing to ensure their CBD oils are safe for consumption. Cheap CBD oils are usually made with poor-quality ingredients and may carry toxic contaminants resulting from improper purging.
CBD Gummies
CBD gummies are a favorite among the cannabis community as they are a fun way to take your doses of cannabidiol. They are also very easy to take, and instructions are clear as to how much to eat or drink to achieve a certain dosage.
Something to consider when using gummies is that it is a bit harder to personalize your dosage. With a dropper, you can get a specific amount all at once. With gummies, you'll have to take multiples and possibly even split the gummies in half for certain doses.
Another thing to keep in mind is that CBD-infused gummies will be more costly, and you will get much less bang for your buck than you would with CBD oil or tinctures. A bag of 20 CBD gummies probably won't last you as long as a whole bottle of CBD oil, especially if you require more potent doses of CBD.
To get yourself started, follow our gummies dosage recommendations, sometimes this can be found at the packaging; start with a low dose and work your way up if you feel it's necessary.
In regards to pricing, gummies are also going to vary drastically depending on the company you go with. Look for a CBD edibles brand near you that has good reviews, openly displays lab test results, is transparent about the content of its products — and makes customer service a priority. Pricing should be on the lower end of priorities when it comes to something you are putting into your body.
Which is Better?
CBD oil and CBD gummies are both great products — but for different reasons and purposes. CBD oil is excellent for individuals who are struggling with chronic pain, persistent pain in joints and muscles, or lots of inflammation in the body. CBD oil will work from within to help relieve pain discomfort and will also be more effective since a portion of it is not being lost in your stomach acids.
This leads us to our next point: gummies are absorbed via the digestive tract, while CBD oil is typically absorbed through thin mucous membranes found beneath the tongue. Unfortunately, ingesting gummies will result in the end product being less potent and a bit less effective because it breaks down and degrades in your stomach's harsh environment.
Sublingual ingestion of CBD oil is the optimal method, as it absorbs quickly into your bloodstream and results in more effective benefits.
The Health Benefits of CBD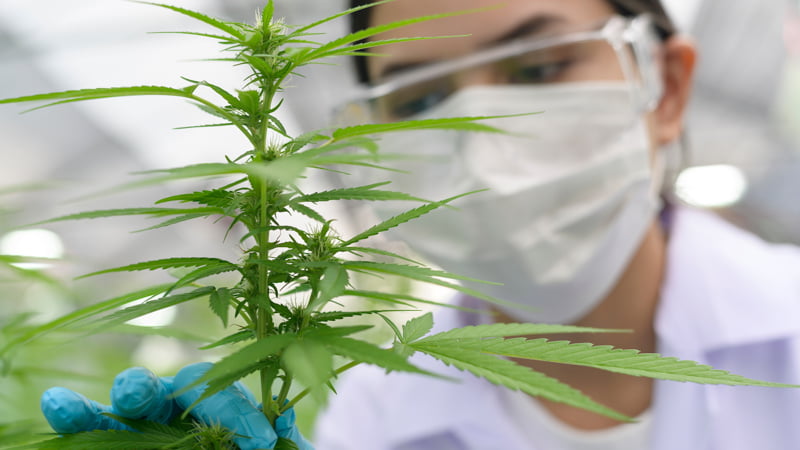 Now that we've covered the pros and cons of both CBD oil and gummies, it's time to talk about the health benefits of CBD. Maybe you haven't had a chance to try CBD in any form yet, and if you're still hesitating, here are a few arguments that may convince you.
Anti-inflammatory and Analgesic Properties
A study from 2019 revealed that cannabidiol had the potential to reduce skin-related issues, such as skin injury or scars and even inflammatory skin disease.
Another study conducted in 2018 observed the effects of inflammation related to spinal cord injuries.
Managing Symptoms of Drug Withdrawal
Some research has uncovered evidence that CBD may help control some of the symptoms associated with withdrawal in regards to opioids and nicotine.
One study from 2018 suggested that cannabidiol may be helpful for individuals who are experiencing withdrawals from smoking cigarettes due to its calming, relaxing properties.
Another study conducted in 2015 pointed towards cannabidiol being used as a potential treatment for opiate addiction.
Lastly, a study from 2013 revealed that CBD may be beneficial for those attempting to quit smoking, as it helped smokers smoke fewer cigarettes.
Epilepsy
In 2018, the FDA approved a purified form of cannabidiol called "Epidiolex." This medication is used to treat epilepsy. Scientists understand now that CBD can prevent seizures without the common sedating side-effects of many other medications used for epilepsy.
They found that it was even effective in treating symptoms of epilepsy in children and adolescents, ages 1-20 years old.
Possibly Managing Symptoms of Alzheimer's Disease
There have been a handful of studies looking at the effects and potential benefits of CBD on Alzheimer's disease. A rodent study from 2014 revealed that cannabidiol may be able to help people retain the ability to remember faces, something which people with Alzheimer's lose.
More evidence of cannabidiol's potential for helping those suffering from Alzheimer's disease was uncovered in a study from 2017.
Anxiety Disorders
While Delta-9 THC has been known to trigger anxiety and paranoia in certain individuals, CBD may be able to help symptoms of anxiety. This is why those who tend to get anxious after smoking cannabis may want to opt for a strain that has plenty of CBD in it as well.
One study from 2019 revealed that cannabidiol dramatically reduced symptoms in a rodent model.
Another rodent study from 2020 evaluated the same potential for reducing symptoms of anxiety, and it concluded that there was an improvement in the rodent model's symptoms.
Acne and Other Skin Conditions
Managing your acne and skin inflammation is another popular use for CBD. Acne is often caused by inflammation and issues with your sebaceous glands. One study conducted in 2014 revealed that CBD helps lower sebum production due to its potent anti-inflammatory properties.
Research suggests CBD may be able to inhibit flare-ups and control painful inflammation.
An incredibly interesting study from the end of 2020 uncovered CBDs' effects on eczema and contact dermatitis. Ultimately, the test human test subjects reported a decrease in itching, and 50% of the subjects perceived an improvement in their eczema.
Final Thoughts on CBD Oil vs Gummies
Choosing between CBD oil vs gummies boils down to mapping out your needs and preferences. You need to consider several factors, including the dosage, convenience, bioavailability, onset, and duration of effects.
If you use CBD for general supplementation and don't mind waiting a bit longer for the effects, CBD gummies are a good option. Not only are they easy to take and convenient, but they also taste better than CBD oil.
That being said, if you take CBD to address specific health needs or just need faster relief from your symptoms, CBD oil might be a better choice. It offers higher bioavailability and greater dosage precision than capsules — helping you get the most bang out of your buck.
Whichever option you choose, make sure to consult a doctor before buying a CBD product if you take certain medications. Doing so will help you figure out the right dosage and avoid negative CBD-drug interactions.
Sources:
Alessandro Stella, B. Palmieri, C. Laurino, M. Vadalà, Pubblicato, 2019-03-10, A therapeutic effect of cbd-enriched ointment in inflammatory skin diseases and cutaneous scars: doi: 10.7417/CT.2019.2116.
Hongbo Li, Weimin Kong, Christina R. Chambers, Daohai Yu, Doina Ganea, Ronald F. Tuma, Sara Jane Ward, The non-psychoactive phytocannabinoid cannabidiol (CBD) attenuates pro-inflammatory mediators, T cell infiltration, and thermal sensitivity following spinal cord injury in mice, Cellular Immunology, Volume 329, 2018, Pages 1-9, ISSN 0008-8749, https://doi.org/10.1016/j.cellimm.2018.02.016.
Hindocha, C., Freeman, T. P., Grabski, M., Stroud, J. B., Crudgington, H., Davies, A. C., Das, R. K., Lawn, W., Morgan, C. J. A., and Curran, H. V. (2018) Cannabidiol reverses attentional bias to cigarette cues in a human experimental model of tobacco withdrawal. Addiction, 113: 1696– 1705. https://doi.org/10.1111/add.14243.
Hurd, Y. L., Yoon, M., Manini, A. F., Hernandez, S., Olmedo, R., Ostman, M., & Jutras-Aswad, D. (2015). Early Phase in the Development of Cannabidiol as a Treatment for Addiction: Opioid Relapse Takes Initial Center Stage. Neurotherapeutics: the journal of the American Society for Experimental NeuroTherapeutics, 12(4), 807–815. https://doi.org/10.1007/s13311-015-0373-7. [4]
Morgan, C. J., Das, R. K., Joye, A., Curran, H. V., & Kamboj, S. K. (2013). Cannabidiol reduces cigarette consumption in tobacco smokers: preliminary findings. Addictive behaviors, 38(9), 2433–2436. https://doi.org/10.1016/j.addbeh.2013.03.011 [5]
Moran Hausman-Kedem, Shay Menascu, Uri Kramer, Efficacy of CBD-enriched medical cannabis for the treatment of refractory epilepsy in children and adolescents – An observational, longitudinal study, Brain and Development, Volume 40, Issue 7, 2018, Pages 544-551, ISSN 0387-7604, https://doi.org/10.1016/j.braindev.2018.03.013. [6]
Cheng, D., Spiro, A. S., Jenner, A. M., Garner, B., & Karl, T. (2014). Long-term cannabidiol treatment prevents the development of social recognition memory deficits in Alzheimer's disease transgenic mice. Journal of Alzheimer's disease: JAD, 42(4), 1383–1396. https://doi.org/10.3233/JAD-140921
Watt Georgia, Karl Tim, In vivo Evidence for Therapeutic Properties of Cannabidiol (CBD) for Alzheimer's Disease, Frontiers in Pharmacology, 8, 2017, 20, 10.3389/fphar.2017.00020.
Jerzy Zieba, Duncan Sinclair, Terri Sebree, Marcel Bonn-Miller, Donna Gutterman, Steven Siegel, Tim Karl,
Cannabidiol (CBD) reduces anxiety-related behavior in mice via an FMRP-independent mechanism, Pharmacology Biochemistry, and Behavior, Volume 181, 2019, Pages 93-100, ISSN 0091-3057, https://doi.org/10.1016/j.pbb.2019.05.002.
Oláh, A., Tóth, B. I., Borbíró, I., Sugawara, K., Szöllõsi, A. G., Czifra, G., Pál, B., Ambrus, L., Kloepper, J., Camera, E., Ludovici, M., Picardo, M., Voets, T., Zouboulis, C. C., Paus, R., & Bíró, T. (2014). Cannabidiol exerts sebostatic and antiinflammatory effects on human sebocytes. The Journal of clinical investigation, 124(9), 3713–3724. https://doi.org/10.1172/JCI64628. [11]
Sarker, S., Nahar, L. (2020). Cannabidiol (CBD) – An update. Trends in Phytochemical Research, 4(1), 1-2
Maghfour J, Rietcheck HR, Rundle CW, et al. An Observational Study of the Application of a Topical Cannabinoid Gel on Sensitive Dry Skin. Journal of Drugs in Dermatology: JDD. 2020 Dec;19(12):1204-1208. DOI: 10.36849/jdd.2020.5464. PMID: 33346512.