Does CBD Make You Sleepy?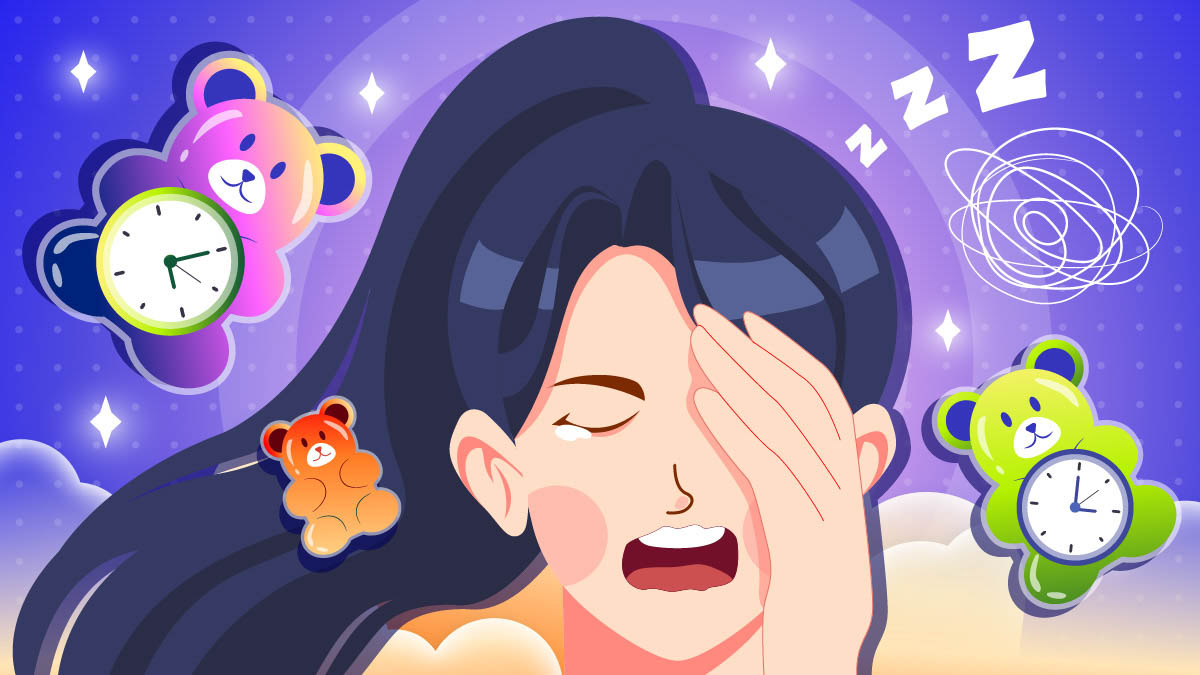 Some people feel sleepy after taking CBD. Does it mean that CBD oil makes you tired regardless of the conditions?
Not exactly.
CBD has a biphasic nature, meaning it may produce different effects depending on the dose.
For example, low doses of CBD can increase alertness, focus, and boost productivity. On the other hand, high doses lower blood pressure and can make you feel a little bit tired.
In this article, we explain how CBD affects your circadian rhythm, whether or not it makes you tired, and how to optimize your day with CBD products.
Does CBD Make You Tired?
CBD may produce a sense of relief and a pleasant jolt of positive energy. As a result, you may feel more relaxed, serene, and calm.
This, in turn, can make you feel a bit tired — especially when you take a large dose.
Some users report, "CBD makes me tired" and reach for CBD oil to improve sleep quality. Meanwhile, many other users use CBD for focus and energy because it reduces anxiety and helps them feel in the zone.
So, what's the effect of CBD on your energy levels? Does it make you tired or not?
Scientists are still trying to understand how CBD affects our inner clock through the plethora of pharmacological pathways, but its effect on the sleep-wake cycle depends on several factors, such as:
Dosage
Genetics
Lifestyle
The type of CBD oil you're taking
How Does CBD Make You Tired?
When you reach a certain dose, CBD oil may increase the levels of Gamma-Aminobutyric Acid (GABA) in the brain.
GABA is a neurotransmitter that has an inhibitory effect on the nervous system. GABA prevents it from overexcitement, taking care of the proper stress response and resistance to stimuli.
You're less likely to experience the fight-or-flight response and find it easier to achieve a calm state of mind with optimal GABA activity.
Another reason why CBD can make you tired is its effect on blood pressure. Studies have shown that CBD can reduce blood pressure in healthy individuals — both the resting pressure and under a stressful situation.
A drop in blood pressure slows down your breathing, making it easier to fall asleep. The higher the dose, the stronger the effect, so you may feel tired if you take it in the morning or afternoon.
Does CBD Make You Sleepy?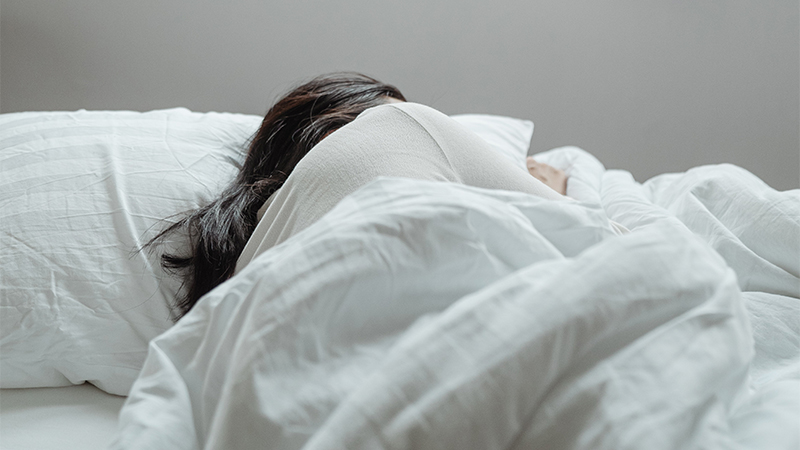 Although CBD can modulate your circadian rhythm, it's not a potent sleep aid on its own. You can use it throughout the day to regulate the biological processes such as energy metabolism, focus, and stress response, but it doesn't reduce sleep latency as much as THC.
Can You Use CBD for Sleep?
Although CBD isn't a sedative, it may reduce the roadblocks on your way to achieving deep, restorative sleep — including pain and anxiety.
When you're free from discomfort and no anxious thoughts are bothering you, it's easier to fall asleep and get through the night without waking up.
Full-spectrum CBD oils contain a natural range of cannabinoids and terpenes found in the hemp plant. These compounds evoke the entourage effect — a unique synergy that amplifies the therapeutic effects of the major cannabinoids (CBD and THC).
You can improve your sleep hygiene by including the following practices in your schedule:
Set a regular sleep and wake time
Lower your room temperature
Exercise regularly in the morning
Avoid working out before bed
No caffeine in the afternoon
Reduce the amount of time spent in front of the screen in the evenings
Can You Use CBD for Energy and Focus?
Yes, low to medium doses have been shown to support mental clarity and focus. It's not an energy boost like caffeine, but it's more of a subtle effect that sets the right gears into motion to support your productivity.
CBD affects a key neurotransmitter that makes you feel tired, adenosine. Its levels in the brain increase in the evening, so we begin to feel tired and ready to go to bed. Caffeine also works on adenosine, but its effects are more direct, resulting in mental stimulation.
Rather than blocking adenosine receptors, CBD's interaction through this network is more complex. Studies suggest that CBD helps to improve the efficiency of adenosine by acting on the CB2 receptors in the ECS.
Another mechanism through which CBD may help increase your energy is through the 5-TH1A serotonin receptor. CBD may enhance this receptor site's activation, leading to elevated mood and improved focus.
What Doses of CBD Make You Tired?
Finding your ideal CBD dosage can take some trial and error as people have different responses to CBD.
If you're planning to buy CBD for an underlying health condition, we recommend consulting your doctor so that they can advise you on the dosage and schedule for both CBD and your medications. Doing so will help you avoid negative interactions between CBD and your meds.
The exact effects of CBD on your energy depend on your weight, metabolism, and age, but it's believed that upwards of 50 mg can make a person feel deeply relaxed — on the verge of being tired.
If you take a large dose too quickly — before trying lower doses first — taking CBD may give you slight discomfort.
The good news is that you can't lethally overdose on CBD because cannabinoids don't interact with brain stem areas that control respiratory functions.
How Long Does it Take for CBD to Make You Sleepy?
If you take CBD oil, a high dose of CBD can make you feel tired in 15–30 minutes.
Oral products, such as gummies and capsules, come with a delayed onset, so they can kick in even after 40 minutes to 2 hours.
Vapes offer the fastest-acting effects; when you inhale CBD, it starts to work within 2–5 minutes.
How to Choose CBD Oil for Sleep
Type of CBD – there are three main types of CBD oil: full-spectrum, broad-spectrum, and isolate. Full-spectrum is the most effective for sleep because it evokes the entourage effect thanks to the presence of other cannabinoids and terpenes from hemp. If you want to benefit from this synergy but are afraid of taking any THC, opt for broad-spectrum extracts. Isolates are a good alternative if you're allergic to certain compounds from hemp. However, it doesn't leverage the entourage effect.
Potency – high-potency CBD oils deliver a stronger dose per serving. They're not only more likely to make you tired, but they're also more cost-effective in the long run.
Additional Ingredients – as mentioned earlier, CBD isn't a potent sleep aid alone. However, you can use certain terpenes and other natural remedies to enhance its sedating effects. Most CBD sleep formulas include melatonin (a natural sleep hormone) and lavender, which are known to reduce anxiety and improve sleep through aromatherapy.
Lab Results – the CBD market lacks regulation and standardization in terms of manufacturing quality and purity requirements. If you're looking for a safe and effective product, choose brands that provide up-to-date certificates of analysis from a third-party laboratory. Those lab reports list the potency of CBD and show results for common contaminants, such as pesticides, heavy metals, mycotoxins, and solvents.
Do CBD Gummies Make You Sleepy Too?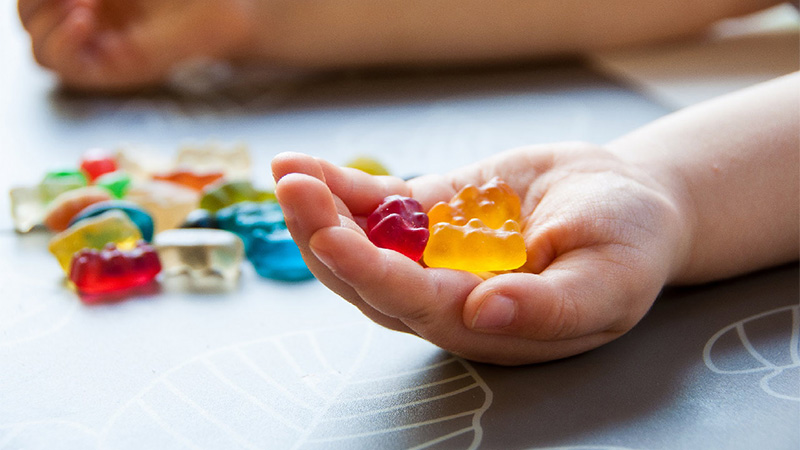 Yes, if you take enough CBD gummies for sleep, you may feel sleepy and tired. Since the CBD from gummies needs to pass through the digestive system first, it comes with delayed effects. You may start to feel tired after about 40 minutes of taking your dose. CBD is gradually released from the liver into the bloodstream, so the effects are extended in time — lasting up to 10 hours. Of course, you won't feel tired for the entire duration; the peak effects of CBD gummies have been observed after 2–3 hours.
Does CBD Cause Drowsiness?
Some users may feel drowsy after taking a strong dose of CBD oil, especially for the first time. If your body isn't used to the effects of CBD, you may experience discomforts, such as sleepiness and drowsiness. If you feel lightheaded after using CBD, drink some black tea or coffee to level your blood pressure and reduce tiredness through adenosine receptors.
Is CBD Psychoactive?
Unlike the other major cannabinoid, THC (tetrahydrocannabinol), CBD isn't intoxicating.
While these two compounds share similar molecular makeup, the THC molecule is built in a way that enables it to bind to the CB1 receptors in the endocannabinoid system (ECS). These receptors are found in the brain, and among many functions, they're responsible for regulating the brain's pleasure-reward circuit. Upon activation, CB1 signals an increased concentration of anandamide (our "bliss" molecule), producing a high feeling.
CBD, on the other hand, doesn't directly bind to the CB1 receptor. Instead, it slows down the breakdown of our two endocannabinoids — anandamide and 2-AG. Anandamide is almost identical to THC, and its name "ananda" means "bliss" in the ancient Hindu language.
Rather than activating the same receptor as THC, CBD may help in forming a positive response by improving the concentrations of endocannabinoids in the body and improving their ability to bind to receptors.
Although full-spectrum CBD oils contain 0.3% THC (or less), this isn't enough to produce even the slightest feeling of being high.
Psychoactive vs. Intoxicating
There's a major difference between the terms' psychoactive' and 'intoxicating'. Although CBD won't get you high, it is, by all means, psychoactive.
After all, CBD affects your mood and stress response, so it acts on the mind and behavior — fitting the definition of 'psychoactive' like a glove.
This isn't anything to be afraid of. Even your laundry machine can be psychoactive (does it make you nervous when it stops working? Well, it's a psychoactive experience). And so can be your friends, family, and all other things that affect your mind.
The Side Effects of CBD
CBD is generally safe and well-tolerated — even in doses as high as 1,500 mg daily for several weeks. But as with any health supplement, there are some side effects involved if you take too much CBD oil at once.
The most common reactions to high doses of CBD oil include:
Dry mouth
Dizziness
Changes in appetite
Diarrhea
Wrapping It Up: Does CBD Make You Tired?
Whether CBD makes you feel tired or more focused depends on the dosage. Some people use low doses in the morning to boost productivity, while others turn to higher doses for their tranquilizing effects.
The main conclusion is that CBD's diverse profile may produce different results for individuals. On top of consuming larger doses of CBD, we suggest that you look for a product with additional sleep aids in the formula, such as melatonin or lavender.
Full-spectrum products are usually more effective for sleep because they contain other supportive compounds, such as cannabinoids and terpenes.
Try different doses of CBD and see how they affect you. From there, you can adjust the dosage to reach the optimal amount of CBD for the day — so that it doesn't make you tired — and before bed.
Always talk to your doctor before buying CBD if you have an underlying health condition. This will help reduce the risk of side effects from CBD-drug interactions.
Sources:
Atakan Z. (2012). Cannabis, a complex plant: different compounds and different effects on individuals. Therapeutic advances in psychopharmacology, 2(6), 241–254. https://doi.org/10.1177/2045125312457586 [1]
Deutsch D. G. (2016). A Personal Retrospective: Elevating Anandamide (AEA) by Targeting Fatty Acid Amide Hydrolase (FAAH) and the Fatty Acid Binding Proteins (FABPs). Frontiers in pharmacology, 7, 370. https://doi.org/10.3389/fphar.2016.00370 [2]
Pretzsch, C. M., Freyberg, J., Voinescu, B., Lythgoe, D., Horder, J., Mendez, M. A., Wichers, R., Ajram, L., Ivin, G., Heasman, M., Edden, R., Williams, S., Murphy, D., Daly, E., & McAlonan, G. M. (2019). Effects of cannabidiol on brain excitation and inhibition systems; a randomised placebo-controlled single dose trial during magnetic resonance spectroscopy in adults with and without autism spectrum disorder. Neuropsychopharmacology : official publication of the American College of Neuropsychopharmacology, 44(8), 1398–1405. https://doi.org/10.1038/s41386-019-0333-8 [3]
Jadoon, K. A., Tan, G. D., & O'Sullivan, S. E. (2017). A single dose of cannabidiol reduces blood pressure in healthy volunteers in a randomized crossover study. JCI insight, 2(12), e93760. https://doi.org/10.1172/jci.insight.93760
Shannon, S., Lewis, N., Lee, H., & Hughes, S. (2019). Cannabidiol in Anxiety and Sleep: A Large Case Series. The Permanente journal, 23, 18–041. https://doi.org/10.7812/TPP/18-041 [5]
Murillo-Rodríguez, E., Sarro-Ramírez, A., Sánchez, D., Mijangos-Moreno, S., Tejeda-Padrón, A., Poot-Aké, A., Guzmán, K., Pacheco-Pantoja, E., & Arias-Carrión, O. (2014). Potential effects of cannabidiol as a wake-promoting agent. Current neuropharmacology, 12(3), 269–272. https://doi.org/10.2174/1570159X11666131204235805
Martínez-Aguirre, C., Carmona-Cruz, F., Velasco, A. L., Velasco, F., Aguado-Carrillo, G., Cuéllar-Herrera, M., & Rocha, L. (2020). Cannabidiol Acts at 5-HT1A Receptors in the Human Brain: Relevance for Treating Temporal Lobe Epilepsy. Frontiers in behavioral neuroscience, 14, 611278. https://doi.org/10.3389/fnbeh.2020.611278 [7]