How Long Does It Take for Edibles to Kick In & Last in the Body?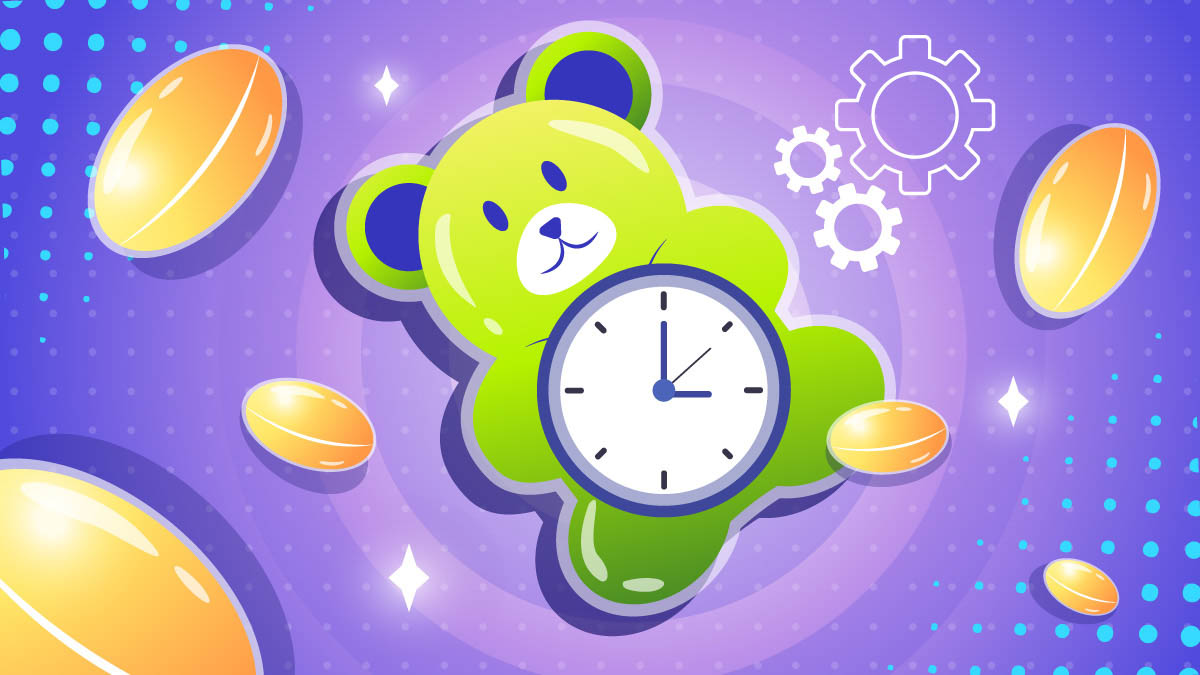 CBD edibles take a different route than CBD oil. The oil absorbs directly into your bloodstream through the mucous membranes in your mouth, while CBD edibles are first metabolized by the liver.
That's why they need more time to kick in.
For those who don't know, CBD edibles are just hemp-infused food that you can find in various forms, including gummies, brownies, honey sticks, protein bars, and more.
They're much like the weed gummies — but without the high.
CBD edibles have been found to help with a lot of ailments, such as anxiety, pain, and sleep problems. They're also easier to take and more enjoyable than oils.
Yes, they do need more time to kick in, but their effects also last longer (up to 12 hours).
Today we'll cover the topic of CBD metabolism from roots to branches.
Why Are People using CBD Edibles?
As mentioned above, CBD edibles are a fun way to deliver the health benefits of CBD. If you like that relaxed state of mind and physical relaxation but you're not a fan of the earthy taste of oils, edibles may be your go-to form of CBD.
Even though the research on the clinical benefits of CBD is in the early stage, there are hundreds of studies describing its high therapeutic versatility and excellent safety profile.
The best part about edibles is that they're the healthiest form of consumption. We need food to thrive, so it's natural for us to consume it, unlike with vapes or other novel products.
CBD edibles are also affordable, easy to dose, and very accessible. If you take them in the right dosage, they don't come with any side effects, so it's no wonder why they have become so popular recently.
Why do Edibles Have a Different Onset Time?
No two people are the same — and this applies to our body chemistry too.
That's why types of CBD take time to kick in the body differently depending on how people consume it. In terms of taking CBD edibles, some may notice the effects after about 30 minutes, while others will even need 2 hours to feel the difference.
Since edibles are broken down in your digestive system, the way they are processed depends on your individual metabolic rate.
But generally speaking, CBD edibles usually need 30–90 minutes to kick in. That's longer than with oils, which start acting within 15–30 minutes; or with vapes, where a person usually feels the effects after 5 minutes.
On a positive note, you can count on a longer duration. Since CBD is gradually released into the bloodstream, the effects are stretched in time — acting up to 12 hours.
Factors that Impact the Time it Takes for CBD Edibles to Kick In
There are several factors that can affect the time it takes for CBD edibles to kick in. Most of them are related to your lifestyle, including:
Diet and eating habits
Gender
Metabolism
Tolerance to cannabis
Weight
How Long Does It Take for CBD Edibles to Kick In?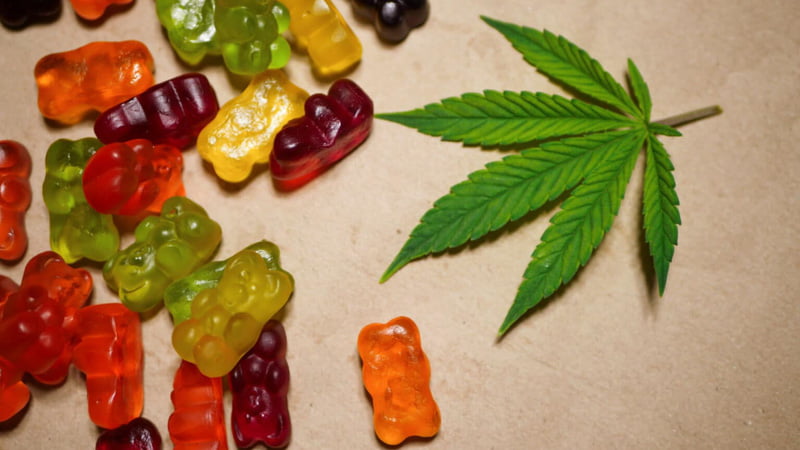 Edibles typically take around 30 minutes to kick in. Sometimes, the onset may be delayed by another 30 minutes, up to 2 hours if you have a slow metabolic rate.
If your product contains fats, it may need less time to start acting because fats improve the absorption rate of cannabinoids. For a faster-acting effect, you may consider taking your CBD edibles on an empty stomach. This way, your body will metabolize it faster than it would if CBD competed with other compounds from your food.
The type of CBD edibles will determine their onset too.
For example, CBD gum, lozenges, and lollipops kick in faster because some of their CBD content is absorbed sublingually when you're sucking on them. Sublingual absorption bypasses the first-pass metabolism in the liver, ensuring faster effects.
On the other hand, chewable edibles, such as gummies, cookies, or chocolates, may have a delayed onset because the absorption first happens in the digestive tract, from where the active ingredients enter the bloodstream and travel to the liver.
In the liver, CBD is metabolized, released back into the bloodstream, and sent to the brain — which is when edibles start to kick in.
How Long Do CBD Edibles Last?
The average duration of edibles is around 5–6 hours. That being said, it's also the potency of CBD and your metabolism that decide how long the effects of CBD will stay with you. The products that are chewed will surely last longer than those that you absorb sublingually. In extreme cases, CBD edibles can last up to 12 hours.
Peak blood levels can occur around three hours after administration. This is where you should feel most relaxed and calm. However, it may not be possible to estimate how long the effects of edibles will last. A 2016 study that analyzed over a hundred thousand tweets about cannabis edibles concluded that an "unpredictable" duration was one of the most common side effects listed.
Common Forms of CBD Edibles
There are many forms of CBD edibles available, with new products coming onto the market every month. Common types of CBD-infused food include:
Candy and sweets: gummies, lozenges, lollipops, hard candy, truffles, chocolate, fruit bars, marshmallows, chewing gum
Baked goods: cookies, biscuits, waffles, and brownies
Beverages: tea, iced tea, soda, energy drinks and shots, coffee, beer, wine, and cocktails
How Much CBD Should You Take?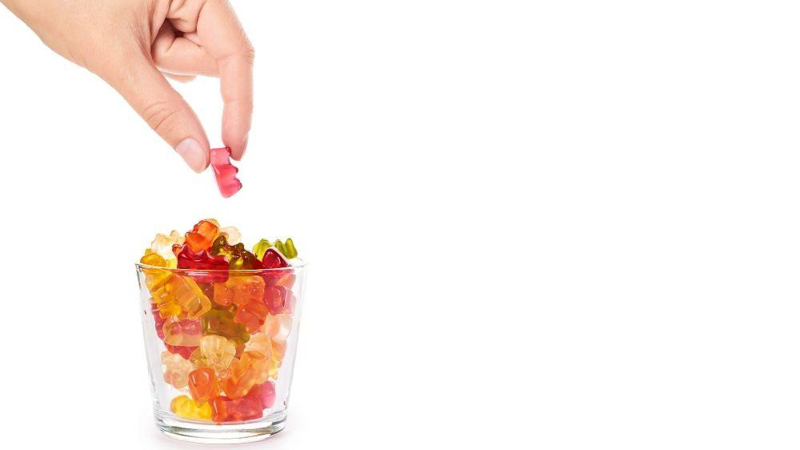 Most CBD edibles describe the amount of CBD per serving on their labels. For instance, a single gummy usually contains 10 or 25 milligrams of CBD.
In some cases, the manufacturer lists the CBD content of the entire package. Using the gummy example, a jar may contain 300 mg of CBD. If the package contains 30 gummies, that's 10 mg per gummy. This can be quite confusing with products like cookies or chocolate bars.
CBD Dosing (By Weight)
Since CBD is non-intoxicating, it won't trigger mental discomfort such as anxiety or paranoia, unlike THC. Nevertheless, high doses may cause mild side effects, such as fatigue or changes in appetite.
The best way to start your journey with CBD edibles is to go with a small dose first, such as 5 or 10 mg, and work your way up to a dose that produces the desired effects.
A good CBD gummy dosage range for beginners is 1–5 mg of CBD for every 10 pounds of body weight.
Since CBD can make you sleepy, it's best to take lower doses in the morning and save higher doses for the evening until you understand how it affects your circadian rhythm.
Benefits of CBD Edibles
CBD-infused edibles are safer than smoking or vaping. Here's why you may want to consider becoming a CBD foodie:
No respiratory risk. When you smoke or vape CBD, this can irritate your lungs, not to mention that smoking also delivers harmful carcinogens to your body. Smoking can cause lung inflammation and bronchitis. Edibles don't involve combustion and inhaling the smoke, so it doesn't pose the same threat.
Longer duration. Although vaping provides the highest bioavailability of all consumption methods, its effects are relatively short-lived. In contrast, CBD edibles can last for 8 to 12 hours, which makes them better for patients who want long-acting relief for their symptoms.
Discreet. Much like any food, you can take CBD edibles without turning heads. Edibles don't produce the pungent aromas associated with cannabis smoke. This may be helpful if you use CBD for medical purposes, and need to take your dose while at work.
Accessible. You can easily make CBD edibles at home. Making your own vapes and CBD oils is more difficult and time-consuming, giving CBD an upper hand in this clash.
Potential Side Effects of CBD Edibles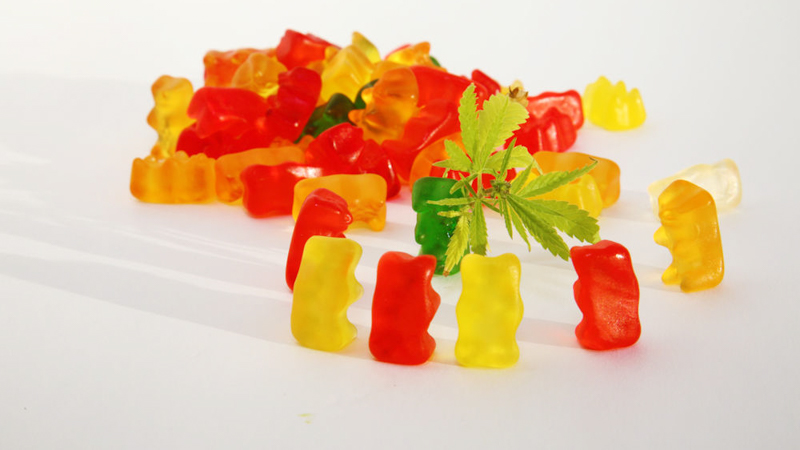 According to a 2017 review of the safety profile of CBD, large doses can lead to the following side effects:
Dry mouth
Fatigue
Changes in appetite
Changes in weight
Diarrhea
CBD is also a potent inhibitor of CYP450, which is a group of enzymes that metabolize around 60% of pharmaceutical medications. Taking CBD with certain drugs can alter their effects by compromising the liver's ability to break them down. This can lead to either a subtherapeutic effect or drug toxicity depending on the type of interaction.
If you take any medications and are concerned that CBD could interact with them, consult your doctor before buying CBD edibles online. A qualified medical professional will help you gauge the right timing for both substances to avoid negative interactions.
Key Takeaways on the Metabolism of CBD Edibles
CBD edibles are a fun and convenient way to experience the benefits of CBD.
When you take edibles, you don't need to worry about washing your mouth with lots of water to get rid of that earthy aftertaste that comes with taking CBD oil.
CBD edibles are also more discreet and easier to dose because you know exactly how much CBD is in each serving.
Although they need more time to kick in than CBD oils or vapes, these effects are extended in time, lasting up to 12 hours. If you're looking for long-lasting relief from your symptoms — or you just want to take CBD once or twice a day — edibles are the best bet.
Just make sure to consult a doctor before buying CBD edibles if you take any medications. A consultation with a holistic practitioner will help you with finding the right dose and avoid CBD-drug interactions.
Do you take CBD edibles? How long does it take for you to notice the first effects? Leave us a comment below!
References:

1. Iffland, K., & Grotenhermen, F. (2017). An Update on Safety and Side Effects of Cannabidiol: A Review of Clinical Data and Relevant Animal Studies. Cannabis and cannabinoid research, 2(1), 139–154. (1)
Related: How Long Are Edibles Good For?