How to Add Flavor CBD Oil and Make It Taste Better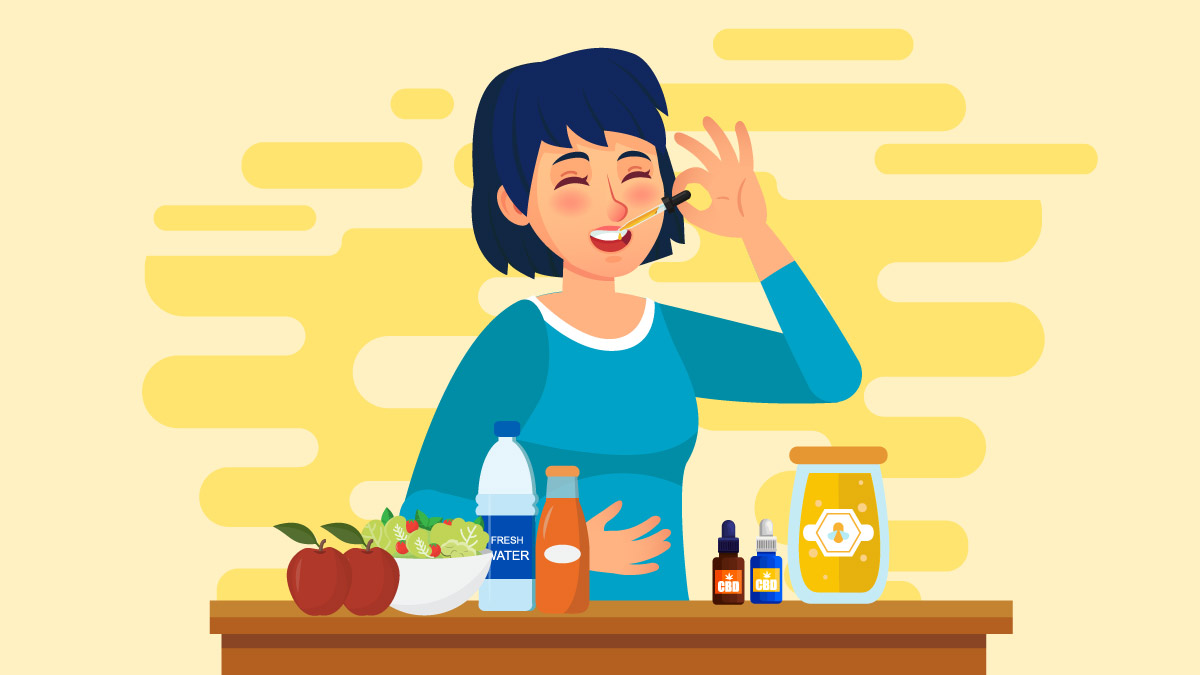 While many people don't have problems with taking unflavored CBD oil, there are probably as many folks out there for whom the taste of such oils is off-putting.
And they're not to blame for their taste buds.
Let's face it, the natural taste of CBD oil is neutral at best. We can count the people who have liked it using just one hand, so it's understandable that the market has created plenty of options that make the flavor more palatable.
Whether you prefer refreshing minty notes or looking for a delicious fruit punch, there are a few ways you can customize the flavor of CBD oil.
Today, we explore the most useful life hacks for flavoring CBD oils with natural ingredients.
But first, let's define the taste of CBD oil.
What Does CBD Oil Taste Like?
CBD oil also referred to as tincture, is a liquid hemp extract with high levels of CBD (cannabidiol). Although CBD is the main active ingredient in CBD oil, it's not the only one that can offer health benefits.
Other compounds present in full-spectrum CBD oil include terpenes, flavonoids, and supportive cannabinoids (including traces of THC). Terpenes, in particular, are responsible for the aromas and flavors of CBD oil.
But, full-spectrum CBD oils also contain essential fatty acids, plant waxes, and some chlorophyll — all of which affect the flavor profile of these supplements.
CBD oil has a nutty, earthy, and grassy smell. Depending on the type of processing, some notes may be more noticeable than others, but this is a general idea of what CBD oil tastes like. Poorly manufactured CBD oils can have a bitter or harsh taste. This can indicate either contamination or improper filtration.
Why Does CBD Oil Taste Weird?
CBD alone is flavorless, so if you buy CBD isolate and take it in the form of oil, you won't feel anything but an oily film on your palate.
With full-spectrum and broad-spectrum CBD extracts, it's a different story. These types of CBD oil contain an array of naturally occurring hemp compounds, such as terpenes, waxes, and chlorophyll. As you may guess, they play a big role in determining the flavor of CBD oil.
Terpenes are volatile molecules that occur in every plant on this planet. Aside from contributing to the therapeutic effects of CBD oil alongside cannabinoids, terpenes provide hemp extracts with their unique flavor.
Depending on the terpene content of your CBD oil, as well as on the ratio between particular terpenes, the product may have a more grassy, earthy, or nutty taste. Sometimes, you may even pick out notes of hops or floral undertones because of the chemical profile of a particular strain.
Waxes and chlorophyll are responsible for the botanical vibe of CBD oils. Raw CBD oils tend to have more chlorophyll than fully decarboxylated and filtered extracts.
When you swallow CBD oil, it may leave a harsh aftertaste on your palate and leave a bit of an unpleasant feeling on the throat. If this happens to you, the best way to get rid of that sensation is to drink some juice or plenty of water.
 Can You Change the Flavor of CBD Oil?
Absolutely!
Whether it involves adding CBD oil to your favorite drinks or playing with different terpenes to change its flavor profile, there are several ways you can make the experience more enjoyable.
We cover them all in the next section.
Top 10 Ways to Flavor CBD Oil and Make It Taste Better
1. Buy High-quality CBD Oil
As mentioned earlier, CBD oil has a naturally bitter taste. However, if you find the taste of CBD oil particularly unpleasant, there can be another factor to blame — quality.
Hemp is naturally high in chlorophyll, and this green substance also has a strong taste. If you don't winterize full-spectrum or broad-spectrum CBD oil properly, it might contain excessive levels of chlorophyll.
You can easily tell if your CBD oil contains a high level of chlorophyll by taking a look at your bottle. If the extract looks greener than it should, chances are it hasn't been filtered the right way. Chlorophyll doesn't taste anything like high-quality CBD oil.
Chlorophyll tastes just like you took a solid bite into a green leaf. Humans usually dislike this sensation.
CBD brands that provide lab results and total transparency are more likely to sell properly-filtered and high-quality CBD oils. While this plant compound isn't dangerous when consumed orally, it's certainly one of the least pleasant things to ingest.
2. Have a Sour Drink at Hand
If you really can't put up with the taste of CBD oil, keep an acidic drink, like a natural energy drink or oral juice, at hand. Take it the moment you swallow CBD oil, but remember there will be consequences if you try to mask the taste of hemp this way.
When you avoid the taste of CBD oil, you'll also lose the chance to hold it under your tongue. Administering CBD oil under the tongue increases its bioavailability, translating into more noticeable results.
Try a compromise by holding your CBD oil in the mouth for as long as possible before swallowing it down with your favorite drink.
3. Brush Your Teeth
While this isn't a way to flavor your CBD oil, brushing your teeth before you take it might save you some bad feelings. Not only does the toothpaste mask that CBD flavor you don't want to feel, but a clean mouth doesn't absorb so much oil. If you haven't brushed your teeth in the morning, the hemp oil might bing to the thin film that coats your mouth. Every time you swallow or breathe, the taste of hemp will return to you.
4. Mix CBD Into Beverages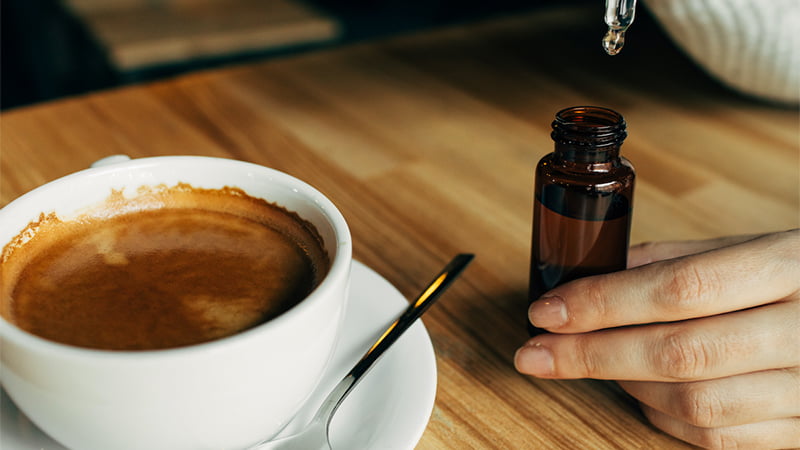 CBD oil pairs well with coffee, tea, and other hot drinks. Most cold drinks, on the other hand, won't work well with CBD extracts — except for smoothies, which go great with hemp because they contain essential fatty acids that improve CBD's absorption. If you take a CBD-infused hot drink with you, remember that it will layer out from water-based compounds when they cool, hence the importance of drinking your CBD-infused beverages hot.
5. Combine CBD Oil with Food
In its oily form, CBD absorbs almost instantly into any type of edibles that you make. You can also drizzle a little bit of hemp oil over your salad to make the taste more complex. So can you put CBD oil in food? Of course, you can also bake CBD or use other processing techniques to make the flavor more enjoyable. However, when cooking with CBD, keep in mind not to use too high temperatures, as excessive heat can cause CBD, other cannabinoids, and terpenes to break down.
6. Flavor CBD Oil with Terpenes
Flavored CBD oil, with chocolate, peppermint, or citrus fruits, derives from terpenes.
Yes, you've read that right — you don't need to use synthetic flavorings and aromas to flavor CBD oil. You can use natural ingredients to achieve the same effect with a better result for your health.
Each cannabis strain comes with a unique bouquet of terpenes. That's why some strains smell more like lemon, while others resemble grapes or pine trees. Certain cannabis strains have stronger flavor profiles than others, which makes them perfect for terpene extraction.
Once extracted from the strain, these terpenes are reintroduced to CBD oil in order to infuse the product with natural aromas and flavors. On top of that, the presence of terpenes enhances the entourage effect, which is a much desired mechanism among cannabis users.
7. Add Something Else Under the Tongue
Sublingual consumption increases the potency of your CBD oil because the extract travels directly into the bloodstream, bypassing the first-pass metabolism in the liver. When you take potent CBD oil under the tongue, it absorbs through the capillaries in your mouth when you hold it there for about 60 seconds.
However, if the flavor of CBD oil is off-putting to you, this simple trick might be too much to handle.
Instead of taking CBD oil under the tongue alone, try taking something sweet or sour under the tongue to mask the unpleasant place. Examples include raw honey, organic chocolate, fruit-infused lozenges, etc. Long story short — anything that will take your mind off the CBD oil under your tongue.
8. Use Essential Oils
Using essential oils is similar to flavoring CBD oil with terpenes because it uses similar terpenes that are present in cannabis strains. Although essential oils typically have a bitter taste, thinning them down and using them as a natural flavoring can improve the taste of your CBD oil. Add a few drops of citrus and mint flavor oils, such as lemon oil, peppermint, and orange oil.
Your taste and smell senses are controlled by the same type of receptors, so the essential oil smell will help your taste buds pick out the stronger notes and ignore the hempy aftertaste.
9. Take CBD Capsules
Capsules are the best way to enjoy CBD oil without an odor and flavor. Taking CBD in capsule form also offer a fixed dose of CBD per serving, so if your daily dose is 10 mg and your favorite brand makes exactly the same potency, you simply take 1 capsule and you're good to go. However, in the case of less obvious dosages, capsules turn out less comfortable.
But then again, sacrifices are part of our life, so if you want a flavorless option, you'll need to accept the fact that the bioavailability of CBD capsules is lower and dosing may not be as accurate as we wish in certain scenarios.
The effects will also need more time to kick in because CBD capsules are processed in the digestive system before they can be released into the bloodstream
10. Try CBD Isolate
CBD isolate is a better option than capsules if you're looking for a flavorless CBD product but still want to benefit from sublingual consumption. These CBD isolate products are available in the same formats as full-spectrum and broad-spectrum CBD extracts.
However, when you take an isolate-based CBD oil, you won't benefit from the entourage effect because there are no other compounds in the product that could synergistically interact with CBD.
Final Thoughts on How to Flavor CBD Oil
While the natural flavor of CBD oil might not be your favorite, there are always ways to improve your experience.
Enhancing your CBD oil with botanical terpenes is one of the best ways to flavor CBD extracts because it also leverages the whole-plant synergy in cannabis extracts.
However, there are also other methods for masking the taste of CBD oil, such as taking it with a chaser, using essential oils, or infusing CBD into food and drinks.
Full-spectrum CBD oils tend to have the strongest flavor, as they reflect the original chemical profile of the plant. If the oil is unfiltered, it may also contain high levels of chlorophyll, further deteriorating the product's taste.
Always check the ingredients to see if the additional flavorings in your CBD oil are derived from natural sources, as some brands may use artificial flavorings. Reading the label and checking for third-party lab reports is paramount for making a well-informed decision.
How do you flavor your CBD oils? Or are you one of those brave people who take full-spectrum CBD without blinking an eye? Share your thoughts in the comment section!