Joy Organics Review & Coupon Code (2023 Update)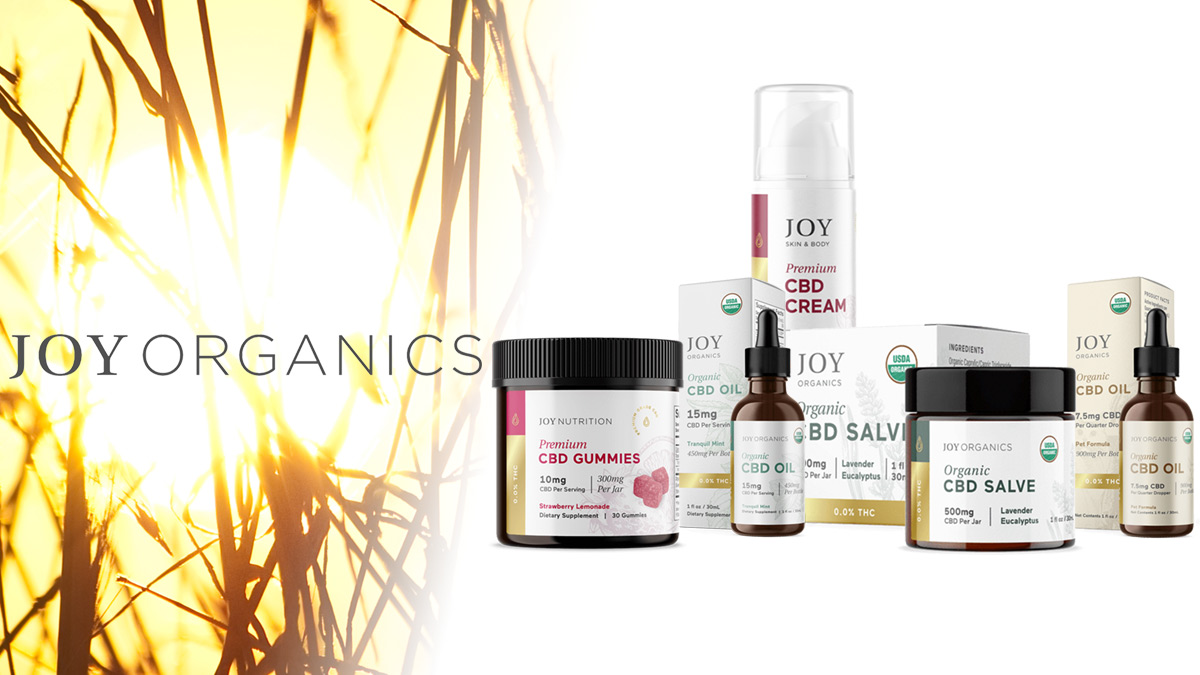 When you shop for CBD online, you're usually flooded with a lot of different brands that want you to try their products. While CBD offers a wide range of health benefits, not all companies deliver the right quality so that users can experience the full therapeutic potential of cannabidiol.
With so many brands out there, we'd like to help you separate the gold from the tombac.
Joy Organics is one of the most popular CBD brands these days. It has a large number of super-positive reviews and is praised for excellent customer service.
In our review of Joy Organics, we shed light on the company's product range, the pros and cons, and possible alternative options.
Joy Organics: A Brief Overview of the Company
Pros
Cons

USDA-Certified Organic
Full-Spectrum Products
Free Shipping & Returns

No international shipping
A little bit expensive for the quantity
Capsules and balms aren't vegan
Some customers report lower efficacy over time
About Joy Organics
Joy Organics was founded in 2017 by a woman named Joy Smith and her family. After she experienced the benefits of CBD for sleep issues and pain, she became passionate about finding products that really do their job and eventually started her own brand.
Today, Joy Organics offers a range of full-spectrum and broad-spectrum CBD extracts in various forms. These products are certified-organic and third-party tested for potency and purity.
Quality & Transparency
Joy Organics gives you insight into its entire growing process on its website. That's a great thing because it helps those interested in knowing the quality of their source of CBD.
Although Joy Organics doesn't specify where the hemp is grown — we only know it's in the United States — the plants are certified organic by the U.S. Department of Agriculture (USDA).
Warning Letters & Lawsuits
So far, Joy Organics hasn't received any warning letters from the U.S. Food and Drug Administration (FDA). The FDA started issuing warning letters in 2015 to companies that violate its compliance rules regarding CBD products. If a company has a clean slate with the FDA, it hasn't been caught making health claims or marketing its products as health supplements.
Joy Organics isn't facing any lawsuits at the moment. The company is rated A+ on Better Business Bureau, with only one complaint from a customer in the last 3 years.
However, in 2018, the Joy Organics Orange Tincture was found to contain a fungicide commonly used on oranges during independent testing conducted by Remedy Review, a CBD watchdog site. Joy Organics recalled the product immediately after this and stepped up its lab-testing procedures to verify the product quality and safety.
Customer Service
Customers praise Joy Organics not only for the quality of its products but also for its customer service and money-back guarantee. Many reviewers mention prompt delivery and easy returns if they weren't satisfied with the products.
Pricing
The company sells different products, with prices varying between $20 and $100. When you consider the quantity of CBD for this price, it may seem a little bit expensive compared to other brands that offer high-quality CBD products at an affordable price. Fortunately, Joy Organics offers special discounts for veterans, first responders, medical personnel, teachers, and those with lower incomes.
Joy Organics Product Range
Joy Organics CBD Tinctures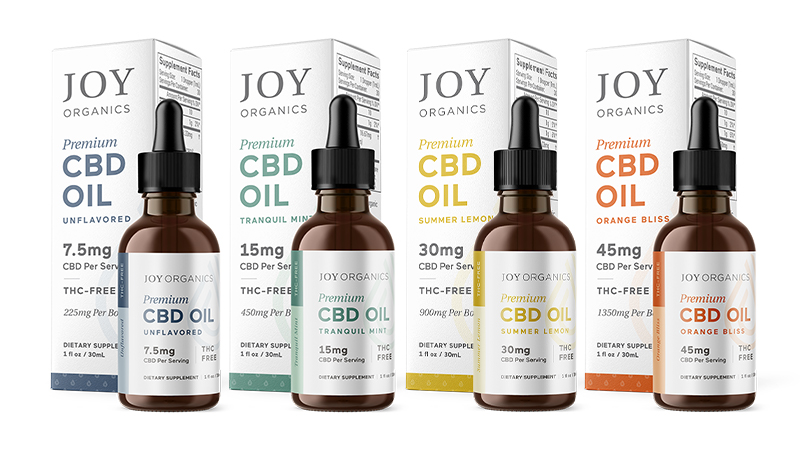 | | |
| --- | --- |
| Type of CBD | Full Spectrum, Broad Spectrum |
| CBD Potency | 450 mg – 2250 mg |
| Flavors | Fresh Lime, Tranquil Mint, Orange Bliss, Summer Lemon, Tropical Sunrise, Unflavored |
| Formulas | CBD, CBD+THC |
When you browse through Joy Organics' CBD tinctures, you can choose from a broad range of flavors and potencies. The oil contains from 450 mg up to 2250 mg of full-spectrum or broad-spectrum CBD.
Each variant is infused with organic MCT oil, organic stevia, natural flavors, and essential oils. According to Joy Organics, users should start with 1 ml of oil per day.
Consumers typically choose the Tranquil Mint and Fresh Lime flavors due to their refreshing taste. The Fresh Lime CBD oil is also available with additional THC to boost the entourage effect.
Joy Organics CBD Capsules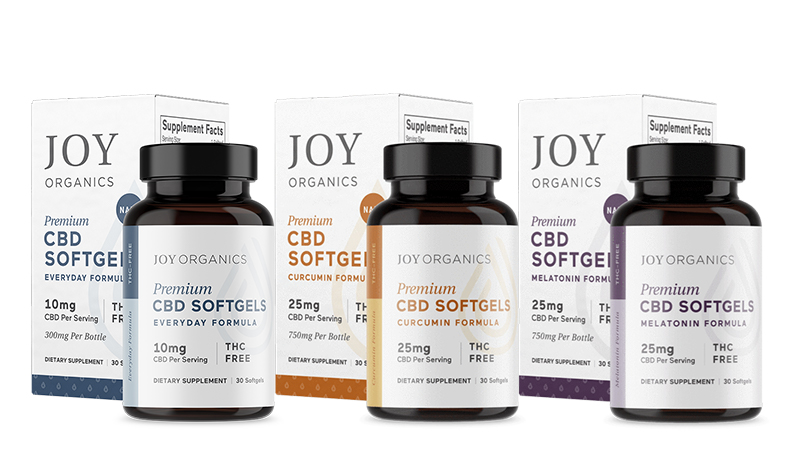 | | |
| --- | --- |
| Type of CBD | Broad Spectrum |
| Potency | 10 mg – 25 mg |
| Formulas | Classic, Sleep, Immune Support |
Joy Organics offers three softgels options:
Classic CBD Softgels
Softgels with Curcumin for Immune Support
Softgels with Melatonin & CBN for Sleep
The company uses nanotechnology to improve the absorption rate of its capsules. In fact, it even claims that the capsules are more bioavailable than oils. However, this claim is difficult to verify since there are no long-term studies on the efficacy of nanotechnology in CBD products.
Each softgel contains 25 mg of CBD, with 30 softgels in the jar. The regular capsules also have a 10 mg option.
Joy Organics CBD Gummies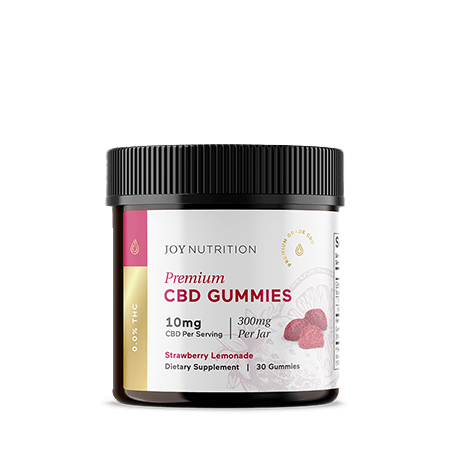 | | |
| --- | --- |
| Type of CBD | Broad Spectrum |
| CBD Potency | 10 mg |
| Flavors | Strawberry Lemonade, Green Apple |
The CBD gummies sold by Joy Organics are available in only one variant, containing 10 mg of broad-spectrum CBD per gummies. You can choose between two flavors: Strawberry Lemonade and Green Apple, both of which are mouthwatering due to organic sugar, tapioca syrup, and natural flavors.
Joy Organics CBD Topicals
Organic CBD Salve
| | |
| --- | --- |
| Type of CBD | Broad Spectrum |
| CBD Potency | 250 mg – 500 mg |
The Organic CBD Salve contains 250 mg or 500 mg of broad-spectrum CBD depending on the selected option. It is unscented and infused with Shea Butter and Jojoba Oil for better absorption. It can be an ideal addition to your gym bag, but you can actually store it anywhere in a cool, dry place.
The salve is also available in a portable stick that has been formulated with travelers and busy people in mind.
CBD Bath Bombs
| | |
| --- | --- |
| Type of CBD | Broad Spectrum |
| CBD Potency | 25 mg per bath bomb |
| Scents | Lavender |
The Joy Organics CBD bath bombs are a decent addition to a relaxing evening when you spend some me-time in the bath. With 25 mg of CBD from certified-organic hemp and a lavender extract, this product offers a natural way to unwind and wash the stress away. You can buy it in packages of four.
CBD Cream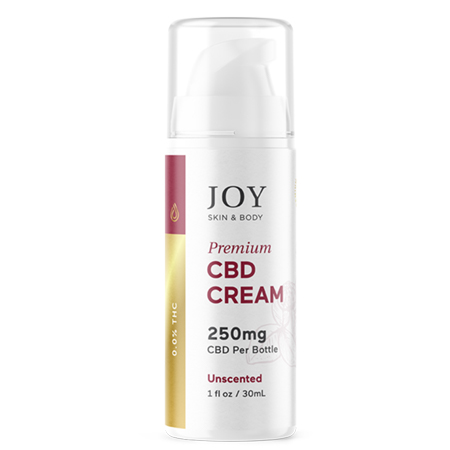 | | |
| --- | --- |
| Type of CBD | Broad Spectrum |
| CBD Potency | 250 mg – 400 mg |
| Formula | Classic, Sports |
If you're looking for a topical formula that will deliver a whole range of phytonutrients along with a decent dose of CBD, this CBD cream should meet your expectations. It features 250 mg of CBD, organic olive oil, and aloe vera to speed up regeneration and help ease localized pain.
Joy Organics also offers a Sports version of this cream, infused with 400 mg of broad-spectrum CBD. It's a better option if you're dealing with more severe discomfort.
Joy Organics CBD Energy Drinks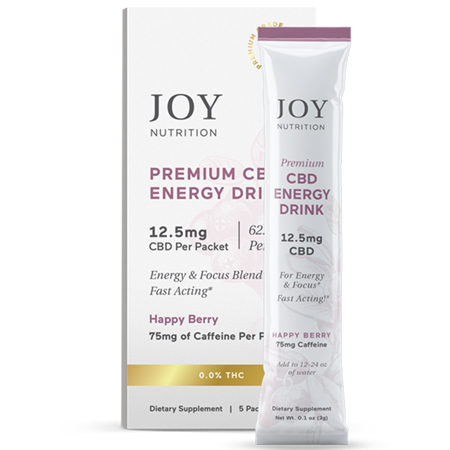 | | |
| --- | --- |
| Type of CBD | Broad Spectrum |
| CBD Potency | 12.5 mg per drink |
| Flavors | Happy Berry |
Here's a product that can add a kick of energy during your busy schedule. Forget your average energy drinks that are filled with garbage; this drink is infused with top-notch natural ingredients. There are 5 portable packs in the container; each pack contains 25 mg of CBD and 75 mg of caffeine that provides a balance boost of energy without jitters.
Joy Organics CBD Pet Products
Joy Organics caters to pet parents with three different forms of CBD: pet oil, dog treats, and balm.
CBD Pet Oil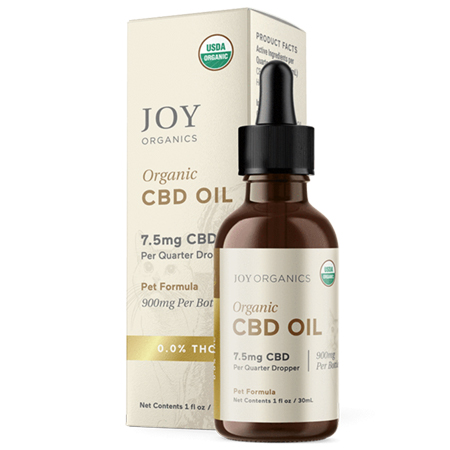 | | |
| --- | --- |
| Type of CBD | Broad Spectrum |
| CBD Potency | 450 mg – 900 mg |
The Premium CBD Pet Oil contains broad-spectrum CBD in two strengths: 450 mg and 900 mg of CBD. This product is meant to help your four-legged friend maintain homeostasis and live a happy life full of positive energy. With no THC at all, you can safely give it to your dog as a natural mood enhancer. Altogether, a quarter of a drop contains 3.75 mg of CBD. If you have a larger pet, you can up that dose to a full dropper (or a half). Some dogs may dislike the natural taste of hemp oil, so you can mix it with your pet's food to mask the earthy notes.
CBD Pet Treats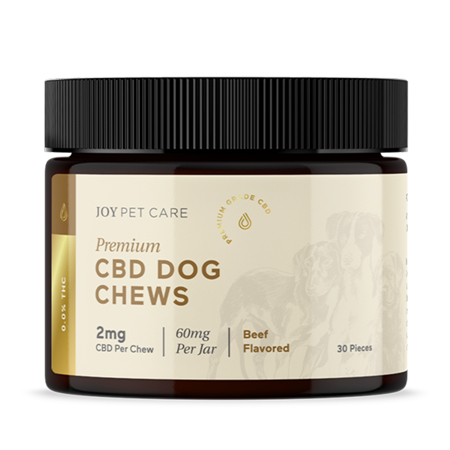 | | |
| --- | --- |
| Type of CBD | Broad Spectrum |
| CBD Potency | 2 mg per treat |
| Flavors | Beef |
The Joy Organics CBD Dog Treats ensure a stable dose of CBD with every treat. A single serving contains 2 mg of broad-spectrum CBD in a delicious beef flavor. Similar to the company's capsules for humans, these are dog treats infused with water-soluble CBD that has been broken down into smaller particles in order to make it easier to digest for your dog. There are 30 chews in the container.
CBD Pet Salve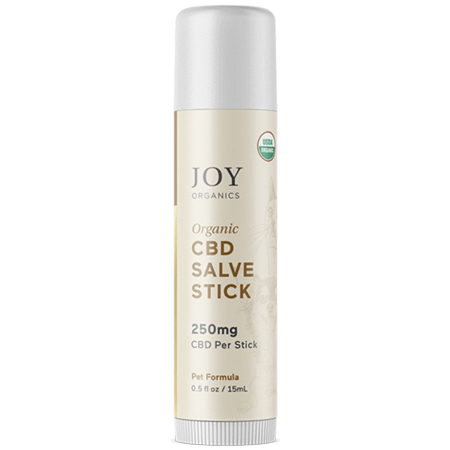 | | |
| --- | --- |
| Type of CBD | Broad Spectrum |
| CBD Potency | 250 mg |
Just like humans, dogs can suffer from localized aches. Whether it's skin irritation, an injury, or allergies in your dogs, the discomfort can deteriorate your pet's quality of life. This CBD Pet Salve contains 250 mg of broad-spectrum CBD supported with organic shea butter, beeswax, MCT oil, and rosemary seed extracts. All these ingredients work synergistically to enhance the analgesic properties of CBD and speed up regeneration.
Pros & Cons of Joy Organics
Now that we've reviewed the Joy Organics CBD collection, it's time to elaborate on the strengths and weaknesses of this brand.
The Pros
USDA-Certified Organic
Getting through the USDA certification process requires a lot of paperwork and financial investments. For that reason, many brands abandon the idea of applying for receiving the USDA organic badge.
Joy Organics overcame these obstacles and is one of the few brands whose hemp is officially approved by this department. This means that the company's plants are grown without pesticides, herbicides, and fertilizers, ensuring clean sourcing material.
Full-Spectrum Products
At the time of launch, Joy Organics offered only broad-spectrum products. Today, the company has expanded its line-up with full-spectrum extracts. This type of CBD is only available with tinctures, but the company has brought its full-spectrum philosophy even further, introducing a CBD + THC oil for those who are looking to leverage the entourage effect.
Free Shipping & Returns
Joy Organics has a very customer-friendly approach. The brand provides free shipping to all 50 US states and covers the shipping cost of returns.
The Cons
No International Shipping
The Joy Organics products can be purchased only within the United States. The company doesn't ship to Canada, Australia, or other countries outside of the USA.
A Little Bit Expensive for the Quantity
While you can't argue about the quality of the Joy Organics collection, some products — especially the broad-spectrum ones — are a little bit overpriced. There are less expensive oils in a similar quality spectrum on the market.
Softgels and Balms Are Not Vegan
Many CBD brands offer vegan options for products like capsules or skincare products to cater to plant-based users. Unfortunately, Joy Organics isn't one of them.
Some Customers Report Lower Efficacy Over Time
Although there's only one complaint about the quality of the Joy Organics line, some customers report that their products have lower efficacy over time. They say they needed to increase the dose after a month, which proved even more expensive in the long term.
Alternative Options to Joy Organics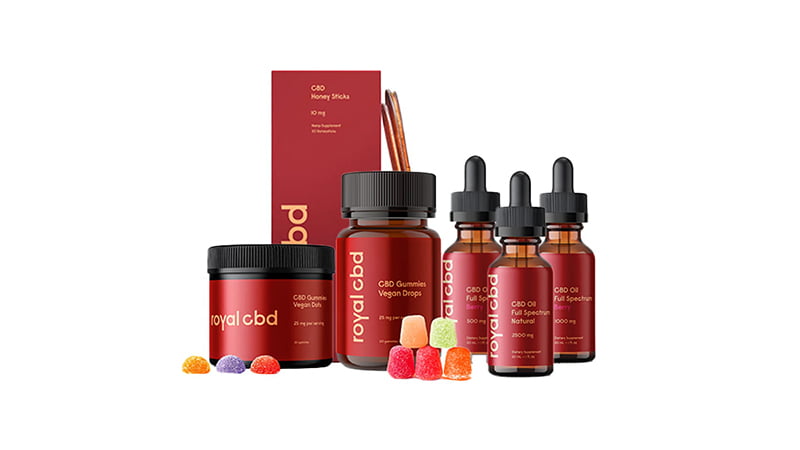 Get 15% off all Royal CBD products. Use code "CFAH" at checkout.
Pros
Cons

Organic, US-grown hemp
Supercritical CO2 extraction
Broad product range
High-strength options are available
Well-designed formulas
Flavored with natural ingredients
Complete third-party testing profile
30-days Money Back Guarantee

A little bit more expensive than the market's average (but still worth the price)
Not available locally
Royal CBD is a California-based brand that was launched in the same year as Joy Organics. The founders of Royal CBD were fed up with overpriced mediocrity on the market and decided to push their own line of premium CBD products. Today, Royal CBD is one of the most recognizable names in the industry, offering a broad range of CBD extracts in the following formats:
CBD oils
CBD gummies
CBD capsules
CBD honey sticks
CBD creams
CBD for pets
Royal CBD uses organic hemp from Colorado and pulls the beneficial compounds from the plant matter using the supercritical CO2 method. This technology ensures consistent potency and purity throughout batches without using extra heat or aggressive solvents.
The entire Royal CBD collection is triple-tested in a third-party laboratory for potency and purity, including results for heavy metals, pesticides, mycotoxins, and solvents.
The company has been mentioned several times in leading industry magazines, such as Observer, LA Weekly, SF Weekly, We Be High, and High Times.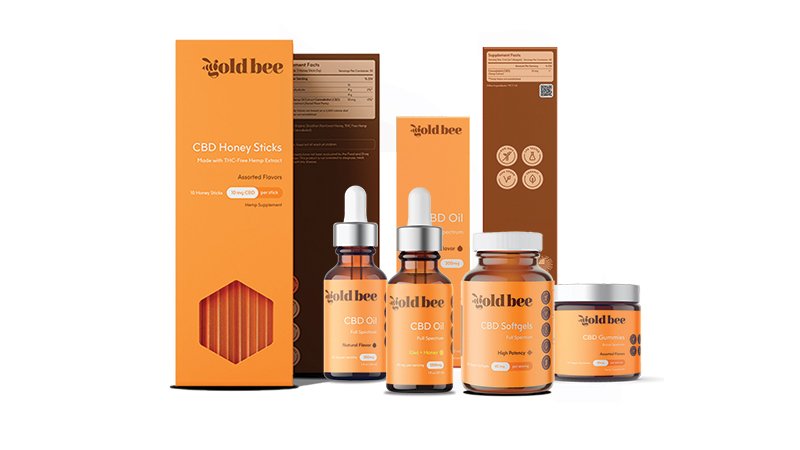 Pros
Cons

Organic hemp from California
CO2 extraction
Infused with superfoods
Full-spectrum and broad-spectrum CBD
Up to 2500 mg of total CBD
Flavored with natural ingredients
Pet products
30-day Money Back Guarantee

Limited potency options
No isolate-based products
Gold Bee is a relatively new brand in the CBD market, but it's already been garnering a lot of attention in the media since its launch.
What makes this brand special is the use of organic hemp for all its products and the high cannabis terpene content.
The company had previously been making superfoods — organic honey and coconut oil — and many of its products contain these ingredients to boost the health benefits of CBD. Aside from regular products like tinctures and capsules, the company has some unique formats in its line-up, such as honey sticks.
You can choose from the following forms of CBD:
CBD oil
CBD capsules
CBD gummies
CBD honey sticks
CBD roll-on
CBD for pets
All Gold Bee products are tested in an independent laboratory for potency and purity. The company makes the lab reports publicly available on its website.
3. CBDPure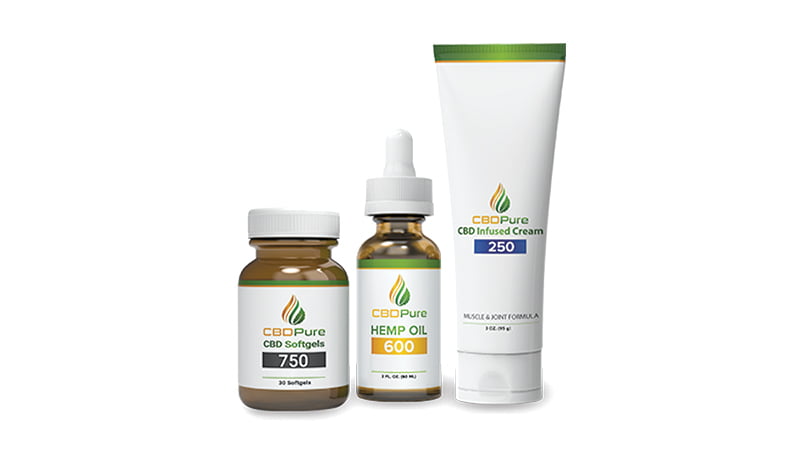 Pros
Cons

Organic hemp from Colorado
Full-spectrum products
Well-thought-out formulations
90-day Money Back Guarantee
One of the pioneer brands in the USA

Narrow product range
No edibles
Lack of flavored products
Premium pricing
CBDPure offers a narrow range of certified-organic, full-spectrum CBD products sourced from non-GMO hemp grown in Colorado and Washington. The company was launched in 2016 with a mission to provide high-quality CBD oils backed by detailed certificates of analysis and a generous 90-day money-back guarantee.
Although CBDPure offers premium-quality CBD products, its collection is somewhat limited. You can choose from a few classic forms of CBD, such as:
CBD oil
CBD capsules
CBD cream
CBD for pets,
Unfortunately, CBDPure doesn't offer any flavored options for its products. The oils leave an earthy aftertaste, making some users turn to other brands in the same quality range.
Final Verdict
Joy Organics has earned a reputation as a trustworthy brand thanks to its commitment to quality and transparency. The company uses both in-house and third-party lab testing for each product, providing up-to-date certificates of analysis.
The meticulous approach results from the 2018 incident, where a third-party organization discovered that there were pesticides in one of the company's CBD oils.
That being said, some of its products are a bit expensive for the quantity, especially the broad-spectrum options.
Compare different forms of CBD with competitor brands and consider how much you're paying per mg of CBD. It's possible to find a more affordable brand that offers similar standards.