Allergy Relief for Dogs: Natural Remedies and Conventional Treatment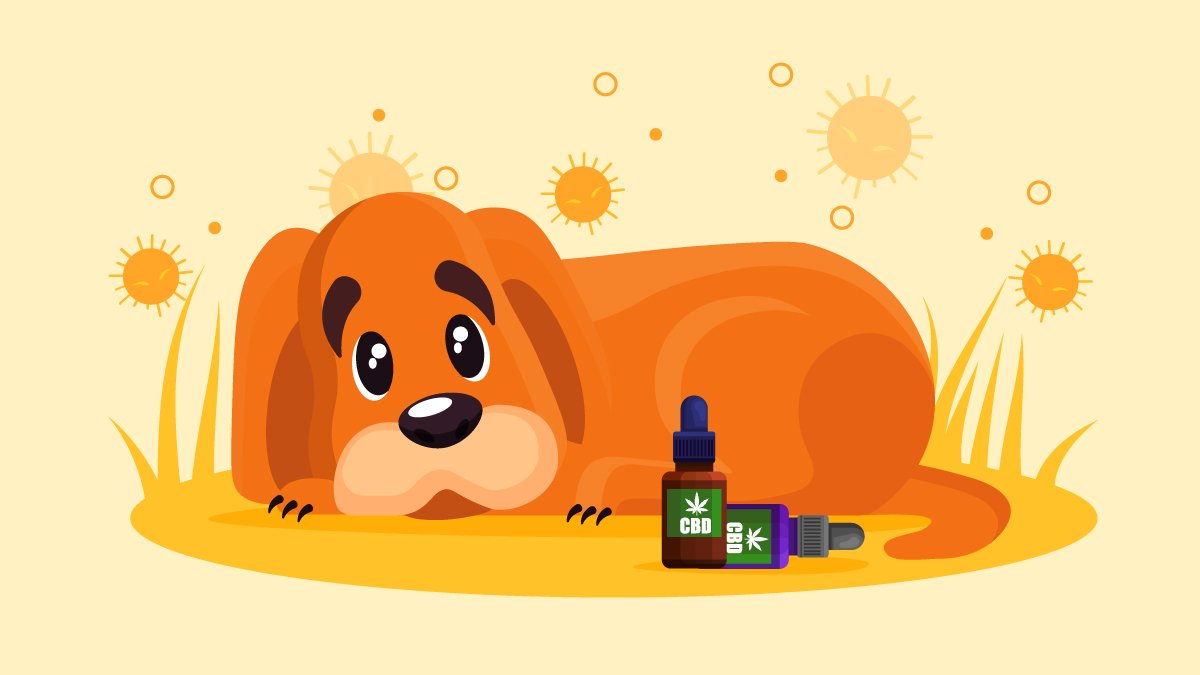 Dogs are like humans in many ways, and allergies are a great example of such similarities. For some people, allergies can be really frustrating. Whether it's endless sneezing, runny nose, or dry droopy eyes, it can be a tough time of the year to struggle through.
Your dog can experience allergies as well. These may be allergies to certain foods or environmental factors. Sometimes, chemicals such as those found in household cleaners, certain perfumes, or cigarette smoke can also lead to an allergic reaction in dogs.
More often than not, the allergy is caused by natural, seasonal substances, including plant and tree pollen, dust, feathers, fleas, and mold.
The symptoms of dog allergies are similar to those experienced by humans. They derive from an overreacting immune system to one or more theoretically benign substances, leading to irritation and itchiness. Your dog may develop red eyes, sneeze regularly, or lick and scratch itself in an alarming fashion.
Some dogs also show symptoms of itchy, swollen skin, while others suffer from nausea, vomiting, and diarrhea. In certain scenarios, dog allergies may trigger secondary infections.
In today's article, we cover dog allergies, their symptoms, treatments, and natural alternatives to conventional medications.
What Can I Give My Dogs for Allergies?
Wondering what you can give your dog when they're suffering from allergies? The treatment will depend on the type of allergen. Some dogs suffer from vomiting due to food allergies so the best way to address the problem is to avoid certain types of food. With seasonal allergies, treatment options may vary from over-the-counter supplements to dietary changes to antihistamine medications like Atopica or Apoquel.
Unfortunately, antihistamines and other drugs used to treat allergies in dogs can sometimes harm our canine friends.
It's recommended to err on the side of caution when giving these medications to your allergic dog. Some of them may even further disrupt your dog's immune system, resulting in secondary infections or a greater susceptibility to autoimmune diseases.
The next section will cover traditional treatments that veterinarians recommend to dogs with allergies.
Conventional Treatments for Dog Allergies
It's up to you and your vet to rule out the best treatment plan for your dog. The vet may recommend certain medications or suggest a special diet for dogs with allergies.
However, any modifications in the dog's diet should be introduced gradually. Another important factor to consider is the quality of ingredients in the so-called hypo-allergenic food. Many of these products contain MSG, which has been known to cause brain damage in dogs. The best practice is to buy and prepare the food yourself in order to gain control over your dog's nutrition.
If your dog's allergies call for medications, here are a few that are typically used by vets.
Allergy Vaccines
Allergy injections are sometimes recommended by vets as a way of helping your dog strengthen the immune system against certain allergens, instead of just masking the symptoms. These allergy vaccines may help reduce the severity of symptoms over time, although the first few days may be challenging for the dog, as they're trying to create a sufficient amount of antibodies. However, vaccines may be a risky option if the dog has a weak immune system or has comorbid conditions.
Antihistamines
Antihistamines are one of the most common treatments for allergies both in humans and dogs. One of the more well-known medications prescribed by veterinarians is Benadryl. Just keep in mind that antihistamines won't work for all dogs. That's because histamines aren't the only contributor to dog allergies. Sometimes, something else could also trigger an allergic response. Antihistamines also cause drowsiness; it's actually one of the most commonly reported side effects.
Immunomodulators
Your vet may recommend drugs formulated to modulate immune response or suppress the immune system. In severe cases, cortisone drugs may be prescribed. However, cortisone should never be used without a vet's supervision, as they are very potent medications that entail considerable side effects.
Dietary Supplements
Dogs with allergies may benefit from dietary supplements, especially if they contain essential fatty acids like omega-3's. These supplements can help relieve itchy skin and keep your dog's coat and hair in a good condition. Coconut oil is another ingredient worth giving your dog as a means of easing skin allergies.
Antiallergic Sprays and Shampoos
You can give your dog a special topical treatment with one of the antiallergic shampoos and sprays to relieve itching and prevent secondary infections. Sprays are a good alternative if your dog doesn't like shampoos. If the dog has any hotspots, antiallergic sprays like sulfodene can help them reduce redness and irritation that causes painful itching.
Medications for Flea Prevention
If your dog has a flea allergy, even the bite of a single flea can make its symptoms worse. Dogs with flea allergies may benefit from flea-preventing medication that is applied topically. This kind of medication creates a protection layer against fleas to help them reduce any undue suffering.
What Else Can I Give My Dog to Help with Allergy? (Natural Remedies)
When you feel concerned about giving your dog oral or topical medications due to their potential side effects, there are several natural allergy treatments that you might try alternatively.
Colostrum
Colostrum is found in the dog mother's milk and helps build up a proper immune function in pups. It's also one of the natural allergy treatment options available for dog owners. The supplement is believed to help inhibit the immune response on top of carrying anti-inflammatory and antihistamine properties. Giving your dog colostrum for allergies may help build up your dog's natural antibodies that help them identify and fight common allergens.
Probiotics
The bacteria in the gut are very important for the functioning of your dog's immune system. Natural supplements like prebiotics and probiotics can significantly help enhance the dog's immune response by promoting the growth of good bacteria in its gut. You can also give your dog probiotic-rich food, such as sprouts and seeds.
Quercetin
Some dog parents decide to give their dogs quercetin for allergies. That's because quercetin has natural antihistamine and anti-inflammatory properties. It's also an antioxidant supplement.
Quercetin is a flavonoid extracted from fruits and vegetables. Some studies suggest it may reduce allergy symptoms by inhibiting the release of histamine in the body. The list of foods rich in quercetin includes broccoli and apples, as well as in a concentrated form like powdered extracts and pills.
Aloe
Fresh aloe gel from an aloe plant has many healing properties and can curb inflammation in dogs thanks to the enzymes contained in the gel. However, the gel must be obtained from a fresh aloe plant. The stuff that you can find in bottles in most stores doesn't have the necessary enzymes to exert its healing actions.
Green Tea
Green tea has been a popular ingredient for treating allergies in folk medicine. It's a decent topical relief measure because of the polyphenols that offer anti-inflammatory and antihistamine effects. Applying a tea compress to your dog's skin may help soothe localized problems like itchiness, redness, and swelling.
Baking Soda
You can give baking soda to your dog as an inexpensive way to manage allergies. Baking soda is a well-known natural ingredient used for reducing inflammation. It can be applied as a paste or diluted in a spray bottle full of water. Simply spray the solution on your dog's skin after a good bath and observe the results.
Witch Hazel
Witch hazel can provide natural relief if given to dogs with allergies. It can be used on itchy, rash-covered skin several times a day. You can also apply it to your dog's ears, and as a dip for their feet when their paws feel itchy. Witch hazel is chock-full of tannins that work to regenerate the skin and reduce swelling, making it a decent alternative to conventional topical treatments for allergic dogs.
CBD Oil for Dogs with Allergies: A New Hope?
CBD oil is a hemp-derived supplement that's getting a lot of attention right now. It has many therapeutic properties and offers an effective and safe treatment for anxiety, pain, sleep deprivation… and allergies!
Yes, some studies suggest that you can also use CBD to treat your dog's allergies. But let's take a moment to understand the mechanism behind the many health benefits of CBD oil.
What is CBD and How Does It Work?
CBD is one of the two major active compounds found in Cannabis Sativa plants next to THC. However, unlike THC, it's a non-intoxicant, meaning it won't get your dog high.
What CBD CAN do, however, is regulate the activity of the endocannabinoid system (ECS) — the master regulatory network in all mammals.
This natural system within the body processes plant-based cannabinoids and is responsible for maintaining homeostasis (balance) between vital physiological and psychological functions. The ECS controls processes like memory, mood, pain perception, stress response, body temperature, appetite, neurogenesis, and immune function, just to name a few.
Cannabinoid receptors in the ECS interact with plant-derived cannabinoids such as CBD.
Products like CBD oil have been shown to reduce allergy symptoms by supporting the ECS, decreasing the amount of pro-inflammatory compounds (cytokines), and blocking the release of histamine.
Here's what research has found when it comes to giving CBD to dogs with allergies.
Studies on CBD and Allergies
In a groundbreaking 2007 study, the authors found that the ECS is linked to allergic contact dermatitis, which is a medical term for skin reactions in animals. Researchers concluded that certain cannabinoids can fight allergic reactions. According to one of the team's members, "These results demonstrate a protective role of the endocannabinoid system in contact allergy in the skin and suggest a target for therapeutic intervention." (1)
Later, a 2012 study on dogs with atopic dermatitis showed that CBD could relieve the symptoms. CBD oil improved the appearance of the dogs' skin on top of reducing redness, dryness, and itchiness (2).
CBD has been touted as a powerful anti-inflammatory since 2009 when cannabinoids have been proposed as novel anti-inflammatory drugs.
Another 2009 study found that CBD-impaired activation of T-cells is associated with increased allergic reactions. By blocking this activation, cannabinoids are able to mitigate the antibody response and help lessen allergy symptoms. (3)
Terpenes can also be useful in relieving allergies. In a 2014 study, researchers found that alpha-pinene, one of the predominant terpenes in cannabis, may also be able to help reduce antibody levels (4).
Can CBD Cause an Allergic Reaction?
Although there's no research regarding allergic reactions after using CBD in dogs, allergies to cannabis are a real thing. For example, your dog may be allergic to the pollen produced by cannabis plants. When they inhale the pollen, they may suffer from typical allergy symptoms.
Researchers from a 2018 study found that people with allergies to dust mites, molds, and plants, have a higher risk of developing an allergy to cannabis. However, no study has suggested similar reactions in dogs (5).
As for allergies to cannabinoids, things are quite similar. In a 1971 study, the authors found that THC could produce an allergic reaction. THC and CBD have a similar molecular structure, so there's a slight chance it could trigger an allergy. However, it's important to note that the side effects of CBD are different than those of THC, so it's difficult to draw definitive conclusions.
What Are the Signs of Allergies in Dogs?
Your dog may exhibit a range of telltale symptoms, including itching and scratching — especially when it's excessive — or in moist, red, flaky-looking skin. Once you notice these signs, it's time to act and find a proper solution to the problem.
Sometimes dogs will also experience runny noses, droopy eyes, or suffer canine ear infections. The dog's ears may itch and produce a foul-smelling liquid. Some dogs may itch at the base of their tale or along their back, although it's typically observed in dogs with flea allergies.
Other signs of allergies include sneezing, vomiting, or diarrhea in your pet dogs due to an allergic reaction. Dogs may also lick themselves obsessively as well as chew their paws. Sometimes our canine friends may even snore due to allergies as a result of inflammation in their sinuses and in the throat.
Last but not least, dogs suffering from any kind of secondary bacterial or yeast infection may experience hair loss accompanied by crusty-looking skin.
Allergies can develop at any time in a dog's life and there is no way to make them immune to allergens.
Geneticists believe that some dog breeds are more susceptible than others, but it really depends on the dog's immune system, eating habits, and the environment they live in.
What Allergens Dogs May Be Sensitive To?
Just like humans, dogs can have an allergic reaction to just about anything.
Dogs can be allergic to the following things:
Cigarette smoke
Cleaning products
Certain foods
Dander
Dust mites
Fabrics
Feathers
Fleas and flea saliva
Flea medications
Grass
Insecticides
Prescription medications
Tree and weed pollens
Certain rubbers and plastics
Best CBD Oils for Dogs with Allergies
1. Royal CBD (Best CBD Oil Overall)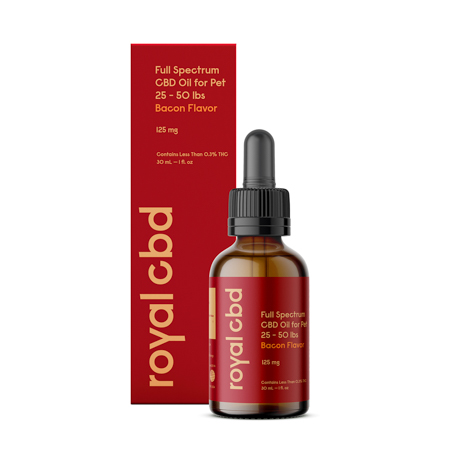 Get 15% off all Royal CBD products.  Use code "CFAH" at checkout.
Pros:
Organic hemp from Colorado
Full-spectrum CBD
Up to 500 mg of CBD per bottle
Appropriate for dogs of different breeds and sizes
Delicious bacon flavor
Third-party tested for quality and safety
Royal CBD offers a broad selection of CBD products for humans and dogs. After succeeding with its CBD lines for humans, the company followed through with two product formats for our canine friends — oil tinctures and dog treats.
Royal CBD makes its products using organic hemp sourced from local Colorado farms; these plants are then processed with supercritical CO2 to yield pure and potent extracts; the company sends its product samples to an independent laboratory for content analysis to make sure they're safe for dogs.
The Royal CBD pet oil is available in three strengths: 125 mg (small dogs), 250 mg (medium dogs), and 500 mg (large dogs). The strongest version is also good for the owners of small dogs who would like to save more money on their CBD products; at 16 mg of CBD in every milliliter, this bottle can last for up to a few months.
These are full-spectrum CBD oils, so it contains all beneficial phytonutrients naturally occurring in hemp, including adjunctive cannabinoids, terpenes, and flavonoids. These compounds help your body process CBD more efficiently, proving superior to isolates.
And if your four-legged friend dislikes the hempy aftertaste of full-spectrum CBD, this bacon-flavored CBD oil will change the game.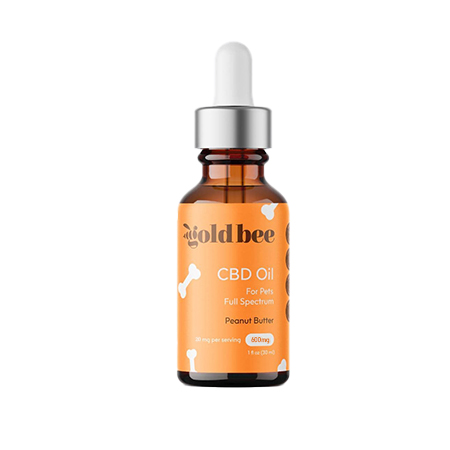 Pros:
Organic hemp from California
Full-spectrum CBD
600 mg of CBD per bottle
Peanut butter flavor
Third-party tested for potency and purity
Cons:
No low-strength oils for extra-small dogs
Only one flavored version
Before Gold Bee started making CBD products, its founders had specialized in superfoods products, selling organic raw honey and coconut oil. They have carried over this passion to their line of CBD extracts for humans and dogs, using the same organic hemp and carrier oils in both collections.
The Gold Bee CBD oil comes in only one concentration, offering 600 mg of CBD in a 30-mL bottle. Every milliliter of this full-spectrum extract carries 20 mg of CBD oil, which is a good serving size for large dogs and those suffering from severe allergy symptoms. However, such concentrations may be difficult to dose in small pups, which is why Gold Bee didn't score first place in our ranking.
Other than that, this company is as good as Royal CBD.
5 Life-Hacks for Dogs with Allergies
Looking for other useful methods for making your dog's allergy easier to handle? Here are a few tips:
Wet Wipes
It's a good idea to wipe down your dog with wet wipes after they've returned from a walk. You can buy special pet grooming wipes; they're available just about anywhere and offer a quick and efficient way to remove any potential allergens and dander until the dog is given an actual bath.
Regular Bathing
Give your dog regular baths for allergies. It sounds obvious but sometimes the simplest solutions produce the best results. You can use special anti-itch and hypoallergenic shampoos that are formulated for dogs with allergies. These shampoos contain soothing ingredients like primrose oil or oatmeal. Just keep in mind that excessive bathing can backfire and worsen your dog's skin condition.
Foot Soaking
You can soak your dog's feet between baths when they come indoors. Doing so will help remove allergens that may have been picked up by the dog during a walk.
Keeping Air Clean
An air purifier can significantly improve your dog's health. Such products are nontoxic and make your home a friendly environment for the dog to live in. If you're a smoker, make sure that you don't smoke in the house, as it can make your dog's allergies worse, even when you have an air purifier.
Special Walk Routine
Dogs with allergies should avoid going for walks early in the morning and by the afternoon. That's because these are the times when the most pollen circulates in the air. For a morning routine, consider going for a walk right after sunrise, especially if the air is humid. For afternoon and evening walks, it's better to go out for a walk after the rain. The rain washes away the plant pollen and makes allergies easier to manage.
Final Thoughts on Treating Allergies in Dogs
As you can see, allergy treatments for dogs may vary depending on the type of allergy, your dog's overall health, diet, lifestyle, and age. There's a variety of treatment options that veterinarians usually prescribe after giving a diagnosis; they are generally considered effective, but they may cause unpleasant side effects when consumed long-term.
The best thing you can do to give your allergic dog the right treatment is to take a holistic approach to the problem. Things like diet modifications, special skincare products, supplements containing fatty acids, and herbal extracts like CBD oil can help your dog manage anxiety without the side effects of conventional treatments.
Just remember that your dog's allergy won't disappear overnight. Fixing a compromised immune system may take some time, so brace yourself with patience.
Reference links:
Karsak, Meliha et al. "Attenuation of allergic contact dermatitis through the endocannabinoid system." Science (New York, N.Y.) vol. 316,5830 (2007): 1494-7. doi:10.1126/science.1142265
Campora, Luca, et al. "Cannabinoid receptor type 1 and 2 expressions in the skin of healthy dogs and dogs with atopic dermatitis." American journal of veterinary research vol. 73,7 (2012): 988-95. doi:10.2460/ajvr.73.7.988
Nagarkatti, Prakash et al. "Cannabinoids as novel anti-inflammatory drugs." Future medicinal chemistry vol. 1,7 (2009): 1333-49. doi:10.4155/fmc.09.93
Nam, Sun-Young et al. "The therapeutic efficacy of α-pinene in an experimental mouse model of allergic rhinitis." International immunopharmacology vol. 23,1 (2014): 273-82. doi:10.1016/j.intimp.2014.09.010
Min, Jin-Young, and Kyoung-Bok Min. "Marijuana use is associated with hypersensitivity to multiple allergens in US adults." Drug and alcohol dependence vol. 182 (2018): 74-77. doi:10.1016/j.drugalcdep.2017.09.039