What Can You Give a Dog for Severe Itching?
The best way to help a dog with itchy skin is to take them to the vet and find the optimal treatment.
Your veterinarian should also be able to give an accurate diagnosis and determine whether itching is caused by an underlying condition, such as flea, allergy, or autoimmune disease.
However, a visit to the vet isn't always possible right away.
This is where home remedies for dog itch may come in handy.
From colloidal oatmeal baths to CBD oil for dogs, aloe vera, and baking soda, there are plenty of natural methods to soothe your dog's skin.
Wondering what you can give your dog for itching?
This article highlights the safest and most effective home treatments and answers frequently asked questions about dog itch.
What Causes Itching in Dogs?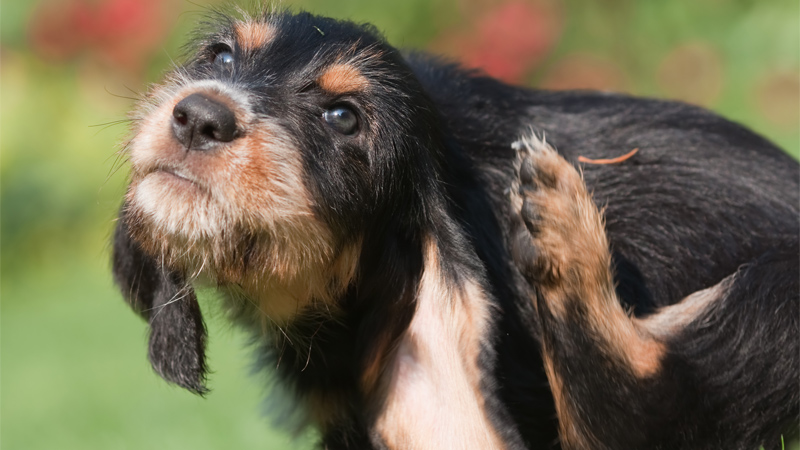 When your dog is itching, it can herald many different potential conditions, so if you notice that your dog is relentlessly scratching, be sure to observe when and where they're doing it to identify the cause.
In some cases, the triggers can be easily avoided and the itching is mild enough to be solved with soothing shampoos and other treatments for itch relief.
But life isn't always about sunshines and rainbows. Sometimes, you may need to take your dog to the vet for a further diagnosis.
Itching can be caused by bacterial infections, which is where antibiotics might come in handy.
Dogs can itch due to the following triggers:
Allergies – There are many environmental and dietary allergens that can irritate your dog's skin and cause itching. Some dogs may have an allergic reaction to fleas and parasites, while others may itch from food allergies.
Bacterial Infections – When you notice a round hairless crusted lesion on your dog's skin, this can be a sign of a bacterial infection. Other signs of bacterial infections include 'hot spots' or red moist, painful areas that are inflamed. A bacterial skin infection requires immediate veterinary care.
Fleas – These miniature insects are notorious for their ability to cause pets a plethora of problems, including sudden itchiness. Unfortunately, most over-the-counter (OTC) flea medications fail to provide the desired results.
Parasites – your dog may struggle with other insects than fleas. There are many types of parasites that attack dogs due to a compromised immune system or when your dog spends time outside or interacting with other dogs. Parasites are treated with specialized medication that treats these annoying pests depending on their type.
Yeast infections – your dog can be extremely itchy as a result of the overgrowth of yeast on the skin. Malassezia is the most common yeast infection in canines. Chronic infections can cause the skin to become thickened and turn dark, just like on elephant skin. Yeast infections are troublesome and may take more time to heal, so a consultation with a veterinarian is critical if you want the issue to be completely resolved.
Sometimes, the cause of your dog's itching can be difficult to determine. Monitoring symptoms can help you narrow down the potential triggers so you can find an optimal treatment, whether that's topical itch relief for dogs or oral antibiotics.
Symptoms of Itching
Dogs can itch sometimes here and there, and that's normal.
Itching can be caused by burrs and other plant pieces getting caught in the fur – or when the fur gets matted.
Insect bites are another common cause of itching in dogs.
If you see your dog stopping to scratch a few times while on a walk, there's no need to call the vet or give your buddy special remedies for itching.
However, intense scratching followed by other symptoms may raise concerns about your dog's health.
Here are a few symptoms indicative that itching stems from a more serious problem:
Scratching over and over one place. A healthy dog may scratch from time to time at different locations, but if they continuously scratch or bite themselves in one place, it could help determine the underlying health problem. Dogs that have fleas will likely scratch and chew from their back to their waist. Dogs with allergies may scratch their face, armpits, and sides. Monitoring the location of their scratching can help your vet figure out where the issue is.
Scabs. Dogs with scabs developing under their fur may suffer from a secondary infection caused by skin trauma. Getting to the root cause of the scabs is important to prevent them from spreading and causing further damage to your dog.
Unpleasant smell. In some dogs, infected skin will give off an unpleasant smell, similar to a bacterial or yeast infection. If you notice a lot of foul odor, and your dog is scratching excessively, it's time to visit the vet.
Bleeding, scaly skin, and oozing pustules. Primary skin infections and parasites will spread to the entire body, potentially causing some of the hair to fall out with progression. If you see telltale symptoms of infected skin in your dog, it indicates a more serious condition.
When to Visit the Vet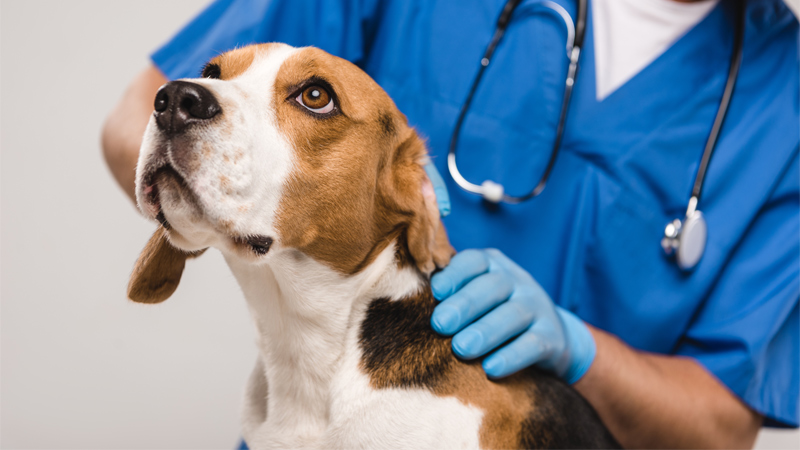 As mentioned earlier, mild itching from time to time is normal, but if your dog starts to show other symptoms, such as frequent licking or persistent scratching, being restless and uncomfortable from itching, losing appetite, or being depressed, it's a sign you should take them to the vet ASAP.
The vet will help you diagnose the underlying cause of your dog's severe itching to prevent open wounds and secondary infections.
If your dog's itchiness occurs every now and then, there are many safe, all-natural remedies you can give them to relieve that pesky sensation.
What Can I Give My Dog for Itching? (Best Itch Relief for Dogs)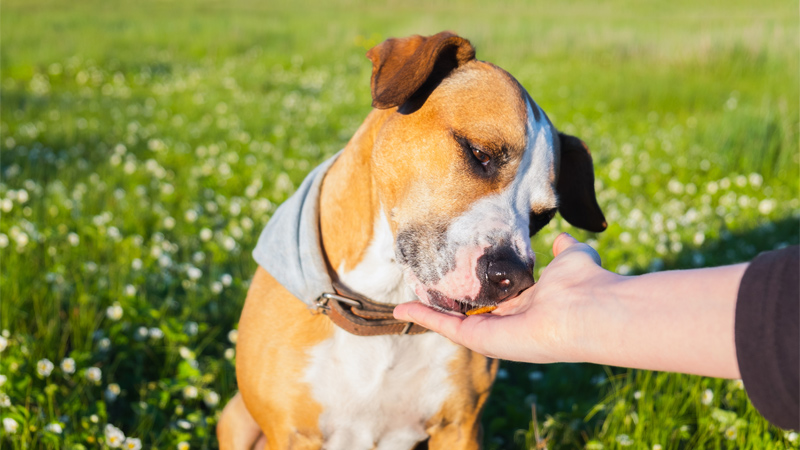 Chances are that you already have some (or all) of the natural remedies for itching in your kitchen pantry.
Here's what you can give your dog to relieve itch:
Apple Cider Vinegar
Apple cider vinegar is commonly used to spice up salad dressings, but it's also a potent anti-fungal and anti-bacterial agent.
To relieve itching in your dog, combine apple cider vinegar with water in a 1:1 ratio in a clean bottle. Once done, spray your dog's trouble areas with the solution. Soaking paws for up to five minutes in the mixture can ease irritation and provide a relaxing experience.
Colloidal Oatmeal Baths
This traditional remedy isn't just your grandma's tale – colloidal oatmeal baths have been proven by studies to relieve itching and dryness caused by skin conditions, such as eczema, psoriasis, and allergies.
You can buy pre-made colloidal oatmeal or make your own at home. All you need to do is grind the oat into a fine powder and boil it to extract the colloidal.
Oatmeal is known for its anti-inflammatory properties that can relieve not only itchiness but also swelling and burning.
Not to mention that it's non-toxic, so nothing bad will happen even if your dog licks it.
Coconut Oil
Although some medical experts are concerned about the impact of coconut oil on heart health, solidified coconut oil can relieve the symptoms of many skin conditions, such as eczema, allergies, infections, and even flea bites when you massage it into the coat and skin.
When buying coconut oil, pay attention to labels such as 'organic, 'virgin,' and 'unrefined' to ensure the top-shelf quality.
You can also try to add some coconut oil to your dog's food, but any changes in their diet should be consulted with your vet.
Chamomile and Green Tea Soaks
Both chamomile and green tea have well-documented soothing and anti-inflammatory benefits in humans.
But you can also give these remedies to your dog when they're itching, especially for hot, itchy patches of skin.
Here's how to prepare a chamomile or green tea soak:
Fill your bathtub with lukewarm water and place severe tea bags into it, allowing them to seep for up to 5 minutes.
Get rid of the tea bags and let your dog soak in the solution for about 7 minutes.
If you want to treat flare-ups, let the tea bag cool completely before applying it to the problematic areas.
Aloe Vera
Moms often use aloe vera to ease the pain from sunburn in their children. Aloe vera is a powerful healing agent, but it can also reduce redness and cool the affected area. You can gently massage aloe vera directly to your dog's affected spots.
Most pharmacies and grocery stores sell 100% natural aloe vera, or you can break the leaf of an aloe vera plant if you have one at home and scoop out the gel.
Baking Soda
As we said, you probably have this pantry staple at home. Aside from being an invaluable baking ingredient, baking soda can dry out rashes in the skin, soothe itching, and curb inflammation.
Here's a dead-simple recipe for a baking soda solution you can give your dog for itching:
Combine baking soda with water in a 1:1 ratio
Add a little bit of high-quality coconut oil to the blend
Mix everything well.
If your dog is struggling with body-wide itching, you can enrich its bath with some baking soda.
Biologically Appropriate Diet
Feeding dogs is simple, yet so many people fail at it because supermarkets and pet stores are full of processed, cheap dog food.
All your dog needs are highly bioavailable proteins (from meats and organs) with plenty of omega-3 fatty acids and healthy carbs from berry fruits.
What we've just mentioned is a textbook example of an anti-inflammatory diet.
Conversely, a diet high in processed carbohydrates, grains, colorings, and other unnecessary ingredients can even worsen your dog's itching problems.
That's why nutrition is paramount here.
CBD Oil for Itchy Dogs
CBD is another powerful anti-inflammatory remedy you can give your dog for itching.
CBD's therapeutic versatility stems from its interaction with the mammalian endocannabinoid system (ECS). The ECS is the main self-regulatory network in humans and dogs, promoting and helping maintain homeostasis throughout the body.
The skin has its own ECS with cannabinoid receptors in the epidermis layer.
When you apply CBD oil – whether orally or topically – it binds to these receptors and produces anti-inflammatory effects. CBD can also reduce pain signaling by changing how nerve cells communicate with the brain.
Using CBD cream can ease pain and irritation from trouble spots, while CBD oil can alleviate itching by supporting your dog's immune response.
Best CBD Oils for Itching Dogs
There's a large degree of difference when it comes to the quality of CBD products for dogs. The market isn't regulated by the FDA, so manufacturers aren't subject to obligatory lab testing or following specific purity standards.
This sheds the research responsibility on pet owners, and if this is the first time you're reading about CBD, you probably have no idea where to start.
The best CBD oils for dogs come from organic, non-GMO hemp, are extracted with CO2 instead of harsh solvents, and come with batch-specific certificates of analysis (CoA) confirming their potency and purity.
Here are the top 2 brands that make premium-grade CBD oils for dogs with allergies and itchy skin at reasonable prices and with unmatched transparency. We've been using them with our dogs for over 2 years with great results.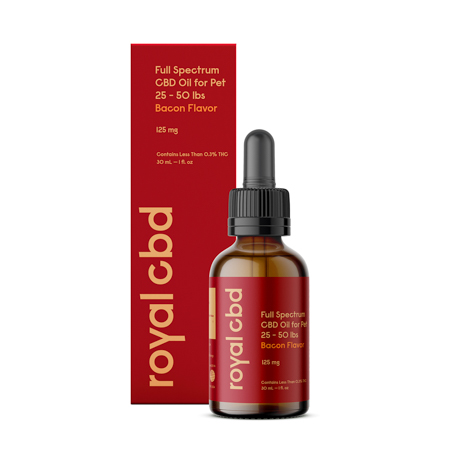 Get 15% off all Royal CBD products.  Use code "CFAH" at checkout.
Pros
Cons

Non-GMO, pesticide-free hemp
CO2 extraction
Full-spectrum CBD
Up to 500 mg of CBD per bottle
Bacon flavor
Available as CBD treats (three different formulas)

Slightly more expensive than competitor brands
Limited flavor options
Royal CBD was founded in 2018 by a team of biohackers and hemp advocates with the mission to set a high bar for new companies in the CBD space. Since then, the brand has become a true powerhouse that boasts a broad selection of CBD products for humans and pets.
The Royal CBD pet oil is available in two concentrations: 250 mg (small and medium dogs) and 500 mg (large hounds). Both products come with full-spectrum CBD, so your buddy can reap the benefits from the whole-plant synergy or the entourage effect.
Simply put, the entourage effect uses the minor cannabinoids and terpenes to amplify the benefits of CBD.
If your dog isn't a fan of unflavored CBD oils, Royal CBD has infused this product with the beloved flavor of all carnivores – bacon.
The company also has 3 formulas of CBD dog treats that address specific health needs (Active, Hearty, Calm).
To relieve itching flare-ups in your dog, you can try the Royal CBD cooling cream that offers 500 mg of CBD infused with organic menthol crystals.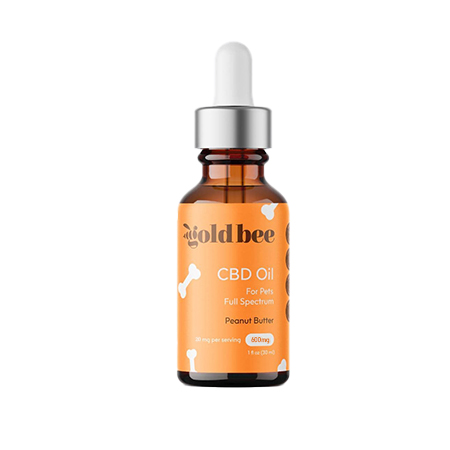 Pros
Cons

Organic hemp
CO2 extraction
Infused with superfoods
600 mg of CBD per bottle
Peanut butter flavor
Full-spectrum CBD
Third-party tested for quality and safety

No low-potency oils for smaller dogs
Only one flavor is available
Gold Bee has been making superfoods for 5 years before making the transition to the CBD market in 2019. The brand promised to translate its health-conscious philosophy into its line of CBD products for humans and dogs.
The Gold Bee CBD oil comes in only one strength, packing 600 mg of CBD per bottle. At 20 mg in every milliliter, this product is better suited for larger dogs. But, if you can dose CBD oil to your dog with Swiss precision, you can end up with a few months' worth of supply with a small dog.
The earthy notes in this full-spectrum extract blend surprisingly well with the natural peanut butter flavoring. Our dogs have always fussed over CBD oils, and this was the first time they actually enjoyed it.
Dog Itching FAQs
Looking to learn more about itching in dogs and common triggers? Here we answer the most frequently asked questions.
Why is my dog itching?
Dogs can itch for many reasons, from dietary issues to skin infections, fleas, allergies, and autoimmune diseases.
What can I give my dog for severe itching?
The ultimate treatment for your dog will depend on the diagnosis. That's why you should always take your dog to the vet before applying anything on its skin. Besides flea and allergy shampoos, there are natural remedies, such as CBD oil, chamomile, and aloe vera – and medications such as antihistamines and topical corticosteroids.
Can my dog lose hair due to itching?
Yes, itching may cause hair loss in dogs. If you want to know the reason why your dog is losing hair, take them to the vet. He or she will run a diagnostic test to pick up the cause and recommend an appropriate treatment.
How do I prevent itching?
While there's nothing you can do about occasional itching (which is nothing wrong), you can easily prevent the dog from becoming chronically itchy.
You can avoid itching in dogs by eliminating allergens and irritants, providing natural protection against fleas and parasites, and bathing them monthly.
Last but not least, you should also provide an anti-inflammatory diet to promote healthy immune responses.
What's the best itch relief for dogs?
The best solution for canine itching depends on the underlying cause. In some cases, removing allergens from the diet or providing anti-allergy medication to your dog will suffice. But with yeast infections or parasites, the treatment may take a few weeks and include antibiotics and antibacterials to clear up the infection. Your vet will be able to find the best anti-itch treatment after a thorough examination.
Key Takeaways on the Best Natural Relief for Dog Itch
Dog itching symptoms can be easily managed with natural remedies, so unless there's an underlying medical condition, you can treat itchiness at home.
Dogs should live their lives to the fullest, which is why you should take care of their diet in the first place. The gut is where you build immunity, preventing malfunctions and pathological reactions, such as skin disorders deriving from an auto-aggressive immune system.
The best natural remedies you can give your dog for itching include plant-based extracts, such as CBD oil, or traditional topical treatments with colloidal oatmeal, aloe vera, chamomile or green tea soaks.
Determine the cause of your dog's itching and find the most effective treatment with your veterinarian.