Bluebird Botanicals CBD Review: Pros & Cons (2023 Update)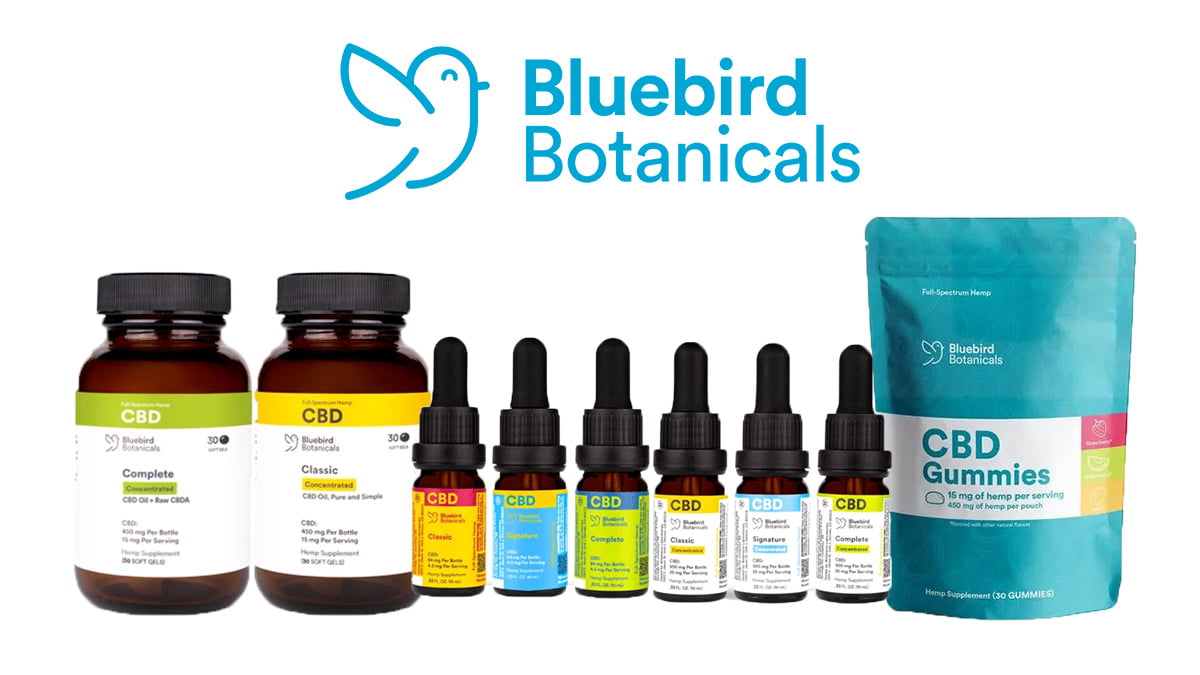 With so many CBD brands on the market, it's not surprising if you don't remember their names.
CBD is far from a generic product since there's an enormous difference in quality between the best and worst choices. But no one brand has really established itself as the "Coke" or "Kleenex" of CBD – the go-to name that everyone knows and most people use.
Bluebird Botanicals may seem like just another brand that your local CBD or natural foods store has on its shelves. (Not all stores carry these products, but many do.) And if you shop for CBD online, you may never even come across Bluebird Botanicals.
You should make an extra effort to find them.
CBD from hemp (known more properly as cannabidiol) has been legal for sale across America since the end of 2018. Some valiant pioneers, however, were researching the potential medical benefits of hemp and proselytizing on its behalf decades earlier. A small number of them were located in "medical marijuana" states, and they became the backbone of the CBD industry in the early 2010s, years before it was legalized nationally.
Bluebird Botanicals was created in those early days and has been known for the quality of its products ever since its inception. Over the years, the company has followed the path of many CBD producers, expanding both its product lines and its distribution channels. With a huge number of reputable competitors, Bluebird has yet to emerge as the "Coke" of CBD.
But don't count them out.
Here's what makes Bluebird Botanicals stand out – at least to us.
Bluebird Botanicals: The Background
The company's founder, Brandon Beatty, seems to have been destined to pursue his life's work. When he was young he was interested in both marijuana and herbal supplements. In fact, one of his hobbies (other than partaking in the green side of life) was walking the aisles of local supplement and vitamin stores, reading labels and taking notes, and then researching the many products he saw.
As a teenager, one of his first jobs was working in an herbal apothecary store in Colorado. That's where he learned about herbal extracts, essential oils, and botanical components like terpenes and flavonoids. It's also where he first heard about CBD since his employer was a devoted user.
Beatty did more research into CBD and the body's endocannabinoid system. He was fascinated by the potential of cannabidiol to change the world and decided he wanted to jump into the industry, which was still in its infancy. He launched Bluebird Botanicals (which first used the name Gaia Botanicals) in 2012 as an underfunded startup and ran the company with the help of just a few employees. From the start, though, he insisted on following best practices, creating quality products, and providing full transparency into his company's work.
Little by little, Beatty grew the company into a major player in the industry, with Beatty playing a major role in fighting for the law that legalized the sale of CBD in all 50 states. By 2016, Bluebird had won the "Hemp/CBD Company of the Year" Cannabist Award. In 2018 it was named "#1 Hemp Company/Product" at the Cannabis Business Awards, and designated "Top CBD Pick" by the website ConsumerLab. And it's one of just 13 American companies with a U.S. Hemp Authority Awards Seal.
One more thing: the company is also dedicated to philanthropy, supporting numerous local and national organizations that help the homeless, fight sexual abuse, and cure diseases. Bluebird is one of the few CBD producers certified as a "B Corporation," meaning they've met rigorous standards for social and environmental action, public transparency, and legal accountability. It also offers product discounts to groups who need them, including low-income families, the disabled, veterans, and teachers.
Bluebird Botanicals has clearly grown from a bootstrap startup to a successful leader in the CBD industry, maintaining its commitment to quality and transparency throughout.
Bluebird Botanicals: The Approach
We'll start with the one issue that we find somewhat surprising. The company sources its "premium quality" hemp from Colorado farms that grow their crops chemical-free in sustainable greenhouses and "pristine" soils, only using plant-based pest control methods. It also claims that hemp plants don't actually require herbicides, pesticides, or fertilizer.
But the one word that Bluebird Botanicals doesn't use to describe its hemp is the "O" word. It specifies that the hempseed oil it uses as a carrier (the second-best choice) is organic, but does not claim to use organically-grown hemp – so we have to assume that it doesn't. All of the methods they describe imply organic farming practices, so we're a little baffled at what might be causing the disconnect. The hemp they use is still excellent quality, but organic is one thing we always look for.
For most of the company's products, cannabidiol is extracted from the plants via the supercritical CO2 method, generally accepted to be the process that is best at retaining the potency of CBD. They do also use less-effective steam distillation at times.
Bluebird produces both full-spectrum and CBD isolate products. Full-spectrum cannabidiol retains all of hemp's natural components, including terpenes, flavonoids, and a range of other cannabinoids including a minuscule amount of THC; those components boost the performance of cannabidiol due to what's called the "entourage effect". CBD isolate, by contrast, removes all of those components, meaning there's no extra "oomph" ineffectiveness, but there's also no THC to create problems for people who are drug-tested.
The company does use all-natural ingredients in its products and avoids unnecessary additives, and tests for purity and contaminants in-house before submitting its products for third-party testing. In the "transparency department," it's extremely easy to look at all of those COAs (certificates of analysis) online before you buy.
Here's the bottom line: we wish that Bluebird Botanicals came out and said that organic hemp is used to produce its products and that MCT carrier oil was used instead of hempseed oil. That may just be nit-picking, though; this company uses methods designed to create high-quality and effective CBD products – and that's exactly what Bluebird produces.
Bluebird Botanicals CBD Oils
Bluebird offers three primary categories of CBD oil, each available in two potencies. Those potency options are quite unusual; the first is just 4.2mg/ml, a very low dosage for most issues and conditions. The second is called "6X Concentrated" oil, and as you'd expect, it contains 25mg/ml. Most users (and those in the CBD industry) would consider 25mg/ml a "normal" strength, not an exceptionally high one.
The types of oil are somewhat unusual, too, except for "Classic" CBD oil which contains only full-spectrum cannabidiol and hemp seed oil as a carrier. "Signature" oil is Classic CBD oil with added wellness botanicals frankincense and cumin seed oil. And "Complete" oil contains full-spectrum CBD and organic extra-virgin olive oil as a carrier, plus added terpenes (which theoretically boost the entourage effect) and additional CBDA (the raw precursor to CBD which is believed to have extra medicinal properties).
The company also produces two types of specialty CBD oil. One is THC-free, containing CBD isolate with MCT coconut carrier oil, with a potency of 25mg/ml. The second is a blend of full-spectrum cannabidiol, MCT carrier oil, and vitamin D3 for immune support, sold in only the 4.2mg/ml strength.
Bluebird Botanicals CBD Capsules
The "Concentrated" formulation of the company's capsules comes in non-vegan soft gels (they're made from bovine gelatin). They're simple, containing just 15 milligrams of cannabidiol and organic hemp seed carrier oil, and they're as effective as CBD capsules can be. (Unlike oil, capsules have to be processed by the digestive system where some of their potency is lost).
The second option is Bluebird Botanicals "Complete" soft gels, with raw CBDA added to the formulation. These also contain 15 milligrams of full-spectrum CBD and are non-vegan.
Bluebird Botanicals CBD Edibles
The company has recently added CBD-infused gummies to its product list. They're sweet, thanks to organic cane sugar and organic tapioca; they're strong, with each gummy containing 15 milligrams of full-spectrum cannabidiol; and they're all-natural, with no artificial colors or flavors added. They're available in lemon, watermelon, and strawberry flavors.
Bluebird Botanicals CBD Topicals
Bluebird's all-natural topicals all come in lotion form, and unlike most CBD topical formulations, they contain full-spectrum cannabidiol instead of CBD isolate.
The "Essential" lotion adds skin-care standards like jojoba, rosemary oil, and coconut oil to the blend; the "Silk" lotion also includes lavender and geranium oils to support skin health; and the "Sport" lotion features arnica and corn mint to cool and soothe the skin, as well as ginger to fight the effects of aging.
Bluebird Botanicals CBD for Pets
The descriptions of these products say they can be used for both dogs and cats, but one of them isn't really suitable for most cats. The "Companion" CBD capsules contain 15 milligrams of full-spectrum CBD, in addition to organic hemp seed carrier oil. That's a good-sized dose for medium or large dogs but it's way too much for all but the largest cats. The Companion CBD oil, on the other hand, contains a much smaller dose of 4.2mg/ml (plus hemp seed oil), so it's a much better choice for smaller dogs or cats – and you can always use a smaller amount of oil if you choose.
Bluebird Botanicals CBD Isolate
The final Bluebird product offering is CBD isolate in crystalline form, sold by the gram. It's 96.9%-99.9% pure and can be used in a variety of ways. Among the most common areas in cooking or baking, making DIY topicals or vape juice, or stirring into beverages.
Bluebird Botanicals: The Verdict
This CBD producer could be used as a model for others who want to get into the growing industry. Bluebird Botanicals is transparent, supports charities and the community, and is (most importantly) devoted to designing and manufacturing high-quality, all-natural CBD. It doesn't spread itself thin with an enormous collection of products; instead, it focuses on a few in each category and ensures they're produced with care.
Sure, we could quibble about a few things like the fact that they use hemp seed oil instead of MCT oil as a carrier or the selection of potencies that they offer.
Those small issues don't diminish the high quality of Bluebird Botanical CBD products one bit. The company sells excellent products and charges reasonable prices for the quality they provide. Bluebird's reputation as one of the very best producers in the CBD industry is richly deserved.