Best CBD Capsules for Sleep: Top 10 Hemp Pills For Insomnia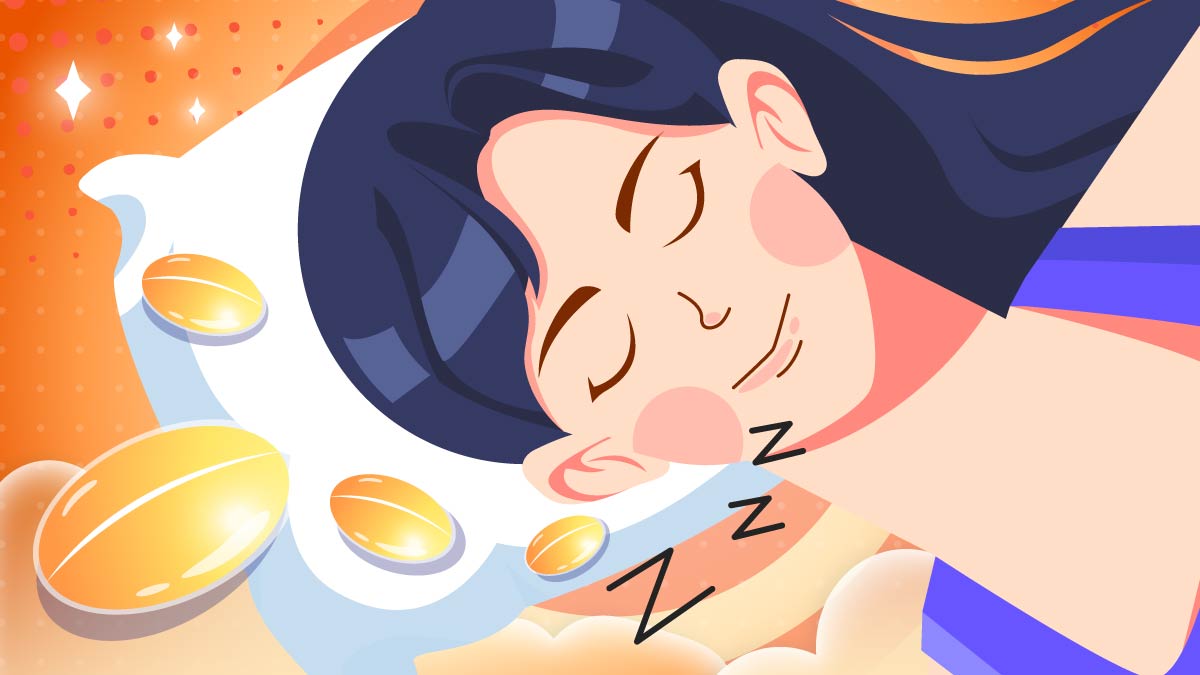 CBD has become the go-to-sleep aid for many people who suffer from sleep deprivation.
Not only can CBD help the body set the right gears in motion to facilitate healthy and restorative sleep, but it can also help regulate our circadian rhythm.
On top of that, CBD can reduce the roadblocks on your way to having a good night's sleep, such as anxiety and chronic pain.
CBD capsules provide an easy way to supplement CBD for sleep. They're convenient, easy to carry around, and contain a fixed dose of CBD in each serving.
In this article, we review the top 10 brands that make high-quality CBD capsules for sleep. We'll also explain how CBD works for sleep and how to do your own research when buying CBD products.
Best CBD Capsules for Sleep: Top 10 Brands
Royal CBD – Best CBD Capsules for Sleep Overall

Gold Bee – Best Organic CBD Capsules for Sleep

Green Roads – Runner Up

Hemp Bombs – Best Pure CBD 

CBDfx – Best Variety

cbdMD – Good Value

Charlotte's Web – Most Popular CBD Brand

PlusCBD Capsules – Largest Size

Medterra – Best for Daytime Use

Joy Organics – Best Customer Service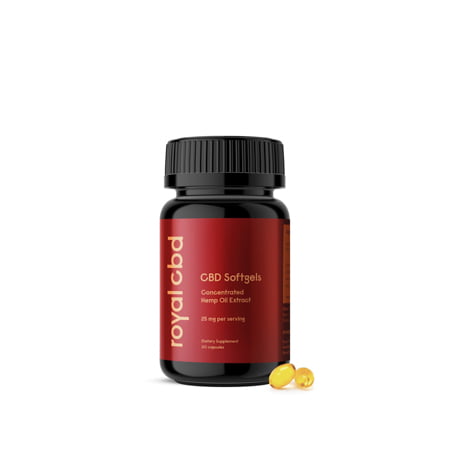 Get 15% off all Royal CBD products.  Use code "CFAH" at checkout.
Royal CBD capsules for sleep are formulated with organic ingredients, including hemp extract, carrier oil, and flavorings. They come with full-spectrum CBD, so you're getting the entire range of beneficial compounds from hemp, not just cannabidiol. They come in one strength — 25 mg — making it a good choice for more serious sleep problems.
The 25 mg potency is also a decent pick for people who weigh more than an average user. They're more cost-effective in the long run than 10 mg capsules from other brands. On the other hand, we wish that the company added a low-potency version because this would be a nice nod towards beginners.
We had reviewed the Royal CBD collection and they are all tested for potency and purity in a third-party laboratory to maintain high-quality standards and complete transparency.
Pros:
Organic hemp

CO2 extraction

Full-spectrum CBD

25 mg of CBD per capsule

Vegan

Gluten-free

Third-party tested for quality and safety
Cons:
Only one potency option is available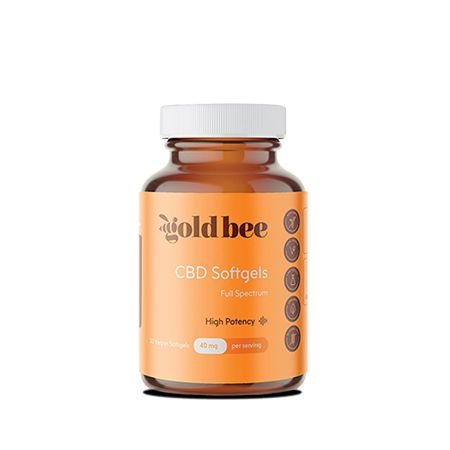 Gold Bee was launched in California in 2018 by a group of superfoods professionals and cannabis enthusiasts. Before shifting its focus to CBD products, Gold Bee specialized in organic raw honey and coconut oil. Today, in our recent review for Gold Bee, this brand has evolved and now features a broad selection of premium CBD extracts in various forms.
The Gold Bee CBD capsules contain the same full-spectrum extract as its award-winning oil, containing 40 mg of CBD per serving. At this concentration, this product is great for people who need a stronger sleep aid or are looking to relieve severe stress during the day.
They're also vegan, non-GMO, and gluten-free.
Pros:
Organic hemp

CO2 extraction

Full-spectrum CBD

Very strong: 40 mg of CBD per capsule

Vegan

Created by superfood specialists

Third-party tested for quality and safety
Cons:
3. Green Roads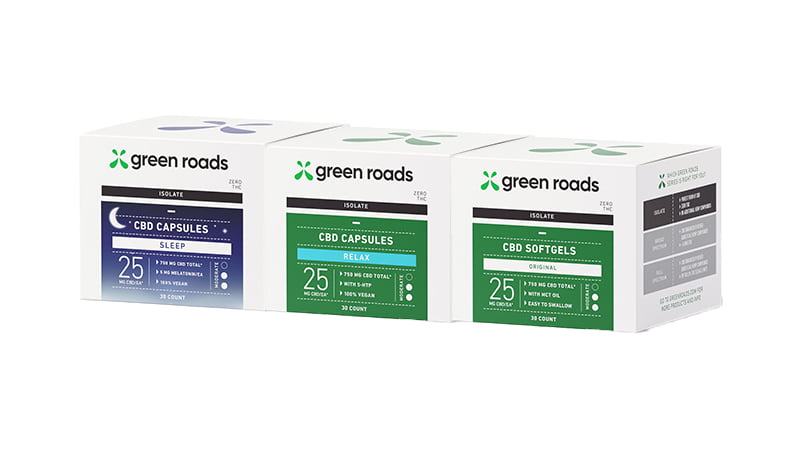 Green Roads is one of the largest suppliers of CBD in the United States. They host a wide range of pharmaceutical-grade CBD products, including oils, gummies, capsules, topicals, vapes, and even pet supplements.
You can choose from three versions of the Green Roads CBD gummies:
Regular:

25 mg of full-spectrum CBD

Relax:

25 mg of CBD + GABA + 5-HTP

Sleep:

25 mg of CBD + Melatonin
The "Relax" option is a good pick for daytime use, as it helps calm the brain and stave off stressful thoughts so that you can remain productive. The "Sleep" version will work better before bed, as the presence of melatonin — our natural sleep hormone — makes falling asleep easier.
Unfortunately, Green Roads doesn't stock any low-potency or extra-strength capsules.
Pros:
US-grown hemp

Full-spectrum CBD

25 mg per capsule

Suited for different health needs
Cons:
Limited potency options

The "Sleep" version contains too much melatonin per capsule in our opinion

More expensive (per mg of CBD) than competitors
4. Hemp Bombs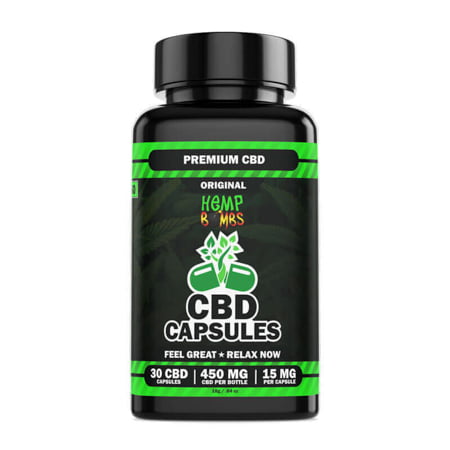 Hemp Bombs is one of the most 'colorful' brands in the CBD market. The company combines high-quality products based on CBD isolate with smart marketing, which has quickly made them a true maverick among other brands.
Hemp Bombs offers a broad selection of CBD capsules. You can buy them in different sizes, from 8-count to 100-count bottles. The capsules are available in two strengths — 15 mg and 30 mg — and there's also a "sleep" version with melatonin.
These capsules contain pure CBD, meaning they don't leverage the entourage effect. This mechanism can be unlocked only due to the presence of other cannabinoids and terpenes, so if you're looking for whole-plant capsules, we recommend checking out brands like Royal CBD and Gold Bee.
Pros:
Organic hemp

Two strengths are available: 15 and 30 mg

THC-free

Vegan

You can buy them in several size options (including sample packs)
Cons:
The hemp is imported from Europe 

No high-strength capsules are available

No entourage effect due to the lack of the other hemp compounds
5. CBDfx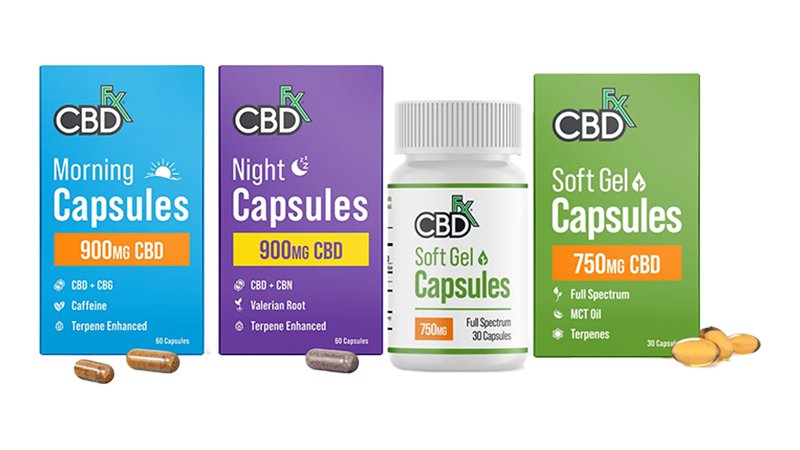 CBDfx offers an abundance of CBD capsules for sleep. They come in 30-count and 60-count bottles, with either 25 or 50 mg of CBD per capsule. The formulation has been reviewed by pharmacists and doctors to ensure its safety and efficacy.
The CBDfx capsules are made with full-spectrum CBD, allowing you to get more bang for your buck, especially when you choose the high-potency version. 
At 50 mg of CBD per capsule, this product is great for both heavyweight users and those suffering from serious sleep deprivation. The capsules are suspended in MCT oil for improved absorption.
However, there's little information about the company's team on the website. This can make it difficult for customers to build a relationship with the brand, as trust is the most important when it comes to buying CBD in this unregulated market.
Pros:
Full-spectrum

25 mg or 50 mg of CBD per capsule

Vegan

Third-party tested for quality and safety
Cons:
No low-strength capsules

Little information about the company

No formulas that would address specific health needs
6. cbdMD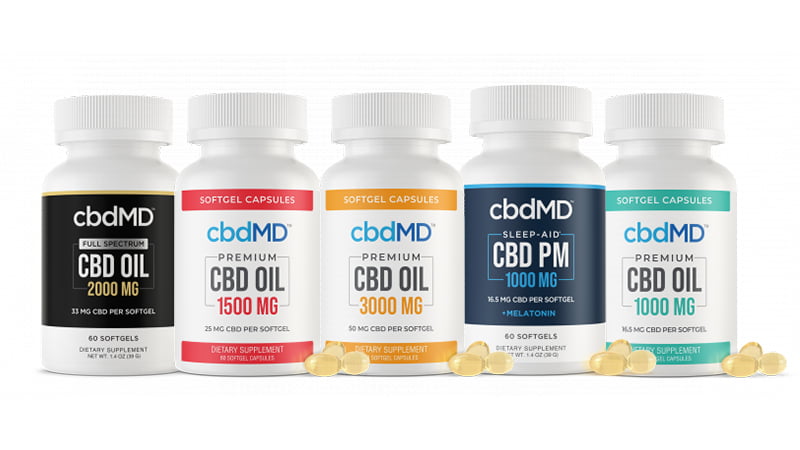 cbdMD specializes in softgel CBD capsules made from organic, non-GMO, US-grown hemp. These are full-spectrum CBD capsules, so they reflect the original profile of the source plant — being the most desired form of CBD among people who use the cannabinoid for sleep. The company is very transparent, providing relevant and up-to-date certificates of analysis on its website.
The cbdMD capsules come with 15, 30, or 50 mg of CBD. You can also choose from different bottle sizes, with up to 100 capsules per container. cbdMD claims that its capsules are enriched with CBG and terpenes, although they don't point the users to any specific terpenes that have been used in the formula.
Another potential drawback is that the potency options are less obvious than with most of the CBD capsules for sleep that we've mentioned here. People usually take doses like 10, 25, or 40 mg of CBD per capsule. But on the other hand, they're a decent alternative to CBD oils if you have unique dosage needs.
Pros:
Organic, US-grown hemp

Full-spectrum CBD

Enriched with CBG and CBN

3 strength options

Third-party tested for quality and safety
Cons:
Priced at the higher end

FedEx is the only shipping option
7. Charlotte's Web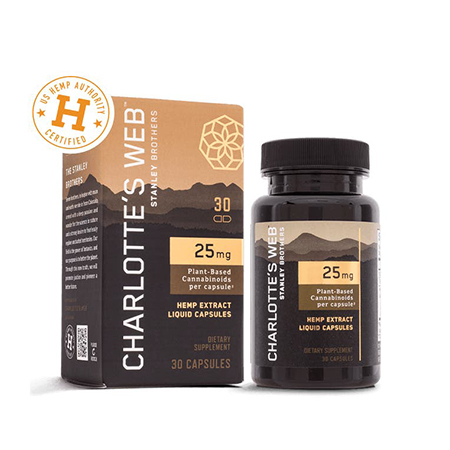 Established by Stanley Brothers, Charlotte's Web is a company that helped bring CBD into the spotlight. The founders of the brand helped Charlotte Figi reduce the severity and frequency of seizures resulting from a rare form of intractable epilepsy. Since then, they have become a true powerhouse in the hemp space, offering a broad selection of CBD supplements.
The company's capsules are made with full-spectrum CBD, offering 15 mg or 25 mg per capsule depending on the selected strength. There are also three bottle sizes to choose from:  30 ct, 60 ct, and 90 ct.
That being said, there are no high-strength variants in the brand's collection. Charlotte's Web also doesn't include any formulations that would target specific health goals.
Pros:
One of the most popular brands in the world

Organic hemp

Full-spectrum CBD

15 or 25 mg of CBD per capsule

3 bottle sizes

Vegan
Cons:
No high-strength capsules

No formulas that would address specific health needs

The company has received a few warning letters from the FDA regarding health claims
8. PlusCBD Capsules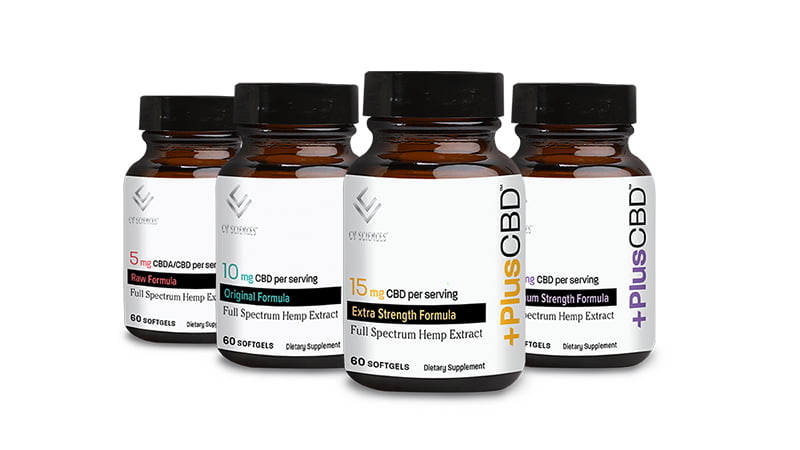 PlusCBD capsules are a textbook definition of simplicity. This product is made with full-spectrum CBD, so it contains all beneficial compounds found in hemp. This includes supportive cannabinoids, terpenes, flavonoids, and trace amounts of THC.
Each capsule has been formulated with a low dose of 10 mg of CBD, making it a great pick for those who don't need much CBD in their routine.
That being said, the product uses olive oil as a carrier, meaning that it doesn't maximize its bioavailability like MCT oil. Moreover, the formula contains carrageenan which is a known carcinogen despite being approved by the FDA.
Pros:
Whole-plant CBD

Good brand for beginners (10 mg of CBD per capsule)

Third-party tested for potency and purity

Simple formula
Cons:
No high-strength pills

Contains carrageenan

Suspended in olive oil
9. Medterra
Medterra is a craft company from California that specializes in premium CBD extracts. The brand has a modest selection of CBD capsules — infused with 25 or 50 mg of CBD. Each version is available in a 30-count bottle.
This is another company that makes isolate-based CBD products, so even though they are very potent, they may not be as effective as their full-spectrum counterparts with the same strength. On the positive side, the CBD has been suspended in MCT oil, improving its absorption.
Pros:
Organic hemp

Full-spectrum CBD

Up to 50 mg of CBD per capsule

Vegan

THC-free

Lab-tested for potency and purity
Cons:
No entourage effect from other cannabinoids and terpenes

A little bit expensive for isolate-based CBD capsules
10. Joy Organics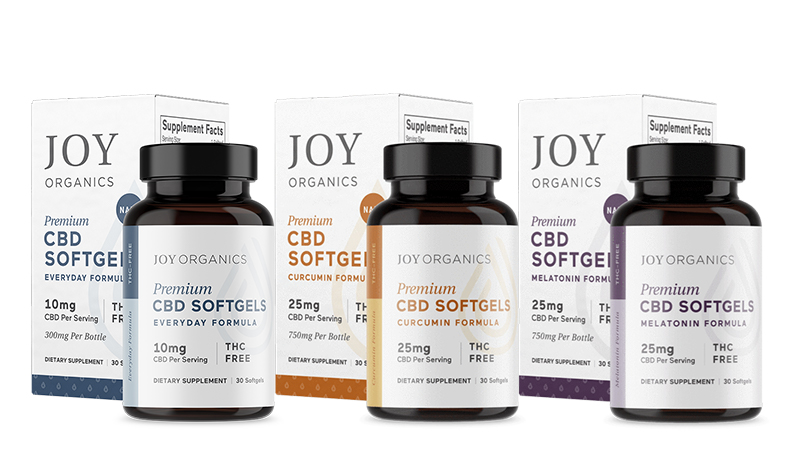 Joy Organics is a family-owned company with a mission to provide high-quality extracts for health-conscious users. Joy Smith, the brains behind Joy Organics, launched the brand because her products were the only one that helped her alleviate chronic pain.
Similar to Medterra, Joy Organics focuses on pure CBD capsules, so you won't find any additional cannabinoids and terpenes in the formula. As a result, their efficacy may not be as high as expected. Carrying between 10 and 25 mg of CBD per capsule, this product is a good choice for beginners and experienced users alike. It can be used to address minor and moderate sleep problems.
However, if you're looking for a product targeted at specific health needs, we recommend checking out the companies that sell full-spectrum capsules.
Pros:
US-grown hemp

Available in 2 strengths

THC-free

Vegan

Lab-tested for quality and safety
Cons:
Not a full-spectrum extract

Only one size is available

No high-strength capsules
How Did We Choose the Best CBD Capsules for Sleep?
The introduction of the 2018 Farm Bill legalized hemp across the board and gave birth to a booming industry that has finally received its redemption story after decades of unjust prohibition and criminalization.
Every company that could use a farm, an extraction facility, and a web designer, started producing CBD extracts from hemp.
Unfortunately, there are many companies out there that just want to capitalize on the booming market — ignoring the philosophy and science behind making CBD oils.
Since the market isn't regulated by the FDA, it's the consumer's responsibility to research potential vendors for quality and safety.
To help you skip the hard work, we've:
Interviewed over 10 000 readers using email surveys

Looked at the customer reviews section of 30 popular companies and their products

Tested each brand ourselves, narrowing down our picks to the top 10 brands
In this section, you'll find a complete buyer's guide to finding high-quality CBD capsules for sleep.
What's in the Capsules?
CBD capsules are all about simplicity. They should contain a CBD extract, carrier oil, and a softgel shell made from gelatin or cellulose. In addition, the formula may bring additional compounds to the table, such as calming herbs, plant extracts, melatonin, or sleep-inducing terpenes.
If you want to make sure you're buying a safe product, read the list of ingredients. Look for words like "pesticide-free," "all-natural," and "organic." Domestically grown hemp is better than mass-produced plants imported from overseas because it undergoes stricter quality-control measures.
If you see any ingredients that sound suspiciously unfamiliar, you probably don't need them in CBD capsules.
Do They Work?
When you take CBD capsules for sleep, they need to pass through the digestive system and be metabolized by the liver before they can start circulating in the bloodstream again. This long route causes them to lose some of their potency, so you need to ensure the proper strength of your capsules.
For example, if you take 10 mg of CBD oil twice a day, we recommend going with 25 or 30 mg capsules. That's because CBD capsules offer lower bioavailability than oils.
The best approach to dosing CBD is to start low and slowly increase the amount to the point where you experience the desired results without any side effects.
Taking more CBD than you need may lead to some benign side effects, such as dry mouth, dizziness, changes in appetite, or — in extreme cases — diarrhea.
What's the Source of Hemp?
The source of hemp determines the quality of your CBD capsules. The US- and Europe-grown hemp is safe because there are special agencies that control the cultivation standards.
You should avoid CBD products that are made from hemp imported from China. Mass-produced hemp may contain heavy metals, pesticides, and fertilizers, which are toxic for your health.
Hemp is an effective bioaccumulator — it will absorb every compound from its environment, so if you're looking for the best CBD capsules for sleep, you should look for organically farmed hemp.
What Type of Extract is in the Capsules?
There are three types of CBD capsules: full-spectrum, broad-spectrum, and isolate.
Choosing the best CBD capsules for sleep is all about writing down your goals with CBD and matching them with lifestyle preferences. Full-spectrum CBD capsules offer the best value in terms of their effects on our circadian rhythm.
Broad-spectrum capsules are very similar to their full-spectrum counterparts. The only difference is the lack of THC, which is removed during fractional distillation.
Isolate is the purest form of CBD. It takes the form of white crystals or powder; it's odorless and flavorless and contains the highest amount of CBD per serving. However, it doesn't evoke the entourage effect due to the lack of other cannabinoids and terpenes — making it a less desired format among people who take CBD capsules for sleep.
Certificates of Analysis
That's the most important part of determining the quality of any CBD product. Certificates of Analysis prove the product's chemical profile and purity — confirming that it's safe to use.
Since the FDA doesn't regulate CBD supplements, companies should send samples of their products to third-party laboratories for content analysis and publish the lab reports in the form of certificates.
Brands that hide these certificates fall short of transparency standards worked out by the cannabis community.
Shipping and Return Policies
Customer-friendly policies when it comes to shipping and returns can tell you if the manufacturer cares about its customers from more than just a business perspective.
Price
The abundance of CBD capsules on the market has made customers spoiled for choice. However, you should always make sure that you're getting good value out of your product. Spend some time comparing different companies and their prices. The affordability of CBD oil can be checked by evaluating the cost per milligram of CBD.
Coupons and Rewards
CBD capsules are usually more expensive than other OTC supplements because they require specialized knowledge, high-tech equipment, and a lot of skill on the lab workers' part.
Hopefully, the majority of CBD brands offer different ways to save money on their products. You can take advantage of coupon codes, gift cards, and reward programs, where you gather special points with every purchase. You can later spend them to lower the cost of your next order for CBD capsules.
Reputation
Reputable brands have been on the market for some time, gathering a lot of positive reviews on their website. Better yet, companies can no longer write hundreds of fake reviews over a joint — they are required to use verified third-party reviews systems on their websites.
Can I Use CBD Capsules for Sleep?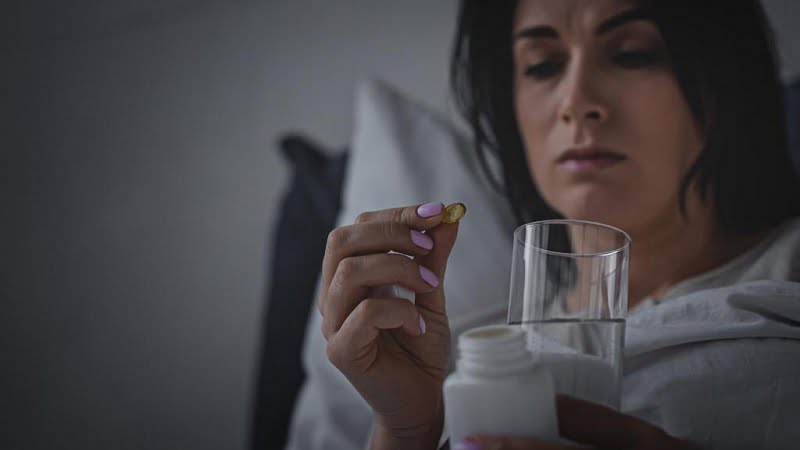 CBD capsules for sleep feature the same active ingredient as oils, vapes, and gummies — cannabidiol.
CBD has long been touted for its therapeutic versatility, especially with regard to pain, sleep, and mental health.
Long story short, you can use CBD capsules as a pain-reliever or for sleep issues, but whether they're effective or not depends on a range of factors, such as:
Cannabinoid spectrum

Potency

Carrier oil

Additional Ingredients
Nearly 70 million Americans have sleep disorders. Insomnia is the most common disorder, with 30% of the adult population suffering from short-term insomnia. For about 10% of people, insomnia is a long-lasting problem.
The side effects of pharmaceutical sedatives and hypnotics include:
Headache

Nausea

Dry mouth

Hallucinations

Dizziness

Rebound insomnia

Short-term forgetfulness
The above reactions have made many people turn to natural resources for sleep aid — CBD capsules are one of them.
How CBD Works
The reason why CBD is such a versatile compound lies in its relationship with a complex neurochemical network known as the endocannabinoid system (ECS).
The ECS works to promote and maintain cellular balance in the body called homeostasis.
The ECS produces its own cannabinoid-like molecules called endocannabinoids. Endocannabinoids regulate the activity of the ECS, including the functions controlled by the other systems and organs in your body.
Cannabinoid receptors are located in almost everybody's tissue, making the ECS an interesting target for therapeutic research. It influences several important biological processes, such as memory, mood, body temperature, appetite, pain, immune response, fertility, appetite, and sleep cycles.
Studies have shown that CBD can act as a wake-promoting agent when used in low doses. Higher doses of CBD are associated with increased sleepiness due to its effect on blood pressure.
CBD's influence on the circadian rhythm reaches far beyond the ECS. CBD operates on over 65 molecular pathways, including serotonin receptors and GABA, both of which are involved in regulating the brain's activity.
On top of that, CBD acts as the inhibitor of the reuptake of our endocannabinoids. Not only does it signal the ECS to produce more of its natural molecules, but it also slows down their breakdown by inhibiting certain metabolic enzymes.
Research on CBD & Sleep
A 2014 case report published in the

Journal of Clinical Pharmacy and Therapeutics

analyzed the effects of CBD on the sleep patterns of patients with Parkinson's disease. Those who took CBD noted an improvement in the REM stage during their therapy

.

In a 2016 study posted by the

Permanente Journal

, the authors found that CBD was effective at treating insomnia in children with PTSD without any pharmacological aid. The research team admitted that their final goal is to allow their patients to make a full transition to CBD without the need to introduce pharmacological treatments.

Another study from 2019 published in the

Journal of Alternative and Complementary Medicine

showed that 38% of patients with PTSD who took CBD experienced fewer nightmares

.

A 2019 study published in The

Permanente Journal

examined the interaction between CBD and the human circadian rhythm using a group of healthy individuals and people suffering from insomnia. The researchers gave one group CBD, while the other group received a placebo. Although no significant changes in the sleep-wake cycle were noticed in healthy participants, patients with insomnia achieved better sleep quality using 40, 80, or 160 mg of CBD before bed compared to the placebo group. Those with sleep disorders also reported that they remembered fewer dreams, which was explained by the authors in two ways: either CBD decreased REM activity, or it reduced the time of wakefulness during the night

.
Read more: Sleep Statistics & Facts
Why Are CBD Capsules Good for Sleep?
Because they use the same active ingredient as CBD oils, but they're more convenient, easier to use and carry around, discreet, and better for on-the-go use.
Here's why some people prefer taking CBD capsules for sleep instead of oils, vapes, and other formats.
Convenient Form
CBD capsules are very functional. They're odorless and flavorless, and you can easily carry them in your bag or purse. There's no need to make any measurements; you just take as many capsules as you need to meet your dosage needs and you're good to go.
Easy to Use
Some consumption methods are easier to dose than others — that's exactly the case for CBD capsules. A proper dose of CBD can make a significant difference in your experience; it can actually decide on your product's efficacy. Although dosing should be adjusted gradually, capsules make it easier because they're available in such dosages that allow the user to use small increments on their way to finding the best dose of CBD capsules for sleep.
Low Profile
CBD oils are anything but convenient to use in public. When you take out the dropper and place an oily substance under your tongue, you can be sure to turn some heads around. With capsules, it's like you're taking yet another supplement in your routine, so nobody will ask you, "Hey, what's in that capsule?" because they simply won't care.
Long Duration of Effects
Although CBD capsules have a delayed onset compared to oils and vapes, their effects are extended in time because the CBD is gradually released from the liver into the bloodstream. When you use CBD capsules for sleep, the effects can stay with you for up to 12 hours.
How Many CBD Capsules Should I Take for Sleep?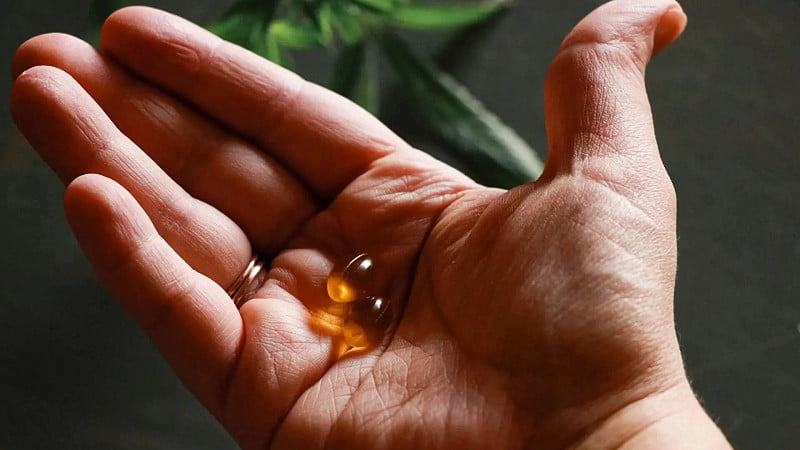 There's no such thing as the best CBD dosage for sleep. Your optimal dose will depend on several individual factors, such as your tolerance to CBD, your weight, age, metabolism, the severity of your sleep disorders, and your unique body chemistry,
The FDA doesn't regulate hemp-derived CBD products, so there are no official dosage charts or recommendations for specific health needs.
Finding the right dose of CBD involves some trial and error, but the best approach is to start low and slowly increase the amount of CBD until you feel the difference in your sleep quality without any side effects.
A good rule of thumb is to start with 5 or 10 mg of CBD and slowly up it to see how your body responds to different doses.
What's the Bioavailability of CBD Capsules?
Bioavailability is a term describing the leftover amount of CBD available for the body once it has been processed by your lungs, mucous membranes, or digestive tract.
CBD capsules offer the lowest bioavailability of all forms of CBD, delivering up to 20% of the active ingredient to your system.
So, when you take CBD capsules for sleep and one capsule has 50 mg, you may be taking as little as 10 mg into the bloodstream. That's the side effect of CBD being metabolized in the liver.
Will CBD Capsules Get Me High?
No, CBD derived from hemp doesn't get your high unless you take marijuana-derived capsules. Hemp-derived CBD products contain 0.3% of THC or less, which isn't enough to induce intoxication. Broad-spectrum and isolate-based capsules are completely free of THC, the high shouldn't be your concern.
Are CBD Capsules Safe?
Yes, CBD capsules are safe as long as they come from a reputable source that tests its products for purity. CBD has an excellent safety profile; even doses as high as 1,500 mg administered daily for several weeks were safe and well-tolerated in humans, according to studies.
That being said, taking too much CBD can result in mild side effects, such as dry mouth, drowsiness, changes in appetite, and — in extreme scenarios — diarrhea.
Key Takeaways on Using CBD Capsules for Sleep
Individuals experiencing intense peer pressure and stress at work, as well as those suffering from chronic pain, can improve their sleep quality by using CBD supplements such as capsules.
If you have trouble sleeping — be it due to pain, anxiety, or racing thoughts — CBD can help you ease insomnia by acting on several areas of the brain that control sleep patterns.
Using the endocannabinoid system, serotonin receptors, and GABA, CBD can regulate our circadian rhythm in a way that helps us stay productive during the day and prevent problems with falling asleep. On top of that, CBD can lower blood pressure, which can make it act as a sedative because lower blood pressure translates into slower breathing — and slower breathing induces sleepiness.
If you're not a fan of the taste of CBD oils, capsules are a great alternative for sleep. But before you type "CBD capsules near me" for your goodnight sleep, make sure that you know how to tell the difference between high-quality and poorly manufactured products.
You can do your own research using the quality criteria we've applied to create our list of the best CBD capsules for sleep, but if you're in a rush, feel free to follow our recommendations. If you're looking for a reputable brand that makes full-spectrum capsules with organic ingredients, Royal CBD and Gold Bee are surefire picks.
Do CBD capsules help you sleep? What is your evening routine with hemp? Let us know by leaving a comment below.
References:
Khan, M. I., Sobocińska, A. A., Czarnecka, A. M., Król, M., Botta, B., & Szczylik, C. (2016). The Therapeutic Aspects of the Endocannabinoid System (ECS) for Cancer and their Development: From Nature to Laboratory.

Current pharmaceutical design

,

22

(12), 1756–1766.

https://doi.org/10.2174/1381612822666151211094901 

Jadoon, K. A., Tan, G. D., & O'Sullivan, S. E. (2017). A single dose of cannabidiol reduces blood pressure in healthy volunteers in a randomized crossover study.

JCI insight

,

2

(12), e93760.

https://doi.org/10.1172/jci.insight.93760 (2)

Bakas, T., van Nieuwenhuijzen, P. S., Devenish, S. O., McGregor, I. S., Arnold, J. C., & Chebib, M. (2017). The direct actions of cannabidiol and 2-arachidonoyl glycerol at GABA

A

receptors.

Pharmacological research

,

119

, 358–370.

https://doi.org/10.1016/j.phrs.2017.02.022

Leweke, F. M., Piomelli, D., Pahlisch, F., Muhl, D., Gerth, C. W., Hoyer, C., Klosterkötter, J., Hellmich, M., & Koethe, D. (2012). Cannabidiol enhances anandamide signaling and alleviates psychotic symptoms of schizophrenia.

Translational psychiatry

,

2

(3), e94.

https://doi.org/10.1038/tp.2012.15 

Chagas, M. H., Eckeli, A. L., Zuardi, A. W., Pena-Pereira, M. A., Sobreira-Neto, M. A., Sobreira, E. T., Camilo, M. R., Bergamaschi, M. M., Schenck, C. H., Hallak, J. E., Tumas, V., & Crippa, J. A. (2014). Cannabidiol can improve complex sleep-related behaviours associated with rapid eye movement sleep behaviour disorder in Parkinson's disease patients: a case series.

Journal of clinical pharmacy and therapeutics

,

39

(5), 564–566.

https://doi.org/10.1111/jcpt.12179 

(5)

Shannon, S., & Opila-Lehman, J. (2016). Effectiveness of Cannabidiol Oil for Pediatric Anxiety and Insomnia as Part of Posttraumatic Stress Disorder: A Case Report.

The Permanente journal

,

20

(4), 16-005.

https://doi.org/10.7812/TPP/16-005 

(6)

Shannon, S., Lewis, N., Lee, H., & Hughes, S. (2019). Cannabidiol in Anxiety and Sleep: A Large Case Series.

The Permanente journal

,

23

, 18–041.

https://doi.org/10.7812/TPP/18-041 

(7)

Elms, L., Shannon, S., Hughes, S., & Lewis, N. (2019). Cannabidiol in the Treatment of Post-Traumatic Stress Disorder: A Case Series.

Journal of alternative and complementary medicine (New York, N.Y.)

,

25

(4), 392–397.

https://doi.org/10.1089/acm.2018.0437 

(8)

Iffland, K., & Grotenhermen, F. (2017). An Update on Safety and Side Effects of Cannabidiol: A Review of Clinical Data and Relevant Animal Studies.

Cannabis and cannabinoid research

,

2

(1), 139–154. https://doi.org/10.1089/can.2016.0034