CBD for CrossFit Performance: Does It Help?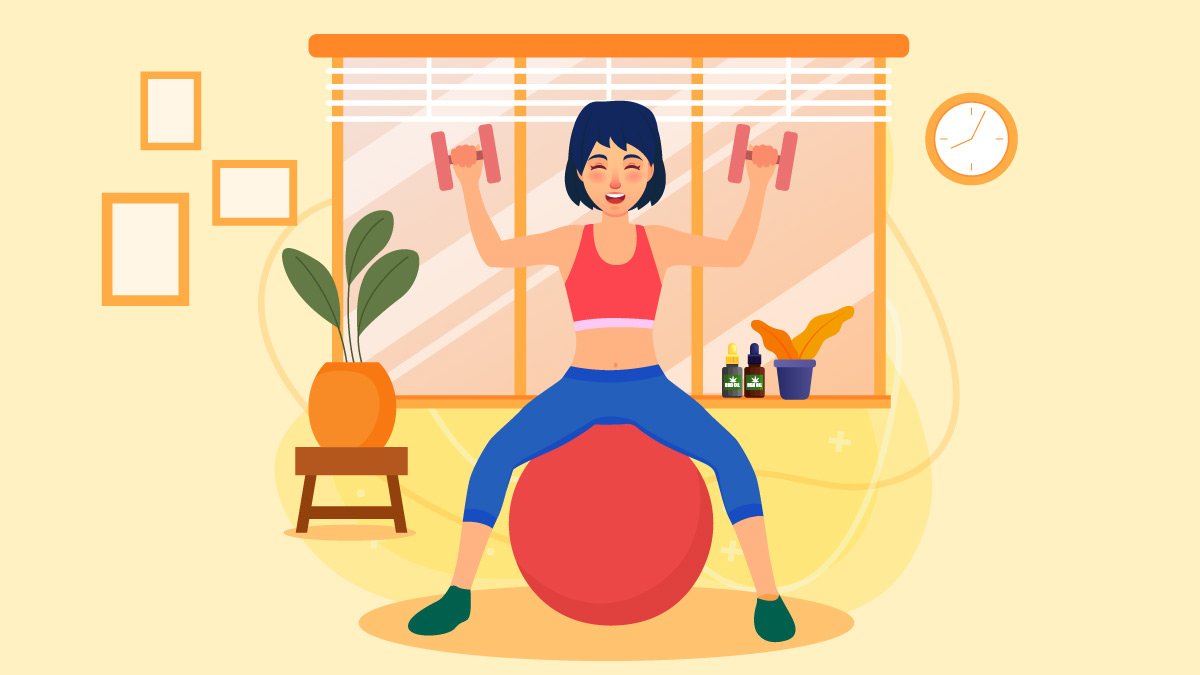 Cannabidiol (CBD) is a compound found in the cannabis plant. It has been used for many centuries in ancient medicines.
Researchers are now beginning to understand the health benefits of CBD. Studies show that it can be used to reduce inflammation and limit fatigue, which is perfect for athletes of all levels.
CBD gives you a better quality of life and allows you to maintain an active lifestyle without feeling pain or being sore all day long. This is why a growing number of athletes, including CrossFit enthusiasts, are incorporating CBD into their daily routines.
Can CBD Improve My CrossFit Performance?
CBD is often used for pain relief and general wellness. It's also used for athletic performance and recovery because it has anti-inflammatory properties.
No definitive research has been done on the topic of CBD and CrossFit, but some studies show that CBD can improve the athlete's performance.
These are the benefits of incorporating CBD into your routine:
Improves your mental focus
Decreases your stress and anxiety
Increases your endurance
Soothes pain and inflammation
Helps you recover faster
Improves your overall balance
CBD and CrossFit: How CBD Can Improve Your Fitness Regime
What are the benefits of CBD for CrossFit athletes?
There are still a ton of unknowns regarding CBD and its impact on athletes, but initial research indicates that it's worth exploring further.
From hardcore athletes to regular gym-goers, CBD has been shown to provide a range of benefits.
CBD for Focus
People of all ages can have problems with concentration. You may also be going through a challenging period in your life, and there is no way to avoid it. You can cope with your situation by using CBD.
Brain fog is also something we all experience from time to time. However, it may result in an injury if this happens during a CrossFit workout. Not to mention you want to be 100% mentally sharp if you're competing.
CBD oil not only supports your muscles but also your brain. It's packed with ingredients that promote cognitive health.
Dopamine receptors are modulated when CBD oil is consumed, which helps to improve energy and attentiveness. Dopamine is a neurotransmitter responsible for memory and concentration.
A poor night's sleep can also leave you tired and unfocused the next day. CBD can improve your sleep quality, helping you wake up feeling fresh and ready to face the next day's workout.
CBD for Stress & Anxiety
CBD can boost your resistance to stress. It can also alleviate your performance anxiety.
Whether you're stressed out about not completing your workout on time, or you're feeling extreme pressure about an upcoming CrossFit event, you can use CBD to help yourself manage these negative emotions.
As a competitor, it's not uncommon to feel nervous and stressed, but this can be mentally draining and can interfere with your performance and sleep. This is one of the main reasons CrossFit athletes use CBD oil to help relieve anxiety.
CBD for Muscle Endurance
For your CrossFit performance to be at its best, you need to make sure that you're properly fueled.
CrossFit requires a lot of stamina and endurance. Taking CBD can help you get more out of your exercise and improve your performance.
Athletes who regularly use CBD oil swear that they're able to maintain a higher level of endurance during their workouts. This is because CBD oil has a positive effect on the body's endocannabinoid system.
The endocannabinoid system is a complex network in the body that helps regulate hormones and other processes in your body.
CBD for Pain and Inflammation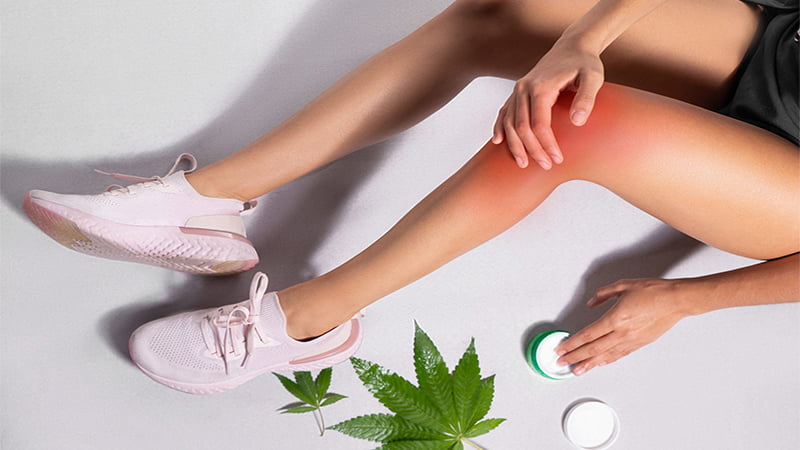 CrossFitters deal with inflammation on a regular basis. CBD has been found to be helpful for people who are struggling to recover from intense workouts and thus improve athletes' performance.
CBD has great potential as a novel anti-inflammatory agent. In a 2016 study, CBD was found to reduce inflammation and overall pain in arthritis-inflicted rats.
The anti-inflammatory effects of CBD result from its impact on cytokines production, which is responsible for balancing inflammation.
CBD can effectively reduce swelling-related pain, thanks to its powerful anti-inflammatory effects. The compound can even help you avoid joint injuries caused by workouts.
CBD for Recovery
Given how demanding CrossFit can be to your body, recovery is a key factor you need to pay attention to. After a rigorous workout, it's important to take care of your body.
You can recover from a workout more quickly with CBD. It's an alternative to muscle relaxers and traditional painkillers, both of which can be harmful in the long term. CBD oil is a safe natural muscle relaxant and an effective way to recover from workouts.
After you exercise, your body goes through a process of muscle repair and muscle growth. CBD oil can help accelerate muscle growth and other aspects associated with fitness and bodybuilding.
CBD for Balance
The importance of mental health is becoming more widely recognized, and athletes are becoming more aware of it.
Your performance can be affected by your mental state. It's no secret that competing and training can take a toll on your mental health, and it can make you feel depleted, out of balance, and overwhelmed as a result.
CBD has been found to aid in achieving a balanced state of mental wellbeing. Taking CBD products regularly can help you reach peak performance and be in a positive frame of mind.
CBD Dosage in CrossFit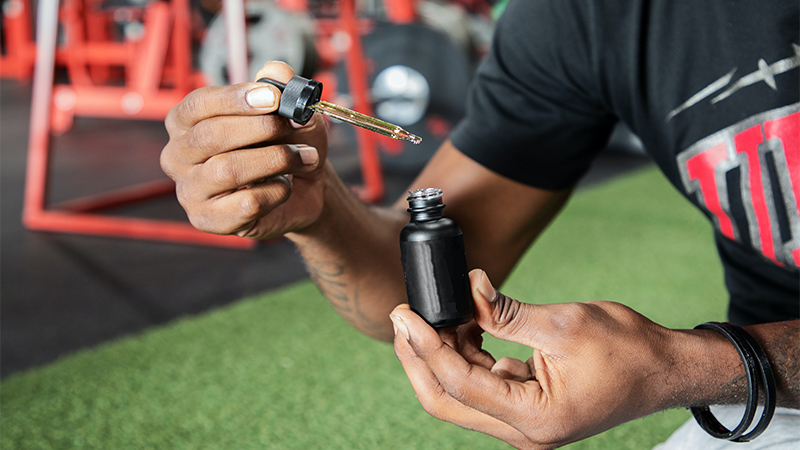 CBD is available in a variety of forms. Among them are oil, capsules, gummies, vapes, and creams.
Weight, metabolic rate, and age are significant factors affecting CBD consumption.
There's no one-size-fits-all on how much to take CBD. But it's a good idea to start with a small amount first. If you can't see the desired results after a few days, increase the dosage until you do. It's no longer necessary to increase the dosage once the desired effect has been achieved.
Make sure you read the instructions on the bottle carefully.
Is CBD Legal to Use in Sports?
Are you wondering if CBD is legal in CrossFit or any sport? The short answer is yes.
CBD is legal to use in sports with the caveat that there are no traces of THC found in it.
Although the Food and Drug Administration (FDA) has not approved CBD due to insufficient evidence of its safety and effectiveness, it's not currently listed on the World Anti-Doping Agency's Prohibited List, so it's allowed in sports.
While CBD is not on the banned list of substances, keep in mind that it's still prohibited to use any other cannabinoids (including THC) in competition.
You may be subjected to drug tests if you're competing, so make sure you're getting your CBD products from a reputable source. Unreliable or inexperienced vendors may not realize that their products contain high traces of THC and other contaminants.
How to Use CBD in CrossFit
Any form of exercise is going to put a lot of wear and tear on your joints. It's not just the repetitive motions that can cause an issue, but the sudden impacts as well. In some cases, this can lead to injuries that can sideline you from whatever sport you're playing for months at a time.
This is why CBD oil has been such a popular addition to CrossFit workouts. The oil allows athletes to have reduced inflammation and pain, which means they can continue their workout without concern of hurting themselves or damaging their joints.
CBD is also a great alternative to over-the-counter drugs that cause adverse side effects if used repeatedly.
The following CBD products are popular among CrossFit athletes:
CBD Oil
Anyone who has trouble taking pills or capsules should go with CBD oils. These oil bottles usually come with a dropper that makes it easy to measure your intake.
Dropping CBD oil under the tongue is the proper way to consume it. Tiny capillaries in the oral mucosa allow the compounds to be absorbed and reach your bloodstream fast.
CBD Cream
CBD cream is your best option if you only need relief for a specific part of your body, like a sore muscle or joint.
CBD cream is easy to use and absorbs quickly. It only needs to be applied to the affected area of your body and left to work. You can always add more or reapply CBD cream to ease the pain if needed.
You can keep it in your sports bag for easy access whenever you feel achy or stiff during workouts.
CBD Vapes
The fastest way to experience CBD's effects is to inhale vaporized oil with CBD vaporizer pens. By inhaling the compounds, they are directly absorbed into the bloodstream.
You're probably taking up CrossFit because you want to change your lifestyle. It's possible that you have bad habits that you want to change as well. For example, if you're trying to quit smoking, vaping is an excellent alternative since it has no nicotine or addictive ingredients.
Vaping also doesn't require additional equipment like rolling papers.
There is still a question of whether vaping can damage delicate lung tissue. You should proceed with caution if you decide to consume CBD through vaping.
Final Thoughts
CrossFit is a very intense workout and can leave your body feeling sore for longer periods. CBD can help you with these discomforts and even improve your performance.
There are many types of CBD products available on the market, which can be overwhelming for someone new at this.
It's important to choose a CBD product that matches your lifestyle. You should think about how often you will use it, the quantity you need, and where you will store it. This allows you to find a product type that works for you and consume it as easily as possible.
It's also important to look for the CBD vendor's Certificate of Analysis (COA). COA provides laboratory analysis of a CBD product. This document tells us what substances are in CBD. It can tell you if a CBD product contains heavy metals, residual solvents, pesticides, and other impurities.
If you have not tried CBD yet, it's best to consult your physician first before proceeding.
Sources: