What Can You Give a Dog for Urinary Tract Infection?
Urinary tract infections, or UTIs, come with a host of alarming symptoms that can be particularly distressing for both the dog and its parent.
Fortunately, you can easily treat it by giving your dog natural remedies.
In fact, holistic treatments prescribed by a knowledgeable veterinarian are not only effective but also safe than conventional methods.
In this article, we explain what you can give your dog for urinary tract infections and share important information about antibiotics that you won't hear about from your vet.
What Are Urinary Tract Infections in Dogs (UTI)?
Most dog parents associate UTIs with an actual infection caused by viruses and bacteria. But in fact, urinary tract infections often derive from inflammation.
It's funny because if you ask a holistic veterinarian, they will call UTI a urinary tract inflammation – not an infection.
Determining the cause of the UTI is important if you want to fix bladder problems in your dog.
Causes of UTIs
Researchers estimate that around 27% of dogs will develop a urinary tract infection at some point in their life, with a large share of those being a bacterial infection.
However, aside from infections and inflammation, there's a number of other issues that may cause problems with your dog's bladder.
UTIs may stem from:
Crystals
Cancer
Prostate disease
Kidney disease
Fungal infection
Weak bladder
Viral infection
Spinal cord disease
Common Symptoms of UTIs in Dogs
Symptoms of canine urinary tract infections can be distressing for dog parents. If your buddy has a UTI, they may show one or more of the following symptoms:
Accidents in the house
Blood urine
Dribbling urine
Excessive thirst
Frequent urination
Signs of pain while urinating
How to Tell if the Urinary Tract Infection Isn't Something Worse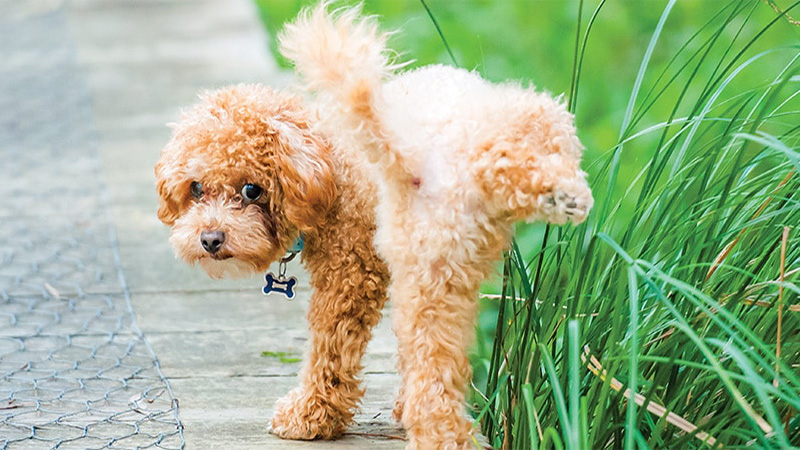 Urinary tract infections in dogs may be sign of an underlying health condition, so if you notice signs of a UTI in your dog, it's a good idea to send a sample of their urine for analysis.
Diseases involving UTIs include:
Bladder or urethra stones
Diabetes
Kidney stones or other kidney issues
Tumor
These problems are rare, but it's better to be safe than sorry. An early diagnosis will help treat them effectively.
How is Urinary Tract Infection Usually Treated?
Most vets choose antibiotics as the go-to treatment for urinary tract infections in dogs. However, the problem with antibiotics is that they kill all kinds of bacteria – not only the bad ones.
Considering that many urinary tract infections stem from bladder inflammation, using antibiotics to treat them is counter-productive.
A damaged gut flora can cause recurring UTIs, not to mention that antibiotics need to reach a certain concentration in the bloodstream to be more effective.
In a 2014 review of antibiotics for UTIs conducted by the University of Copenhagen, the authors found that "there's little published evidence relating to antibiotic treatments of UTIs in dogs and cats. Well-designed clinical trials on the duration of treatment are required to create evidence-based treatment protocols."
Antibiotic resistance is also an issue. The more antibiotics your dog takes, the more resistant it becomes to bacteria.
That's why dog owners are turning to natural remedies.
Natural Remedies You Can Give Your Dog for Urinary Tract Infections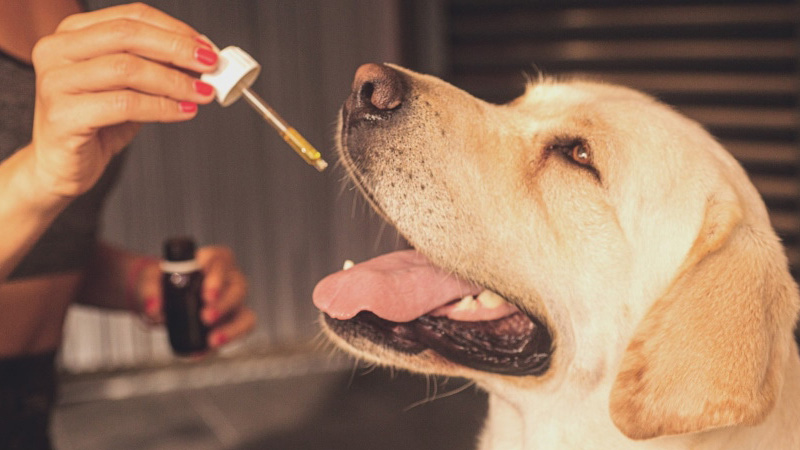 Urinary tract infections can be easily treated at home.
Jokes aside, the dog's bark is worse than its bite.
Try these methods if you suspect your dog has UTI. If the symptoms persist, take your dog to a holistic vet to receive a professional treatment plan.
1. Cranberry
There are many natural remedies you can give your dog for urinary tract infections, but cranberries are hands down one of the most common solutions.
Although cranberry juice may be the first thing that comes to your mind, most juices have a lot of sugar, which may be detrimental to the dog's health.
But fresh cranberries or supplements containing a cranberry extract are one of the best remedies for UTIs.
When you use a cranberry supplement for dogs, follow the label instructions. You can also give the dog supplements for humans, but make sure to adjust the dosage to fit your dog's weight.
2. Methionine
Methionine is an amino acid found in most protein-rich foods, especially in meats, organs, fish, and seafood.
Aside from being a building block for muscles, methionine supports healthy gut flora, helps the body get rid of heavy metals, stimulates proper digestion, and reduces inflammation.
Supplementation with methionine follows similar principles as for cranberries. Again, when you buy methionine for humans, make sure to adjust the dose to your dog's weight.
A rule of thumb is to give small to medium dogs 100 mg twice daily – and 200 mg for larger dogs.
3. CBD Oil
CBD oil is a natural health supplement for humans and dogs. It comes from hemp and modulates the mammalian endocannabinoid system (ECS) – a vast signaling network consisting of endocannabinoids, receptors, and enzymes.
The ECS controls essential functions in the body, including memory, mood, pain perception, body temperature, sleep cycles, immune responses, appetite, fertility, etc.
CBD or cannabidiol is the main ingredient of CBD oil. Unlike its more popular cousin THC, CBD isn't intoxicating, so it won't get your dog high.
On top of that, CBD is a remarkable anti-inflammatory compound with potent antibacterial effects.
Not only did CBD demonstrate high efficacy in addressing treatment-resistant bacteria, but it was also shown to increase the potency of conventional antibiotics.
On top of that, CBD enhances immune function by improving communication between white blood cells. When the immune system is optimized, its cells can properly identify pathogens and prevent urinary tract infections.
4. D-Mannose
One of the most common triggers of urinary tract infections in dogs is the E coli bacteria. Studies have shown that D-mannose prevents E coli from binding to the urinary tract.
This makes D-mannose a great remedy to give your dog if they have an infection. Studies also show that D-mannose can be used for the management of UTI symptoms.
It has even demonstrated better efficacy than some antibiotics.
Flavonoids in cranberries also activate your dog's immune system to combat bacterial infections. You can combine cranberries with D-mannose supplements to tackle the problem from different angles.
5. Marshmallow Root
Marshmallow is one of the most versatile remedies for dogs with UTIs. It's a demulcent that reduces irritation and inflammation, so you can use it as part of their treatment. On top of the above therapeutic qualities, marshmallow creates a barrier between the lining of the urinary tract and dangerous bacteria.
You can sprinkle marshmallow root powder on your dog's food, using ½ tsp for each pound of food.
6. Couch Grass
Also known as quack grass, couch grass is a common weed in North America. In the book Herbs for Pets by Gregory L. Tilford and Mary L Wulf, it's a go-to treatment for urinary tract infections in dogs.
Couch grass is a mild antimicrobial, analgesic, and anti-inflammatory. It also has diuretic properties, meaning it can spur waste elimination.
Simmer a spoonful of the chopped dried root in 240 ml of water for 20 minutes and strain the liquid. Dose the solution with a dropper and place it under your dog's tongue. Use ½ teaspoon per 20 pounds of body weight two times a day. You can also combine it with your dog's water.
7. Horsetail
Horsetail offers antimicrobial properties, so it can help fight infection. It's also helpful if the urinary tract infection is accompanied by minor bleeding.
Horsetail works best when combined with another soothing herb like marshmallow root.
Just make sure not to use it long-term because it may cause irritation.
A good rule of thumb is to combine a large handful of horsetail with ½ spoon of sugar and cover it with water in a pot. Simmer on low heat for about 20 minutes until the liquid turns dark green. Then, strain the liquid and add 1 tbsp for every 20 pounds of your dog's weight to its food.
8. Parsley Leaf
Parsley leaf is another diuretic that can be given as a remedy for dogs with urinary tract infections. It comes with antiseptic properties, and it's easy to give your dog.
The best way to use parsley leaf for UTIs in dogs is to juice it in a vegetable juicer. Feed the juice giving 1 teaspoon per 20 pounds of body weight. Give it by mouth and without food. You can also mix it with your dog's water if they refuse to take it by mouth.
Best CBD Oil for Dogs with UTIs
The best CBD oils for dogs with UTIs come from organic hemp, are extracted with CO2, and are third-party tested for potency and purity.
However, since the CBD space isn't regulated by the FDA, it's the consumers' responsibility to research their potential vendors according to the said quality factors.
If you're in a rush, we've picked out the top 2 brands that make premium CBD oils for dogs.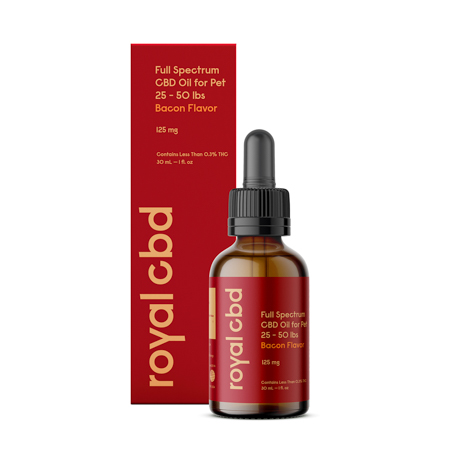 Get 15% off all Royal CBD products. Use code "CFAH" at checkout.
Pros
Cons

Non-GMO, pesticide-free hemp
CO2 extraction
Full-spectrum CBD
Up to 500 mg of CBD per bottle
Bacon flavor
Available as CBD treats (three different formulas)

Slightly more expensive than competitor brands
Limited flavor options
Royal CBD was launched in 2018 by a group of biohackers and hemp advocates. Since then, the brand has become a true CBD behemoth, offering a wide range of CBD products from organic hemp.
Royal CBD uses the same premium-grade CBD extracts for dogs as it does for its human collection. These products are available in different potencies and formulas to match the specific health needs and sizes of dogs.
The Royal CBD pet oil comes in two concentrations: 250 mg (small and medium dogs) and 500 mg (large hounds). These are full-spectrum extracts, so your furball receives all cannabinoids and terpenes from hemp. These compounds enter a unique synergy known as the entourage effect, amplifying the efficacy of CBD.
And if your dog fusses over the natural flavor of full-spectrum CBD oil, these tinctures come in the beloved flavor of all carnivores – bacon.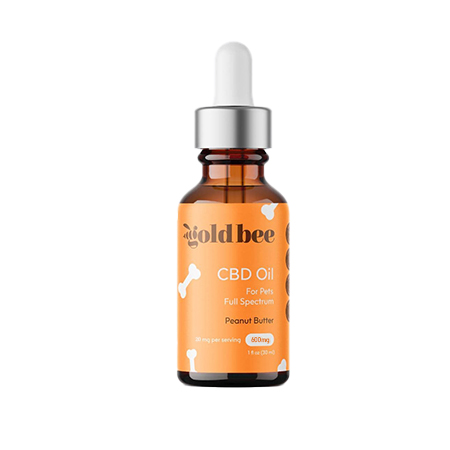 Pros
Cons

Organic hemp
CO2 extraction
Infused with superfoods
600 mg of CBD per bottle
Peanut butter flavor
Full-spectrum CBD
Third-party tested for quality and safety

No low-potency oils for smaller dogs
Only one flavor is available
Gold Bee has great expertise as a superfood manufacturer, and after succeeding in its niche, the company has transitioned to the CBD space.
Today, Gold Bee offers full-spectrum and broad-spectrum CBD products for humans and dogs.
The Gold Bee CBD oil comes in one strength (600 mg), which makes it better for larger breeds. But if you can gauge the optimal dose for a smaller dog, you'll have a few months worth of supply.
The earthy flavor of the full-spectrum extract pairs exceptionally well with the natural peanut butter flavoring.
Similar to Royal CBD, Gold Bee tests its products in an ISO-certified laboratory for potency and purity. You can view the lab reports on the company's website.
Other Ways to Treat Urinary Tract Infections (UTIs) in Dogs
The above remedies are just several potential solutions to fight off UTIs in dogs. They can go hand in hand with one of the following lifestyle modifications to maximize the benefits of the treatment.
Dietary Modifications
Some dogs require dietary modifications that include food specifically formulated to change urine acidity and prevent stone formation. Adding anti-inflammatory foods and eliminating grains, sugars, and ultra-processed ingredients is another milestone in taking care of your dog's urinary tract.
Pain Management
A urinary tract infection can be a very painful condition for your dog to deal with. Veterinarians may prescribe anti-inflammatory drugs, but these are only for short-term use. If you're looking for a natural anti-inflammatory and analgesic, check out CBD oil; it's a safe pain remedy you can give your dog for UTI.
Bladder Support Supplements
Antioxidant and probiotic supplements can be beneficial for your dog because they support the gut's 'good bacteria' and fix the gut lining of your pup. If you'd like to introduce supplements to your dog's diet, speak to your veterinarian to avoid potential drug interactions and the associated side effects.
Urethral Sphincter Medication
In the case of a severe urinary tract infection, your vet may prescribe medication to help control the release of urine. This treatment is typically recommended to dogs going through recurring UTIs with no diagnosed underlying condition.
Treatment of Underlying Conditions
Some diseases like diabetes or Cushing's disease can cause recurring urinary tract infections in dogs. If your dog has an underlying condition accompanied by a UTI, make sure to address that condition first. Doing so may help stop the infection at the root.
If your dog suffers from infections caused by prostate disease, they can be controlled with chemical or surgical castration. The growth of bladder tumors, in turn, can be inhibited with certain medications.
Again, ask your vet to find the best solution.
Surgery
Sometimes, dietary modifications and supplements won't help because of large urinary stones. These stones need to be surgically removed. Dogs usually cope well with this surgery and see improvements in 1-2 weeks. The stones will also help the vet to decide on the most effective and safe treatment for your poosh.
Key Takeaways on Natural Remedies for Urinary Tract Infections in Dogs
If your dog is showing signs of a urinary tract infection, it's time to take them to the vet. UTIs can stem from an underlying health condition, and left untreated, they can develop into serious complications, such as kidney disease or failure.
Antibiotics aren't the best solution because many cases of UTIs are caused by inflammation, not a bacterial infection.
Fortunately, you can use one of the 8 natural remedies mentioned in this article to help fight off a urinary infection and prevent it from recurring. Use CBD oil combined with dietary modifications, cranberries, and therapeutic herbs to bring the body back to balance.
If nothing else helps, take the dog to a holistic veterinarian to find the best solution for an inflamed urinary tract.
Sources:
Howell AB, Botto H, Combescure C, Blanc-Potard AB, Gausa L, Matsumoto T, Tenke P, Sotto A, Lavigne JP. Dosage effect on uropathogenic Escherichia coli anti-adhesion activity in urine following consumption of cranberry powder standardized for proanthocyanidin content: a multicentric randomized double blind study. BMC Infectious Diseases. 2010;10:94. Published 2010 Apr 14. [1]
Akgül T, Karakan T. The role of probiotics in women with recurrent urinary tract infections. Turkish Journal of Urology. 2018;44(5):377-383. [2]
Domenici L, Monti M, Bracchi C, Giorgini M, Colagiovanni V, Muzii L, Panici PB. D-mannose: A promising support for acute urinary tract infections in women. 201;20:2920-5.
Porru D, Parmigiani A, Tinelli C, Barletta D, Choussos D, Di Franco C, Bobbi V, Bassi S, Miller O, Gardella B, Nappi RE, Spinillo A, Rovereto B. Oral D-mannose in recurrent urinary tract infections in women. 2014.
Altarac S, Papes D. Use of d‐mannose in prophylaxis of recurrent urinary tract infections (UTIs) in women. 2013.
Jessen LR, Sørensen TM, Bjornvad CR, Nielsen SS, Guardabassi L. Effect of antibiotic treatment in canine and feline urinary tract infections: a systematic review. Vet J. 2015 Mar;203(3):270-7. [6]
Shin CN. The effects of cranberries on preventing urinary tract infections. Clin Nurs Res. 2014 Feb;23(1):54-79. [7]
Blumberg JB, Basu A, Krueger CG, et al. Impact of Cranberries on Gut Microbiota and Cardiometabolic Health: Proceedings of the Cranberry Health Research Conference 2015. Adv Nutr. 2016;7(4):759S-70S. Published 2016 Jul 15. doi:10.3945/an.116.012583
Dennis J Chew DVM DACVIM, Managing routine and difficult urinary tract infections In dogs. (Proceedings), September 30, 2011