What Can I Give My Dog for an Upset Stomach and Vomiting?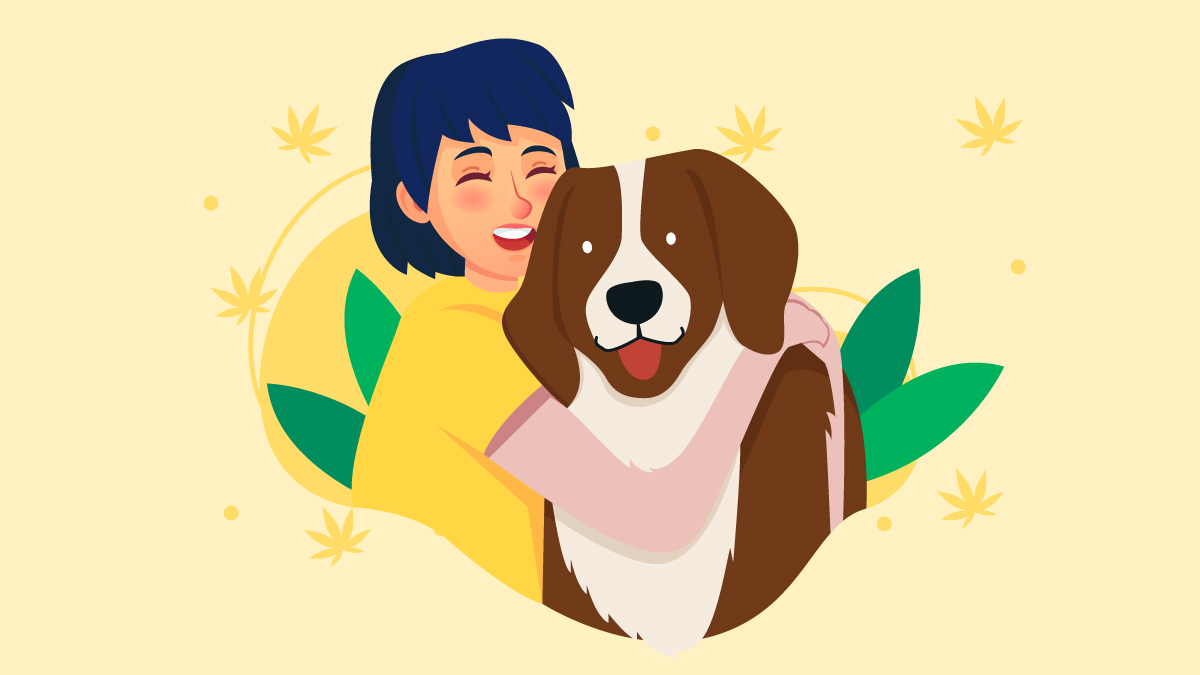 People who have an upset stomach usually go for remedies like ginger tea, peppermint, or some food that can help settle your tummy.
But what can you give your dog for an upset stomach?
Dogs can have an upset stomach for a variety of reasons, from severe stress to dietary changes to dehydration and swallowing foreign objects. The good news is that most of the time, you won't need to rush to the vet in order to help your four-legged buddy.
There are plenty of natural remedies for an upset stomach in dogs out there.
In this article, we cover the list of the best things you can give your dog when they feel sick — along with several handy tips for managing their digestive health.
What Can I Give My Dog for Vomiting?
More often than not, an upset stomach is a single incident that can be easily treated at home. This section provides you with the entire arsenal of natural remedies if your dog is in gastric discomfort.
Fasting
It's a good idea to stop putting food in your dog's stomach when he's trying to get rid of something. Dogs won't digest things properly if their gastrointestinal system is having a difficult time. Before you decide to fast your dog, consult this idea with your veterinarian; they will be able to provide the guidelines for healthy fasting. The fasting period shouldn't exceed 24 hours.
Canned Pumpkin
Many holistic vets recommend 100% canned pumpkin for fighting indigestion and upset stomach in dogs. It has a low glycemic index, so it won't get heavy on your dog's gut, but at the same time, it's a perfect source of fiber, which may promote healthy digestion. Just be sure to get 100% canned pumpkin, not the one that comes with spices and other ingredients. These extra ingredients may not necessarily work well for your dog's tummy. Smaller dogs should eat about one-half teaspoon of canned pumpkin, while larger dogs can consume 1 tablespoon.
Bone Broth
Bone broth is one of the best foods you can give your dog for an upset stomach. You can use a crockpot for the job and simply simmer the bone and the meat on it with water and apple cider vinegar. It will take about 12 hours to make bone broth, so it's best to make ahead and freeze. The fat on the broth's surface should be skimmed off before freezing.
Bland Food
After your dog has fasted for 12–24 hours and you've already introduced bone broth, you can slowly start feeding them with the bland diet — provided that they're not vomiting and can keep down liquids.
The bland diet consists of two basic ingredients:
Boiled rice (75%)
Cooked chicken meat or extra lean beef (no skin or bones)
Do not supplement any oils, fat, or spices to the bland diet. There's a reason why it's called "bland."
Gradually increase the amount of food you give your dog for an upset stomach, starting with one tablespoon and waiting for about three hours to see how the dog responds to the extra amount of food. If your dog doesn't vomit and can keep that down, continue to add more bland food to ½ – 1 cup of bland diet every 3–4 hours.
Once the dog shows signs of improvement, gradually come back to their regular food until they're eating 100% of their normal diet again.
Ice Cubes
Keeping your dog hydrated when they're vomiting or have diarrhea is essential to help them recover, but giving too much water may make their stomach even more upset. Keep track of the dog's water intake and discourage gulping. If the dog refuses to drink more water, offer them ice cubes or ice chips to help encourage drinking. If the dog can keep down a small amount of water or ice cubes, you can gradually increase their intake and frequency at which you're offering the water and ice.
Probiotics
Once your dog is able to digest food and appears to be feeling better, you can give them some natural probiotic like plain yogurt, or a probiotic formulated specifically for dogs, such as FortiFlora, Prostora, or Proviable. Probiotics contain living gut-friendly bacteria that occur naturally in the digestive tract. The purpose of taking probiotics is to prevent digestive issues and support your dog's immune system.
OTC Medication
Some over-the-counter (OTC) medications for an upset stomach may help your dog, but always be sure that they are made specifically for animals, not for humans. Human OTC medications can do more harm than good for your dog. People usually turn to Imodium, Pepto-Bismol, and Pepcid to treat a stomach upset in dogs. However, they may cause adverse reactions, so it's best to talk to your vet first.
Can I Give My Dog CBD Oil for Upset Stomach?
CBD has become the go-to health supplement for millions of people around the world. Similar to humans, dogs have endocannabinoid systems that interact with plant-based cannabinoids like CBD. For this reason, CBD can also help alleviate a wide range of health conditions and their symptoms in dogs — including digestive issues.
What Is CBD and How Does It Work?
CBD stands for cannabidiol — one of the 115 active ingredients in cannabis known as cannabinoids.
Cannabinoids are the plant-based equivalents of endocannabinoids, which are natural neurotransmitters produced by the endocannabinoid system (ECS).
The ECS is the major regulatory network in all mammals. It controls the functioning of all other systems and their organs. The main role of the ECS is to help the body maintain a balance between important biological processes.
The functions controlled by the ECS control pain, sleep, mood, memory, gut motility, immune response, sensations of fear and stress, body temperature, and appetite just to name a few.
The cannabinoid receptors occur throughout the body, with the largest concentrations in the central nervous system, immune system, and peripheral nervous system. Endocannabinoids are released whenever the balance in the body is disrupted. However, they don't last for too long and the body doesn't store them for later.
This is where CBD steps in.
CBD signals the ECS to produce more of its own endocannabinoids. It also makes them more available for the body by inhibiting the Fatty Amino Acid Hydrolase (FAAH) enzyme that breaks them down.
On top of that, CBD acts on more than 65 molecular targets.
Here's why you may want to consider giving CBD oil to your dog when they have an upset stomach.
Does CBD Oil Help Relieve Upset Stomach in Dogs?
Not only can CBD help with pain, stress, and constipation, but it can also relieve the symptoms of an upset stomach, such as nausea, vomiting, and diarrhea.
Studies suggest that CBD indirectly engages with a receptor known as 5-HT1A, which is responsible for serotonin secretion. In a 2012 study published in the British Journal of Pharmacology, the authors found that CBD indirectly activated this receptor in the brain, reducing nausea-like behaviors in rats (1).
Research also shows that the CB1 and CB2 cannabinoid receptors occur at key sites in the brain and gastrointestinal tract that control nausea and vomiting (2).
The activation of the CB1 receptor has been found to reduce the intensity of an upset stomach as well as curb vomiting (3).
Some studies point to CBD as an effective agent in stimulating appetite in sick dogs as well as for dogs suffering from anxiety. CBD may also promote healthy bowel movement so that the dog can pass the bronze figurine without hassle (4).
As mentioned earlier, dogs have the same endocannabinoid system as humans and other mammals, so while no studies have been conducted specifically on CBD and dogs with upset stomachs, the above findings may carry a high degree of relevance.
Is CBD Safe for Dogs?
Since CBD doesn't have intoxicating properties, it is considered a safe substance for dogs. You can give your dog CBD for an upset stomach without worrying about severe or life-threatening side effects. Numerous health agencies, such as the World Health Organization (WHO) have acknowledged the safety profile of cannabidiol, claiming it is safe and well-tolerated in humans and animals.
That being said, CBD may cause a few mild side effects in your dog, such as dry mouth, dizziness, and sedation. CBD is also known to interact with many medications prescribed by veterinarians due to its interaction with the cytochrome P450 (CYP450), which is a system of enzymes that metabolizes drugs (5).
If your dog takes any medication, consult the use of CBD with your vet. A holistic veterinarian will help you establish the right routine for your dog in order to avoid these interactions — and point you in the right direction when it comes to finding the right dosage for dogs.
Best CBD Oil for Dogs: Editor's Picks
1. Royal CBD (Overall Winner)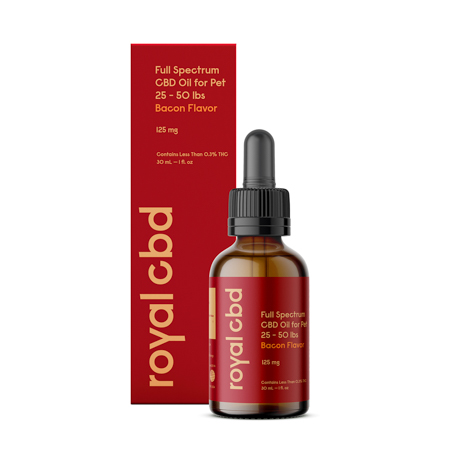 Get 15% off all Royal CBD products.  Use code "CFAH" at checkout.
Pros:
Organic, Colorado-grown hemp
Full-spectrum CBD
Up to 500 mg of CBD per bottle
Suitable for different breeds and sizes
Cons:
Not available in local stores
Limited choice of flavors
Royal CBD is a safe haven for new consumers because the company excels at transparency and quality of ingredients. The company's award-winning formula for humans has been translated into the dog version to suit dogs of different breeds and sizes. Royal CBD uses full-spectrum CBD from organic hemp, MCT coconut oil as a carrier, and natural flavorings. Every batch of CBD oil for dogs is tested for quality and safety in a certified laboratory to provide dog parents with a healthy product for their pups.
The Royal CBD Paws oil for dogs comes in three strengths: 125 mg (small dogs), 250 mg (medium dogs), and 500 mg (large dogs).
If your dog doesn't like the hempy taste of CBD oil, this product will change the game with a delicious bacon flavor.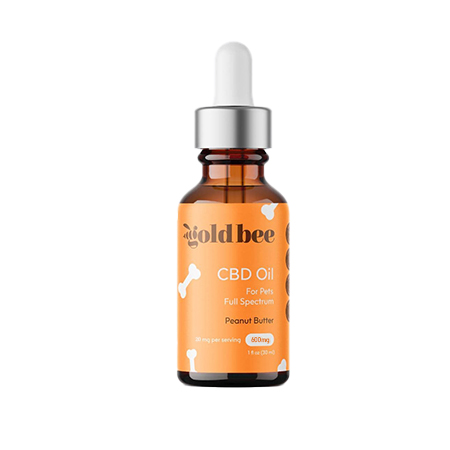 Pros:
Organic hemp from California
CO2 extraction
Full-spectrum CBD
600 mg of total CBD
Peanut butter flavor
Lab-tested for potency and purity
Cons:
No strengths for small and extra-small dogs
Limited flavor options
Gold Bee is a Nevada-based company specializing in premium CBD extracts for humans and pets. The company's founders spent 10 years in the superfood space before hopping on the CBD market; they've been making organic raw honey and coconut oil.
Gold Bee has recently introduced its line of pet products, featuring CBD oil for dogs and one version of dog treats.
The Gold Bee CBD oil for dogs is available in one concentration, providing 600 mg of full-spectrum CBD per bottle. At 20 mg of CBD per milliliter, it's a great product for medium and large dogs. That being said, we'd like to see an option for small or extra-small dogs, as the current potency may be difficult to dose in them.
All products made by Gold Bee are tested in a third-party laboratory for their phytochemical profile and purity.
Common Causes of Upset Stomach in Dogs
As mentioned, your dog may have an upset stomach for many reasons. However, the most common cause is when they eat something they shouldn't have, according to Kathy Backus, DVM, at Holistic Veterinary Services in Kaysville, Utah.
"Dogs are curious like kids; they're always putting things in their mouth (…) Vomiting and diarrhea are signs that a dog's body is trying to expel something that shouldn't be in its system. In a healthy dog, it's a protective mechanism of the body that's totally normal."
Other common causes of an upset stomach in dogs include:
Fever–checking your dog's temperature is one of the first steps you should take to determine why they have an upset stomach. The best tool for this is a rectal thermometer because it provides the most accurate measures. Alternatively, you can use an ear thermometer, but it's not as precise as the rectal one. A dog's normal body temperature is 101 to 102.5 degrees Fahrenheit. A temperature above 104 degrees indicates fever, which can cause a range of symptoms, from tiredness and loss of appetite to an upset stomach.
Toxic food – aside from things like chocolate and high-starch food, you should avoid houseplants that are toxic to your dog. If they nibbled on any houseplants, that's a warning sign. Be sure to research a list of toxic houseplants for pets before buying one.
Dehydration – your dog needs to stay hydrated at all times. In many cases, dehydration may lead to an upset stomach, causing problems like nausea and constipation in dogs.
Dietary modifications – any changes that you introduce to your dog's diet can make them feel temporarily sick. New food should always be added gradually in order to prevent incidental cases of diarrhea and vomiting.
Is an Upset Stomach a Sign of a Food Allergy?
If your dog has an upset stomach every once in a while, it's normal and shouldn't be considered an alarm.
Now that we've established the most common causes of sickness in dogs, let's focus on its typical symptoms.
If stomach upset is a frequent occurrence for your dog, consult your veterinarian and ask them about the possibility of a food allergy. Once diagnosed, the allergy is usually associated with a protein source, which is why some "novel" protein (the type your dog has never eaten) may cause allergic reactions to your dogs that are manifested as an upset stomach.
You can read our article about the natural remedies and best treatment for your dog allergies.
Symptoms of Upset Stomach in Dogs

The telltale signs of an upset stomach are vomiting and prolonged episodes of diarrhea in dogs. If your canine friend is nauseous, you may also see him eat grass to ease the stomach and try to trigger vomiting.
Commonly reported symptoms of sickness in dogs are as follows:
Low appetite (or loss of appetite)
Tiredness
Low mood
Stretching more often
Looking uncomfortable
Gulping to prevent reflux
Licking their lips or objects
When Should I Call the Vet?
Observe your pup's symptoms and behavior. If they worsen over time, or if the dog is constantly uncomfortable, take him to the vet immediately.
Watch for these signs:
Vomiting or having an episode of diarrhea regularly
Blood in the stool or vomit
Dry vomit
Increasing discomfort
Weakness or collapse
Foreign objects in the vomit or stool
The above symptoms may indicate a more serious health problem, such as abdominal bloating, parasites, severe allergic reaction, or pancreatitis.
If you notice that your dog has eaten a foreign object or some toxic food, you should seek immediate veterinary attention. Should your primary vet be unavailable, visit your local vet emergency room.
Final Thoughts on the Best Remedies for Dogs with Upset Stomach
Whether your dog has eaten something they shouldn't eat (e.g. a foreign body), or you've sharply introduced changes in their diet, an upset stomach may occur as one of the side effects.
Other potential triggers include severe or chronic stress, underlying health conditions, dehydration, or food poisoning. A normal case of an upset stomach isn't alarming and can be easily treated at home using natural remedies such as bone broth, a bland diet, probiotics, or health supplements like CBD oil.
CBD can be particularly helpful for your dog because it regulates its endocannabinoid system. Using this mechanism, CBD provides a myriad of health benefits, including relief from an upset stomach. The mechanism behind CBD's effects is multifaceted and can help with a range of symptoms linked to indigestion, such as nausea, vomiting, diarrhea, and loss of appetite.
If your dog doesn't get better over time, and the symptoms deteriorate, you should immediately take them to the veterinarian. Chronic indigestion can be a sign of a more serious health problem that requires thorough examination.
Reference links:
Rock, E M et al. "Cannabidiol, a non-psychotropic component of cannabis, attenuates vomiting and nausea-like behavior via indirect agonism of 5-HT(1A) somatodendritic autoreceptors in the dorsal raphe nucleus." British journal of pharmacology vol. 165,8 (2012): 2620-34. doi:10.1111/j.1476-5381.2011.01621.x
Sharkey, Keith A et al. "Regulation of nausea and vomiting by cannabinoids and the endocannabinoid system." European journal of pharmacology vol. 722 (2014): 134-46. doi:10.1016/j.ejphar.2013.09.068
Parker, Linda A et al. "Regulation of nausea and vomiting by cannabinoids." British journal of pharmacology vol. 163,7 (2011): 1411-22. doi:10.1111/j.1476-5381.2010.01176.x
Zendulka, Ondřej et al. "Cannabinoids and Cytochrome P450 Interactions." Current drug metabolism vol. 17,3 (2016): 206-26. doi:10.2174/1389200217666151210142051
Kogan, Lori et al. "US Veterinarians' Knowledge, Experience, and Perception Regarding the Use of Cannabidiol for Canine Medical Conditions." Frontiers in veterinary science vol. 5 338. 10 Jan. 2019, doi:10.3389/fvets.2018.00338