Does CBD Oil Help with Essential Tremors?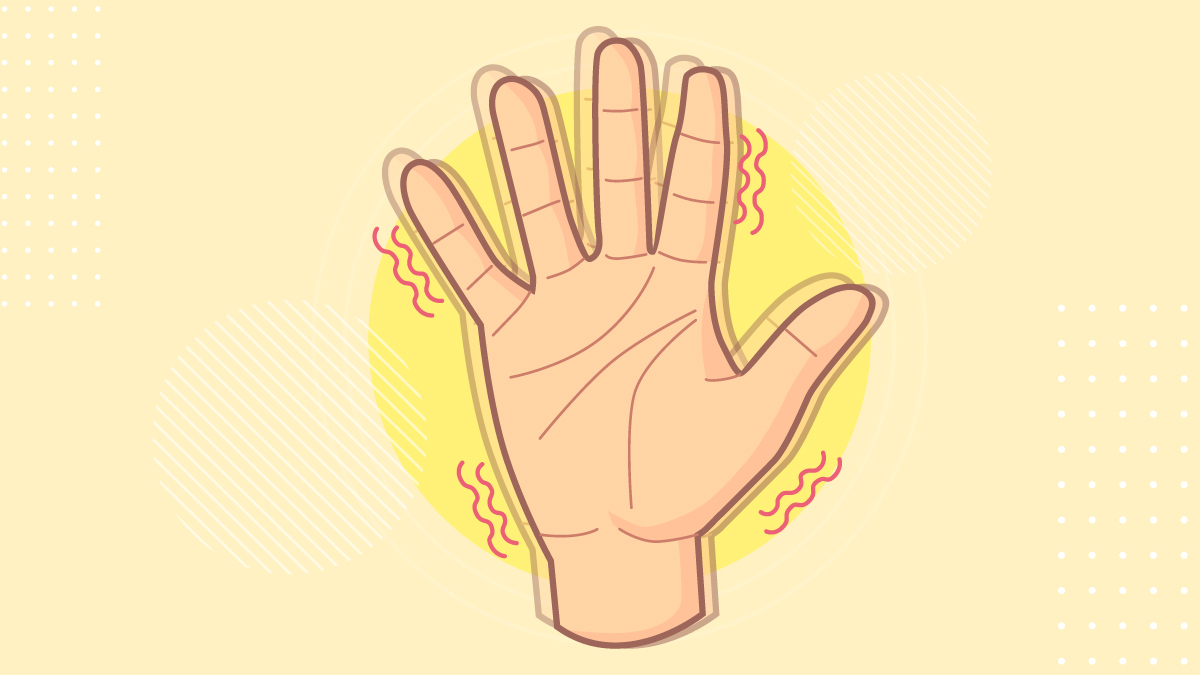 Tremors can be caused by various factors, from neurodegenerative diseases to anxiety, brain damage, aging, and withdrawal symptoms from addiction.
Scientists have been examining the health benefits of CBD for quite some time now, with great effort being fueled into research on how CBD may affect tremors.
The endocannabinoid system (ECS) controls an array of essential physiological processes, including motor functions and movement. Since tremors are muscle movements that involve back and forth rhythmic swaying, they perfectly fall into that bracket.
In turn, this suggests that the ECS can be a therapeutic target for people looking for effective tremor management.
CBD oil is the modulator of the ECS, but can it help with tremors?
This article explores how CBD affects tremors and what science says about its therapeutic potential in this subject.
Common Causes of Tremors
Tremors are involuntary movements of the body and can impact the hands, arms, head, face, legs, and voice. More often than not, tremors are caused by neurological disorders in the brain regions that control movement. Conditions that destroy or degrade the brain cells, like Alzheimer's disease, Parkinson's disease, or stroke, can trigger tremors.
However, they can also appear as a result of drug withdrawal or as the side effect of certain prescription medications. Tremors often appear during a stressful event when a person is going through anxiety.
So, while temporary tremors aren't an alarming sign, chronic episodes may indicate a serious disease requiring medical attention.
Does CBD Help with Tremors?
Researchers have yet to find out how CBD affects tremors. CBD is widely studied for its ability to reduce the symptoms of movement disorders. So far, we know that CBD can reduce muscle spasms, convulsions, and tremors associated with conditions like epilepsy, Parkinson's Disease (PD), and Multiple Sclerosis (MS). One study actually found that CBD reduced the intensity of tremors in patients with PD during their REM sleep stage.
The mechanism behind the potential positive effect of CBD on tremors isn't well-known yet. However, scientists speculate that the ECS is the major therapeutic target in this relationship.
By indirectly acting on the cannabinoid receptors in the central and peripheral nervous system, CBD can ensure proper muscle movement and prevent tremors — at least hypothetically.
Let's elaborate on that mechanism using the examples of different types of tremors.
Does CBD Oil Help with Hand Tremors?
As mentioned, CBD interacts with the ECS, which is a broad system of receptors and neurotransmitters that work to maintain homeostasis between essential bodily functions — including muscle movement.
When CBD regulates these receptors, it produces relaxing and antispasmodic effects; it can also block the release of pro-inflammatory proteins known to damage the nervous system.
Through these pathways, CBD can ease symptoms of tremors on top of effectively acting as a neuroprotectant.
One study on mice showed that CBD produced superior results in tremor relief without showing any life-threatening side effects or causing impairment. The authors also determine what receptors may be involved in these effects, suggesting that CBD engages with the 5-HT1A receptor to prevent tremors by activating the TRPV1 receptor.
Many of the prescription drugs that people usually take for tremors carry a risk of dangerous side effects. CBD, in turn, comes with anti-tremor properties and has a good safety profile with only minor side effects when overdosed.
CBD Oil Effects on Parkinson's Disease Tremors
As mentioned earlier, tremors generally result from neurodegenerative diseases, such as Parkinson's Disease (PD). This non-reversible disorder of the central nervous system causes people to experience impaired posture, uncontrolled muscle movements, rigid muscles, and hand tremors.
In 2015, Neurotherapeutics published a study that examined the efficacy of medical cannabis for PD symptoms, concluding that the majority of the subjects showed significant improvements at the end of the treatment.
Patients from the Prague Movement Disorder Centre also reported improved quality of life due to significant symptom relief after using cannabis.
That being said, medical cannabis isn't the same as hemp-derived CBD oil. The former may contain higher amounts of THC on top of CBD and other cannabinoids, while the latter only comes with 0.3% of THC or less — meaning the effects of cannabis-derived CBD oil may not be replicated with hemp-derived extracts.
CBD Oil for Elderly Tremors
More studies are needed to determine if CBD can be used as monotherapy to manage tremors and other symptoms among the elderly and patients with PD.
However, some neuroscientists acknowledge that CBD may act as a neuroprotectant that helps with PD. A study published in the British Pharmacological Society mentioned that CBD could modulate neurotransmission and prompt neurogenesis (formation of new brain cells).
These effects were tested as a monotherapy, and in conjunction with other cannabinoids, among patients with Huntington's disease, multiple sclerosis, and Parkinson's Disease.
Other Types of Tremors that CBD Oil Can Help With
Aging and neurodegenerative disorders are just two causes of tremors that CBD might help with. But can it also relieve tremors induced by stress or brain injuries?
CBD Oil for Anxiety Tremors
In a recent study published by the Journal of Psychopharmacology, the authors found that CBD reduced anxiety and tremor amplitude among PD patients. The research team used a dose of 300 mg CBD/day, which provided significant benefits for heart rate, blood pressure, and frequency of tremors among the subjects.
The scientists also noted a reduction in anxiety-related tremors during a simulated public speaking test. 
Other studies implicate that CBD can have therapeutic benefits for people with anxiety disorders and neuropsychiatric conditions.
CBD Oil vs. Brain Damage Tremors
An animal study from Pharmaceuticals found that CBD may positively affect brain regeneration after an injury and ischemic stroke (one caused by the blockage of blood flow).
The study found that CBD exerted neuroprotective actions and assisted in repairing communication between neurons in the brain. The researchers administered 3mg/kg of CBD per day to mice models with cerebral ischemia — reporting improved motor coordination and neurological scores.
The authors concluded that more research would help establish CBD's clinical value on brain injury and stroke.
Best Type of CBD to Use for Tremors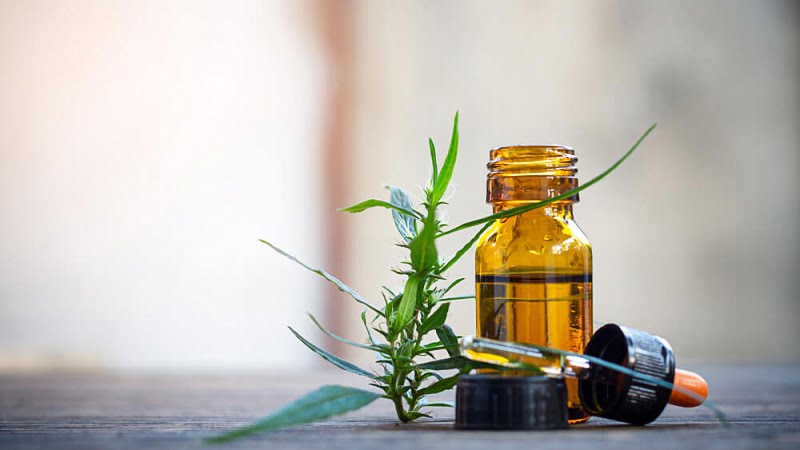 There are three main types of CBD you can choose from: full-spectrum CBD, broad-spectrum CBD, and CBD isolate.
Full-spectrum CBD is made from the whole hemp plant, and as such, it contains all the cannabinoids present in hemps, such as CBD, CBN, CBG, CBC, and trace amounts of THC. It also contains a lot of terpenes, which are volatile molecules that modulate the activity of cannabinoids.
These compounds create a unique synergy known as the entourage effect. This concept was brought up in 1988 and further elaborated on in 2011 by E.B. Russo, an esteemed neuroscientist and cannabis expert. In the entourage effect, the sum of all active ingredients in the plant is more potent therapeutically than each compound in isolation.
Therefore, if you want to reap the most benefits of your CBD oil, opt for full-spectrum extracts.
Broad-spectrum CBD is very similar to its full-spectrum counterpart, but it doesn't contain any THC. The intoxicating ingredient has been removed after initial extraction so that the user can benefit from some of the entourage effects without worrying about failing a drug test.
You can also choose CBD isolate, which is pure CBD that has been crystallized and infused into the same product formats as the other types of CBD. The advantage of CBD isolates over other types of CBD oils is the lack of flavor and aroma; that being said, there's also an obvious downside — the lack of entourage effect.
Once you know your desired type of CBD, it's time to consider the best form for your tremors. Here we'll explore the two basic formats of CBD: oils and capsules.
CBD Oil vs. Capsules for Essential Tremors
Choosing between CBD oil and capsules for tremors boils down to mapping out your needs and knowing the pros and cons of both products.
CBD oil is administered under the tongue. From there, it absorbs through tiny blood vessels in the mouth, reaching the bloodstream. The effects of CBD oil are usually noticeable within 15-30 minutes after administration, lasting for up to 6 hours. The peak concentration levels of CBD oil are usually reached after 1.5 hours. The bioavailability of CBD oil is around 35%, meaning that slightly over one-third of the ingested content ends up in your system.
With CBD capsules, the route of administration causes a delay in effects. Since CBD needs to pass through the digestive system, the effects may need about 30 to 90 minutes to take hold, depending on your metabolism and whether you take CBD on a full or empty stomach. While CBD capsules offer lower bioavailability — up to 20% — they last longer than oils because CBD is released gradually from the liver.
If you're looking for more pronounced and faster-acting effects, CBD oil is a better option. Capsules come in handy if you have your supplementation scheduled up and don't mind the delay. CBD capsules also mask the earthy flavor of CBD oil because the extract is contained in a soft gel shell, which is another argument in their favor.
CBD Oil Dosage for Tremors
Dosing CBD depends on a range of individual factors, including your weight, metabolism, age, the severity of tremors, and unique body chemistry. 
According to a review of studies evaluating the effects of different CBD doses in clinical populations, an effective dose can range from 1 to 50 milligrams per day. The dosage can be increased when you don't feel any difference after, say, one week. From there, you can gradually adjust the amount of CBD to the point where it effectively reduces tremors.
When you use CBD for tremors, taking high doses may cause a few mild side effects, such as:
Dry mouth

Sedation

Appetite fluctuation

Lethargy

Diarrhea
CBD can also interact with many pharmaceutical substances, so consult your doctor before adding CBD to your daily routine if you take any medications. 
Bottom Line: How Can You Use CBD to Help with Tremors?
CBD's potential in reducing different types of tremors is, without a doubt, promising. Several studies have already shown that it has the ability to improve primary motor symptoms of neurological conditions such as Parkinson's Disease.
These positive results from the aforementioned studies shed new light on the therapeutic use of CBD for tremors. Products like CBD oil can significantly improve motor disorders without the dangerous side effects associated with pharmaceuticals.
Tremor sufferers can also adjust their lifestyle to naturally improve their lives, mainly by exercising, reducing alcohol, practicing meditation, and avoiding caffeine.
A consultation with a holistic or integrative neurologist should help you find the right set of remedies and adjustments to help you cope with tremors without frustration.
Reference links:
IETF. (2015).  ESSENTIAL TREMOR RESEARCH PROGRAM: CANNABIDIOL ANTI-TREMOR ACTION AND MECHANISMS. Retrieved June 8th, 2020, from

essentialtremor.org

Arjmand, S., Vaziri, Z., Behzadi, M., Abbassian, H., Stephens, G. J., & Shabani, M. (2015). Cannabinoids and Tremor Induced by Motor-related Disorders: Friend or Foe?.

Neurotherapeutics: the journal of the American Society for Experimental NeuroTherapeutics

,

12

(4), 778–787. [1]

Venderová, K., Růzicka, E., Vorísek, V., & Visnovský, P. (2004). Survey on cannabis use in Parkinson's disease: subjective improvement of motor symptoms.

Movement disorders: official journal of the Movement Disorder Society

,

19

(9), 1102–1106. 

Fernández-Ruiz, J., Sagredo, O., Pazos, M. R., García, C., Pertwee, R., Mechoulam, R., & Martínez-Orgado, J. (2013). Cannabidiol for neurodegenerative disorders: important new clinical applications for this phytocannabinoid?.

British journal of clinical pharmacology

,

75

(2), 323–333.

[2]

de Faria, S. M., de Morais Fabrício, D., Tumas, V., Castro, P. C., Ponti, M. A., Hallak, J. E., Zuardi, A. W., Crippa, J., & Chagas, M. (2020). Effects of acute cannabidiol administration on anxiety and tremors induced by a Simulated Public Speaking Test in patients with Parkinson's disease.

Journal of psychopharmacology (Oxford, England)

,

34

(2), 189–196.

[3] [4]

Hayakawa, K., Mishima, K., & Fujiwara, M. (2010). Therapeutic Potential of Non-Psychotropic Cannabidiol in Ischemic Stroke.

Pharmaceuticals (Basel, Switzerland)

,

3

(7), 2197–2212.